The movie "Mobile Suit Gundam 00" to be released on 2010, revealed just after the last airing.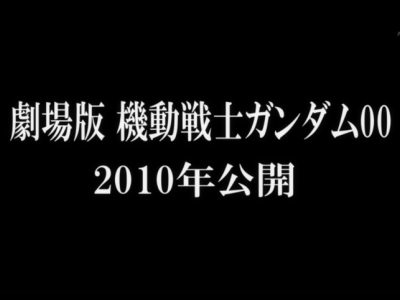 The TV airing of "Mobile Suit Gundam 00" on TBS" target="_blank">MBS and TBS has finished today, which was separated into two seasons with half a years break between them. And on its last airing, they annouced the theatrical version of the anime as TV ad just after the ending.

There's also a rumor of former TV series "Mobile Suit Gundam SEED"'s theater adaptation and Chiaki Morosawa, screenplay, and director Mitsuo Fukuda is said to be working hard for this movie. We wonder whether there's a change in the cycle with this and Gundam 00.

Read on for details.

The announcement was made just after the airing of Episode 25 "Sai Sei(Resurrection)". They didn't show any video on this announcement. Only typographies were provided. This is the screenshot from the actual broadcast saying "Theatrical 'Mobile Suit Gundam 00' to be released in 2010"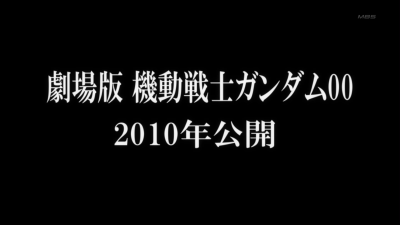 Recently "Macross Fontier" took the same method to annouce its theatrical movie. Though there's totally no further information unvailed, maybe something will be revealed at "G festival" the nation wide promotion event of Blu-ray Discs and DVDs of Gundam 00 TV anime, held from Apr. 5 to Mar. 24.

Related Post:
"New GUNDAM expected": Poll on 30th anniversary of Mobile Suit Gundam revealed fans' wish. - GIGAZINE

Life-sized 60ft. Statue of Gundam Coming to Shinagawa - GIGAZINE

A die-hard Gundam fan made 7 meter "Z GUNDAM" by 7 years of solo work - GIGAZINE
in Anime, Posted by darkhorse_log