S. Vettel won the Japanese Grand Prix of Formula 1 World Championships in 2009, the champions battle will be further to the next round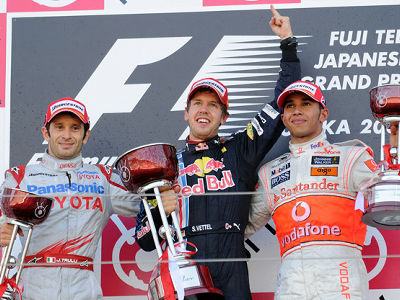 In MarchWe began curtaining with the one team finish of the new team · Brown GPIn 2009F1 World ChampionshipJenson Button of Brown GP showed overwhelming strength such as 6 wins in the opening season 6 wins. But Button flew away from the podium after the British Grand Prix in June, but instead Baton's Team Mate Rubens Barrichello and Red Bull Sebastian Vettel caught up with a fighting battle pattern.

The Japanese Grand Prix on 4th October began as a result of several crashes from qualifying, but in the final, Vettel decided Paul Twin and the final of the world champions battle will be carried over to the next round It was.

Details are as below.
Suzuka Circuit | F1 | 2009 F1 Japan Grand Prix Report | Report on October 4 (Sunday)

This year's Japanese Grand Prix was held at Suzuka Circuit for the first time in three years. Suzuka Circuit is a technical course which is said to be considerably difficult even in F1, but it has earned high praise from veteran drivers such as former Formula One World Champion Michael Schumacher.

Prior to the start of the race, the closest thing to the world champion was Jenson Button of Brown GP with 84 points. Baton's teammate Rubens Barrichello is 69 points, third in the Red Bull Sebastian Vettel, 59 points. As the rest of the race including the Japanese Grand Prix is ​​three races, it was a race that baton will almost certainly win the world champions if winning (10 points won).

The race involves a wave of inclusion from before qualifying. First of all, Red Bull's Mark Webber who remained a little bud of the champion crashed during free practiceMonocoqueDamaged, it became a pit start. In addition, Jaime Argueles Ali (Toro Rosso) and Timo Glock (Toyota) crashed respectively in the second session of the preliminary round which decides the car starting from 15th to 11th. In the third session, Heiki Kovalainen (McLaren) also crashed. The state of qualifying was live broadcast by Fuji TV, but it was a shocking relay that Kovalainen's crash occurred just before the end of the program.

YouTube - 2009 10 03 F1 Suzuka qualifying terrestrial broadcast end w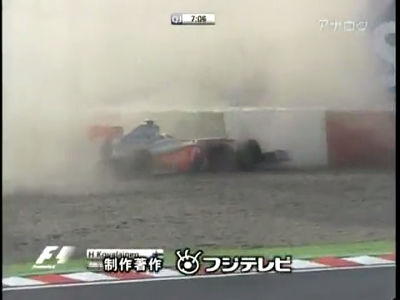 Glock was missing in the final in the final and 19 cars were fought. Vettel who harbored the pole position cut the second place Jarno Trulli (Toyota), third place Luis Hamilton (McLaren) and others by plunging into the first corner, and while continuing to expand leads as it was, Sebastian · Buemi (Toro Rosso) retired with putting the car in the garage. After that, there was no major fluctuation in the ranking, but the Argue Elsri crashed into the tire wall at "130 R" which celebrated the last 9 laps. Safety cars are introduced and all the cars come together, and Vettel loses its advantage earned. The restart was cut off in the remaining four laps after the restoration of the tire wall, and Vettel who ran away again remained as it wasPaul TwinI decorated the winner. Trulli was second in Toyota's highest ranking and Hamilton in third.

Baton won eighth place and Barrichello also won seventh place, so Baton got 85 points, Barrichello got 71 points, Vettel became 69 points for world champion battle. Because the rest is 2 rounds, the maximum point that can be obtained is 20, so the possibility of champion remains in Vettel. BMW Sauber has announced withdrawal, and Toyota is also in an uncertain state regarding F1 participation after next year, the circumstances surrounding F1 are never bright, but by the drivers who have never been championship so far The summit decisive battle is incandescent.

The next race is on Brazilian Grand Prix at Interlagos Circuit on Sunday, October 18th. For Barrichello it was a race to be held in his home country last year, which was a disappointing end that Felipe Massa (Ferrari), who was also aiming to win the championship in his home country, also missed the champion, although the race controlled the race last year, Will it happen?