Red Bull's Webber won the 2010 Formula 1 World Championship, British GP, Kobayashi Kamui wins 6th place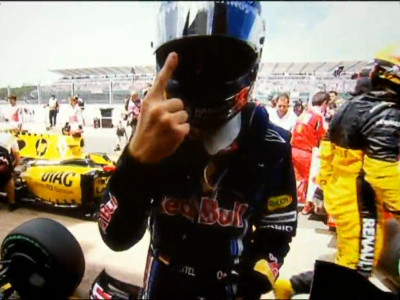 Local time F1 British Grand Prix was held at Silverstone Circuit in Northamptonshire, England from 13 o'clock on Sunday, July 11th.

Sebastian Vettel won the first place in qualifying and Mark Webber second place and Red Bull Racing monopolized the top grid but Vettel and Webber competed fiercely immediately after the start and Vettel's right rear tire was punctured There was a turbulence that it would sink to the bottom. After that, Webber pushed McLaren's Lewis Hamilton and others who follow up, and decorated the third victory this season.

Details are as below.
BBC Sport - F1 - British Grand Prix: Webber storms to British GP win

F1 British Grand Prix: The winner is Mark Webber, Kobayashi Kamiyoshi 6th! 【F1-Gate.com】

In the first lap, Vettel and Weber, the exciting beginnings of Red Bull's team mates fiercely striking each other. Vettel was flipped out of the course by Weber and the right rear tire was punctured. It was a race from the end of the row. In addition, Ferrari and Felipe Massa brought in contact with Fernando Alonso, damaged the right rear tire, and after a while the pace did not rise and it went down to 15th place.

Webber got ahead of the lead after Vettel's disappeared and made a difference to Luis Hamilton (McLaren) who will follow, but Pedro de la Rosa, who was running in the middle on lap 28 (BMW Sauber) and Adrian Sutil (Force India) contacted and the parts splashed, the safety car was introduced, and I lost all the advantage that I made. However, he did not let Hamilton go ahead after the restart, he raised his third victory this season. Hamilton as it is in 2nd place and Nico Rosberg of Mercedes GP in 3rd place.

It was the 12th startKobayashi Kamui WeiHe showed his success including Michael Schumacher (Mercedes GP) at the timing of pit-in, he won the 6th place in his own Thai record. In addition, in 2006 Super Aguri participated in F1 in Spyker in 2007Yamamoto SakoniEven Bruno Sena took the Hispania Racing machine as a substitute and finished in 20th place.

With this, 2010 F1 World Championships have been digitized 10 races and we have returned points, the remaining 9 rounds. The next race is from July 23rd to 25th at the German GP in Hockenheimring.
in Note, Posted by logc_nt