F1 World Championship Abu Dhabi GP held, the last race in 2009 to be the first ever twilight race in history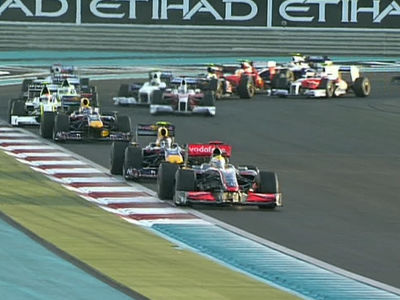 Japan time November 1 (Sunday) Abu Dhabi GP which will be the final game of the 2009 F1 World Championship was held late at night. AlreadyWorld champion decidedAlthough it is the first circuit, F1 's first twilight race (thin race), it became an interesting race.

Who was the first champion of dawn?

Details are as below.
The pole position is 2008 World Champion Lewis Hamilton (McLaren). In the qualifying it showed overwhelming quickness and the same kind of promptness was expected in the final race but there was something wrong with the right rear wheel of the machine and it was seconded by Sebastian Vettel (Red Bull) at the timing of the pit stop Fall into, then retire. Vettel who began with the second place finishes Himilton who is suffering from a bad condition, quickly finishes the pit-in and heads the head, after that he wins the 4th time this season with his dominant run without being overwhelming. Below, Mark Webber (Red Bull) second place, Jenson Button (Brown GP) who has decided this year's World Champion in third place wins.

Kamui Kobayashi Kamui who is participating as a substitute for Timo Glock (Toyota) from the Brazilian Grand Prix showed his nature that he ranked third in the middle of the race and ranked 12th in the race. As expected there was also a difference in strategy from the top group and it did not go on the podium, but it won the first point in the second race of F1 challenge at the 6th place finish. Teammate Jarno Trulli also won the seventh place. Williams TOYOTA 's Nakajima Kazuki is 13th and finished in no point this year.

With this, the F1 World Championship in 2009 finished all the battles, but the 2010 battle for the driver has already begun for 2010. Fernando Alonso from Renault to Ferrari at the moment, Robert Kubica will transfer from BMW Sauber to Renault, as well as Kimi Raikkonen is leaving Ferrari, Nico Rosberg and Nakajima Kazuki leave Williams.

Also,BMW Sauber retreats this year onlyMeanwhile three teams are supposed to compete newly from next year, and it seems that we can keep an eye on sound speed battle next year as well.
in Ride, Posted by logc_nt