Vettel is the youngest ever in F1 in 2012 and achieves the championship three consecutive victories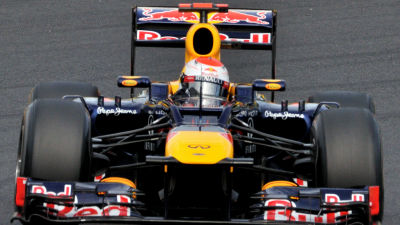 ByMichael Elleray

On November 25, 2012, the Brazilian Grand Prix was held at Interlagos Circuit in Sao Paulo, Brazil, which will be the final race of the 2012 F1 World Championship. Ferrari's Fernando Alonso took out one step out of the championship pattern in which the winners will be replaced each time until the seventh round of the year, but Red Bull's Sebastian Vettel rebounded a lot in the second half, and the champion's The possibility was left behind.

In the race eventually, McLaren's Jenson Button raised his third victory this season, with Alonso entering second, Vettel also entered six, and Vettel decided on World Champion for the difference in points. Vettel is the third consecutive championship in 2010 and 2011, the third consecutive title at the age of 25 is younger than the "emperor" Michael Schumacher, the youngest record ever.

Race - Button first, Alonso second, Vettel champion - The Official F1 ™ Website
http://www.formula1.com/news/headlines/2012/11/14126.html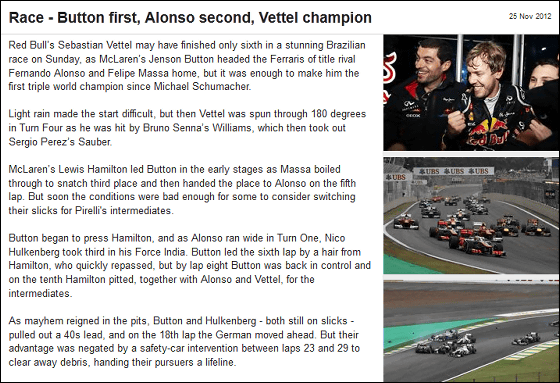 ◆ Flow to Brazilian Grand Prix
Alonso, Nico Rosberg (Mercedes AMG), Vettel, Maldonado (Williams), Mark Webber (Red Bull) started as Baton won in the opening round at the Australian Grand Prix, starting with the 8th race at Alonso this season's 8th race ), Lewis Hamilton (McLaren) and seven winners were born.

In that situation Alonso steadily earned points, with 154 points at the end of the 10th round of the German GP which will be folded back, with 34 points difference to Webber who is second, running alone. Vettel won the fourth race in Bahrain Grand Prix but there was a race that ended without points, and at the end of the 13th round Italian Grand Prix, Hamilton, Kimi Raikkonen (Lotus) passed the place and stayed in fourth place.

However, from the 14th round of the Singapore Grand Prix in the 17th round of the Indian Grand Prix from the Singapore Grand Prix, he stood at the top with a 13th difference to Alonso, with Alonso being second in Abu Dhabi GP and Vettel third in the 19th round Then Vettel was second place and Alonso was third place and the point difference did not change and we decided to welcome Brazilian Grand Prix in the final round.

◆ Brazil GP result
As a result of the qualifying, the pole position is Lewis Hamilton, the second is Jenson Button and McLaren, two behind it followed by Mark Webber, Sebastian Vettel and Red Bull. At this point, the drivers' point lead is 273 points of Vettel, Ferrari's Fernando Alonso (260 points) was the only one that could reverse, but Vettel had a pretty advantage of winning if it was within 4th It was decided to challenge the final in a state.

In the first lap of the first lap, Vettel was involved in the contact and was forced to race from the rearmost, including the upsurge. Weather conditions were also rolling in the middle, such as heavy rain on the way, Vettel also failed to select the tire once and there was also a scene that was preceded by Alonso, but it was ranked sixth in a race that did not take the early handicap I won a prize.

Alonso, who was in the eighth position, pushed the ranking at the start, after which Hamilton and Hürkenberg, who had been running ahead, brought in contact with each other and Hamilton retired, and it came in second. The condition that Alonso can become a champion was three patterns "himself winning and Vettel being less than 5th", "himself being the second place and Vettel being the eighth place" and "himself being the third place and Vettel being the tenth place" Finally finish in second place without being able to catch up with Baton going to the top. Vettel 's world championship acquisition has been decided.

Vettel's world championship won three consecutive victories following 2010 and 2011. In F1, we can see a couple of years to be a champion for two consecutive years, but when it lasts for more than three consecutive years the number decreases at a stretch, and in 1954 ~ 1957 he won the 4th consecutive van Juan Manuel Fangio and 2000-2004 There is a case of Michael Schumacher who won five consecutive times. Fangio was 45 years old at the time of achieving 3 consecutive victories, Schumacher was 31 years old, but Vettel updated the record dramatically as 25 years old.

Those who took out the top six points this season are like this, with Alonso making a difference to the middle stage, Vettel suffered a stroke from the 4 consecutive wins and finally to the struggle between the two. Although Raikkonen is only one wins of the 18 rd Abu Dhabi Grand Prix, it finishes points finely and secures the third place with a steady run with no point (11 or less) being only 1 degree. Hamilton has won 4 wins and earns great points, but there are also 6 no-point races on the other hand. By the way, Vettel was no point three times, Alonso was once.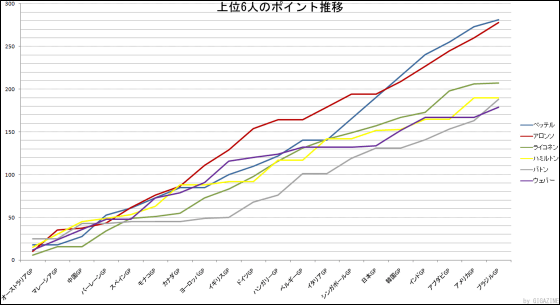 This is a summary of the points of the driver who won 1 point or more. The horizontal axis is the driver (the left is the top) and the vertical axis is the race (the ascending order from the first race). Also, the first place is the red background, the second is the orange background, the third is the yellow background, the point is the peach background, and the white background part ends with no point. Grajan is marked as x because the Italian GP has been suspended. The fact that there are many opportunities to rise on the podium is to say that there are many opportunities to earn points, so it is natural to gather on the left side, but Maldonado who won the 5th round Spain Grand Prix in such circumstances has fewer other winnings 4 times , The result is fewer points than Di Résta which was less than 6th place except that there is one in 4th place.




◆ Teams and Driver Trends for 2013
Red Bull
Vettel who became champion has already decided to fight in Red Bull Renault also in 2013. We have also decided to extend the contract with Webber enrolled from 2007 for one year in July.

· Ferrari
Fernando Alonso is the ace of Ferraris next year, although he ranked first in the middle while Alanso lost to Vettel in the end. As a partner, Massa's residence enrolled from 2006 has already been decided in October.

· McLaren
It was a double champion system of Baton who debuted as "the secret child of McLaren" in 2007 and became the world champion of 2008 and has bought a champion at the Brown GP in 2009, but Hamilton will come out next year , Sergio Perez will transfer from Sauber. A team that is also expressed as "All British", the English driver combination, Hamilton & Baton, also suited it, but there also seems to be intention to dilute the British color (Perez is a Mexican).

· Lotus
Raikkonen, 2007 world champion, this year I stayed at only one victory, but I definitely got a point and bite into third place. Next year I looked to seek out Raikkonen's partner, but apparently it will be Grojan's residual. Known as "a dangerous driver", this season's retirement has seven times during the 19 races of the competition, of which only one machine trouble occurs. Especially because there are many accidents in the first lap, it is also expressed as "Groujan missile" and "Grojan cannon" released at the same time as the start, but what will happen in 2013 ...?

· Mercedes AMG
"Emperor" Schumacher who had retired once and then returned again has already declared retirement for this season, and finished the last active race in seventh place. As partner of Rosberg remaining in 2013, Hamilton, a world champion expert, will transfer from McLaren.

· Sauber
Perez has already decided to transfer to McLaren, Kamui Kamiya Kamui Kamui who has been fighting as the only Japanese driver of F1 has been contracted for 3 years and the contract has not been renewed, so the two sheets are replaced. One is Esteban Gutierrez, a Mexican driver, from the relationship with the main sponsor Telmex (telecommunications operator in Mexico). Nico Hülkenberg from the Force India and another one is almost fixed.

· Force India
The residual of Di Lesta enrolled from 2011 surely. As a replacement for Hülkenberg's transfer to Sauber, Adrian Sutil enrolled until 2011, Jules Bianchi currently reserved driver, Bruno Senna of Kobayashi Kamui and now Williams, Toro from 2009 to 2011 · The name of Jaime Argeles Ali and others who enrolled in Rosso has been raised.

· Williams
Although Maldonado is rich in residue, Senna is believed to be released. Instead, the names of Valdelli Botthas and others currently serving as reserve drivers are cited.

Toro Rosso
On October 31, as same as this year Daniel Richard and Jean-Eric Bernue have announced that they will fight.

· Caterham
Participated as "Lotus Racing" in 2010, renamed to "Team · Lotus" in 2011, renamed to "Caterham F1 Team" this year again. I have been fighting with Heiki Kovalainen who is enrolled from the team's formation and Vitaly Petrov enrolled from 2012, but next year we will have a total replacement and Charles Pick of Marcia has already been decided. Another one is considered to be promoted by the reserve driver Gid Van der Garde.

· Marsha
One of the new entrants in 2010, "Marcia F1 Team" where Virgin Racing sold shares to Russia's Marcia Motors. This year was a combination of Timo Glock and Pick who joined from the Virgin era, but Pick decided to transfer to Ketaham. It is unclear what will happen next year's seat.

· HRT
HRT (Hispania · Racing) newly entered in 2010 with Caterham (Lotus), Marcia (Virgin). This year we will fight with Pedro de la Rosa and Narain Karthikeyan, de la Rosa was supposed to remain in 2013, but in the first place the survival of the team itself is in danger, looking for a buyer State. In July 2011Nomura Securities will acquire HRTAlthough there was also a story saying that, Nomura Securities denies coverage and there is no follow-up report.

The regulation of 2012 will be continued in 2013, and considerable rule review will be done in 2014.