Possibility of winning four champions in Alonso and others, 2010 F1 World Championship What is the end of Abu Dhabi GP?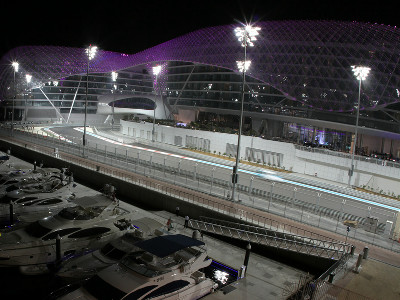 ByPhilips Formula One (TM)

In 2009F1 first twilight race in historyAbu Dhabi GP began to be held as. This year the drivers' championship got into a tie-battle until the end of the season, and even at the time of the last race Abu Dhabi GP there were still four championship possibilities remaining in the drivers.

Fernando Alonso (Ferrari) aiming for returning to the championship since 2006 for the season this season, Mark Webber (Red Bull) aiming for Australian champion for the first time in 30 years since Alan Jones of 1980 with 4 wins this season, also wins 4 wins this season Sebastian Vettel (Red Bull), the youngest champion record update ever in history, and Lewis Hamilton (McLaren) who dropped Alonso from championship in 2007 with three wins this season, what kind of ending Were they welcomed?

The flow and result of the race are as follows.
2010 FORMULA 1 ETIHAD AIRWAYS ABU DHABI GRAND PRIX - The Official F1 Website

Race - Vettel grabs title with Abu Dhabi win - The Official F1 Website

At the end of the Brazil GP in the previous race, the first place was Alonso at 246 points, 238 points Webber at 2nd place, 231 points Wetter at 3rd place and 222 points Hamilton at 4th place. This year's point addition system is 25 points in the first place, 18 points in the second place, 15 points in the third place, 12 points in the 4th place, 10 points in the 5th place, 8 points in the 7th place, 6 points in the 8th place, 4 points in the 8th place, 9 points 2 points, 10 points 1 point, and if Hamilton wins if Hamilton wins without putting the top 3 in 10th place if it wins 2 22 + 25 = 247 points Although it is truly thin, the possibility is thin, truly Alonso , Weber, and Vettel.

It was Vettel who won the pole position in qualifying. Subsequently, Hamilton, Alonso, Jenson Button (McLaren) and Webber are in turn, and Alonso wins in the top four in the fourth position even if Vettel won the championship, winning 3rd place in winning Webber (= if you keep the current position OK ) It was decided to challenge the final on condition that it was.

The points that four people can earn in this race are as follows. It is painting 270 points or more in red, 269 to 260 points in orange, 259 to 255 points in yellow, 254 to 250 points in light green, 249 to 247 points in green, and less than 246 points in blue.




If Alonso is within 2nd place, the champion is confirmed, if it is 3rd and 4th, it will be a champion unless Webber won the championship and if it is 5th, it will be robbed of the champion in the case of winning Vettel (if Webber is second place, Alonso will become the top in the difference in the number of winnings). Also, Webber, Vettel and Hamilton are starting with a pretty favorable condition for Alonso, as Alonso can not exceed points even if they retire, unless it is more than 5th place, 2nd place or more, 1st place It was.

Immediately after the start, Alonso, who started 3rd place, will allow Baton to go ahead and will continue to take the 4th place to win the championship. Even if Vettel won the 4th place as it is, it would be a driver's champion even if he wins the first place, but Vettel's team mate Webber will take the 5th place and Alonso will take a rush.

After tire change at the pit stop, Alonso will be put behind Petrov of Renault, but the Renault machine is equippedF ductHe showed high performance, so Alonso will not be able to overtake Petrov and will suffer. Also Hamilton, who is also behind Kubica in Renault, is also to be tormented.

After all, Vettel won the pole to win without giving up the lead. Hamilton is second, Baton is third. And Nico Rosberg of Mercedes GP entered fourth place, and at this moment, we decided to win Vettel's youngest champion. After all, Alonso was Petrov and seventh place (25 points with 6 points) because he could not fend Kubica that returned to Petrov after the pit. I missed the champion by 4 points difference.

Vettel is often hit by machine troubles this season and may not be able to rise to the podium while showing a fast race, but it seems to be said that winning a convincing winner in total.

Fernando Alonso seemed to have said that this season is the most enjoyable season in Formula One's life, so he got to the podium 10 times with the 5th winner and definitely showed power as one of the most active drivers It was.

It is time to talk about next year's drivers seat, but what kind of run will the champion Vettel show next year? It is noteworthy whether you can protect that position only in the age of warring countries where the champion changes every year.
in Note, Posted by logc_nt