"Geo targeting blog parts" which can analyze access from which prefecture people come to see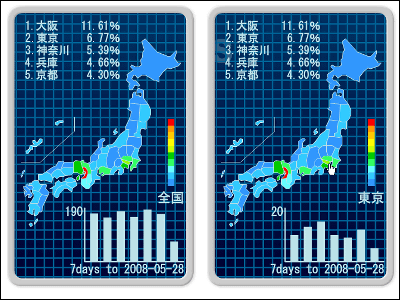 Even if you know what country you are coming from as a regular free access analysis service, it often happens that you do not know the information on which prefecture you are visiting from, but this time it is released By using Tako's "Geo Targeting Blog Part", it is possible to display the list of the top five prefectures with many accesses.

In addition, depending on the number of accesses, prefectures are displayed in different colors, and the breakdown of the number of accesses by prefecture for the past one week can also be seen, and the number of accesses by prefecture in the past 30 days It is also possible to display the transition of the number of accesses of the site over the past 30 days in a graph.

Details are from the following.
Geo targeting [geotargeting]: Tools: Blog parts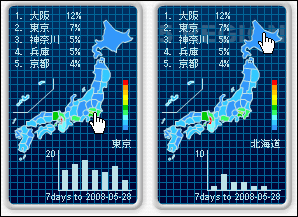 Just tag generation access the above page, just enter the address you want to install. Use is free. There are two types of simple version and detailed version, and you can actually see the real thing installed in the following blog.

Alphablend BLOG
http://blog.alphablend.jp/

In addition, the database for determining from which prefecture the IP address is accessedDayz Co., Ltd.Inside, we developed and analyzed the location of the IP address perfectly and developed so that region judgment processing can be done. Web API is also offered for developers and businesses, and you can see details on the following page.

Geo targeting [geotargeting]: Area information GET!
http://www.geotargeting.jp/

According to the press release, when using the geo-targeting API normallyTollHowever, it seems that it is free for usage on noncommercial sites up to 500 requests per day.