A student attacked by a shark in his bedroom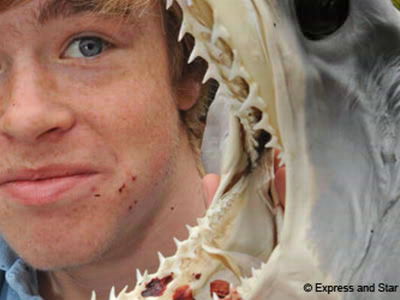 A 14 - year - old student was injured by his shark in his bedroom, but he seems to have managed to survive. Even shark movies such as "Jaws" have only victims in the ocean and waterside, what happened in the bedroom?

Details are as below.Shark 'attack' in Quarry Bank Express & Star

Shark attacks boy in his bedroom Metro_co_uk

Susan Hawthorn, a 14-year old student Sam Hawthorn's son, heard a scream at midnight, but at first I thought his son would have seen a bad dream. But when I entered the room and turned on the light, there was a figure of Sam where the left cheek was buried in the head of the shark and blood was flowing out from the wound.

It seems that the shark biting Sam was what was hung on the wall of the room by a souvenir of Portugal. The shark's teeth bit into the cheeks of Sam for about 15 minutes and left a scar, but fortunately the eyes were not injured. "It was like a sight that came out of a horror movie and I saw that blood flowing from Sam's cheek reached the pajamas," Susan said.

"It was the most terrible experience in my life," Sam said, and it is said that future sharks will not be placed in the room in the future.
in Note, Posted by darkhorse_log