Details of MR headset developed by Apple are reported, VR and reality can be switched with dial & cooperation with AirPods etc.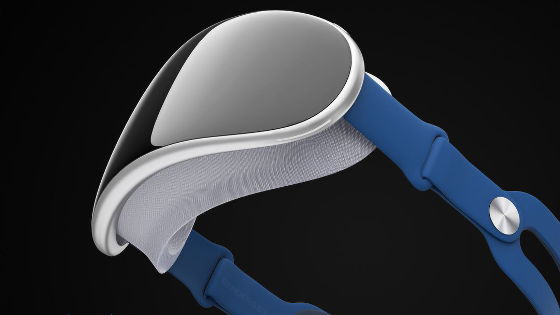 It has long been reported that Apple is developing its own MR headset, and it is known that it has already applied for
trademarks with names such as 'Reality One' and 'Reality Pro'
. A new overseas media, The Information, has released a report on the MR headset under development by Apple, ``You can switch between VR and real world display with a physical dial'', ``Can work with AirPods Pro'', ``On your waist Details such as 'external battery to be installed' have been clarified.
Inside the Tech Powering Apple's Envelope-Pushing, Risky Mixed Reality Headset — The Information
https://www.theinformation.com/articles/inside-the-tech-powering-apples-envelope-pushing-risky-mixed-reality-headset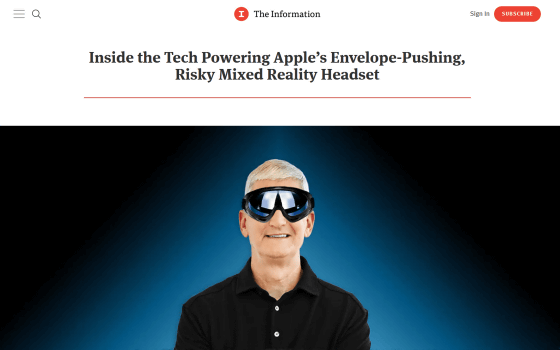 Report Reveals Wave of New Features for Apple's Mixed-Reality Headset, Including Digital Crown for Switching to Real-World View, Waist-Mounted Battery Pack, and More - MacRumors
https://www.macrumors.com/2023/01/03/report-reveals-wave-of-features-for-apple-headset/
Apple's mixed reality headset might let you switch out of VR with a digital crown - The Verge
https://www.theverge.com/2023/1/3/23537191/apple-mixed-reality-headset-digital-crown
Report: Apple's mixed reality headset will get auto-adjusting lenses and more - SiliconANGLE
https://siliconangle.com/2023/01/03/report-apples-mixed-reality-headset-will-get-auto-adjusting-lenses-amid-features/
It is said that Apple started developing next-generation headsets in 2015, but in 2019 there was a rumor that the
development of AR / VR headsets was canceled
. However, even after that, Apple continues to develop MR headsets equipped with a dedicated OS called `` reality OS '', and in 2022,
trademark applications for the `` Reality '' brand,
headset-related
recruitment, and personnel changes
etc. has been reported, and
shipments of headsets are expected to begin in the second half of 2023
.
And in January 2023, The Information published a detailed report on Apple's MR headset based on interviews with anonymous people who were actually involved in headset development. Constructed of aluminum, glass and carbon fiber, the headset looks like ski goggles and is much thinner and lighter than
Meta Quest Pro
, the high-end headset Meta released in October 2022, according to reports. About.
Apple's headset offers a 120-degree horizontal viewing angle, better than the Meta Quest Pro's 106-degree horizontal viewing angle, with a small motor that adjusts the internal lens according to the wearer's interpupillary distance for the widest possible field of view. is reported to be realized. The display is a Sony micro OLED display, forming 4K resolution for one eye and 8K resolution for both eyes. The report also reports that the company will offer custom lenses that can be magnetically attached so that eyeglass wearers can comfortably use the headset. In addition, a large display is mounted on the outer front of the headset, so that people around you can see the wearer's expression.
Additionally, the headset is equipped with more than a dozen cameras and sensors to capture the user's gestures, body movements, facial expressions, gaze, and more. As a result, in addition to synchronizing the movement of the avatar and the movement of the user on the application, it is also possible to reduce power consumption by rendering only the part in focus by eye tracking at the maximum resolution.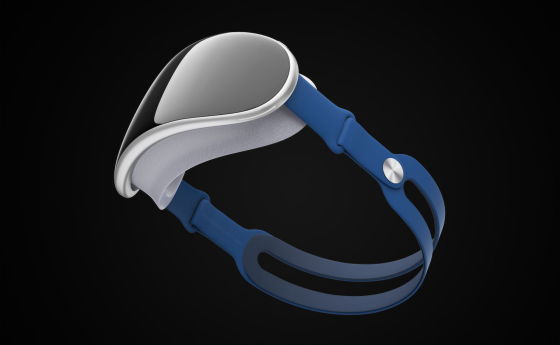 What attracted attention in this report was the function that ``you can switch between VR and real world display with the physical dial on the right side of the headset.'' Apple Watch and AirPods Max already have a physical dial called `` Digital Crown '', but the headset dial is said to have no tactile feedback.

The headset is equipped with the same H2 chip as the second-generation AirPods Pro , and when the headset and AirPods Pro are paired, 'ultra-low latency mode' is enabled, and the sound synchronized with the headset's field of view Reportedly heard from Pro. However, other Bluetooth earbuds suffer from visual and audio delays, and don't even have a wired headphone jack, so if you don't have a compatible AirPods model, use the headset's built-in speakers. It seems that it is necessary to

Also, Apple has adopted an external battery pack of the type worn on the waist, and it can be connected to the headset with magnetic force like MagSafe technology. The driving time with one battery is expected to be within 2 hours, but it is reported that users can easily replace the battery and extend the usage time.

In addition, Apple does not plan to come with a dedicated game controller for the headset, and The Information says, ``Apple sees video conferencing as a killer app for headsets.'' I'm here. Still, Apple has plans to allow developers to build VR apps using Unity.

Already, Apple supplier Pegatron has reportedly assembled thousands of headset prototype units as of 2022 and has also passed engineering validation tests. According to four informants who testified to The Information, the price of the headset will be more than $ 3000 (about 392,000 yen) depending on the configuration.