Google announces policy to roll out ads worldwide with YouTube shorts with an average of 30 billion views per day


At the keynote speech of Google's advertising business event '
Google Marketing Live 2022
', the policy to expand YouTube short advertising worldwide was announced. In addition, measures such as making it possible to see 3D models of products in search results and establishing a My Ad Center that allows users to finely control the advertisements they want to display have also been clarified.
Google Marketing Live 2022
https://blog.google/products/ads-commerce/resilience-results-reinvention-google-marketing-live/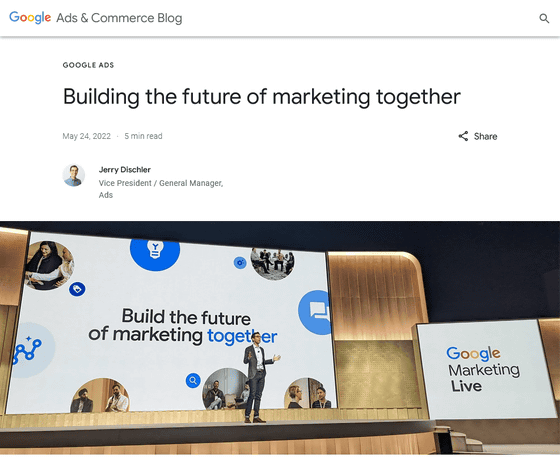 Google Begins Global Rollout of YouTube Shorts Ads – Adweek
https://www.adweek.com/programmatic/google-begins-global-rollout-of-youtube-shorts-ads/

Google begins rolling out ads in YouTube Shorts globally | TechCrunch
https://techcrunch.com/2022/05/25/google-ads-youtube-shorts-globally/

According to Jerry Discler, Google's vice president of advertising, 'YouTube Short,' which consists of videos up to 60 seconds in length, has quadrupled the number of views compared to a year ago. It is said that it has reached more than 30 billion times a day on average.

The introduction of ads to YouTube shorts has been limited so far, but it is planned to expand globally in the future, and in the latter half of 2022, advertisers will link product feeds with campaigns, You will be able to place video ads that are easier to shop for. From the user side, even if you tap the advertisement displayed while watching the YouTube short video on the application, the product of the advertisement will be displayed in the application without switching to the browser.

At the time of writing the article, 'There is no distribution of revenue from advertisements played on YouTube short players to creators of short videos ', but it was established with an investment of 100 million dollars (about 12.7 billion yen). There is a mechanism to pay creators through the YouTube short fund, and payments of $ 10 (about 1270 yen) to $ 10,000 (about 12.7 million yen) are made based on the number of viewers. According to Google, the amount paid to creators, artists and media companies over the past three years is more than $ 30 billion (about 3.82 trillion yen). Discler said this deployment will be an important step in developing YouTube short monetization solutions for creators in the future.

In addition, from the latter half of 2022, more visual advertisements will be introduced in Google search. Specifically, AR will be used to display the 3D model of the product directly from Google search. New ads will appear in a dedicated slot on the page, clearly marked as an ad.

The Performance MAX campaign will also add tools such as A / B testing to improve conversions.

Furthermore, from the latter half of 2022, a 'My Ad Center' will be created that allows users to finely control their privacy and online experience, and it will be possible to select the type of advertisement that they want to display on YouTube and search.