Google reveals the existence of 'smart glasses that subtitle and automatically translate the words spoken by the other party'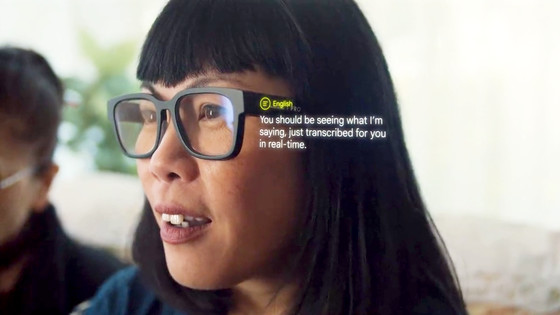 The event '
Google I / O 2022
' for developers, where Google's latest technologies, new products, and new services are announced, was held on May 11th and 12th, 2022. In it, it became clear that there is a glasses-type device that allows you to experience augmented reality (AR).
Augmented reality can break down communication barriers – and help us better understand each other by making language visible. Watch what happens when we bring technologies like transcription and translation to your line of sight. #GoogleIO ↓ pic.twitter.com/ZLhd4BWPGh

— Google (@Google) May 11, 2022


Viva (left) may not be able to communicate with her mother tongue (right) whose mother tongue is non-English.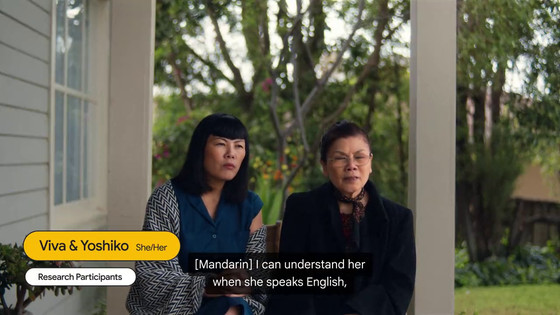 So Google gave me the following glasses.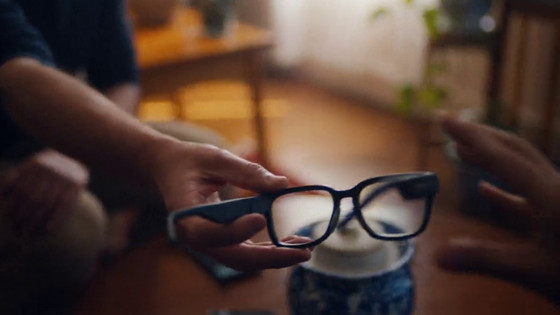 When I wear these glasses ...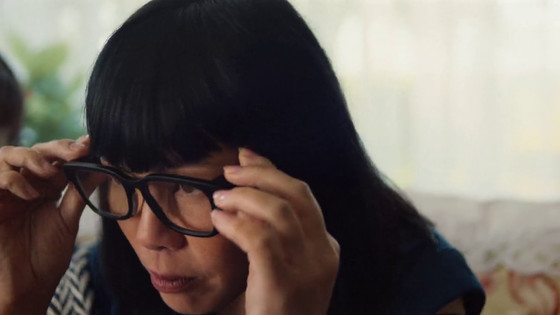 The words spoken by the other party are transcribed and displayed in the text one by one.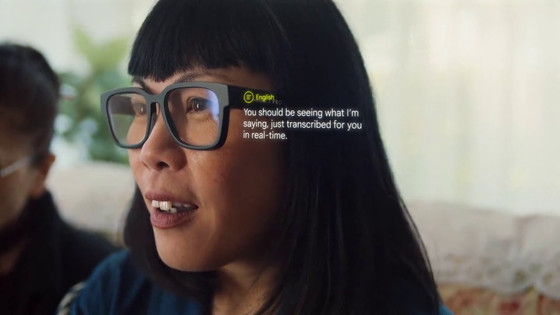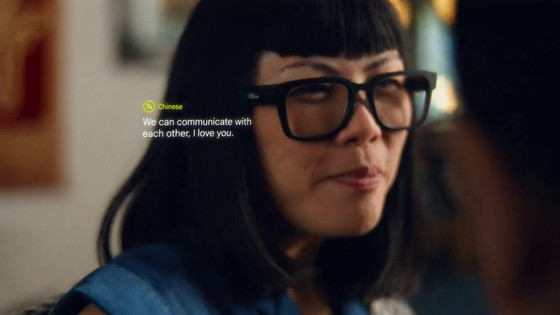 This man also wears the glasses given by Google.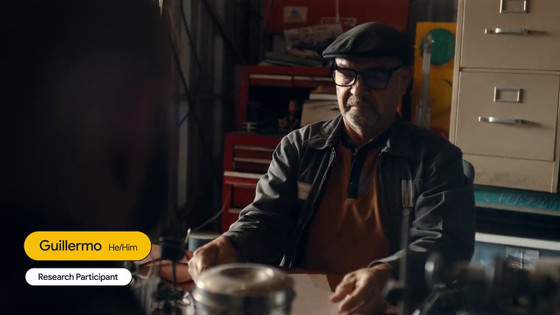 The following is a reproduction of the scene seen from the inside of the glasses. Below the other person's face, the language spoken by the other person and its contents are displayed in subtitles.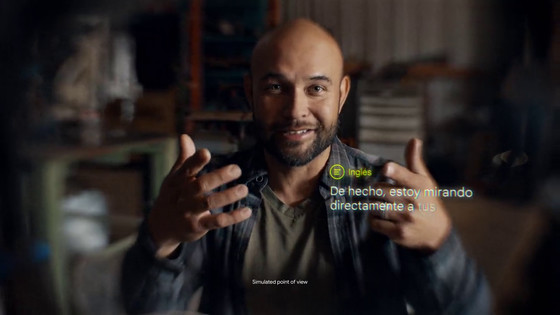 This research partner for Google's eyeglass-type devices also includes people who are deaf.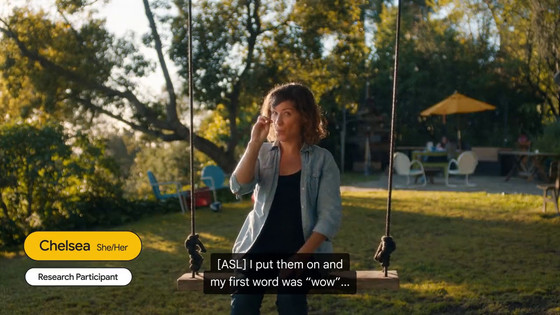 It seems that they usually communicate using sign language, but if the other party does not know sign language, communication becomes very difficult. However, with this glasses-type device, you can see what the other person is talking about in subtitles, so you don't have to force the other person to sign language.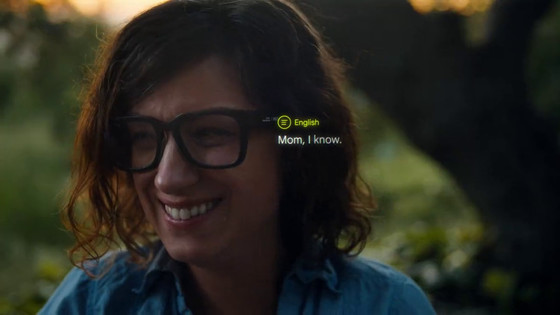 Google has been developing an AR device called 'Google Glass'. Although this Google Glass was discontinued once in 2015, ' Google Glass Enterprise Edition 2 ' has been sold as a corporate product since then. This Google Glass Enterprise Edition 2 is designed with a small AR display attached to the eyeglass frame.

The latest version of Google Glass can now be purchased directly from distributors --GIGAZINE



However, the glasses-type device shown in the movie announced this time does not have an AR display like Google Glass Enterprise Edition 2. North, a smart glasses development company acquired by Google in 2020, is developing smart glasses with a structure that projects images from the frame to the lens, and it has become a hot topic because it looks like ordinary glasses. I was there. This North technology may be applied to the glasses-type device shown in this movie.

Google acquires smart glasses development company North, and the release of 'Focal 2.0' scheduled to appear in 2020 is canceled --GIGAZINE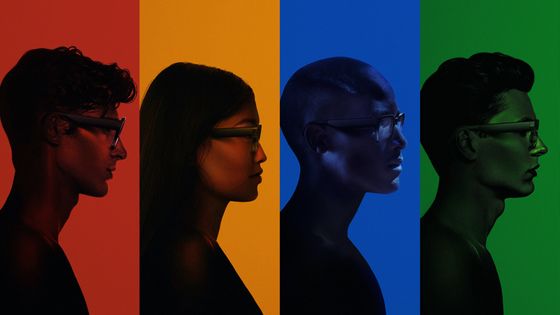 In May 2022, Google announced that it would acquire Raxium, which develops small and power-saving micro LEDs. It is expected that this Raxium micro LED will also be useful for the development of smart glasses.

Google acquires micro LED development company 'Raxium' to promote smart glass development --GIGAZINE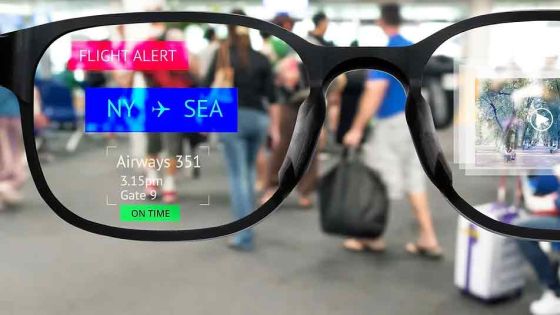 It is reported that Google is promoting the smart glasses development project ' Project Iris ' in January 2022. It is unknown whether the glasses-type device announced this time is this Project Iris, and it is not clear when it will be released, but Google is actively developing smart glasses even at the time of writing the article. There seems to be no mistake.

In his keynote speech , Google CEO Sundar Pichai said, 'As a new frontier in computing, AR has the potential to extend all of this further. Google has made significant investments in the field of AR, and much more. We've incorporated AR technology into our Google products. These AR features are already useful in mobile phones, but when they become available in the real world without being disturbed by technology, the magic really becomes. It's coming alive. That's what we most expect from AR. In the real world, in real life, you'll be able to spend your time doing important things, because reality. Because the world of is so wonderful. '