Google announces smartphone 'Google Pixel 6a' equipped with the same chip as the high-end model at the 50,000 yen level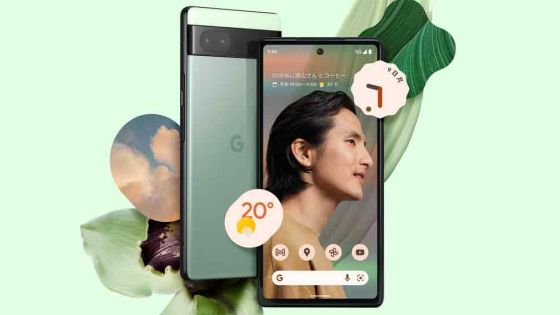 On Thursday, May 12, 2022, Google announced the Android smartphone ' Pixel 6a '. While equipped with the same original SoC 'Google Tensor' as the
'Pixel 6' and 'Pixel 6 Pro'
that appeared in 2021, it realized a price that is easy to reach in the 50,000 yen range. You can use functions such as 'eraser magic' that erases obstructive objects from photos and real-time translation.
Google Pixel 6a-Google Store
https://store.google.com/product/pixel_6a
Google Japan Blog: Introducing the affordable Google Pixel 6a!
https://japan.googleblog.com/2022/05/google-pixel-6a.html
Like the Pixel 6 and Pixel 6 Pro, the Google Pixel 6a has a raised shape on the rear camera part, and there are three types of colors, 'Sage', 'Chalk', and 'Charcoal'.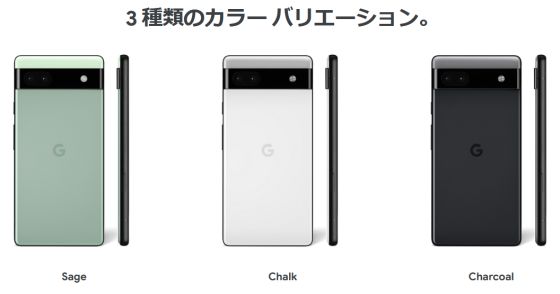 The dimensions are height 152.2 mm x width 71.8 mm x thickness 8.9 mm. The dimensions of the Pixel 6 are 158.6 mm x width 74.8 mm x thickness 8.9 mm, so it seems to be one size smaller. The size of the display is 6.1 inches and the resolution is 1080 x 2400. In addition, the display has a fingerprint sensor embedded in it, which can be unlocked by simply tapping the screen.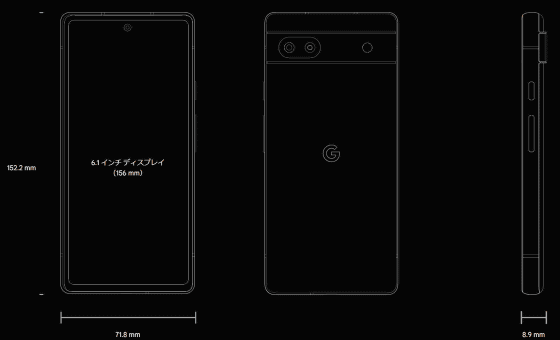 There are two types of cameras on the back, the '12.2 megapixel dual pixel wide-angle camera' and the '12 megapixel ultra wide camera'. It also has an 8-megapixel camera on the front.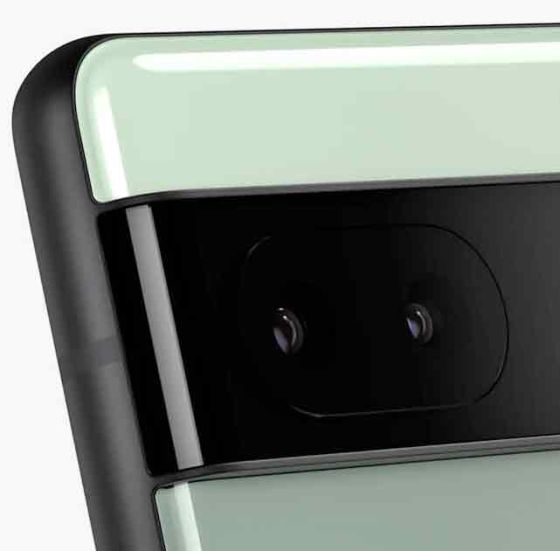 Google Pixel 6a is equipped with the same Google SoC 'Google Tensor' as Pixel 6 and Pixel 6 Pro, and you can use functions that utilize AI such as 'Eraser Magic' that erases obstructive objects from photos.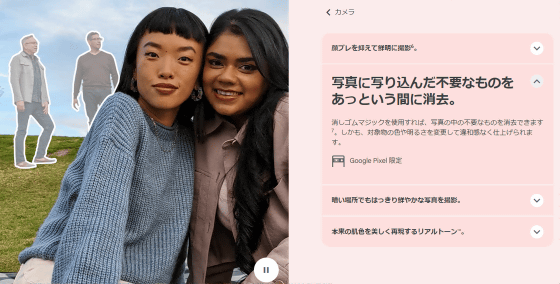 You can also use the function of recognizing voice and translating it in real time.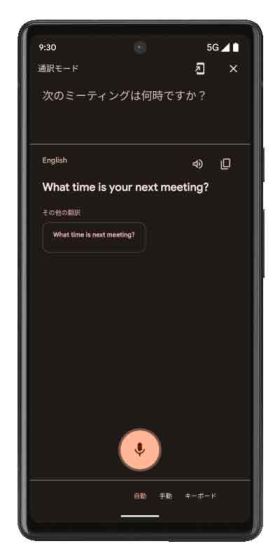 With the battery optimization function, a long battery life of 24 hours is realized, and if you use the function 'Super Battery Saver' that stops other than the selected application, you can keep the battery for up to 72 hours.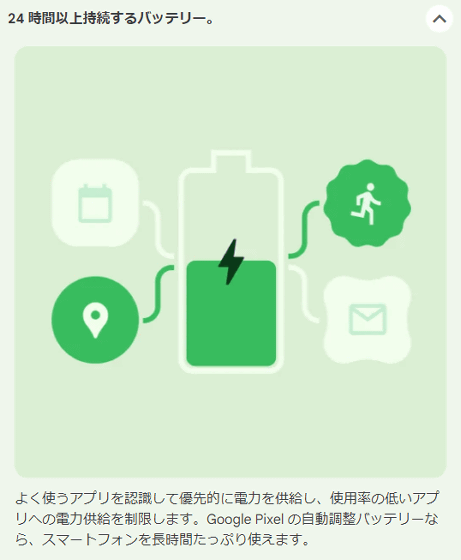 The price of Google Pixel 6a is 53,900 yen, reservation acceptance at the official store will start from Thursday, July 21, 2022, and it will be released on Thursday, July 28, 2022. You can also receive the latest information by clicking 'Register' on the sales page of the Google official store.

Google Pixel 6a-Google Store
https://store.google.com/product/pixel_6a