Handheld game machine 'Steam Deck' announced, price starts from 40,000 yen level and will start shipping in December 2021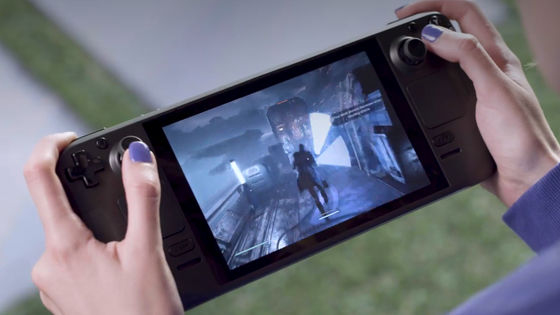 Valve, which develops the game distribution service 'Steam', announced the portable game machine 'Steam Deck' equipped with all the functions of Steam. If you are already using Steam, this terminal, which can be described as a 'portable gaming PC' because the games in the library can be played immediately, is equipped with Steam OS 3.0 designed for Steam Deck as the OS. It has been.

Steam Deck

https://www.steamdeck.com/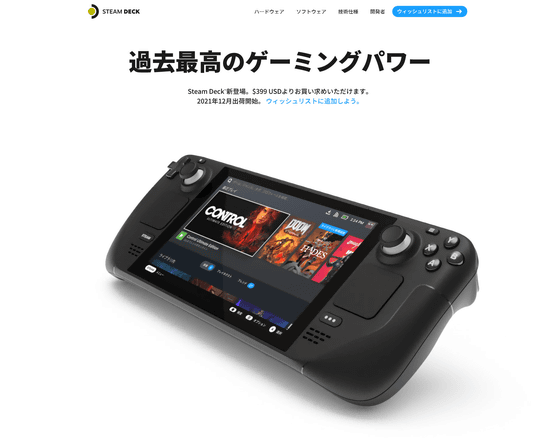 Introducing Steam Deck: powerful, portable PC gaming starting at $ 399. Designed by Valve, powered by Steam. Shipping December 2021.

Learn more at

https://t.co/ZOTx3KUCVK and reserve yours tomorrow. #SteamDeck pic.twitter.com/jcgbaKfT9c — Steam (@Steam) July 15, 2021


SteamDeck seems to have been developed under the tentative name of 'SteamPal'.

Information that the developer of Steam is developing a portable PC 'SteamPal' like Nintendo Switch --GIGAZINE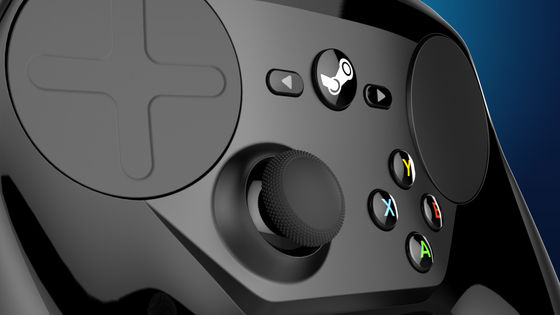 by Colony of Gamers

The screen size is 7 inches. Equipped with AMD APU, CPU is Zen 2 (4 cores 8 threads / 2.4GHz-3.5GHz), GPU is RDNA 2 (8CU / 1.0GHz-1.6GHz). RAM is 16GB LPDDR5 RAM. There are three models of storage, 64GB, 256GB, and 512GB, each of which can be expanded with a microSD card slot.

The size is 298mm x 117mm x 49mm, and the weight is about 669g. By the way, the similar game machine Nintendo Switch is 239 mm x 102 mm x 13.9 mm and weighs about 398 g, and the Nintendo Switch organic EL equipped model is 242 mm x 102 mm x 13.9 mm and weighs about 420 g.

The shipping time is December 2021 for the United States, Canada, the EU, and the United Kingdom, and 2022 for other regions.

The price is $ 399 (about 44,000 yen) for the 64GB model, $ 529 (about 58,000 yen) for the 256GB model, and $ 649 (about 71,000 yen) for the 512GB model. All models come with a carrying case, the 256GB model comes with a limited Steam Community Profile Bundle, and the 512GB model comes with a Limited Steam Community Profile Bundle as well as a Limited Virtual Keyboard Theme.