Portable game machine 'Steam Deck' that can play 'Steam' games released on February 25, 2022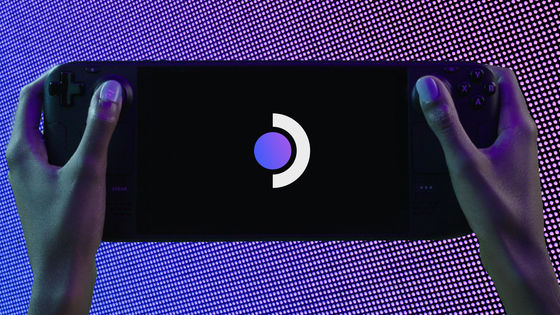 It was announced that the portable game machine 'Steam Deck ' that can play games distributed on the game distribution platform '
Steam
' will be released on February 25, 2022.
By completing the purchase procedure according to the order mail you received, it will be shipped sequentially from February 28th.
Steam Deck Deposit-Steam Deck Released February 25-Steam News
https://store.steampowered.com/news/app/1675180/view/3117055056380003048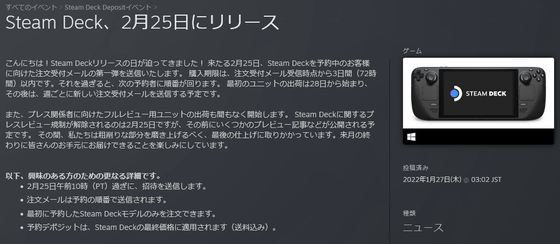 Valve will start selling the Steam Deck on February 25th --The Verge

https://www.theverge.com/2022/1/26/22902930/valve-steam-deck-release-date-gaming-handheld-pc
'Steam Deck' is a portable game machine equipped with all the functions of 'Steam'
announced in July 2021.
Initially, it was scheduled to start shipping in December 2021, but it was postponed due to a shortage of raw materials.
Valve announces postponement of shipping date for its own game console 'Steam Deck' --GIGAZINE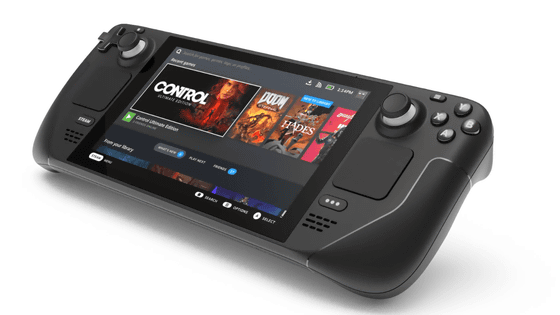 According to the announcement from Valve, from February 25, 2022, order acceptance emails will start to be sent to users who have already pre-booked Steam Deck. If you complete the purchase procedure within 3 days of receiving the email, it will be shipped sequentially from February 28th.

If you do not complete the purchase procedure, it will be your turn to the next reservation person.