Amazon Prime Video playback time increased by 70% year-on-year & cloud business grew 32%, etc. Quarterly financial report showing Amazon's tremendous growth is released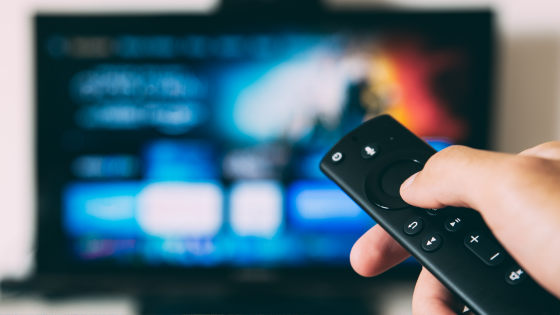 Amazon released its financial results for the first quarter of 2021 on April 29, 2021. Sales increased 44% year-on-year to 108.5 billion dollars (about 11.8 trillion yen), and the leap in the cloud business and the growth of Amazon Prime are particularly noteworthy.

Microsoft Word-Amazon Q1 2021 Earnings Release.docx

https://s2.q4cdn.com/299287126/files/doc_financials/2021/q1/Amazon-Q1-2021-Earnings-Release.pdf
AWS earnings Q1 2021
https://www.cnbc.com/2021/04/29/aws-earnings-q1-2021.html
Amazon's ads business nears $ 7 billion a quarter, posts 77% growth
https://www.cnbc.com/2021/04/29/amazons-ads-business-nears-7-billion-a-quarter-posts-77percent-growth.html
Amazon Q1 Earnings: More Than 175 Million Prime Video Viewers --Variety
https://variety.com/2021/digital/news/amazon-q1-2021-prime-video-viewers-1234963065/
Amazon crosses $ 100 billion in sales in huge first quarter --The Verge
https://www.theverge.com/2021/4/29/22404044/amazon-earnings-q1-2021-performance-profit-operating-income
The following is the financial report. Amazon's net revenue in the first quarter of 2021 was $ 108.5 billion, and in the first quarter of 2020 it was $ 75 billion, an overall increase of 44%. Net sales for the second quarter of 2021 are expected to grow further to around $ 110-116 billion.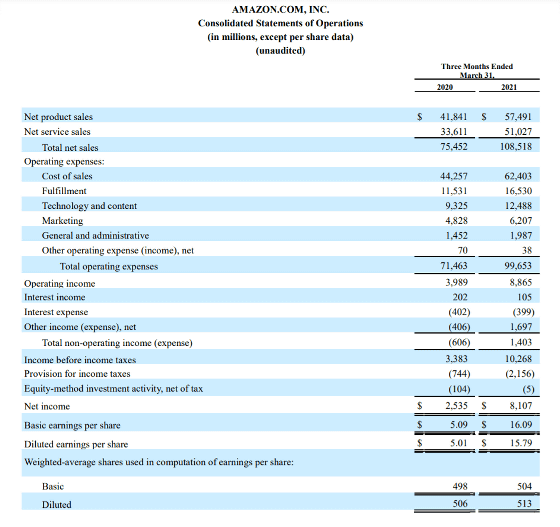 Net income was also $ 8.1 billion (about 880 billion yen) in the current fiscal year, compared to 2.5 billion dollars (about 270 billion yen) in the same period of the previous year, showing great growth.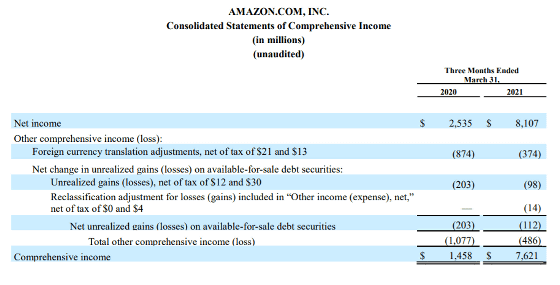 In particular, the cloud business has grown remarkably, with analysts predicting 28% growth this quarter, but in reality sales will grow 32% to $ 13.5 billion (about 1.4700). Reached 100 million yen). It accounted for 12% of total revenue. The operating profit is 4.16 billion dollars (about 450 billion yen).




It was also announced on April 16, 2021 that Amazon Prime had more than 200 million subscribers, but it also announced that Prime Video streaming time has increased by 70% year-on-year. I did. Not all Amazon Prime subscribers use Prime Video, but about 175 million subscribers have streamed over the past year.

In recent years, Amazon's advertising business has been attracting attention for its high profitability , and this term has also seen growth. The 'Other' unit in Amazon's business mainly consists of the advertising business, but sales increased 77% year-on-year to over $ 6.9 billion (about 750 billion yen). This is seven times that of Twitter.

Although Amazon has grown significantly, it also has many problems such as the formation of a labor union and a lawsuit for antitrust violations, and it is also announced that CEO Jeff Bezos will retire in the third quarter of 2021. Has been done .