Amazon's second quarter 2021 sales fell short of market expectations and growth slowed, but AWS and advertising were strong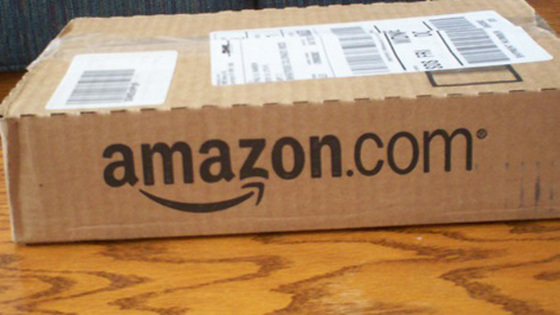 by
Paul Swansen
Amazon has released its financial results for the second quarter of 2021 (April-June). Total net sales were $ 113.08 billion, an increase from $ 88.91 billion in the year-ago quarter, but below market expectations. Amazon's flagship cloud computing,
Amazon Web Services
(AWS), is doing well, but the online shopping business is expected to slow.
Amazon.com, Inc. --Amazon.com Announces Second Quarter Results
https://ir.aboutamazon.com/news-release/news-release-details/2021/Amazon.com-Announces-Second-Quarter-Results-2dcdc6a32/default.aspx
Despite strong cloud growth, Amazon shares fall on revenue shortfall and lower guidance --SiliconANGLE
https://siliconangle.com/2021/07/29/despite-strong-cloud-growth-amazon-shares-fall-revenue-shortfall-lower-guidance/
Amazon's advertising business is surging amid industry-wide ad sales boom for tech giants --GeekWire
https://www.geekwire.com/2021/amazons-advertising-business-surging-amid-industry-wide-ad-sales-boom-tech-giants/
According to the second quarter 2021 earnings report, total net sales increased 27% year-on-year to $ 113.08 billion and operating income increased 32% year-on-year to 77. $ 100 million, $ 2 million, net income increased 48% year-on-year to $ 7,778 million, earnings per share Was $ 15.40, up 46% year-on-year.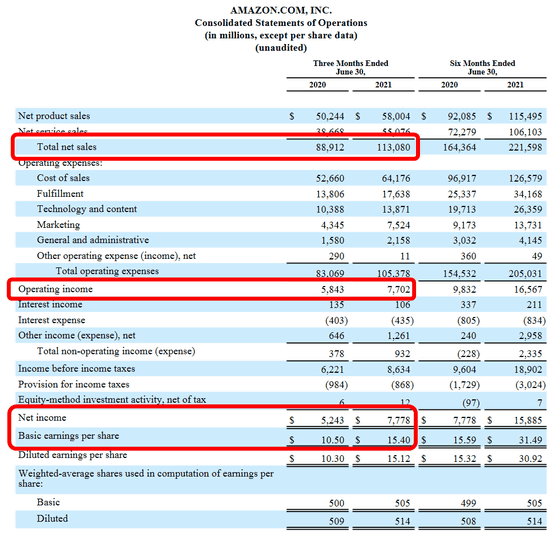 This total net sales of $ 113.08 billion was within Amazon's expectations, but it was below the market analyst's expected average of $ 115.4 billion (about 12.64 trillion yen), so the stock price after the financial report was reported. Overtime trading fell about 7%.

Online store sales increased 13% year-on-year to $ 53,157 million (approximately ¥ 5.82 trillion), and physical stores increased 10% year-on-year to $ 4,198 million (approximately 4600). It was 100 million yen). Due in part to the ongoing pandemic of the new coronavirus, sales in the online shopping business have increased compared to the previous fiscal year, but their growth rate has slowed. 'Prime member spending has fallen compared to peak times,' said Brian Olsavsky, Amazon's Chief Financial Officer.




Holger Müller, an analyst at market research firm Constellation Research, said, 'This is noteworthy because slowing growth is typical of market-leading companies and has been a hallmark of AWS's growth over the last few years. Overall, Amazon is willing to slow down while AWS is growing. AWS contributes significantly to Amazon's interests and is a source of Amazon's growth. Because I know. '

On the other hand, sales of subscription services were $ 7,917 million, an increase of 28% over the same period last year. In addition, revenue from the AWS division of cloud computing services, which is Amazon's main business, increased 37% year-on-year to $ 14,809 million (about 1.62 trillion yen), and operating income was 24 year-on-year. It increased by% to 4,193 million dollars (about 459 billion yen). The AWS division is also growing significantly overall, but as cloud computing platforms, Microsoft Azure and Google Cloud are gradually increasing their share, and AWS is expected to face a difficult battle.



And the business that Amazon is growing particularly significantly is the advertising business. Although specific sales are not disclosed, sales in other divisions, including the advertising business, increased 83% year-on-year to $ 7,914 million, along with the first quarter of 2021 (January-March). It is showing a large growth rate. Amazon has streaming media platforms such as Twitch and Fire TV, and it is believed that advertising revenue from these platforms is increasing. According to IT news site GeekWire, Amazon's advertising division has already grown to almost seven times the size of Twitter, and has a 10% share of the US digital advertising market.




For the third quarter (July-September), Amazon said, 'Total net sales of 106 billion dollars (about 11.60 trillion yen) to 112 billion dollars (about 12.26 trillion yen), or the third quarter of 2020. Growth rate of 10% to 16% compared to (100 million yen) "is expected.