Amazon recorded record net profit of 280 billion yen, announcement of the second quarter results of 2018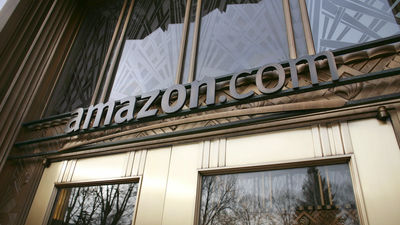 by Robert Scoble

Amazon announced the settlement of accounts for the second quarter on July 26, 2018 local time. Net profit is about 2.5 billion dollars (about 280 billion yen), which is a much higher number than expected. Behind this success is Amazon believed to have Amazon Web Survices (AWS), a cloud service for Amazon's business.

Amazon.com Announces Second Quarter Sales up 39% to $ 52.9 Billion | Business Wire
https://www.businesswire.com/news/home/20180726005861/en/Amazon.com - Announces - Quarter - Sales 39-52.9 - Billion

This is the Amazon everyone should have feared - and it has nothing to do with its retail business - Recode
https://www.recode.net/2018/7/26/17619420/amazon-amzn-earnings-q2-aws-advertising-profits-growth

According to the release, Amazon's sales in the second quarter of 2018 was 52.9 billion dollars (about 5.8 trillion yen) with net profit of $ 2.53 billion (about 280 billion yen). The net sales are slightly less than the average analyst estimate of 53.4 billion dollars (about 5.9 trillion dollars), but we think that net income was $ 197 million (about 21.8 billion yen) in the same period last year And its upward range is tremendous, when we look at the quarterly basis we record the highest profit.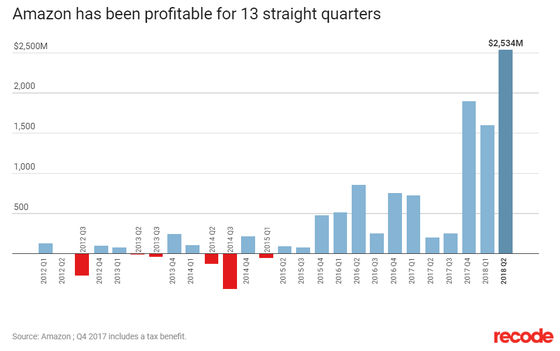 Amazon Web Survices (AWS) is a major factor that Amazon is making net profit so much. AWS is a well-established business cloud computing service that Amazon has developed since 2002.

The following graph shows operating profit on a quarterly basis. In online mail order sales, the deficit continues on a worldwide scale, and the surplus is continuing slightly in the US and Canada, but AWS always keeps a surplus of around 25% and boasts a high operating profit margin You can see that there is.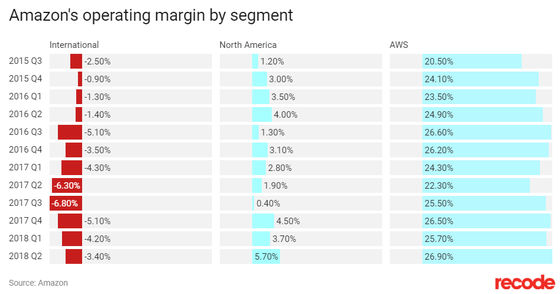 In the second quarter of 2018, AWS sales were $ 6,150 million (about 680 billion yen), up 49% from the same period last year. Also, AWS's operating profit is $ 1,642 million (about 180 billion yen), which is 84% ​​compared to the same period last year, which shows that AWS is growing steadily and bringing tremendous revenue to Amazon.

In addition to AWS, the advertising business was also performing well, with revenue up 129% over the same period last year. Also, Amazon has raised the annual membership fee of the prime member in the US by 20% from May 11, 2018, but still subscribers continue to increase, prime member annual membership revenues increased by 57% to $ 3.4 billion (About 380 billion yen).

Among cloud computing services, such as Microsoft Azure and the Google Cloud platform , there are many powerful rivals, while AWS is still blasting the top of cloud computing services. It can be said that "side jobs" such as AWS and advertising business have become major earnings heads for Amazon rather than online mail order sales of "main business".