AMD has emerged as the second largest customer of TSMC, the world's largest semiconductor foundry, or that company is still number one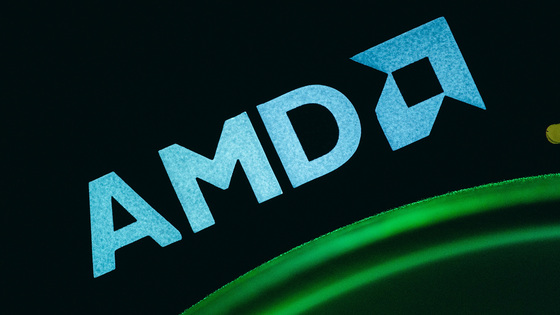 AMD, a
chip maker, manufactures most of its CPUs, GPUs and custom SoCs at
TSMC
, the world's largest semiconductor foundry. It is reported that such AMD may jump to the second largest share of revenue in 2021 of TSMC.
Samsung Won't Overtake Taiwan Semiconductor Despite Massive Capex Spend (OTCMKTS: SSNLF) | Seeking Alpha
https://seekingalpha.com/article/4414346-samsung-won-t-soon-overtake-taiwan-semi-despite-massive-capex-spend
AMD Expected to Become TSMC's Second Largest Customer | Tom's Hardware
https://www.tomshardware.com/news/amd-tsmc-second-largest-customer
Below is a table summarizing 'TSMC's annual earnings share by trading companies' from data estimated by
research firm The Information Network
by Economic News Media Seeking Alpha.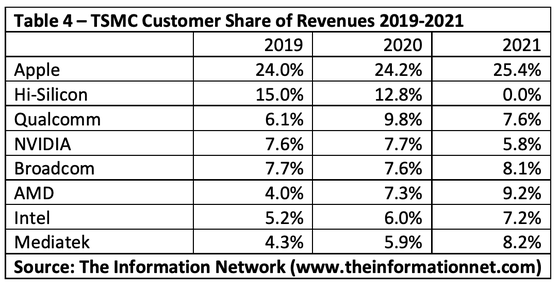 Looking at the table above, Apple will account for 24% to 25% of TSMC's revenue from 2019 to 2021. Apple, which produces all the chips on iPhones and iPads at TSMC, has put the 5nm process to TSMC for the M1 chip and is TSMC's biggest customer. On the other hand, HiSilicon , which had the second largest revenue share in 2019 and 2020, will have a revenue share of 0.0% in 2021 due to the restriction of commercial transactions in the United States by its parent company Huawei.

AMD has steadily increased its market share each year and became TSMC's 'second customer' in 2021. Since AMD's Zen 3 architecture and RDNA 2 architecture are designed on TSMC's 7nm process node, AMD has almost contracted only with TSMC. In addition, AMD's market share has grown steadily and shipments have steadily increased, making AMD a significant contributor to TSMC's bottom line.

AMD will steadily increase its CPU share in 2020, and shipments of the Ryzen 5000 series have already exceeded 1 million units --GIGAZINE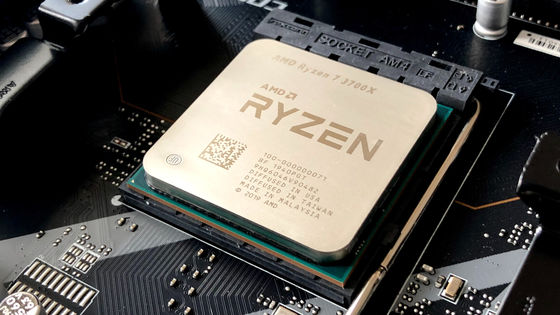 Technology media Tom's Hardware also points out that AMD's share of TSMC's revenue has grown because its rivals are less dependent on TSMC than AMD.

For example, NVIDIA is shifting its production base from TSMC to Samsung, such as designing the Ampere architecture used in the GeForce RTX 30 series with Samsung's 8nm process.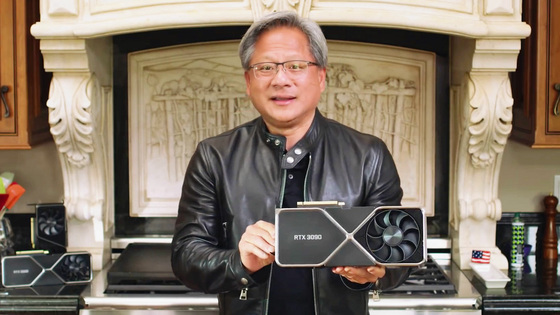 According to The Information Network, Intel has been gradually increasing orders from TSMC as an external production in recent years, but it is expected that most of the products released in 2021 will be produced in-house. 'It's almost impossible for AMD to take the lead from Apple, but we're not worried about losing TSMC's revenue share from Intel, NVIDIA and Qualcomm,' said Tom's Hardware.

In addition, Tom's Hardware said, 'As AMD becomes a more important customer for TSMC, it will not only allow AMD to negotiate financial terms with TSMC more favorably, but will also give us access to TSMC's latest process technologies and developments. , The product will be more competitive, 'he said, showing that AMD's chip supply could be stable in the future.