It turns out that Chinese semiconductor maker 'SMIC' mass-produces 7nm chips that even Intel struggled with and is rapidly growing into a foundry equivalent to the third largest in the world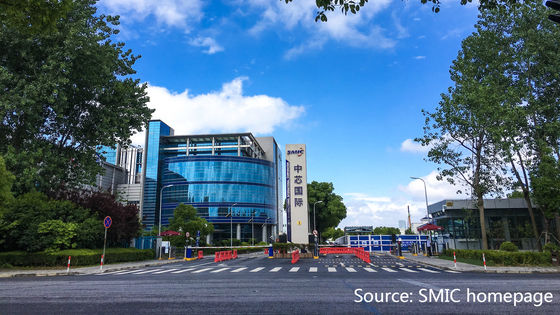 by SMIC

Research firm TechInsights reports chip production under the 7nm process rule of Chinese semiconductor maker SMIC. It seems that 7nm process production is not surprising, as it has already been reported that
TSMC
entered the production system for 3nm process products in April 2022 and
Samsung in July 2022
. The breakthrough part of this discovery is that SMIC manufactured products for the 7nm process, even though the U.S. Department of Commerce restricted the export of equipment available for more advanced technologies to the 14nm process to China. It is in fact.
Disruptive Technology: 7nm SMIC MinerVa Bitcoin Miner | TechInsights
https://www.techinsights.com/blog/disruptive-technology-7nm-smic-minerva-bitcoin-miner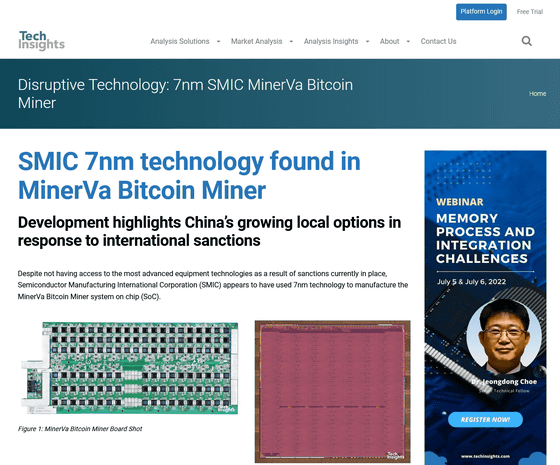 China's SMIC Is Shipping 7nm Foundry ASICs-by Dylan Patel

https://semianalysis.substack.com/p/chinas-smic-is-shipping-7nm-foundry
China's SMIC Shipping 7nm Chips, Reportedly Copied TSMC's Tech | Tom's Hardware
https://www.tomshardware.com/news/china-chipmaker-smics-7nm-process-is-reportedly-copied-from-tsmc-tech
The manufacture of 7nm process chips is not officially announced by SMIC, but is information obtained by Techinsights by disassembling commercially available chips in the laboratory. It is manufacturing SoC for Bitcoin miners, and it is said that it has been shipped from July 2021. And according to the analysis, SMIC's 7nm process chip may have been copied from Taiwan's major semiconductor maker TSMC. TSMC has a history of suing SMIC for copying the technology in 2002 and 2006 as well.
The issue is not only whether or not TSMC products have been copied, but also the US Department of Commerce restricting the export of equipment required to produce semiconductors with process rules higher than the 14nm process to China. The latest EUV lithography equipment is required for semiconductor production with miniaturized process rules, but according to Techinsights' analysis, SMIC produces 7nm process products using existing equipment without relying on EUV lithography equipment. It seems that it is. The production of 7nm chips by SMIC seems to be low in yield and high cost due to the inability to use the latest equipment, but given the intention of becoming technically independent of Western countries by producing the chips independently, it is a concern. It's not as expensive as it sounds.
The production scale of SMIC exceeds that of GlobalFoundries, the world's third largest foundry (contract manufacturing company for semiconductors), and is second only to TSMC and Samsung.
Regarding semiconductors, there has been a tendency for shortages in all industries for two years since the beginning of 2020, when the pandemic of the new coronavirus occurred, but the shortage will be resolved in the future as each manufacturer has established a production increase system. It is expected to be done.
Global manufacturers see chip shortage easing | Reuters
https://www.reuters.com/technology/global-manufacturers-see-chip-shortage-easing-2022-07-21/
As an example of a semiconductor factory, Samsung is reported to have invested $ 200 billion in Austin, Texas to build 11 facilities and create more than 10,000 jobs. The factory will be operational as early as 2034.
Samsung Plans to Invest $ 200 Billion in Texas for 11 New Semiconductor Fabs | Tom's Hardware
https://www.tomshardware.com/news/samsung-plans-to-invest-dollar200-billion-in-texas-for-11-new-semiconductor-fabs
In terms of semiconductors, AMD has introduced a 'chiplet' method that divides the main chip into four parts and connects them, instead of packing many functions into one large silicon 'die', and manufacturing costs. 40% reduction of. Intel and others are also paying attention to chiplet technology, and an industry group promoting the open standard 'Universal Chiplet Interconnect Express (UCIe)' for interconnecting semiconductor dies and the standard specification 'UCIe 1.0' will be released in March 2022. Has been announced in.
Intel, AMD, Microsoft, TSMC, Samsung, etc. announce the establishment of the 'UCIe' consortium to formulate new chiplet standards --GIGAZINE