How much can I request for 'Stema Review' posted on Amazon innumerably?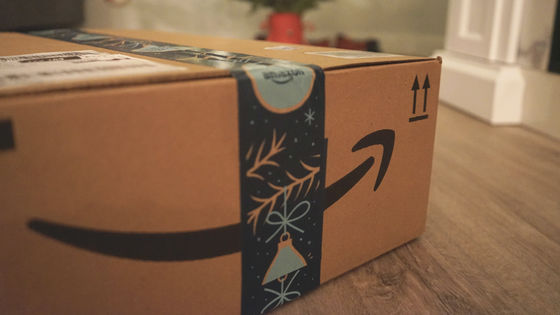 It has been pointed out that 42% of the reviews posted on Amazon are fake reviews , and it is reported that 7 out of the top 10 reviewers are posting stemmer reviews , on Amazon The problem is that there are a lot of random reviews that aren't helpful. Which , a British consumer information magazine, tells you how much 'Stema Review' is sold, which is only harmful to such users . Is investigating.

How a thriving fake review industry is gaming Amazon marketplace? Which? News
https://www.which.co.uk/news/2021/02/how-a-thriving-fake-review-industry-is-gaming-amazon-marketplace/

Posing as Amazon seller, consumer group investigates fake-review industry | Ars Technica
https://arstechnica.com/tech-policy/2021/02/fake-amazon-reviews-still-sold-in-bulk-it-costs-10900-for-1000-reviews/

Which? In December 2020, we conducted a survey on how much Stemmer Review can be purchased using 10 sites that provide review operation services. Research has shown that the five review manipulation services alone have more than 702,000 reviewers.

One of the review operation services was provided by a German company called AMZ Tigers. Amazon prohibits third-party vendors selling products on the Marketplace from paying for reviews. If you violate this policy, the seller will suspend or delete your Amazon account. However, the service provided by AMZ Tigers is 'a service that violates Amazon's policy,' Which? Pointed out.

Below is the price list of the stemmer review posting service provided by AMZ Tigers. It sells for 15 euros (about 1900 yen) per review, 699 euros (about 90,000 yen) for 50 reviews, 1299 euros (about 167,000 yen) for 100 reviews, 2999 euros (about 380,000 yen) for 250 reviews. It costs 4999 euros (about 641,000 yen) for 500 reviews and 8999 euros (about 1.2 million yen) for 1000 reviews.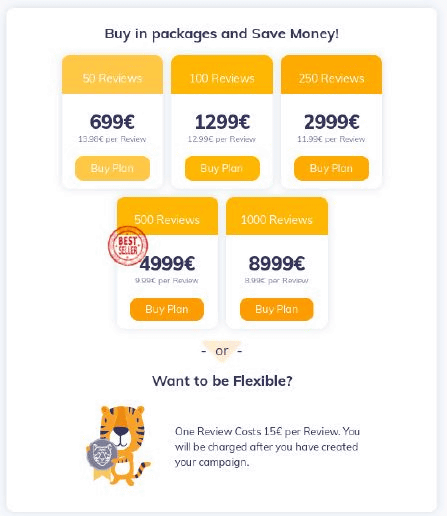 AMZ Tigers' stemmer review posting service appeals, 'Using AMZ Tigers' reviewers to generate sales with specific search words, it may help sellers get Amazon's Choice approval within two weeks.' It seems that it is.

Which? Seems to have contacted AMZ Tigers, but did not get a response. AMZ Tigers was also the subject of a similar survey by the Daily Mail Online in December 2019. In a Daily Mail Online research report, an AMZ Tigers employee said, 'If you don't like the reviews posted, you can change the reviewer. This isn't legal, but it's not illegal. It's in the gray zone.' It is stated that he told the investigator.

Amazon has repeatedly taken legal action against companies that offer services to post such stemmer reviews. However, it seems that it is difficult for Amazon to eradicate the network that posts stemmer reviews just by taking legal action, and it is appealing that cooperation from regulators etc. is necessary. We also recommend that the general public use the Report Violations button below each review if you have any doubts about the reliability of a product review.




In addition, distributors are also rampant in offering products to reviewers free of charge and giving gift cards as gifts. Amazon also prohibits these practices in its terms of service.

Top-level users who write reviews on Amazon get various things for free --GIGAZINE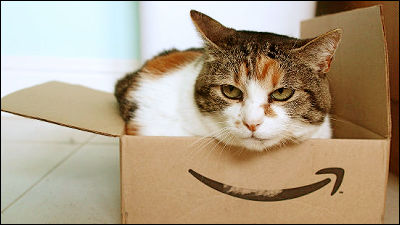 by Stephen Woods

However, there are multiple sites that connect sellers and reviewers, and on these sites, products are offered free of charge in exchange for reviews, and discount coupons are distributed, Which? Pointed out.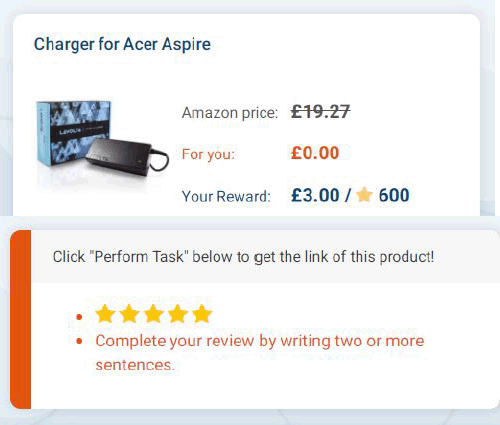 'AMZ Discover' is one of the sites that provides matching services between distributors and reviewers. Accessing the site's paid services gives sellers access to existing Amazon reviewer contact details so they can contact the reviewer directly and negotiate to post a stemmer review. It is. Since Amazon prohibits selling customer contact information etc. to external companies, AMZ Discover is a service that clearly violates Amazon's terms of service.

Which? Is calling on Amazon to take more proactive action to prevent stemmer reviews, saying, 'If Amazon is not responsible for stemmer reviews, it will be consumed by government agencies, including platform-side legal liability for stemmer reviews. There is an urgent need to strengthen consumer protection, 'he said, with a view to putting pressure on Amazon.