Seven of the top 10 reviewer rankings by Amazon posted 'Stema Review', Amazon deleted 20,000 reviews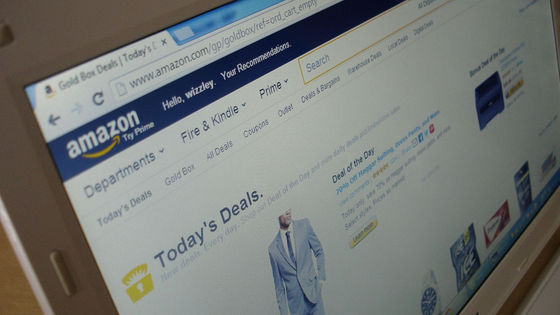 ``Stema Review'' that posts favorable reviews in exchange for free product provision and rewards is not only prohibited on the EC site as it distorts the review system, but it may also conflict with the
premium display method
as an unjustified indication there is. A new survey by the British financial newspaper Financial Times revealed that 7 out of 10 people who are active as top reviewers on Amazon in the country have posted Stemma reviews, Amazon has 20,000 reviews Will be deleted.
Amazon deletes 20,000 reviews after evidence of profits for posts | Financial Times
https://www.ft.com/content/bb03ba1c-add3-4440-9bf2-2a65566aef4a
Amazon takes down a five-star fraud in the UK-The Verge
https://www.theverge.com/2020/9/4/21423429/amazon-top-reviewers-uk-fraud
Amazon's top UK reviewers appear to profit from fake 5-star posts | Ars Technica
https://arstechnica.com/gadgets/2020/09/amazons-top-uk-reviewers-appear-to-profit-from-fake-5-star-posts/
Amazon has a ranking system called '
Top Reviewer
' that ranks users who post reviews on its platform based on the total number of reviews, the number of reference votes, and the percentage of 'helpful'. The reviews posted by top reviewers have a sign that they are top reviewers next to their user name, so they have a greater impact on buyers than other reviewers.



According to the Financial Times survey, Justin Fryer, a user who ranked first in the Amazon top reviewer ranking in the UK, was throwing 5 star reviews with an abnormal frequency of '1 per 4 hours'. Most of the reviews posted by Mr. Fryer are for products of Chinese companies, and the total amount of reviewed products reached 15,000 pounds (about 2.1 million yen) in August 2020 alone.

In addition, it was also found that Mr. Fryer sold the reviewed product on eBay and earned £20,000 (about 2.8 million yen). Since the products sold were said to be 'unused' and 'unopened', it is believed that after reviewing the product obtained free of charge from the company, it was falsely sold as unopened. The upper part of the image below is a review posted by Fryer on Amazon, and the lower part is proof that Fryer sold this reviewed product on eBay.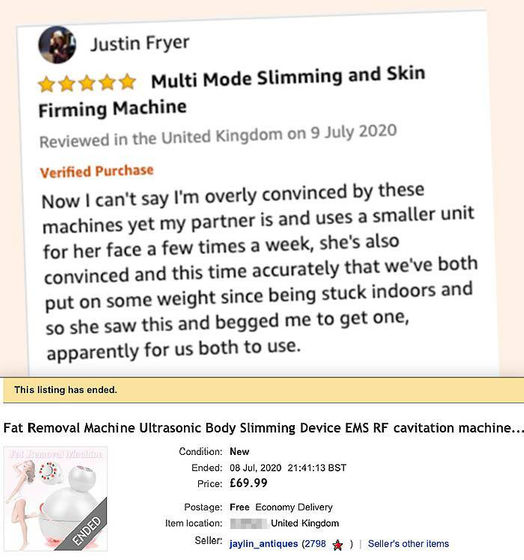 Fryer replied to the Financial Times question, 'I have never posted a review in exchange for a reward.' 'The reviewed item was sold as unopened on eBay because I owned multiple same items' I am.

According to the Financial Times analysis, 9 of the top 10 Amazon top reviewer rankings in the UK may have been paid and posted reviews. These reviewers have cast a large number of 5 star reviews on the products of unnamed Chinese companies.

Since 2016, Amazon has clearly banned 'actual review' from 'posting reviews as compensation for some kind of reward such as free provision of products and discounts'.


Amazon revises the terms of customer reviews, reviews that receive unofficial free or discount offer are prohibited-GIGAZINE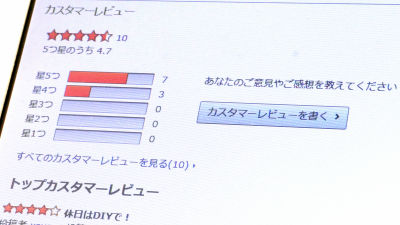 For this issue, Amazon has removed approximately 20,000 reviews from seven of the top 10 reviewers.
Analytical firm Fakespot, which specializes in stema reviews, said that stema reviews are posted on approximately 58% of products sold at Amazon in the United Kingdom. 'The rate of Stema reviews on Amazon in the UK is much higher than on other platforms,' said Fakespot.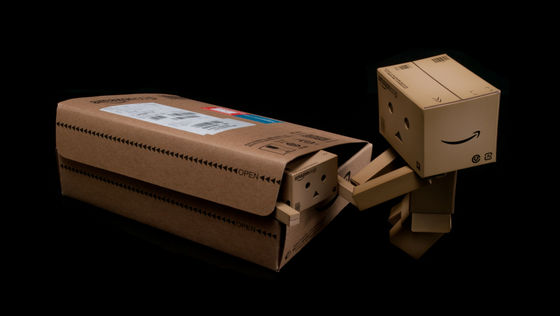 by William Warby

An Amazon spokesperson told The Verge, an IT news site that reported this news, ``We have a clear policy for both reviewers and sales partners, prohibiting abuse of community functions, and policy We are suspending and deleting accounts, taking legal action, etc. for violators of ``,'' Amazon customers, knowing that the reviews are genuine and appropriate, do not worry about shopping I would like you to do this.'