Amazon sued 1114 users who sold fake reviews for $ 5 for consideration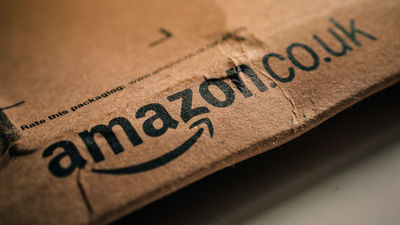 ByNic Taylor

AmazonClaimed several websites that sold fake reviews in April 2015We are taking legal actions to remove suspicious posts from Amazon's reviews, but Amazon also sells 1114 people who sold fake reviews for more than $ 5 per item (about 600 yen) We sued the user as being in violation of the Consumer Protection Act.

Amazon sues 1,114 reviewers, some selling their opinions for $ 5 | Ars Technica
http://arstechnica.com/tech-policy/2015/10/amazon-sues-1114-reviewers-some-selling-reviews-for-5/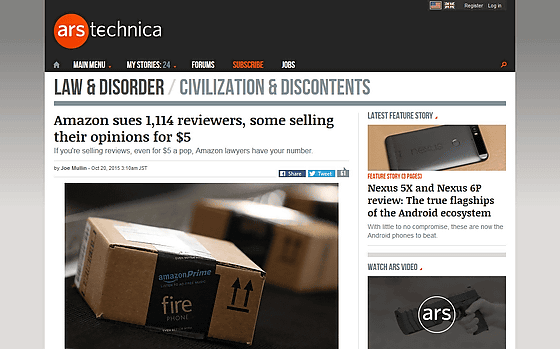 Title - Amazon.10.16.complaint.pdf
(PDF file)http://cdn.arstechnica.net/wp-content/uploads/2015/10/Amazon.10.16.complaint.pdf

"Fiverr"On the website 's website, the user who created the account wrote an Amazon fake review and paid over $ 5 per review for that consideration. Amazon filed a lawsuit as an "unknown person" of 1114 users who submitted fake reviews using such Fiverr. Amazon lawyers explain, "Fake review posts are slowing Amazon's website and brand confidence," asking for compensation as being in violation of Amazon's Terms of Service and Washington State Consumer Protection Act It is.

In this case, "Fiverr" himself is not designated as a defendant, and Fiverr users are sued by "aashiralvi" to "zajiue" in alphabetical order with a user name instead of a real name. In the PDF file containing the contents of the lawsuit, e-mail to invite fake review by "bess98" user, and detailed e-mail about fake review submission of the product page are stated as definite evidence.

Ars Technica inquired Fiverr about future policy and commented that "we will actively delete unreasonable content and services that break Amazon's terms of service." Amazon expects to continue these legal actions until it eradicates fake reviews and most of the fake review posting sites that Amazon has filed in April are closed. Meanwhile, as there are websites that continue to operate even after being sued, we decided not to sue websites, but to sue users who sold illegal reviews even at only $ 5 It seems.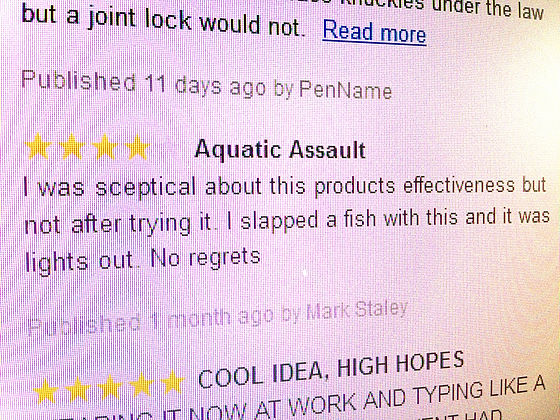 ByPrizepony