`` Doctors are trying to buy unproven new coronavirus therapeutics in advance, '' pharmacists accuse, there are cases where the medicine does not reach the people who really need it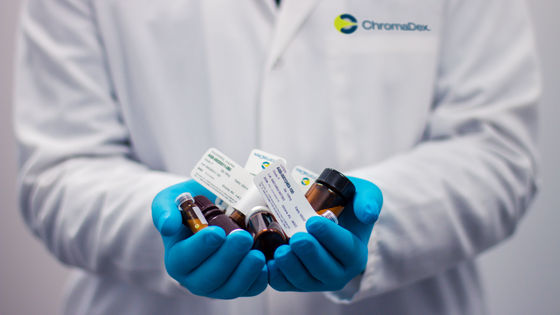 U.S. National Institutes of Health
will start human clinical trials
on March 16 for vaccines and therapeutics to prevent transmission of the new coronavirus, and the U.S. Defense Advanced Research Projects Agency (DARPA) will
be able to mass produce We
are working on the development of
prophylactic drugs
. Meanwhile, it has been reported that doctors have bought up unproven drugs that President Trump has seen as promising therapeutic drugs in medical practice.
Doctors Are Hoarding Unproven Coronavirus Medicine by Writing Prescriptions for Themselves and Their Families — ProPublica
https://www.propublica.org/article/doctors-are-hoarding-unproven-coronavirus-medicine-by-writing-prescriptions-for-themselves-and-their-families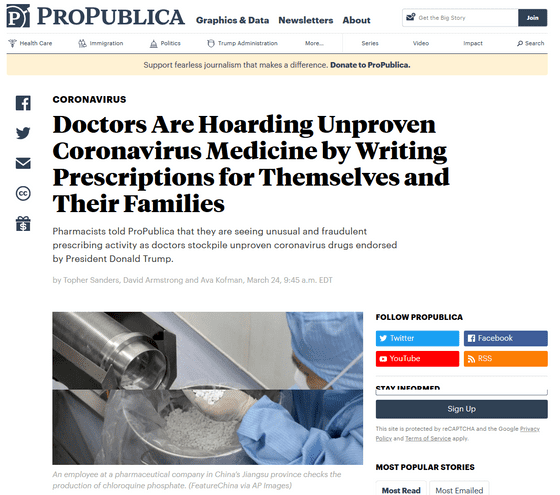 Hydroxychloroquine May Not Work Against COVID-19, But Hoarding's Already A Problem: Shots-Health News: NPR

https://www.npr.org/sections/health-shots/2020/03/23/820228658/why-hoarding-of-hydroxychloroquine-needs-to-stop
Lupus patients struggle to fill prescriptions after Trump touts drug for COVID-19: 'This is endangering lives'-CBS News
https://www.cbsnews.com/news/coronavirus-lupus-patients-struggle-fill-prescriptions-after-trump-touts-vital-drug-as-covid-19-treatment/
Chloroquine and hydroxychloroquine: What to know about the potential coronavirus drugs-CNN
https://edition.cnn.com/2020/03/23/health/chloroquine-hydroxycholoroquine-drugs-explained/index.html
Hydroxychloroquine, an
antimalarial drug distributed under the brand name 'Plakenil', is also used as a drug for treating
systemic lupus erythematosus and
a drug for suppressing inflammation of rheumatoid arthritis.
Regarding this hydroxychloroquine, the Japan Society for Infectious Diseases posted on its website ``
(PDF file) 2 cases of COVID-19 whose symptoms improved using hydroxychloroquine '
', a 69-year-old diagnosed with a new type of coronavirus infection. A man and a 66-year-old woman reported that 'from two days after the start of administration of hydroxychloroquine, the symptoms began to improve in both cases, and it was possible that hydroxychloroquine was effective.'
A clinical trial conducted in France also
reported
that 'the combined administration of hydroxychloroquine and the antibiotic
azithromycin
was remarkably effective in eliminating novel coronaviruses.'
Against this backdrop, President Trump of the United States
told a meeting held at the White House on March 19, 2020,
`` Hydroxychloroquine and its analogues,
chloroquine,
and the antiviral drug
remdecivir
may be a game changer. He said he had expectations for hydroxychloroquine, etc., and also instructed the Food and Drug Administration (FDA) to promptly approve the use of these drugs for new coronavirus infections. Revealed.
Trump also told Twitter, 'Hydroxychloroquine and azithromycin, when taken together, have the potential to become one of the largest game changers in medical history. Thank you! I hope both medicines come to market quickly. People are dying. Move fast and bless everyone. ' .
.... be put in use IMMEDIATELY. PEOPLE ARE DYING, MOVE FAST, and GOD BLESS EVERYONE! @US_FDA @SteveFDA @CDCgov @DHSgov

— Donald J. Trump (@realDonaldTrump) March 21, 2020


While this announcement has given hope to those suffering from the pandemic of the new coronavirus, it has also led to serious consequences. In Arizona, a couple who heard the announcement of President Trump on March 22 was taken to a hospital 30 minutes later after taking chloroquine phosphate sold as pet supplies, a 68-year-old husband died, a 61-year-old wife incidents also a critical condition has occurred . In Nigeria, far away from the United States, three people taking chloroquine have been reported to have developed poisoning symptoms.

In response, the Nigeria Center for Disease Control and Prevention states, 'WHO has not approved the use of chloroquine in new coronaviruses. Do not take this medicine at your own discretion. There is a danger that can occur. '

#FactsNotFear @WHO has NOT approved the use of chloroquine for # COVID19 management.Scientists are working hard to confirm the safety of several drugs for this disease.

Please DO NOT engage in self-medication.This will cause harm and can lead to death. # COVID19Nigeria pic.twitter.com/K6kljq0VtW

— NCDC (@NCDCgov) March 20, 2020


The patients most affected by this confusion are those who truly need hydroxychloroquine. 'Some people with debilitating illnesses already have difficulty obtaining hydroxychloroquine,' reported ProPublica, a non-profit and independent news agency in the United States.

In a petition addressed to Vice President Mike Pence and others , the Lupus Foundation , a support group for patients with systemic lupus erythematosus , said in a petition to Vice President Mike Pence that the increasing demand for hydroxychloroquine and other substances caused by the new coronavirus has led to patients relying on the drug. I am concerned about the worsening of the availability of the drug. '

It has also been pointed out that some selfish medical personnel are accelerating the lack of drugs. In the United States, hydroxychloroquine is not generally available without a doctor's prescription, but a doctor who anticipated the approval of hydroxychloroquine for patients with new coronavirus infection, issued a prescription fraudulently to himself or his family. Has begun to secure hydroxychloroquine for the purpose.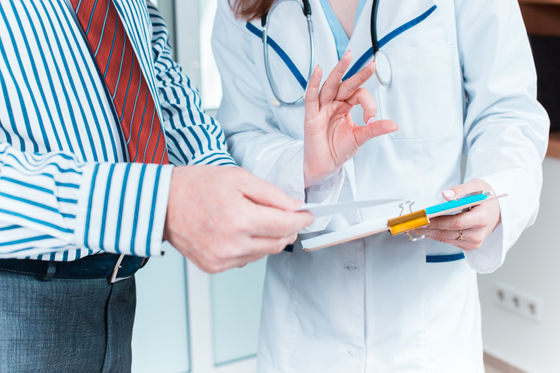 'Doctors are writing prescriptions for hydroxychloroquine for themselves and their families,' said Garth Reynolds, director of the Illinois Association of Pharmacists, in an interview with ProPublica. According to Reynolds, pharmacists from all over the country have reported many cases of 'a person suspected of having rheumatoid arthritis brought a prescription for hydroxychloroquine'.

Reynolds accused some of these healthcare practitioners for being 'embarrassing and completely self-centered.' The Illinois Association of Pharmacists will call on medical organizations to prevent doctors and medical assistants from issuing prescriptions for themselves.

in Note, Posted by log1l_ks