Apple's new video distribution service could be paid subscriptions for about $ 10.00

by
Jens Kreuter
It has been reported that Apple is
planning
a subscription-type
video distribution service
like Netflix, and this service will be announced at a
special event
held by Apple on March 26, 2019 Japan time. It is also said that Among such new video distribution services by Apple, it is reported that external video distribution services such as HBO and Showtime will be sold for subscription for $ 9.99 (about 1,100 yen).
With the iPhone Sputtering, Apple Bets Its Future on TV and News-WSJ
https://www.wsj.com/articles/with-the-iphone-sputtering-apple-bets-its-future-on-tv-and-news-11534370018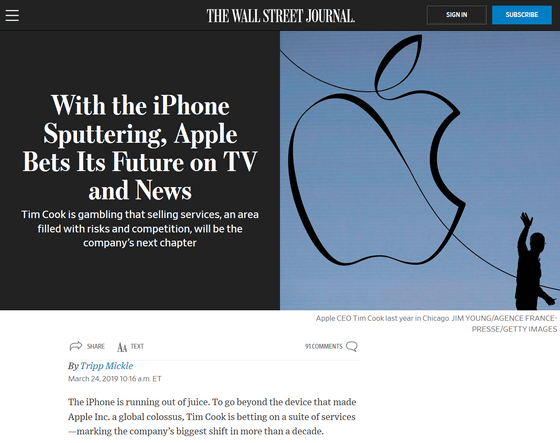 Apple's video service could sell networks like HBO & Showtime for $ 9.99 each
https://appleinsider.com/articles/19/03/24/apples-video-service-could-sell-networks-like-hbo-showtime-for-999-each
According to the Wall Street Journal, cable television networks such as
Starz
,
Showtime
and
HBO
'are negotiating (with Apple) to provide users with programs for $ 9.99 a month'. is. For example, HBO offers its own subscription-based streaming service called '
HBO Now
' for $ 14.99 per month (approximately 1600 yen). The possibility that the equivalent service could be subscribed to for $ 9.99 through Apple's video distribution service suggests that Apple's service could be a great deal You
At the time of writing, it is unclear what services will be available for Apple's video distribution service, but services such as Starz, Showtime, and HBO, whose names have been revealed, will increase the number of subscribers via Apple's platform. Extending, 'it's clear that we're hoping to make up for lost revenue (due to the rise of streaming services),' Appleinsider reports Apple-related news.
Also, the Wall Street Journal points out that 'Apple's new video delivery service may be able to be used on non-Apple devices such as SmartTV and Roku.' So far, there have been many cases where Apple-made services can only be used on Apple products such as iPhones, iPads and Apple TVs, but considering the number of programs at the start of the service, etc. services will only start on Apple products It is said that the situation of 'it is not economical'. Also, in recent years, Apple has released the Android version of
Apple Music
, started
to provide iTunes for Samsung's smart TV, and
is breaking the traditional policy of deploying services only on Apple products. As such, the person who provided information to the Wall Street Journal has stated that Apple may adopt the same policy with the new video distribution service.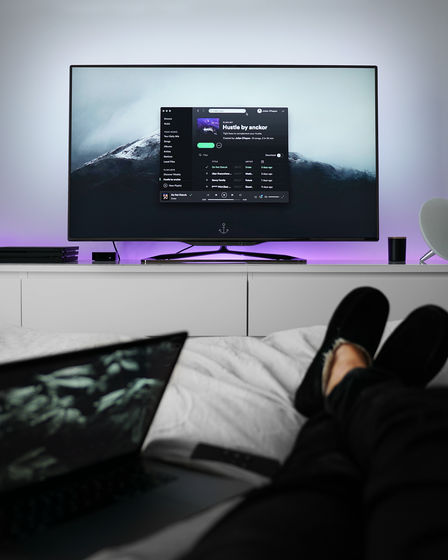 by Julian O'hayon

Similarly , Apple's planned 'Netflix' magazine service is reported to be able to read more than 200 magazines, including BonAppétitMagazine , People and Grammar, for $ 9.99 a month.

The type of magazines handled by the new service seems to be basically the same as the lineup offered by Texture , which Apple acquired . Apple's magazine subscription service has been reported to be able to read economic stories such as the Wall Street Journal, while either the New York Times or the Washington Post has a revenue share ratio of 50/50 as defined by Apple. It is also reported that he refused).

Texture-Unlimited Access to Digital Magazine Subscriptions-Free Trial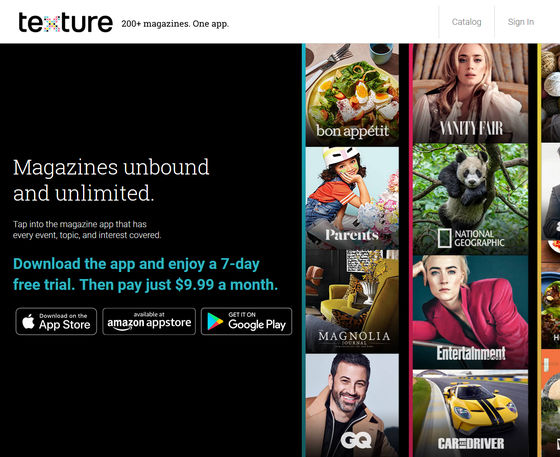 According to the media, Apple's magazine subscription service is biased towards general topics such as politics and lifestyle, and disregards business and other areas. And sources say they are starting to hire more reporters to expand content for the service.