Microsoft Announces PC Game Pass Titles Will Be Playable On NVIDIA's GeForce NOW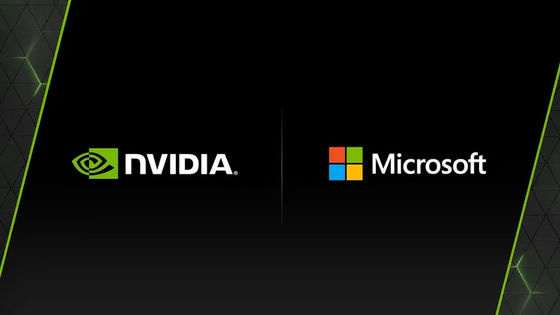 Microsoft's game brand 'Xbox' offers a paid subscription plan ' Xbox Game Pass ' that allows you to play games in the library as much as you want. There is also a plan called Pass. It was announced that the titles that can be played on this PC Game Pass will also be playable on GeForce NOW , NVIDIA's cloud gaming platform.

Xbox's Bright Future, and How We'll Get There - Xbox Wire
https://news.xbox.com/en-us/2023/06/11/xbox-bright-future-and-how-well-get-there/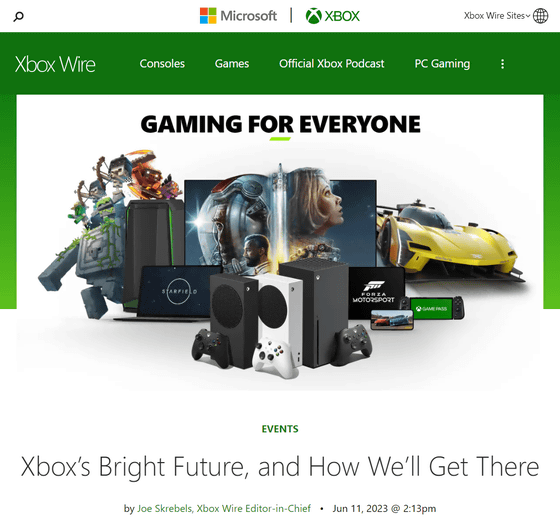 Microsoft is bringing PC Game Pass to Nvidia's GeForce Now service - The Verge
https://www.theverge.com/2023/6/11/23757313/microsoft-xbox-pc-game-pass-nvidia-geforce-now

According to Xbox Wire, one of Microsoft's official blogs that publish Xbox-related information, Xbox's monthly active users and monthly active devices have achieved new records, and the platform continues to grow steadily. In the first quarter of 2023 (January-March), the number of people playing PC games with PC Game Pass increased by 46% year-on-year. In addition, Xbox Game Pass revenue has reached nearly $ 1 billion (about 140 billion yen) as of the first quarter of 2023, and is overwhelmingly popular as a game-related subscription service.

Xbox is committed to the development and operation of first-party games, with titles such as The Elder Scrolls Online, Sea of ​​Thieves, Minecraft and Forza collectively having 150 million monthly active users.

Not only that, but Xbox is also working on new first-party games, explaining that 'our goal is to release at least four first-party games per year.' In fact, Xbox is delivering ' Xbox Games Showcase ' to announce new titles for Xbox on June 12, 2023, in which the latest information was announced Fable , Clockwork Revolution , Senua's Saga: Hellblade II , Titles like Starfield are examples of Xbox's 'ambitious first-party games,' and will be available on Xbox Game Pass on launch day.

All titles published at SHOWCASE are coming to Xbox and PC! #XboxShowcase pic.twitter.com/gTKqitl5oL

— Xbox Japan (@Xbox_JP) June 11, 2023


Additionally, Xbox revealed in a closed-door media briefing on June 11 that PC Game Pass will be accessible through GeForce NOW, NVIDIA's cloud gaming service. . Microsoft explains this plan on Xbox Wire, ``It will be possible to play PC Game Pass titles from devices such as low-spec PCs, Macs, Chromebooks, mobile devices, and TVs.''

GeForce NOW will be able to play PC Game Pass titles within the next few months, but no specific release date has been revealed. However, overseas media The Verge said, ``NVIDIA previously said that Microsoft Store support on GeForce NOW would be available within the next few months, so until PC Game Pass appeared on GeForce NOW, there was not much time left. We may not have to wait long.'

Since Microsoft offers its own cloud gaming service, Xbox Cloud Gaming, some people may feel that the advantage of being able to access PC Game Pass from GeForce NOW is thin. However, The Verge is a new plan for GeForce NOW, and GeForce NOW Ultimate, which appeared in January 2023, can play games at up to 4K / 120fps or 1080p / 240fps. It is much better in terms of performance and latency than Xbox Cloud Gaming, the proprietary cloud gaming service provided by .

Overseas review summary of NVIDIA's cloud game service 'GeForce NOW Ultimate', you can play up to 4K / 120fps without gaming PC - GIGAZINE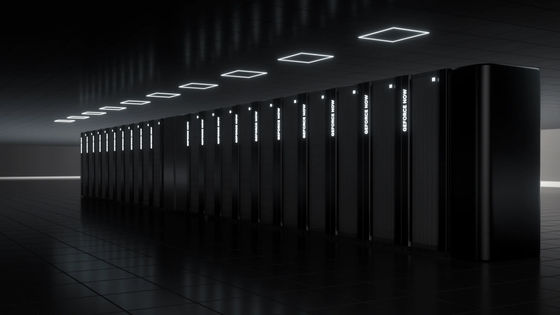 The move is clearly part of a ``10-year contract to provide Xbox games to GeForce NOW,'' which Microsoft signed with NVIDIA to complete the acquisition of Activision Blizzard. Verge points out.

Microsoft signs a contract to provide Nintendo & NVIDIA with Xbox games for 10 years to complete the acquisition of Activision Blizzard - GIGAZINE