Kiryu Shoshihide is the first men in the men's 100 meters to record 9 seconds


It was held at the Fukui Sports Park Athletic Stadium on Saturday, September 9, 2017Japan Student Athletics Championship TournamentIn the men's 100m final, Toyo University'sKiryu ShosukeThe player marked a new Japan record of 9 seconds 98. The traditional record is 10 seconds 00 that Koji Ito put out in 1998, and it is the first nine seconds as a Japanese player.

Athlete men 100m Kiryuu is the first Japanese player in 9 seconds | NHK News
http://www3.nhk.or.jp/news/html/20170909/k10011133251000.html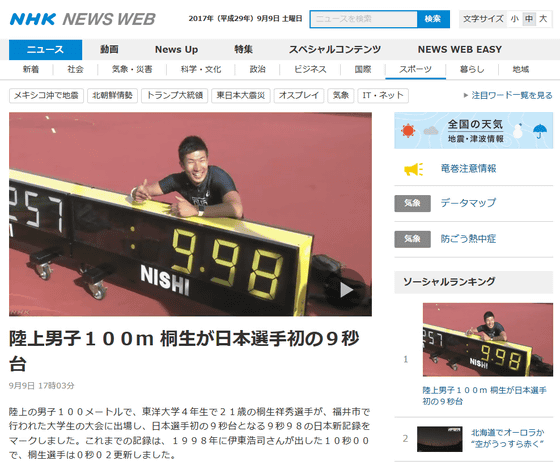 Kiryu Shoshihide 9 seconds 98! It was the first time for Japanese to finish 9 seconds with 100 m - Athletics: Nikkan Sports
https://www.nikkansports.com/sports/athletics/news/1884721.html

Kiryu who got the lead in the middle stage further extended to the last, and achieved excellent achievement with a favorable condition of 1.8 m, which is a favorable condition. I looked back over the goal line and looked back on the watch and confirmed that it was 9 seconds 98, I was excited and jumped on the track, I was cheering from the stand and a big applause.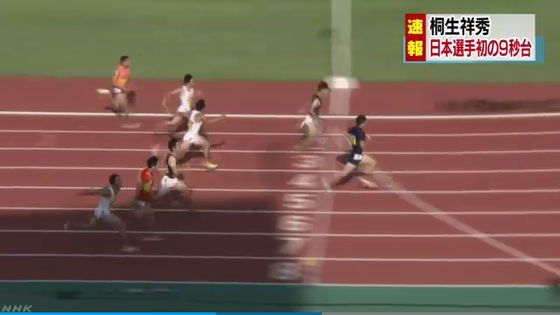 Kiryu has tweeted herself on September 8th on her Twitter, the men's 100m final on Toyo university's uniform is twice, and finally got a big big record at the end It was.


Tomorrow at Toyo University wearing uniform
Is it the last of running 100 meters?
Well for 4 years (haha)

- Kiryu (kiryu Yoshihide) (@ KiryuYoshihide)September 8, 2017

At the interview after the race, "I was smoldering for four years, but finally I got my best vest", but at the same time, "I think that I put out the 9-second range and finally made the start line of the world I also commented.

By the way, Kiryu started playing on land from junior high school, high school proceeded to prestigious land and Lakunan high school. It is known as a high performance player since high school, and marked numerous records since the second grade.

In April 2013, I participated in a high school third graderOda Mikio Memorial International Track and Field CompetitionIn the men 's 100 - m qualifying, I gave the time of 10 seconds 01 which will be the second place in Japan. This number was in line with the world junior record,Because the anemometer was not ultrasonic expression accepted by World Athletic Association, it was not official recognition.

In March 2015 in the tournament held in Texas, we issued 9 seconds 87 over the Japanese record. However, at this time the tail wind was 3.3 m and it is a reference record.

The result of this year's announcement by the Japan Athletics Federation is Kore. Following Kiryu player, Kwansei Gakuin University's Takashi Shihei of the Kwansei Gakuin University entered second place was a new record of the tournament, 10 seconds 07 time.

JAAF Japan Athletics Federation Live Score Site
http://www.live.jaaf.or.jp/17600101/#/race/188/result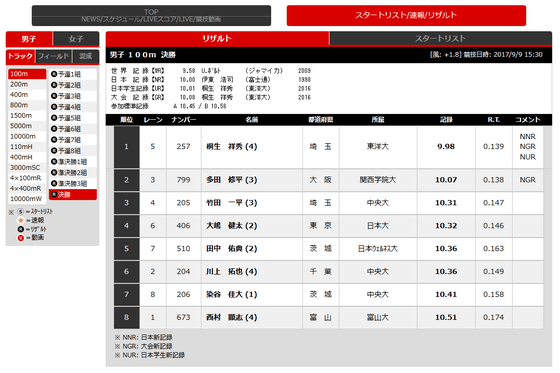 By the way, it is a topic that the bib number Kiryu who was wearing the last intercity in Lakunan High School had linked "998" with this 9th of 98th.


It's amazing, this lolpic.twitter.com/vKdH4KgCaz

- Chu and (@ Nakanochuuya)September 9, 2017
in Note, Posted by logc_nt