Guidelines that lets Apple know when to replace an iPhone with a new replacement / repair fee Zero leaking sentences


Apple has a hardware product limited warranty for one year after purchase of the product and 90 days of free telephone support for its products, and this "extended warranty period"AppleCare +There also exists. Actually applying for repair with AppleCare +Replace iPhone with new item with screens broken into VISIBISHIYou can have it done, but what kind of iPhone is guaranteed sentence that lets you know whether the repair fee etc. can be repaired as a guarantee service target is leaked.

Leaked Apple document: How Geniuses decide to replace, repair iPhones under warranty - Business Insider
http://www.businessinsider.com/leaked-apple-document-how-geniuses-decide-replace-repair-iphones-warranty-2017-9



Leaked guide provides rare insight into how Apple's repair policies work
http://www.idownloadblog.com/2017/09/04/apple-repair-policies/

The repair guideline sent out this time is what Apple distributes as a guideline for technicians and certified partners to inspect iPhone. In the sentences, case photographs etc. are included so that you can see what kind of things are within the scope of guarantee and what kind of things are not covered by the warranty.

iPhone repair guideline The sentence seems to have flowed out via Dropbox, the title is "Visual / Mechanical Inspection Guide". The sentence has the date March 3, 2017, and it means that it is the guideline of 22 pages total for iPhone 6/6/7/6 Plus / 6s Plus / 7 Plus. The engineers at Genius Bar who will be responsive to repair at the Apple Store are likely to call the guidelines "VMI", and stakeholders said that "there are similar guidelines for all products."

One page in the guideline describes how to distinguish wounds that are covered by warranty from scratches that are not. The scratches that are written in the green part are "Eligible for Warrantry Service (subject to warranty service)", "garbage under the display glass", "gaps in the in-camera", "windshield that is not caused by shocks A single scratch on the top "seems to be subject to warranty service. On the other hand, the yellow part is written about scratches that will be "Eligible for Out-Of-Warrantry Service" (warranty service exemptions), and damage related to water-related damage, glass breakage, earphone or Lightning terminal , Terminal writings etc. are all out of warranty coverage and it takes a separate repair cost. In addition, iPhones and others that have devastating damage suffered from "Ineligible for Service" which is unrepairable.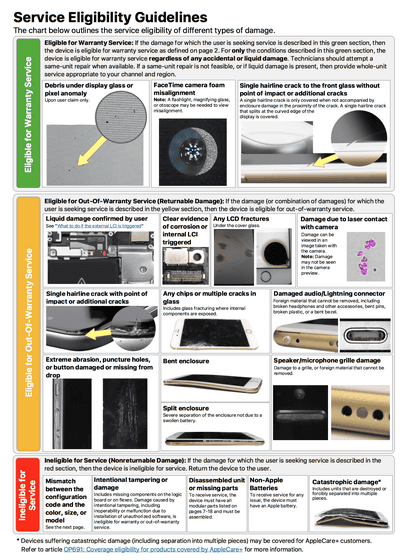 Also, in warranty service "Enclosure Wear Characteristics" is excluded as "cosmetic damage". This "cosmetic damage" is a damage due to normal wear such as discoloration, rubbing, dents, breakage of the plastic port, and in the case where there is no problem with the hardware, these scratches are repaired or the terminal We will not take action to replace itself.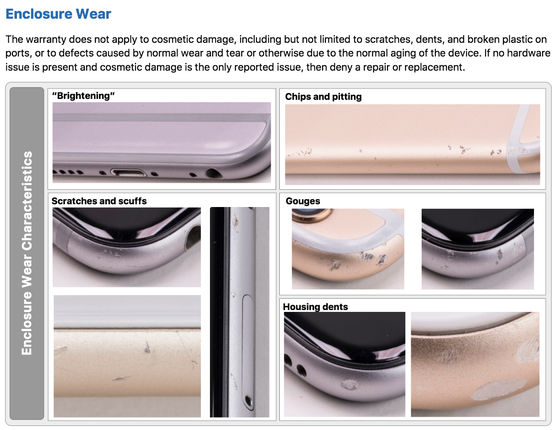 According to the guideline, at the time of inspection, a technician inspects the appearance of the device with the naked eye and it is necessary to ask the owner of the terminal to judge whether damage due to water wetting or the like has occurred. The engineer who actually inspects the iPhone using these guidelines says he will not frequently refer to guidelines unless there is a strange problem.

Also,Apple's FAQAccording to "accidents, disassembly, illegal remodeling" damage such as using an informal battery or submerging the phone is not covered by the warranty.