Changed price of AppleCare + so that screen broken by iPhone's backpack can be repaired at only 3400 yen


All iPhones have a hardware product limited warranty for one year after product purchase and 90 days of free telephone support. But,AppleCare + for iPhoneIf you join, the guarantee / support period is extended to 2 years from the date of purchase, so it will be safe to repair at low cost even if the terminal is damaged. The cost of repairing screen damage of such AppleCare + has been changed so that repair costs that took 11,800 yen for tax in the latest model can be done with only tax of 3400 yen (damage on the screen only).

Apple introduces new $ 29 screen repair tier to AppleCare +, raises fee for other repairs to $ 99 | 9to5Mac
https://9to5mac.com/2016/09/07/applecare-plus-screen-repair-price-change/

Even if you are subscribing to AppleCare +, you have ever needed $ 99 for repairing screen damage (in the case of Japan, from 4400 yen with tax to 11,800 yen for tax). However, at the time the latest "iPhone 7/7 Plus" was announced, Apple made changes to this price range, and in the case of screen damage only, it is now possible to repair with just $ 29 (about 2900 yen) .

IPhone Screen Repair & Replacement - Official Apple Support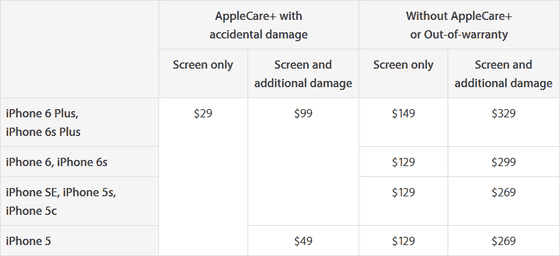 On the page that details the repair of the iPhone that damaged the Japanese version of the screen, at the time of writing the article has the following price list, even if you are subscribing to AppleCare + iPhone 6s / 6s Plus And repair expenses of 11,800 yen for tax were necessary.

IPhone screen damage - Apple Support Official Site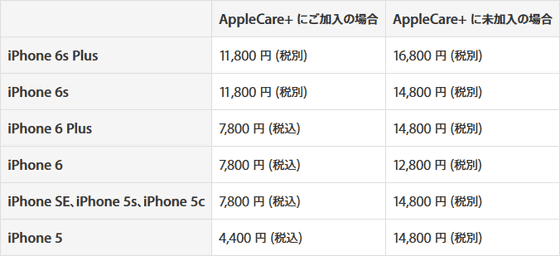 However, when you check the page of "AppleCare + for iPhone" which is AppleCare + for the iPhone, it is certain that "damage on the screen is 3,400 yen (tax excluded) at one time and other damage is 11, 1800 yen (tax excluded) It is written in.

IPhone - AppleCare + - Apple (Japan)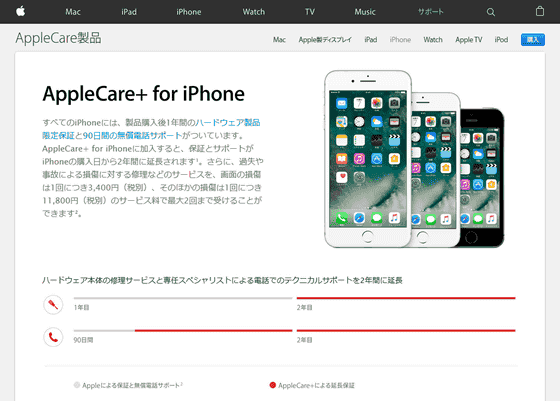 Service such as repair for damage caused by negligence or accident can be received up to twice by service fee of 3,400 yen (tax excluded) for damage on the screen and 11,800 yen (tax included) per other damage .

If you do not join AppleCare +, iPhone 6s screen repair is 14,800 yen for tax. In the case of iPhone 6s Plus, it is set at 16,800 yen for tax, so it is very grateful for the user that this is possible with only tax of 3400 yen.

The new modelCost to join AppleCare + on iPhone 7 and 7 PlusIs 14,800 yen by tax, the subscriber can receive up to twice repair of damage of the terminal due to negligence or accident, in the case of screen damage it is 3400 yen by tax, in the case of other repair it is 10,1800 yen It will be accepted in.

In addition, if you want to check the warranty status of Apple products that you own and the existence of extended warranty purchase qualification of AppleCare, you can easily check by entering the serial number of the terminal on the following page. If you want to check the serial number of iPhone, you can check from "Settings" → "General" → "Information".

Confirm warranty status and service period - Apple support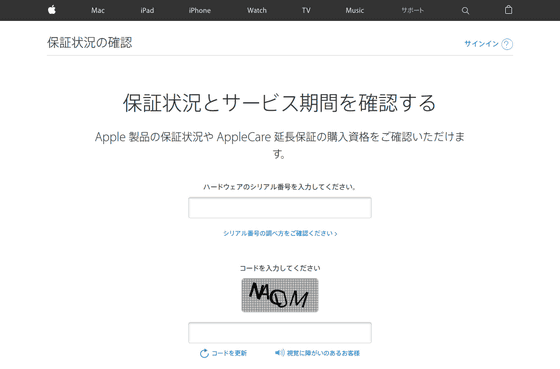 · Additional notes 2016/09/08 18:10
Actually there was an iPhone (already subscribed to AppleCare +) at hand, so I asked for support, and as a result, users who newly join AppleCare + will be charged the cost of repairing screen damage by 3400 Although it will be yen, if you have already subscribed, the price as usual is applied.