Reports that the terminals of the Lightning cable corrode and can not be charged successively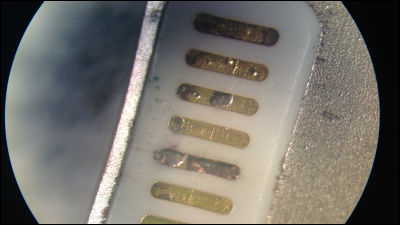 Apple adopts Lightning connector as its own unified standard, and it is adopted for iPhone 5, iPhone 5s, iPad mini, iPad Air, iPod touch, iPod nano, and others. It's a reversible and easy-to-use Lightning cable, but in the Apple Support Community,Lightning corroded the cable?Threads are set up and people who complain about the same symptoms continue.

Lightning Cable Corrosion ?: Apple Support Communities
https://discussions.apple.com/thread/4363224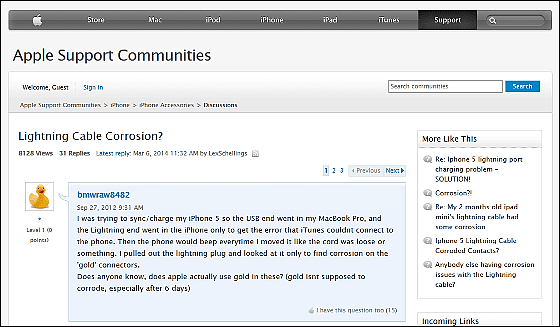 I made a thread called "Lightning cable corroded?"Bmwraw 8482According to, I connected the iPhone 5 and the MacBook Pro with the Lightning cable, but iTunes did not recognize the iPhone 5 and was not charged and synchronized. When I check the lightning cable, I found something that seems to be "corrosive" in the terminal part. After that I kept commenting that "I have the same problem" one after another.

It seems that this thread was also watching the Apple staff, and bmwraw8482 informed us that the cable will be replaced free of charge. Bmwraw8482 who got the new lightning cable successfully commented "I think people with the same problem will exchange if you go to the nearby Apple Store".

According to some posts visiting the Apple Store, Apple staff received explanation that "User faults due to moisture and moisture are not covered by warranty", people who exchanged with "one time only" condition, and "user fault There is a case that the talk does not proceed smoothly, some people tenaciously explaining that it is not "and they have reached an exchange.




Brockap 3He posted a photo of the corroded part that was magnified with the microscope to the same thread. Silver and dark corrosion are scattered in the gold terminals and brockap 3 explains that "If it is moisture or submergence it will not scatter like this and it will not corrode." There is also a post saying that "corrosion can be removed with light removal liquid", but because there is a possibility that it may become out of the scope of guarantee,Apple StoreOrsupport CenterIt is the best policy to explain and exchange.