I ate meat pizza with rice bowl at "MARUTAKE" where you can enjoy fine medium rare steak and roast beef baked in front of you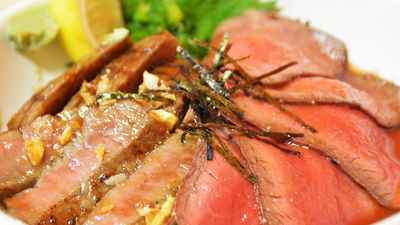 A shop where you can eat a rice bowl of steak with steaks that everyone feels happy and a red meat with a roast beef with sweet appetite and red beef with lots of beef on itMARUTAKE"is. At this time when it became hot in earnest, I went to MARUTAKE to eat meat prime bowl to have stamina for the summer.

MARUTAKE is located 5 minutes on foot from Marutacho station of the Karasuma Municipal Subway Karasuma Line.


The appearance looks like this. MARUTAKE has a meat shop and is able to purchase meat on the spot.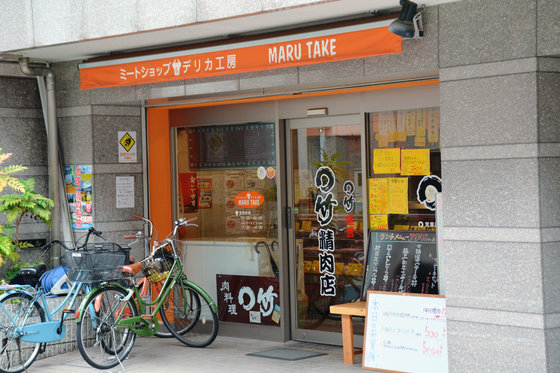 The donburu menu and the lunch limited menu are placed in the store. This time, I ordered "Murata special rice bowl (tax not included 2000 yen)" that you can enjoy steak and roast bee at once.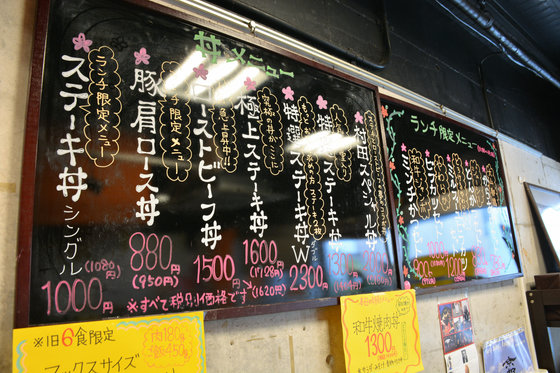 Inside of the store is like this, there is a selling case of meat in front of the entrance, next to it is a counter for eating inside the shop.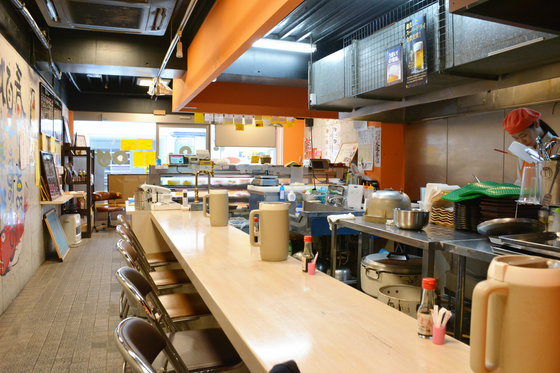 The chair at the counter is a pipe.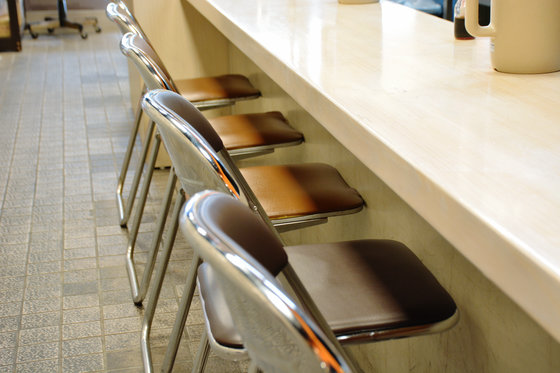 After a while since ordering, I baked a steak in the kitchen behind the counter.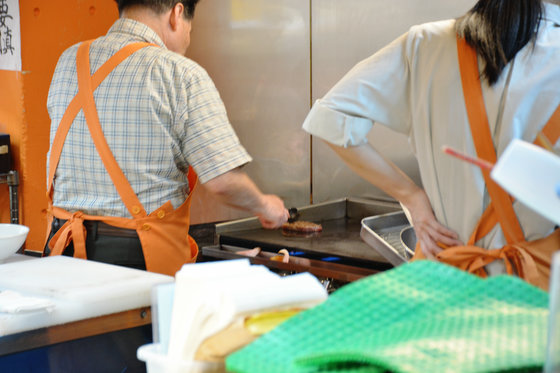 Waiting for such like this in about 10 minutes, Murata special don is arrived. Besides bowls, miso soup and rice comes together as a set.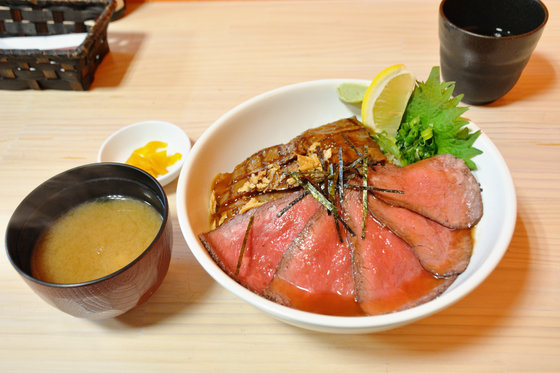 Murata special rice bowl,Magical restaurantAt the old-fashioned restaurant of Kyoto ·KikunaiThe bowl menu that I invented it with Mr. Murata who is the owner of Mr. Mura.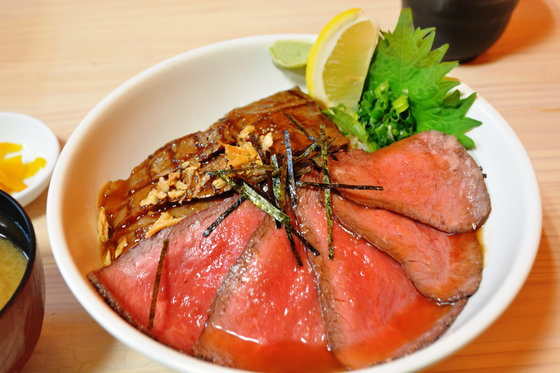 The diameter of the bowl is about a little longer than the iPhone 6 / 6s, and it is a rather broad instrument.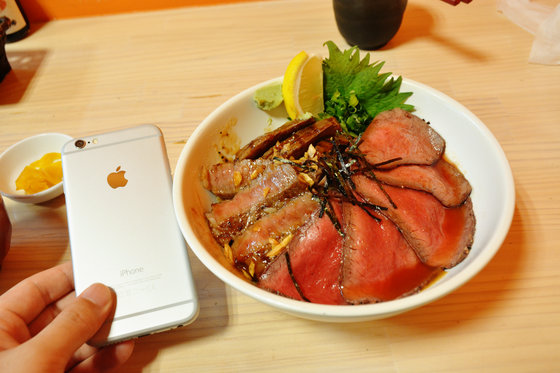 The height of the instrument is just half the height of the iPhone.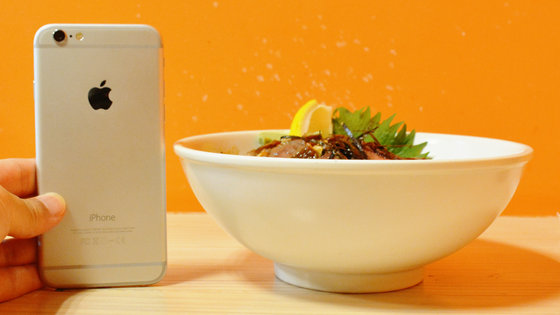 In the bowl, the red lean meat is roast beef with an appetizing note.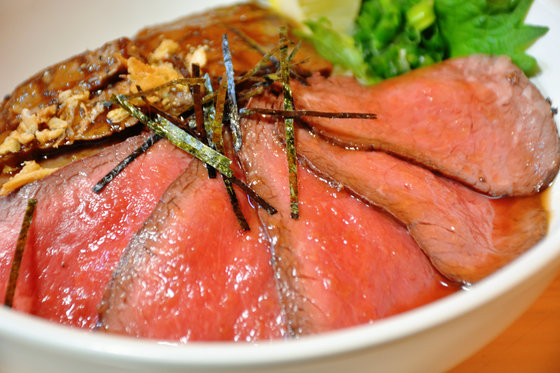 Onion fried and freshly baked steak.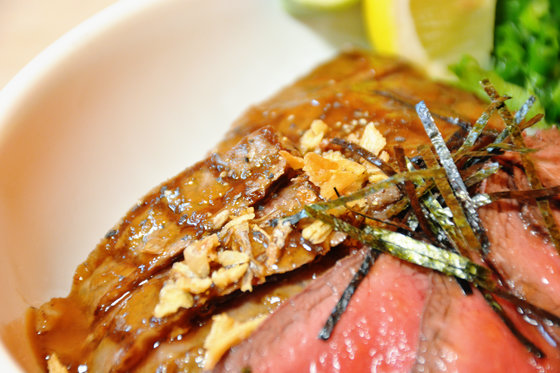 And there are four condiments of wasabi, wasabi, lemon, chopped green onions and large leaves.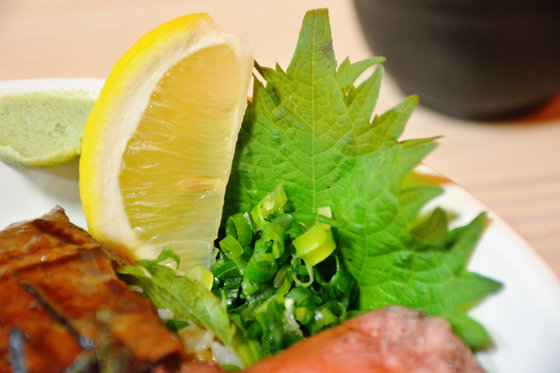 The roast beef had a lot of sauce and it was standing on meat.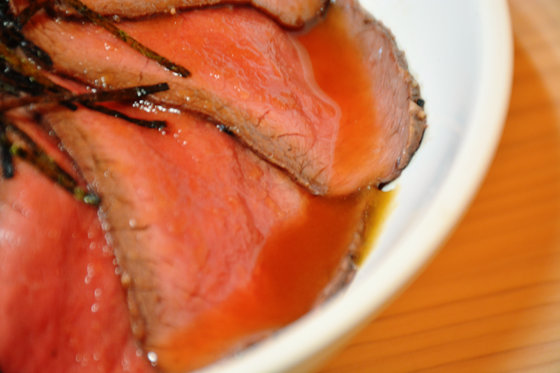 So, let's eat from the steak first. Beef with moderately fat is used for steak, and freshly baked so you can melt the beef of Azuatu softly in the mouth. The steak can be crisped very softly and easily, but it's not too much fatty, it's quite exquisite and the compatibility with rice is also good. The thickness of the steak is not that much, but it is a taste of exquisite taste that you can feel flesh firmly.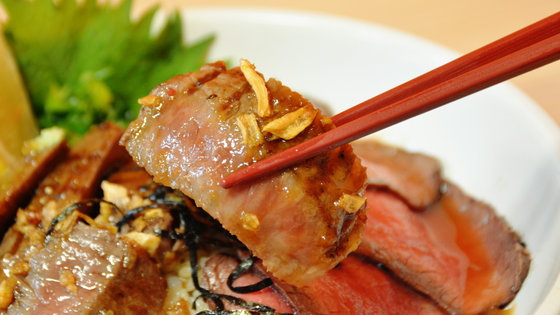 Next I will eat roast beef. The roast beef is less fat than the steak, but you can feel the lean flavor and texture more firmly. Sauce is matched with sweet rice and meat, but impression stronger than sour taste than steak. For steaks and roast beef to be bowl-shaped, it's a regrettable quality, but if you want to enjoy roast beef or meat's juicyness if you want a "fatty is not needed!", Steak, if you want to have fun together It seems good to choose Murata special.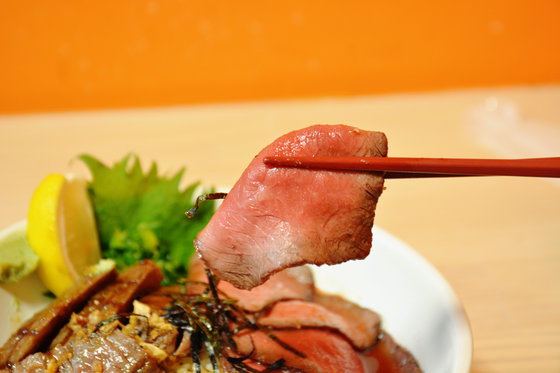 The amount of rice hiding under the meat is this amount. Too much, not too little, it is the amount that you can eat deliciously with meat.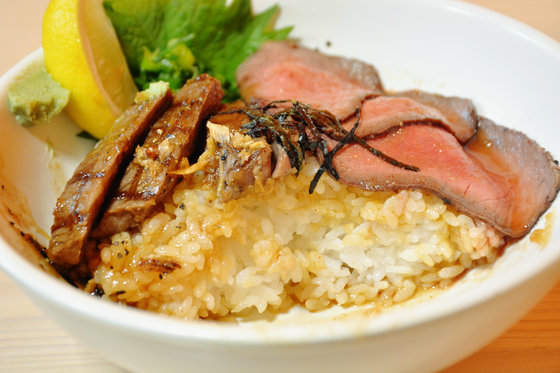 If you eat steak with wasabi and eat it, the spicy flavor of wasabi will be added, so it would be nice to use it when you want to change the taste.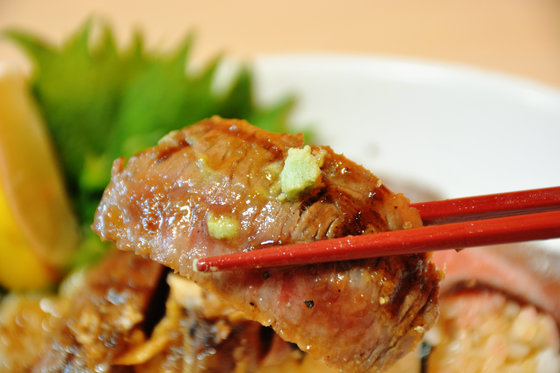 When you squeeze lemon you can enjoy refreshing meat of taste.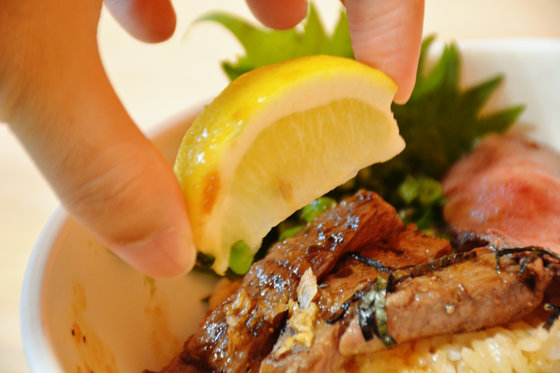 In addition, rice has a lot of sauce ... ...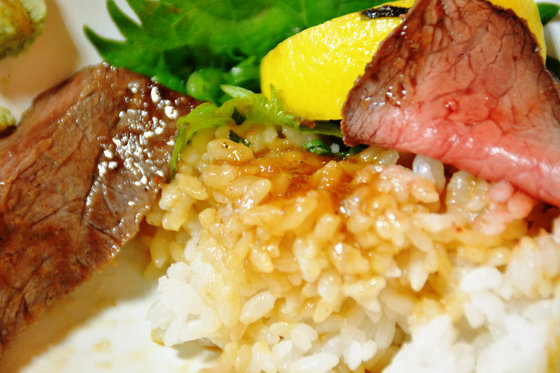 Steak soy sauce is put in the counter, so even if you use this, it is ok.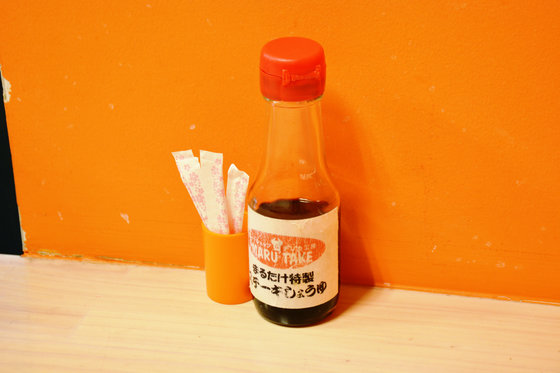 The opening hours of MARUTAKE are from lunch 11 o'clock to 14 o'clock and dinner only from 17:30 to 20 o'clock on Saturdays. The regular holiday is Monday.