I went to the "carnivorous BAR gabbimito" where you can eat the finest roast beef bowl with layers of meat folded over and over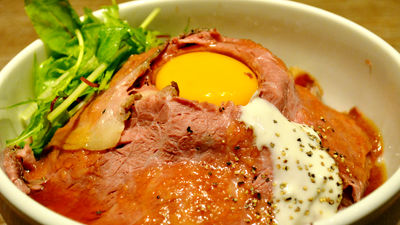 "Healthy-oriented refusal", meat bar which can enjoy tokoton meat is "Carnivorous BAR Gabriimate"is. At the time of lunch at Gabritmite, it is said that the roast beef is offering a carnivorous bowl of rice, such as roast beef bowls folded over and over, and a sirloin steak rice bowl rich with freshly baked sirloin steak. In summer I have eaten a rice bowl full of meat to foster spirit towards me.

That 's why I will head to Gabri - mit. I decided to try lunch at the Umeda Chayamachi store this time.


The appearance of the store looks like this. Because the letters of "Gaburito me" dodeca are written on the signboard, it seems that it is unlikely to miss if you come close.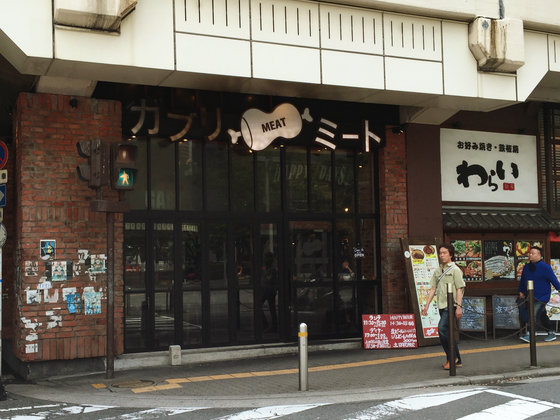 The lunch menu looks something like this. The bowl menu is free of charge of rice, salad at +100 yen, dessert at + 200 yen can be set.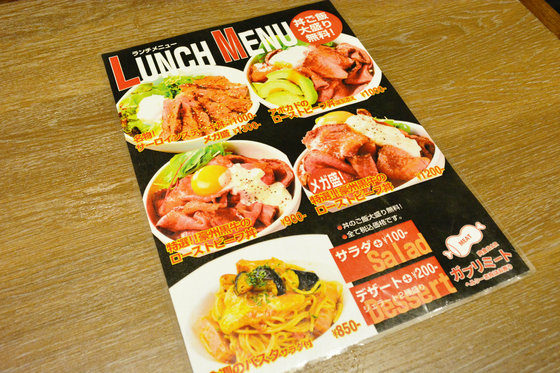 This time I ordered "Rice beef don bowl of Australian black cattle (1200 yen including tax)" Mega Shen! Special selection!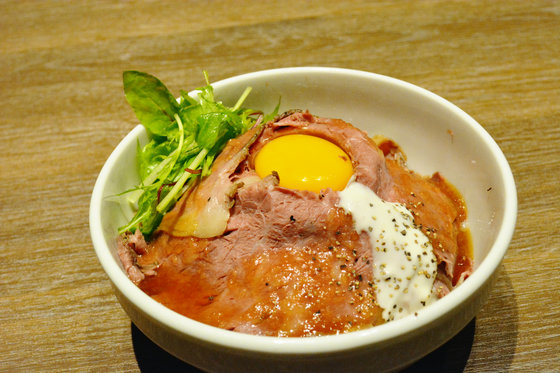 A large amount of roast beef and raw egg yolk, sauce containing onions, black pepper, cream sauce, leaf.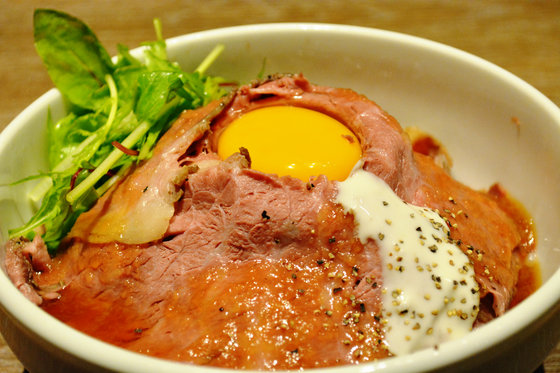 Comparing bowl with iPhone 6, it looks like this. It is a vessel with a large diameter and deep bottom.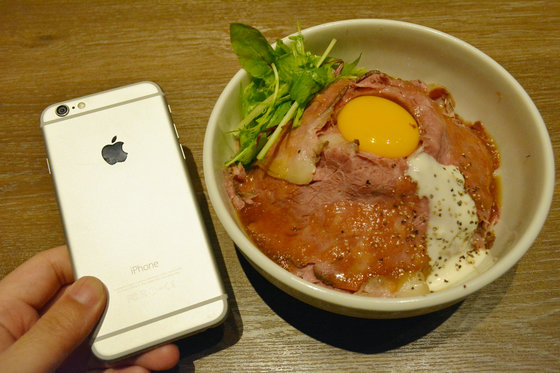 The amount of cream sauce and black pepper is discreet.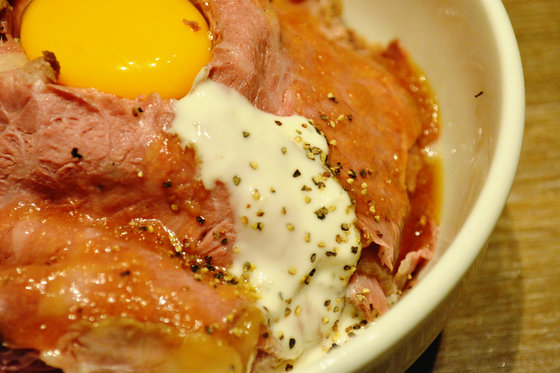 How much roast beef is served in large quantities, roast beef is laid from the top by 4, 5, forming a thick layer, and you can see rice under it. When cooking rice is served, the height of the layer of rice and roast beef is about the same, and even if you remove the roast beef you can not see rice, you can not see rice "It is a bowl, is not it?" It seems to murmur.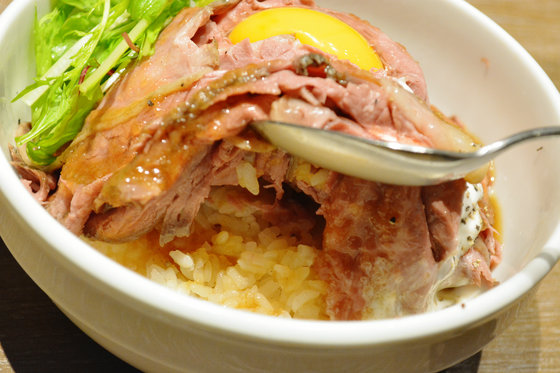 That's why I try eating only with roast beef. The sauce that used a lot of grated onions on the whole bowl is slightly sour and is compatible with roast beef. The meat is moderately greasy and soft, it gently unwinds in the mouth, but basically it is a lean base, so it feels like "I am eating meat".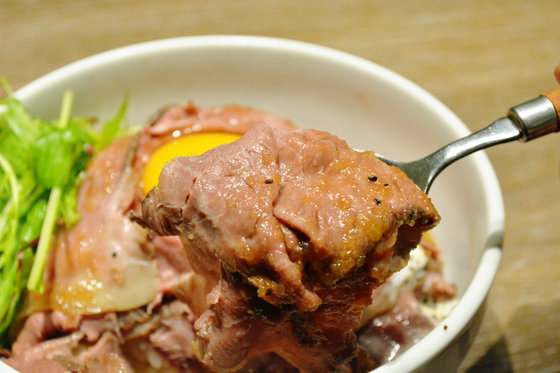 When eating with rice, the sauce onion sauce is compatible with rice and it seems to get between a large amount of soft roast beef and rice.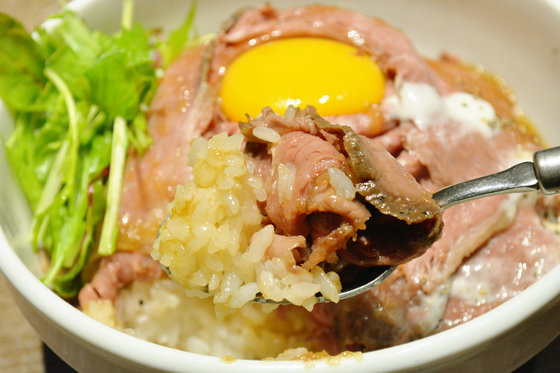 The roast beef has slightly greasy, which allows meat to melt moderately in the mouth.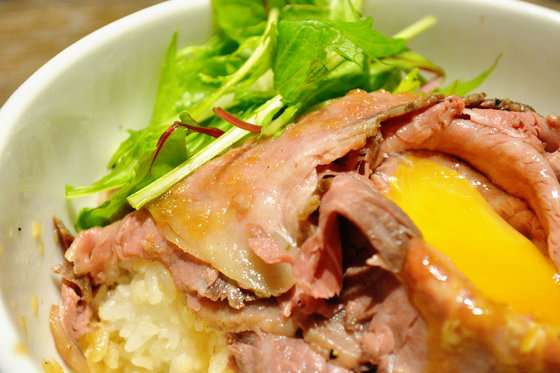 Break egg yolk ... ....



When I ate roast beef together, the mellow mouthfeel of egg yolk enveloped the whole and changed to a completely different flavor. I can hardly feel the acidity of the sauce, but this is an ant in this. I mean, the compatibility with rice was quite satisfactory.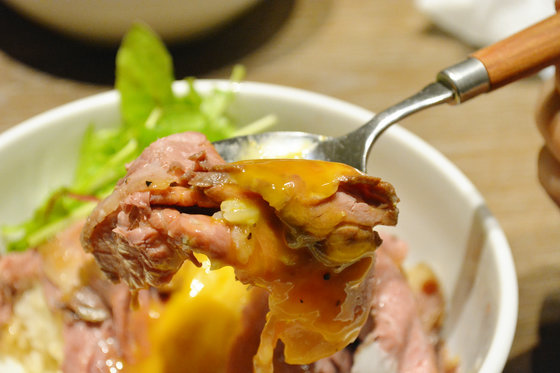 The opening hours of lunch at Gaburito Umeda Chayamachi shop are from 11:30 to 15:00, the last order of the meal menu is at 14:30.