I have eaten bowl of rice with "Ayers Rock" that can harbor the heaping roast beef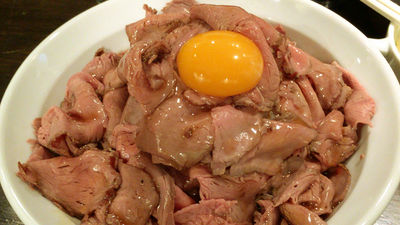 One of the traditional British cuisines, "roast beef" is to steam lumps of beef in an oven and eat with gravy sauce etc. Steak house "roast beef bowl" that can eat a ridiculous amount of roast bee, which plumps such roast bee generously on bowl of rice dish "Ayers RockI ate with.

Ayers Rock is a distance of about 5 minutes on foot from Hankyu Takatsuki-shi station on Hankyu Kyoto Main Line.


The appearance of the shop looks like this.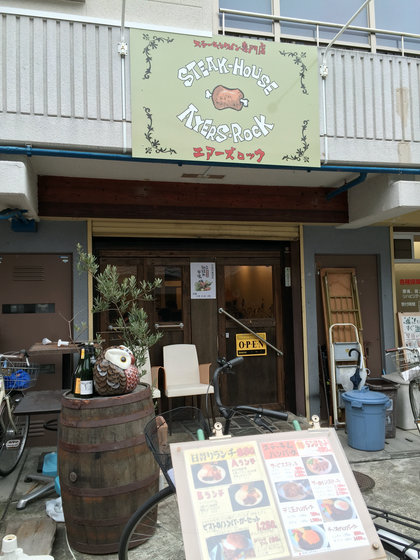 Outside you will see a signboard of roast beef bowl so you can find it as soon as you come in front of me.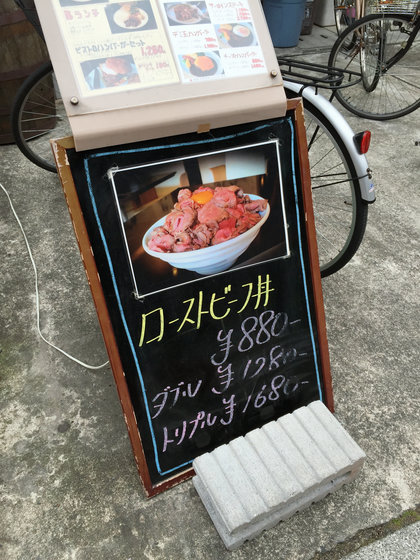 So when I go inside the shop, the menu only includes meat such as daily lunch and roast beef bowl. This time I ordered a roast beef meal. The picture on the menu seems to be a double size of roast beef bowl, so I ordered a double parcel.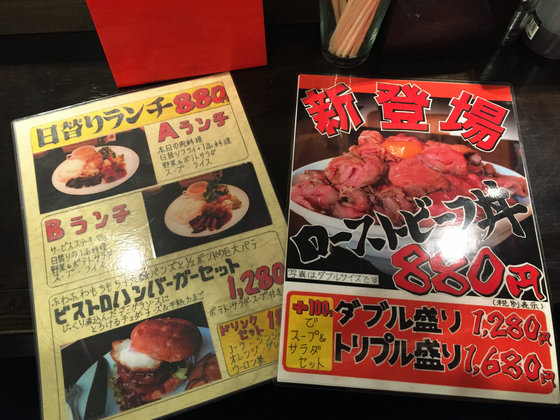 A roast beef bowl arrived in about 7 minutes from the order. It is also possible to change to a set of soup and salad at +100 yen. Eggs come with a single item of roast beef bowl as well.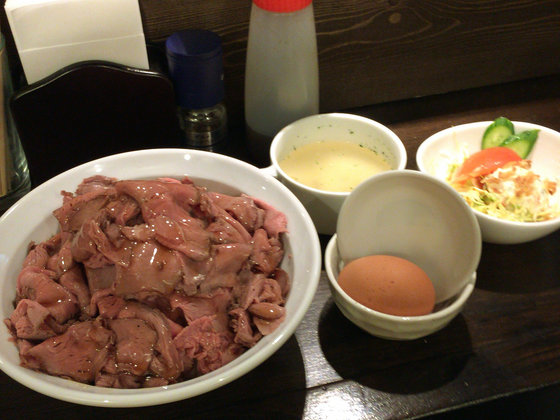 This is a double prime of roast beef bowl.



From the side it looks like this. Anyway the roast beef has become a heap and I can not see the appearance of rice at all.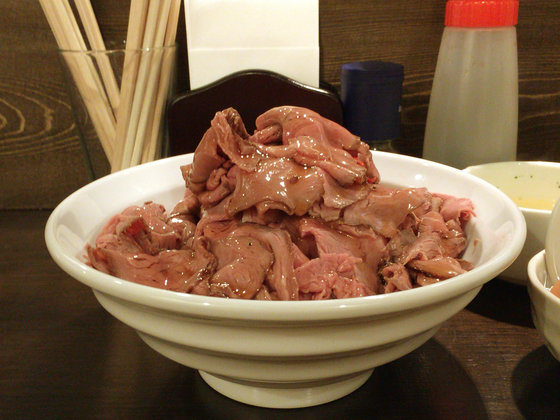 Complete if you drop the egg yolk here. Simple combination of roast beans and eggs intensify appetite.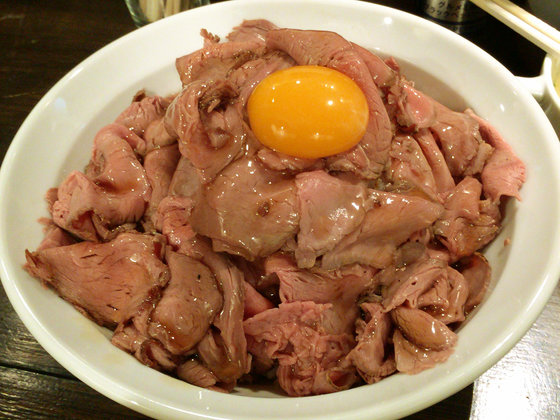 That's why I will eat from roast beef first. Roast beef is sliced, but it is served in large quantities anyway, even if you eat it does not disappear, the impression that it is obviously more than rice. Salted seasoned gravy sauce is used for seasoning, but if you feel a bit unsatisfactory, do you put a steak sauce on the desk ... ....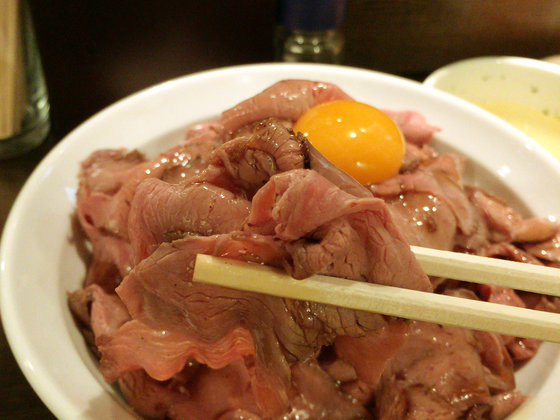 If you use black pepper OK.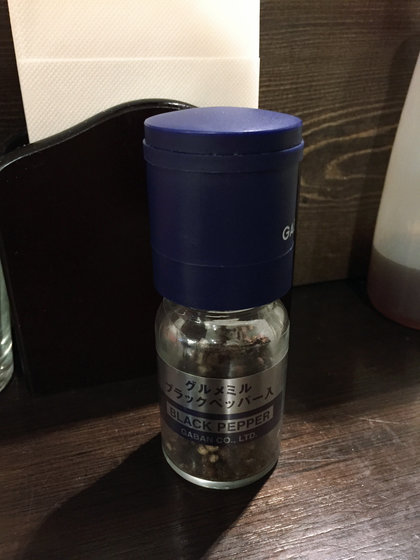 The roast beef has moderate fat content, but you can enjoy the taste of the meat firmly, and the feeling that "I am eating meat now" spreads in my body.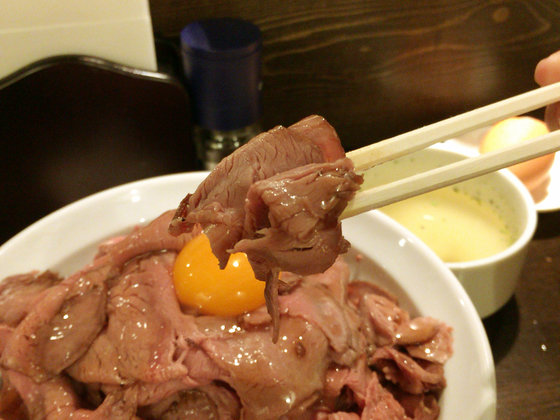 When you go on eating by hanging on the wall of meat ......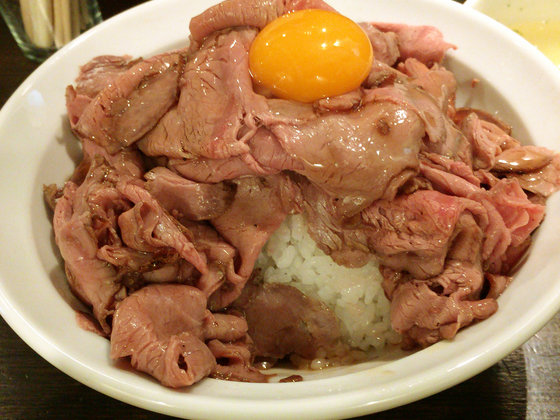 White rice appeared from inside. The compatibility between roast beef and rice is inevitable.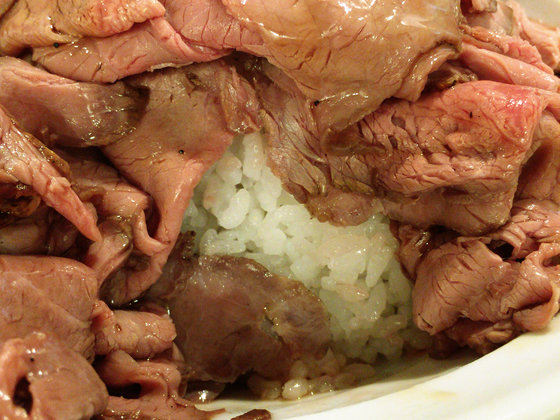 Further crush the egg yolk and pakuri. While soft and roast beef softly while juicy of meat is overflowing, mellowness of yolk is added and the best combination. However, there was something I thought as "I want a bit more salt", so it was the best if salt was also put together on the table.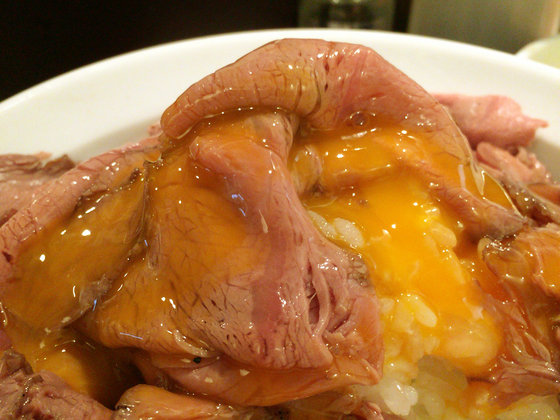 In addition, roast beef bowl is 880 yen tax excluding tax, 1280 yen for double placement and 1680 yen for tax at the price of triple.