Opening of Tokyo Game Show 2015, Japan's largest game festival, all articles summary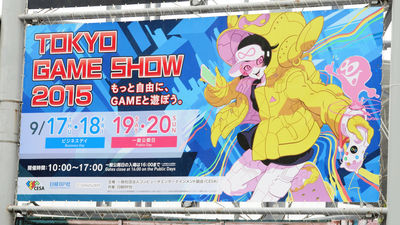 The game industry trade fair "Tokyo Game Show 2015" will be held at Chiba · Makuhari Messe from 17th to 20th September 2015. Tokyo Game Show 2015, which will be held for the first time in the history of the event, has the largest number of store openings, and many companies, both domestic and overseas, participate. Since GIGAZINE will report the situation of the venue as soon as possible,Twitter·Facebook·Google+Following you should be able to get the latest information at the explosive speed.

Tokyo Game Show 2015 | TOKYO GAME SHOW 2015
http://expo.nikkeibp.co.jp/tgs/2015/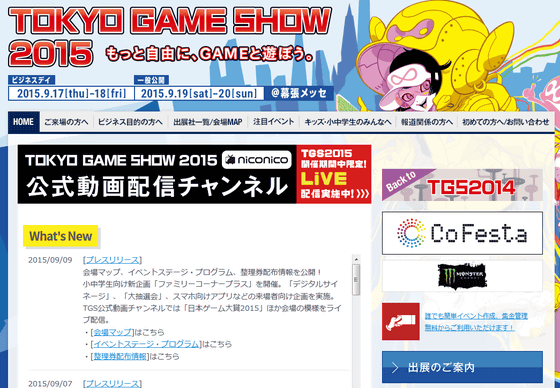 Makuhari Messe to be the venue. Unfortunately it is raining.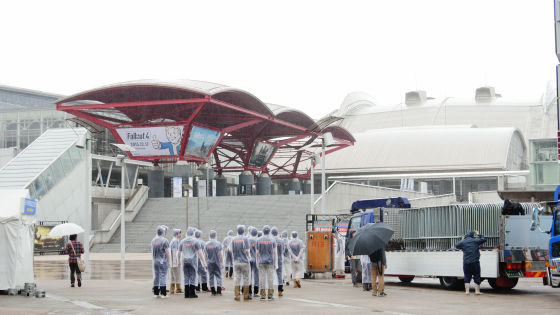 Tokyo Game Show 2015 is held at international exhibition halls 1 to 11 and further using the international conference hall.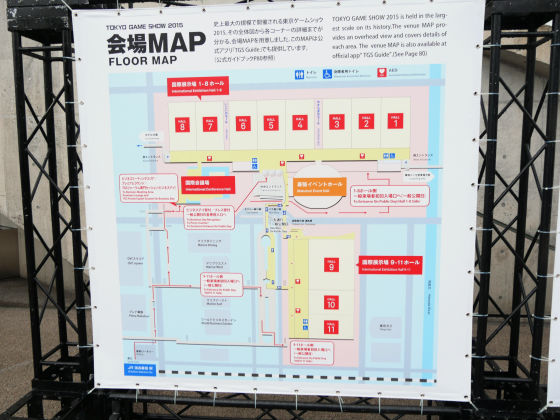 On September 17th to 20th, 17th and 18th will be Business Day and 19th and 20th will be the public release date.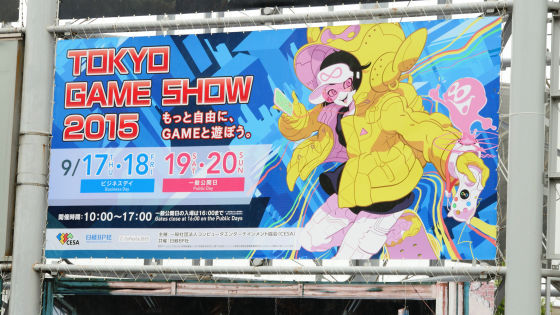 Type IV tank H type H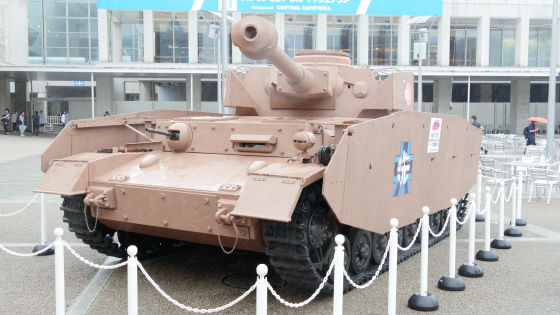 Extra large sign of Fallout 4.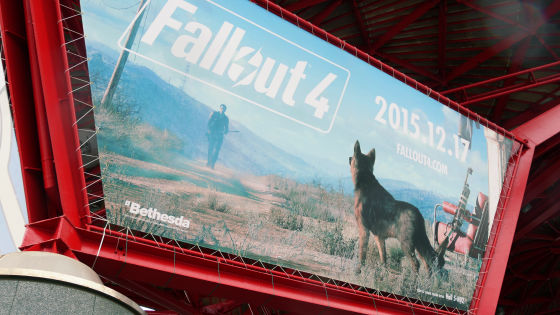 Opening greetings were held at the international exhibition hall before 10 o'clock of the start time.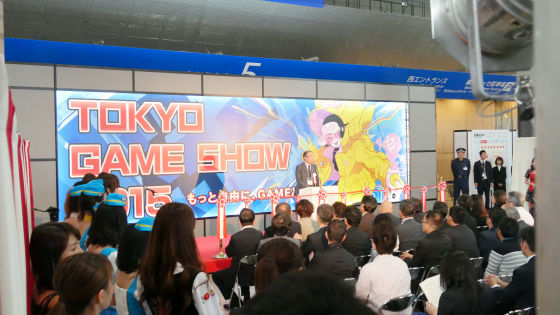 A lot of media gather from all over the world.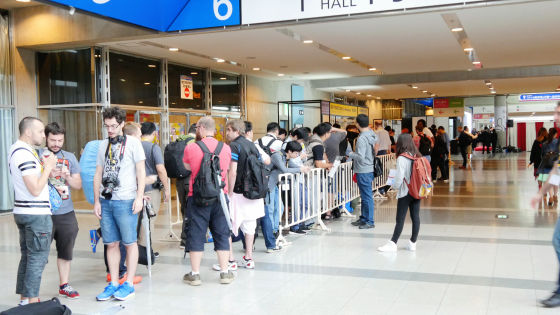 Finally, it's opening.



◆ September 17, 2015 13: 54: 00 second
A supertoph version of "Touken Ranbu - ONLINE -" "Touken Ranbu POCKET (Tentative)" suddenly appeared, when actually playing on a smartphone like this - GIGAZINE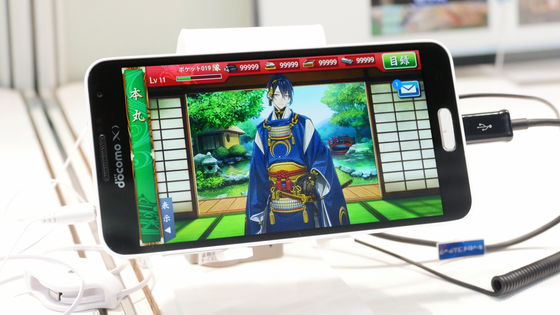 ◆ September 17, 2015 14:28:00
Experience play movie of PS 4 version "GRAVITY DAZE" drawing too free gravity action overwhelming world view - GIGAZINE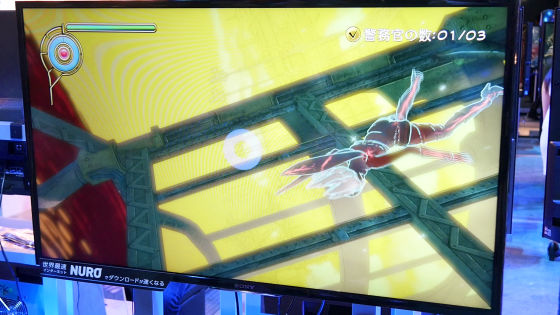 ◆ September 17, 2015 15:55:00
Ghost in the Ghost in the New Movie version of the Ghost in the Shell VR application that you can enjoy a powerful action movie has been experienced at the Dome Theater - GIGAZINE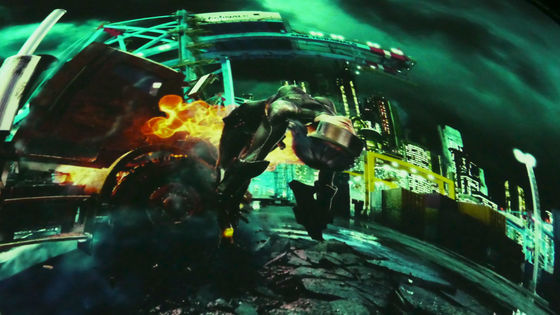 ◆ September 17, 2015 19:49
Sony's serious VR headset "PlayStation VR" has escaped from real world to virtual reality of dreams - GIGAZINE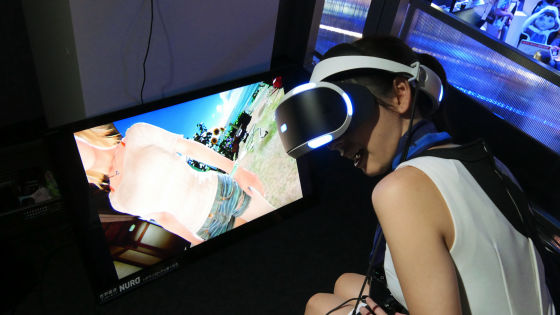 ◆ 2015 09/17/20/15/00/00
"DeNA Infinity Theater" whose final fantasy characters spin a mysterious moment in an endlessly fantasy space covered with mirrors - GIGAZINE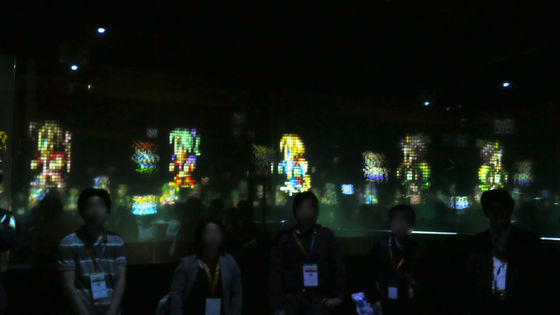 ◆ September 17, 2015 21:20:00
"Force is with you" Game that fights in Jedi and Sys fighting over the galaxy "Star Wars Battlefront" Domestic First Playable - GIGAZINE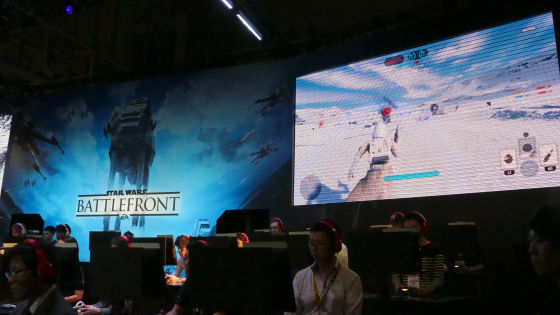 ◆ September 17, 2015 21:40 minutes 00 seconds
I've been experiencing "Arslan Battle" painted by a popular manga artist & enemy to shoot Yasha siean musou action game "Arslan Battle x Musou" - GIGAZINE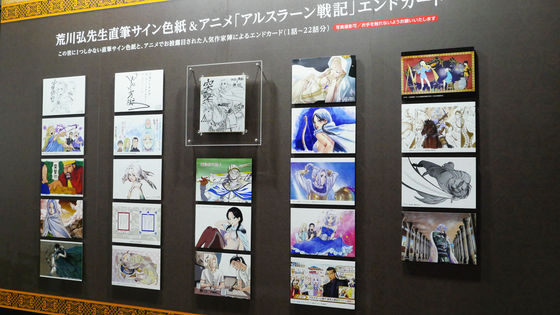 ◆ September 18, 2015 13: 15: 00 second
Not only cute "Charging Musume" charged smartphone & recommended application diagnosis - GIGAZINE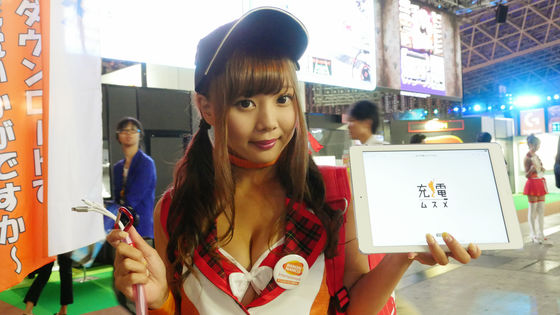 ◆ September 18, 2015 13: 39: 00 second
Cyberary sequel "Cyvalier · Reassembles" play movie - GIGAZINE



◆ September 18, 2015 14:27:00
Nine Love Rivers challenge the schedule on stage "Everybody with Piyonpyo ♪ Scaffe" - GIGAZINE



◆ 2015 September 18 22:44 minutes 00 seconds
Shooting range that can defeat zombies with hand gun "Samurai edge" appearing in biohazard - GIGAZINE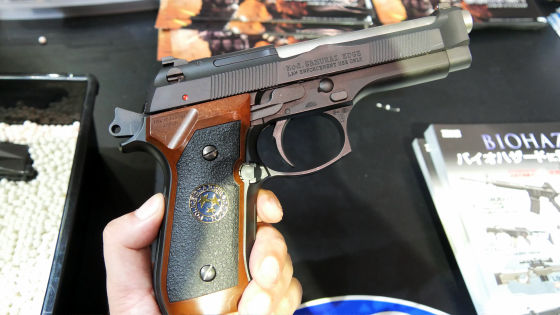 ◆ September 18, 2015 23: 59: 00 second
VR Headset x Different Collaboration of Escape Game Experiences Different Dimension than Imagination "Crown of Sarah and Viper" - GIGAZINE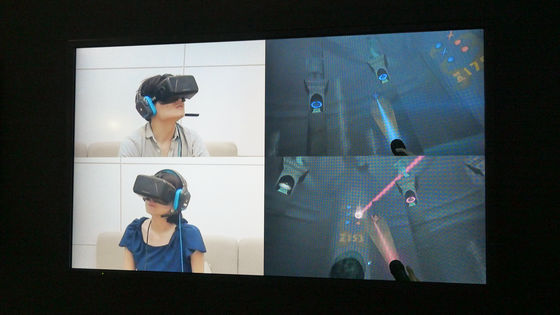 ◆ September 19, 2015 11:03:00
A smart version of the "live state powerful professional baseball" HR competition "Total Homeland Trance! TGS.Ver" - GIGAZINE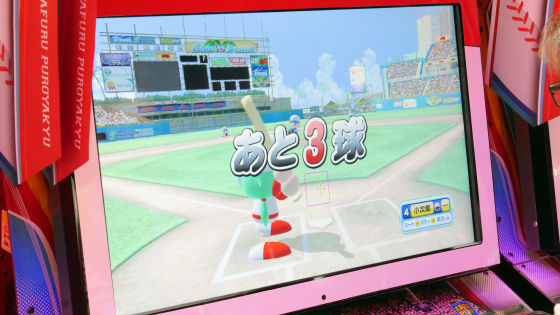 ◆ September 19, 2015 12:00:00
The legendary simulation RPG became the sequel "Bocoska Wars 2" for the first time in 30 years and was reborn, so I've been experiencing what kind of game it is - GIGAZINE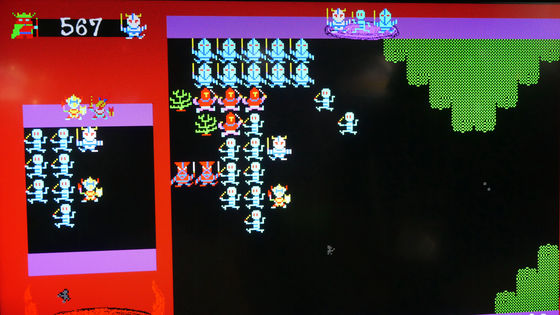 ◆ September 19, 2015 12:30:00
"Monster Hunter Cross" Latest Playable - Super Gorgeous Set Reproducing the Meeting Room Area and Ryujyoin - GIGAZINE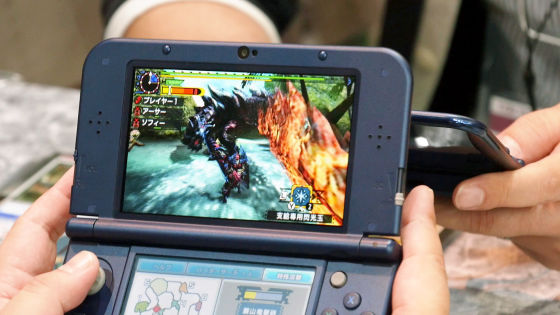 ◆ 20th September 19th 15: 30h00s
1/1 size super heavy tank Oy car, Garpan & Arpeggio collaboration etc. Super fancy Wargaming Japan booth - GIGAZINE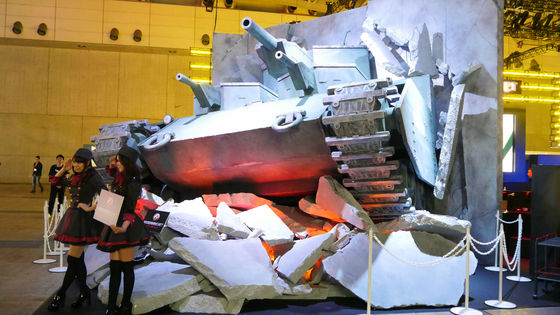 ◆ September 19, 2015 16:21:00
World's first playable of "Resident Evil Umbrella Core" that Bio has evolved into an online shooter while leaving the worldview unchanged - GIGAZINE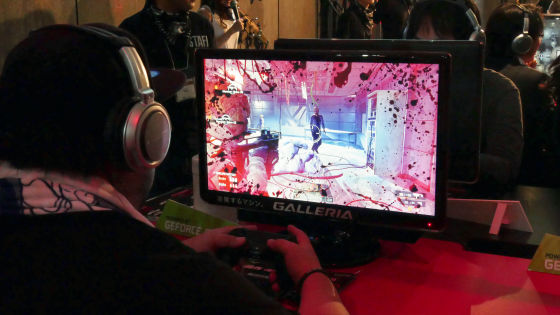 ◆ September 19, 2015 21: 00: 00 second
"METAL GEAR ONLINE" which can use Othelot Prior play & Fulton recovery snake etc. KONAMI's metal gear booth - GIGAZINE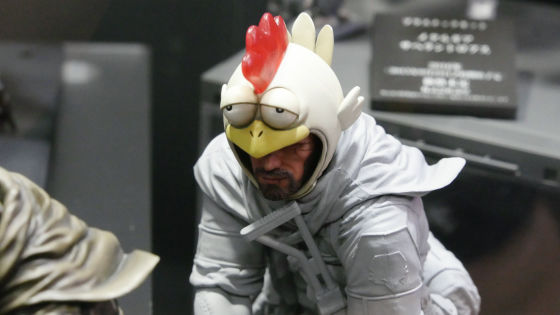 ◆ September 19, 2015 23:45 minutes 00 seconds
Bangnam booth that can take a commemorative photo with the real size big sharp zaku head and game character - GIGAZINE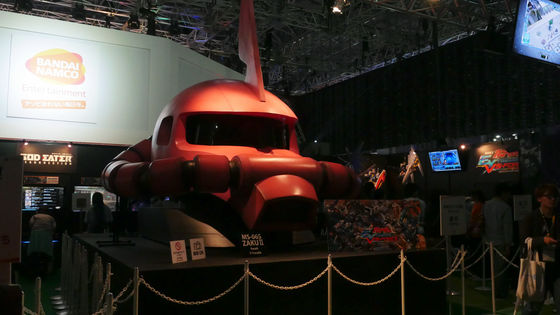 ◆ 2015 20 September 09 h 23 min 00 s
"Memories of cassette Huufu again", "Pico cassette" which can play retro games just by inserting it in a smartphone - GIGAZINE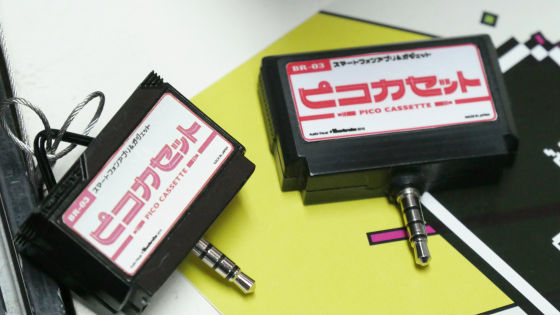 ◆ 2015 September 20th 12: 00: 00 second
I have experienced "Oculus Rift" and "Gear VR" in order to tell the farewell to the real world and travel to the virtual space - GIGAZINE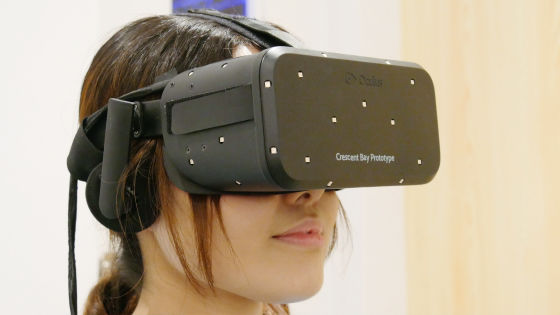 ◆ 2015 September 20th 16: 00: 00 second
Aiming at reconstruction of mankind with everyone cooperating and working in the socialist world aiming to reconstruct mankind "The Tomorrow Children" game report for PS4 which is too different - GIGAZINE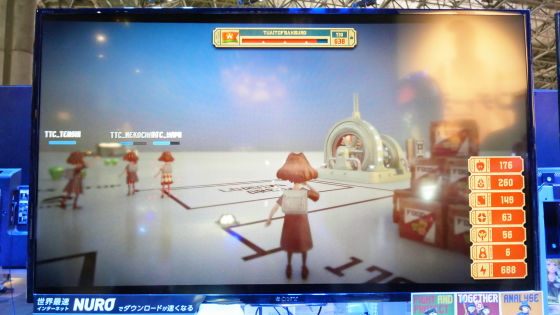 ◆ September 21, 2015 09: 00: 00 second
This combination "the best"! It is! "JoJo's Bizarre Adventure Eyes of Heaven" Dream Tag Battle with Key Characters from Part 1 to Part 8 - GIGAZINE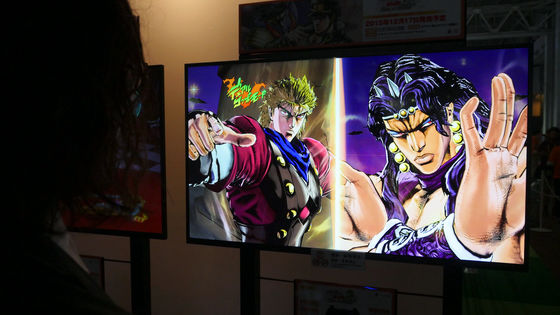 ◆ September 21, 2015 12:00:00
Ultimate Mind Sports "Phantom Battle - SPEED CHESS -" that abolishes the turning system of "Chess" and moves the piece in real time to pursue King - GIGAZINE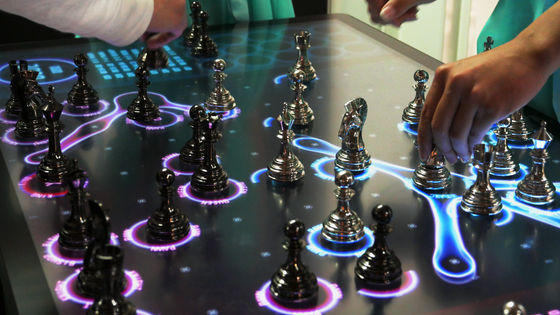 Makuhari Messe, the venue, was full of many visitors.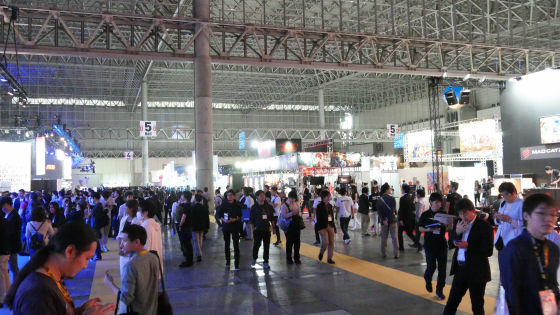 At the PlayStation booth of Sony Computer Entertainment, for PS 4GRAVITY DAZE"Or"The Tomorrow Children"And the latest game such as Sony's VR headset"PlayStation VR"Pilot play was being held.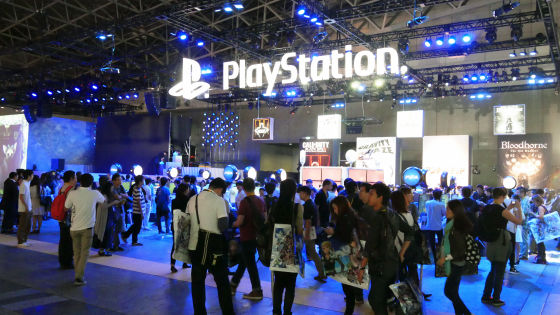 Other than thatDARK SOULS IIIThere is also a playable exhibition of.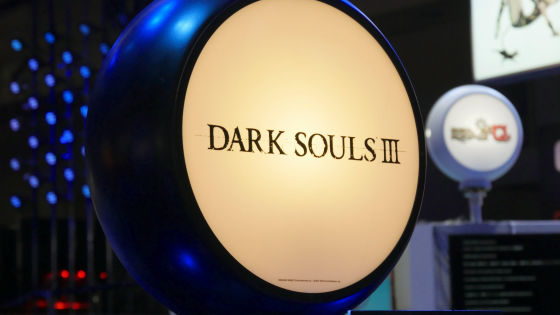 Play DARK SOULS III scheduled for release on March 24, 2016 ahead of the other.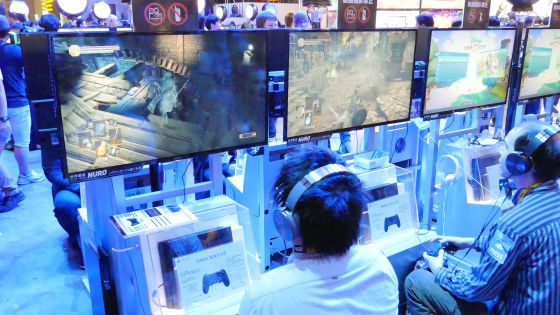 Some players are fierce battle with "cold valley dancer".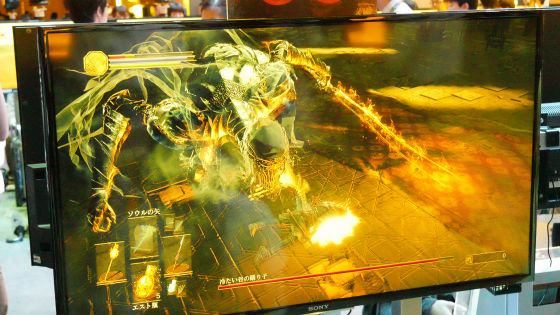 Also, large DLC "Bloodborne: The Old HunterThere was also a trial section of "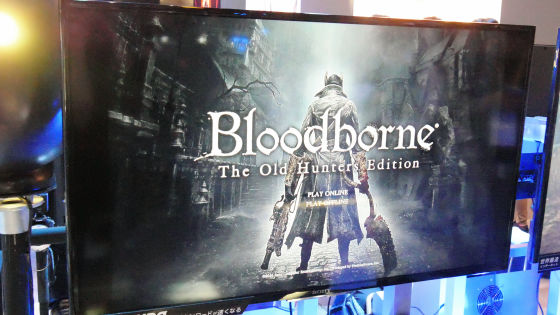 It is possible to use a weapon "Simon's hunting weapon" that transforms into a bow.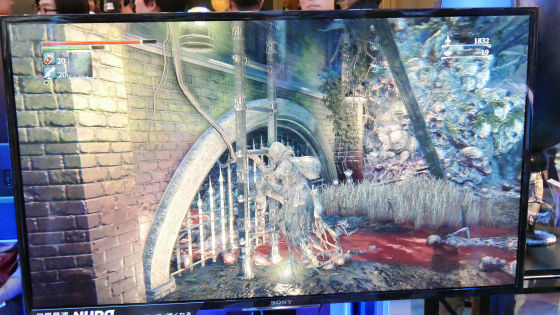 You can check the battle with Rudoweek at "Bloodborne: The Old Hunters" from the following movie.

Large DLC "Bloodborne: The Old Hunters" Battle with Rudweeek - YouTube


Game for PS4 "Man eating Ogre TorikoSuper super-large display.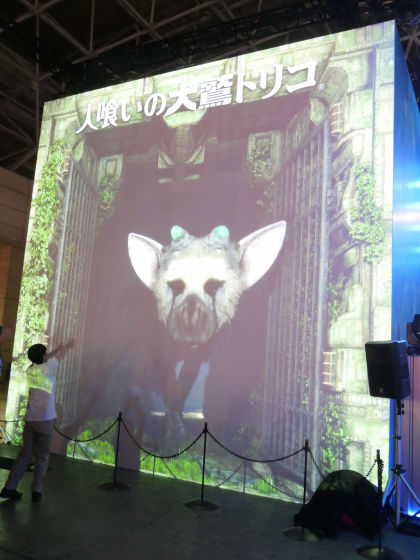 Toriko being displayed on the display shows the movement responding to the movement of a person, and the state can be confirmed from the following movie.

Where you are playing with Toriko in a super-large panel of "Man eating Ogre Toriko" - YouTube


Xperia's booth on the smartphone.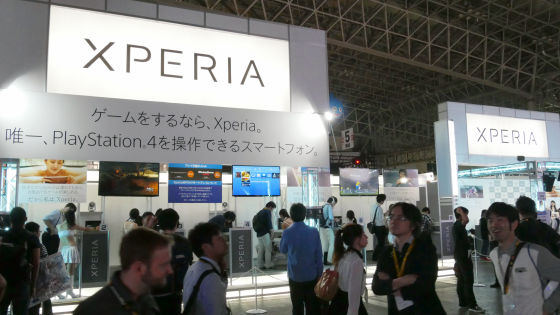 At Xperia's booth you can experience remote play of PS 4 using Xperia products.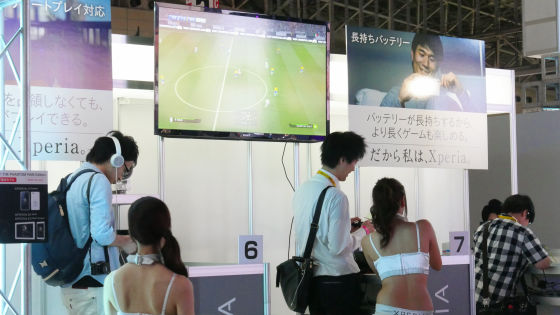 A photo session by a companion was also held.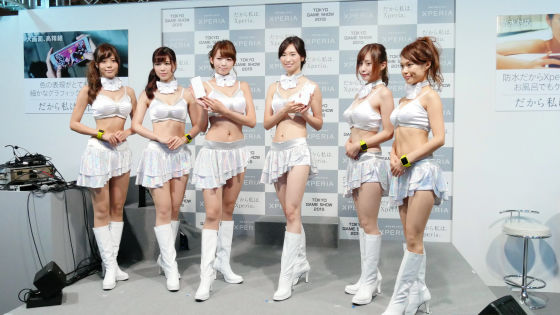 It is Xperia Z4 that the companion has in hand.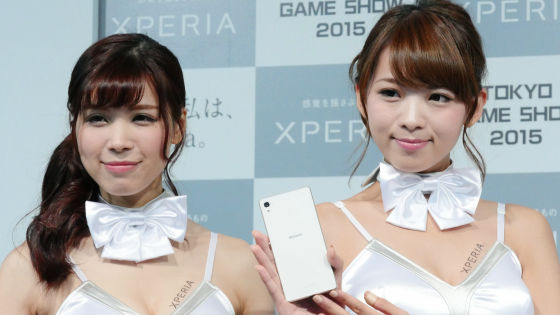 A profile with a crunchy face.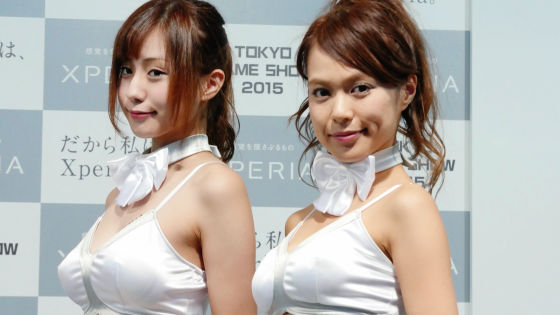 On the chest XPERIA letters.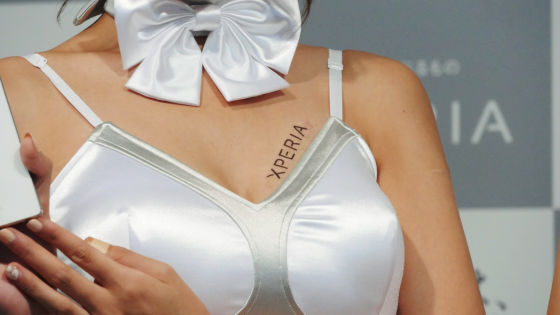 When I visited the booth,Yoshida NaotohiNico Nico live broadcast of "Yoshida Naomi XYZ" by announcer was carried out.



As a stand-alone unit, YouTube's booth became the first participation.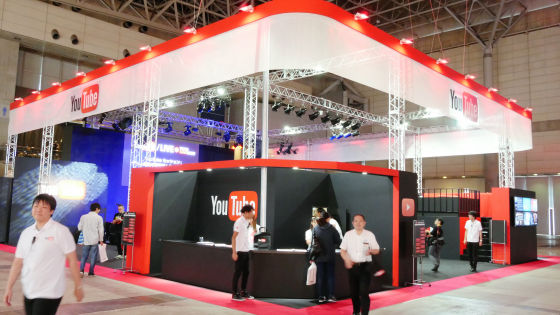 A corner where you can experience video distribution via PS4 or YouTube Live.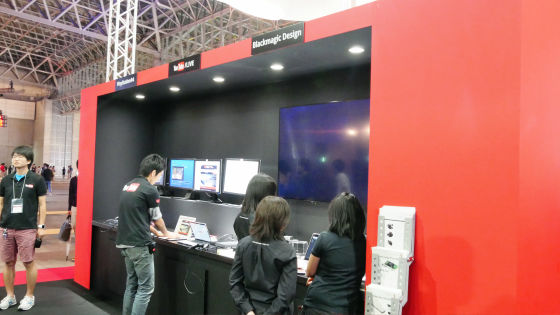 Many stage events related to promotion of video creators and game applications were held.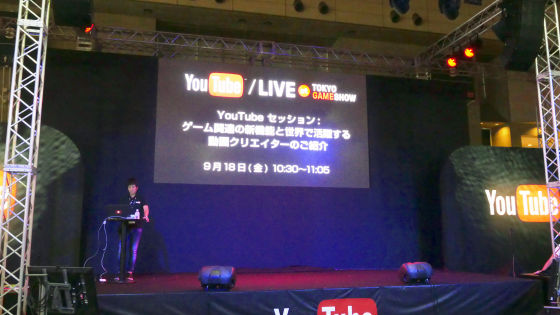 There was a long line in Amazon booth.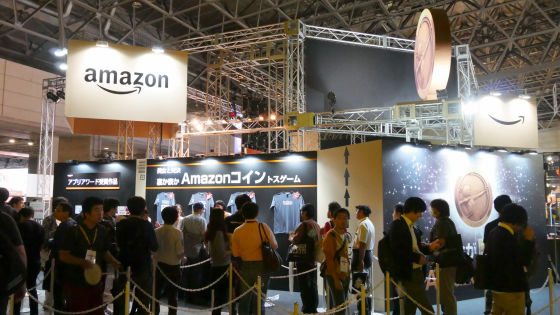 Everyone's goal is Amazon coin toss game with beautiful woman. Amazon coins are virtual currencies that can earn up to 10% on in-app billing and purchasing apps.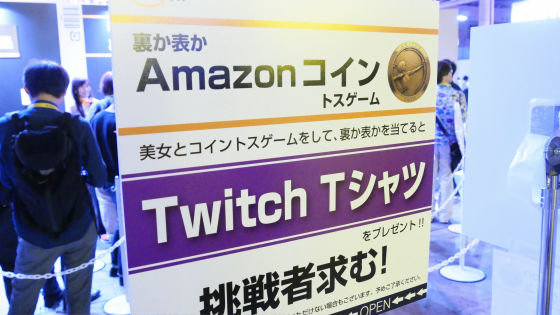 If you win wonderfully with a coin tos game with a beautiful woman ......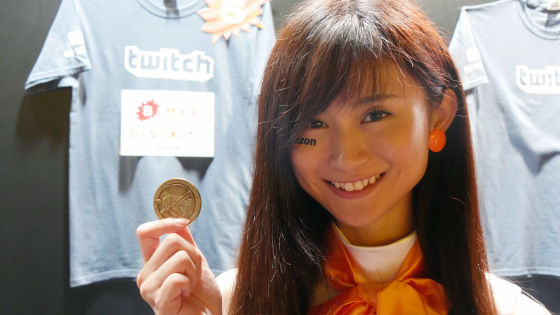 It is possible to get a T-shirt of game distribution platform "Twitch".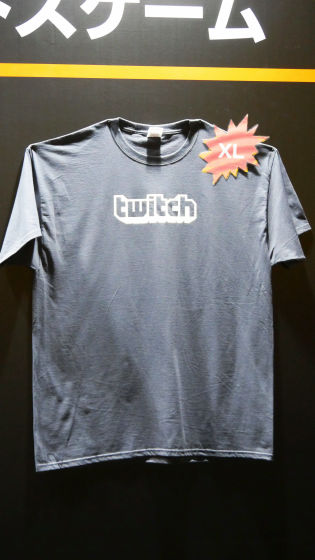 In addition, Twitch's live distribution stage event was also carried out.



Rakuten application market booth.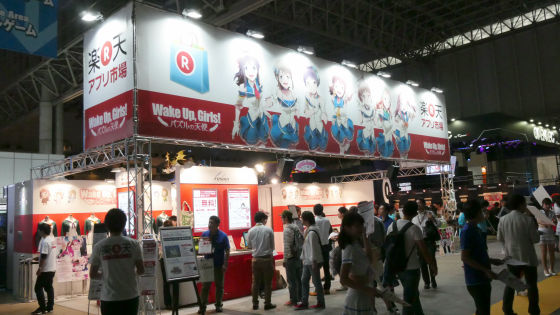 There was an event hitting the deca key holder of the popular anime "Wake Up, Girls!" And the handed-off meeting ticket.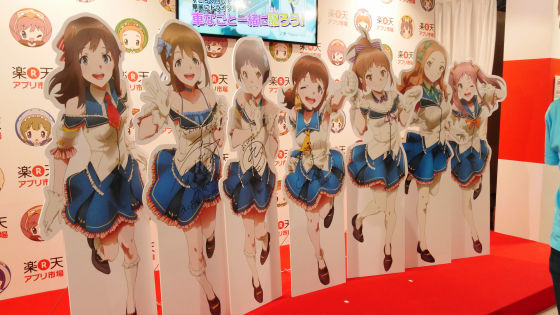 The lucky person who got the delivery ticket was able to participate in the transfer meeting where seven members gathered.

【TGS 2015】 It ended. Thank you very much for all of you who visited Rakuten Applications Market Booth for 4 days. I am glad if you have experienced a little puzzle angel as a result of this event!# WUG_JPPic.twitter.com/whU 9 HiSjQ 1

- "Wake Up, Girls! Official (@ wakeupgirls_PR)2015, September 20
Go ☆ Jazz video booth.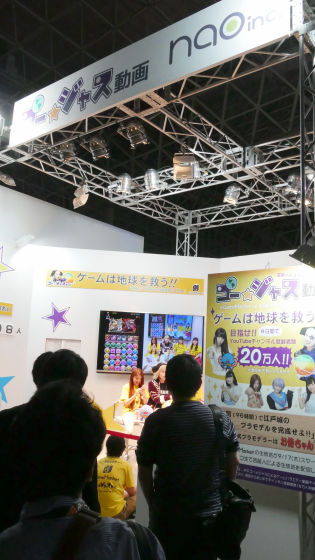 Go ☆ Jas (Space Pirate)Video live broadcasting has been done by Mr. When urouroking the venue, there was a couple of times I saw GO JUS (space pirate) who has Earth's rubber ball.