Google Nexus related events to be held in San Francisco on September 29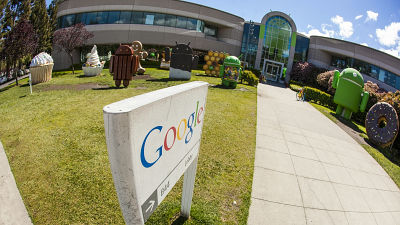 ByAnthony Quintano

It turned out that Google will hold Nexus related events in San Francisco on Tuesday, September 29, 2015 local time, and expect to release two large and small smartphones that will be Nexus brand new models.

Google will hold Nexus event September 29 in San Francisco - CNET
http://www.cnet.com/news/google-will-hold-nexus-smartphone-event-on-sept-29-in-san-francisco/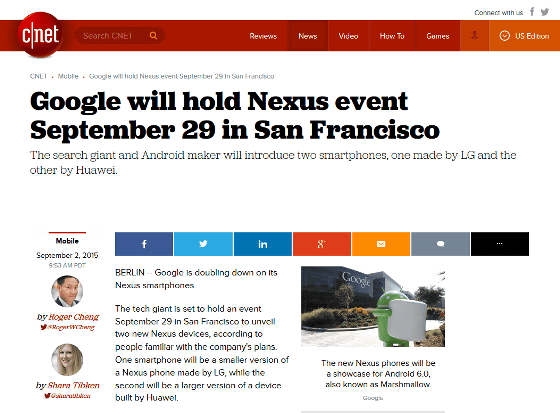 According to a person familiar with the circumstances, at the event Google will announce a terminal which is considered to be a new type "Nexus 6". It is considered that there are two models of large and small sizes with different screen sizes in this model. LG is in charge of a small size model expected to be 5.2 inches, and the large size model predicted to be 5.7 inches is known for Huawei (Huawei) for the first time in Nexus brand to be in charge of production.

Huawei's first leak information on Nexus aircraft can also be viewed in detail in the following articles.

Huawei made smartphone which becomes the new type Nexus 6 leaked, obviously equipped with huge camera and fingerprint authentication function - GIGAZINE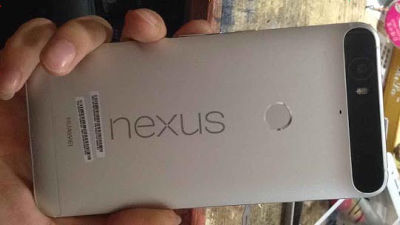 These models include the latest version of Android OS "Android 6.0 MarshmallowIt is thought to be equipped with. Since Nexus brand smartphones are often regarded as "flagship" of Android terminal, there are many fans preferred as "pure Android terminal" which does not have additional applications by other vendors and carriers, It is inevitable that many interests gather from Android users who are paying attention to the appearance of the new OS.

LG produces Nexus brand terminals for the third time following Nexus 4 and Nexus 5, but it is the first Nexus terminal for Huawei. Huawei, which has been sending high-quality models at low prices and high quality, is expected to aim for improvement of brand value by enriching high-end models, which are high-end models as future developments, and will be in charge of Nexus brand flagship machine this time It seems that there is merit for the company as well. Although it is a company with a big name recognition in the Asian region, the degree of penetration in the European and American markets is still in a state that can be said yet, so it is likely to attract interest to what extent the appearance of the new model will contribute to the enhancement of the company's name recognition.

Although it is an interesting price, it was still unknown at the time of article creation. Also, Google said that he refused to comment on holding an event.