Xbox One version Windows 10 appeared in November, the new dashboard design looks like this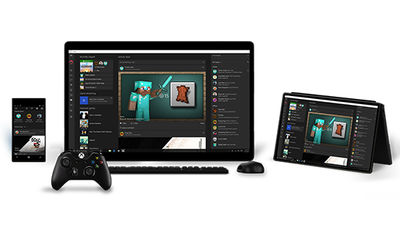 In "Windows 10", OS and game are integrated at a level unprecedented in the past, you can enjoy games on PC, stream Xbox One games from PC and play it, but Xbox One Also by installing Windows 10, the user interface (UI) and functions are expected to change greatly. It was revealed that a large-scale update including Windows 10 will arrive in Xbox One in November 2015.

Windows 10 is coming to the Xbox One in November | The Verge
http://www.theverge.com/2015/8/4/9094113/microsoft-xbox-one-windows-10-update-november

Windows 10 preview for Xbox One set to arrive in September for testers | The Verge
http://www.theverge.com/2015/8/4/9097465/xbox-one-windows-10-update-september-preview

The current Xbox One dashboard, when installing the game, looking at the Friends list or watching the chat may switch the screen very slowly, so the Xbox development team will be using Windows 10 We are trying to improve it by using.

In E3 2015 held in June 2015, the new design of the dashboard of Xbox One equipped with Windows 10 was announced, and the released home screen was simple.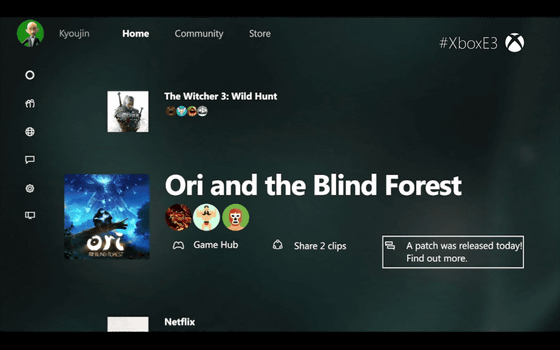 A community screen that becomes a place for users to communicate with each other



Friend screen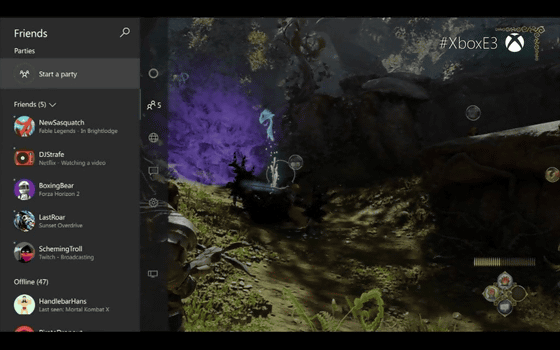 Setting screen. This is the new design of the dashboard published at E3 2015.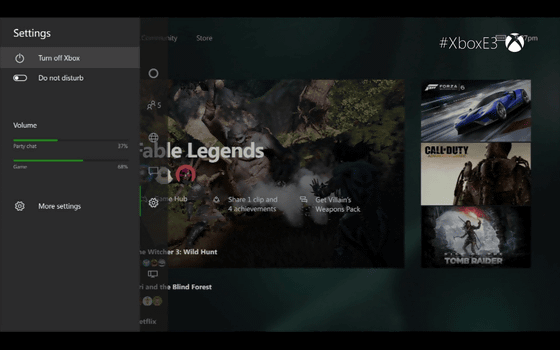 Micorsoft released a new version of the home screen that further brushed up what was released on E3 2015 in August 2015. As a feature, elements such as Search, Friend, Message, Notification etc are gathered at the left end of the screen, and the menu tab such as "Home" "Community" at the top of the screen doubles from what was released at the time of E 3 doing. In the screenshot of the new version, newly added "Watch" "Games" "Movie & TV" "Apps" "Music", the "Store" tab only disappeared.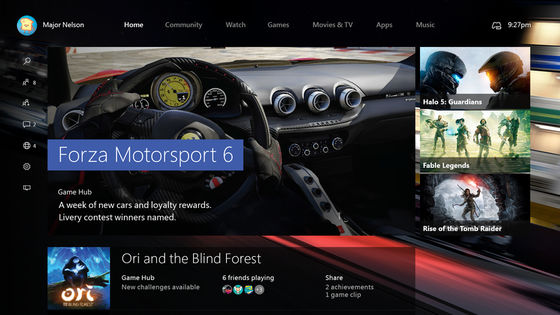 "Activity Feed" has been upgraded on the latest version of "Community" screen, and it seems that you can check popular TV programs, games and other contents etc on Xbox Live the same as before. Furthermore, the "Watch" screen works in conjunction with streaming service such as Netflix · Hulu Plus · HBO GO, so you can watch the content on live delivery or on demand. Microsoft has also improved "OneGuide" which is a TV guide function for Xbox One users, and it seems that it can be used for full-screen usage and more channels than the current situation. In addition to these functions, updating to Windows 10 seems to be able to use "Cortana" which is Microsoft's speech recognition guide even on Xbox One.

How you can actually use "Cortana" can be imagined if you look at the following movie.

New Xbox One Experience - YouTube


Mike Ybarra, leader of the platform engineer at Xbox development department, said on Twitter "My goal is to release Windows 10, including the new UI, for Xbox One, the preview version of Windows 10 for Xbox One , We are planning to publish it for testers in September, "some users seem to be able to play on the new Xbox One in September as well.

My goal is Win 10 is on Xbox One, with the new UI, for Preview members in September.

- Mike Ybarra (@ Xbox Qwik)2015, August 4