I tried using Marco's "quick and delicious aged miso" which makes it easy to make full-fledged miso soup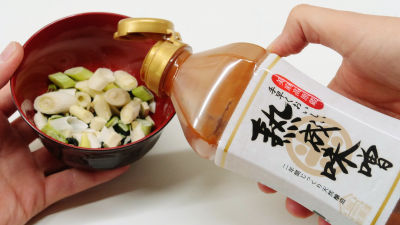 When instantly wanting to eat miso soup easily, there is another taste so I do not want to take the trouble of what I want to do. It seems to be useful there, as Maluko's "Marukome" that full-fledged miso soup can be made in a short timeQuick and delicious aged miso"is. Using bottled miso is a kind of instant miso soup, but I bought it and tried using it.

Quick and delicious aged miso × 2 | Marukome mail order
http://www.miasa.jp/Commodity.html?CATEGORY_CD=miso_miso&SHOHIN_CD=5001674167

The quick and delicious aged miso has a capacity of 430 ml, which is about a little smaller than a PET bottle of about 500 ml.



It is said to have been "natural brewing carefully for two years" with goods of the brand "Mizuhara Kurakura" brand.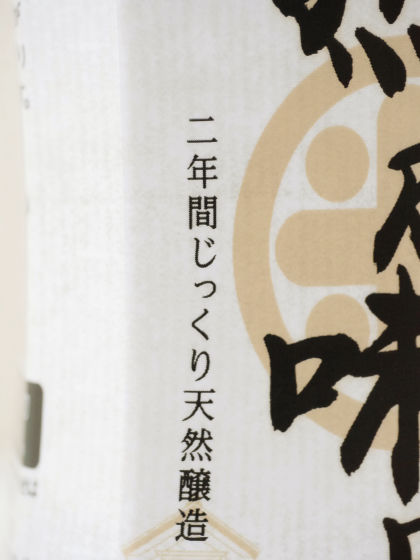 Raw materials include rice miso · fermented seasoning · salt · yeast extract · bonito powder · kelp extract · and extract · alcohol. Chemical seasonings are not used.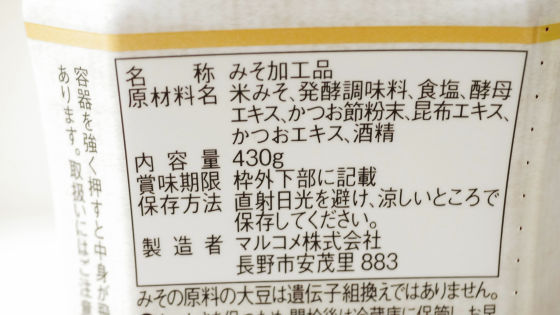 As for how to make, this miso 1 tablespoon strong (20 ml) is recommended for hot water 160 ml.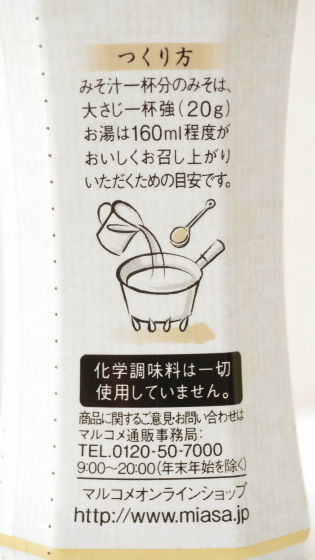 The other dayBowl shot poleI used it at the time of reviewRice tasteIt is like this when compared with. A quick and delicious aged miso package has a sense of quality.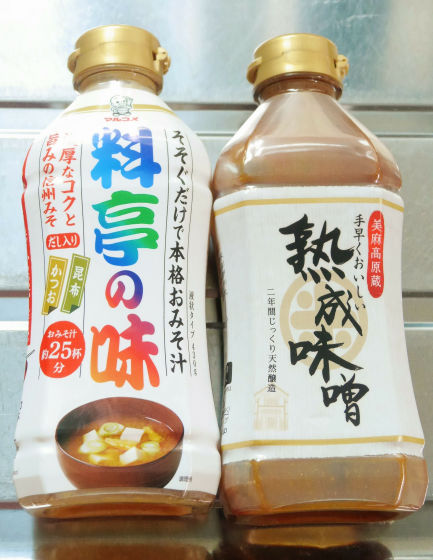 I will drop it on the dish.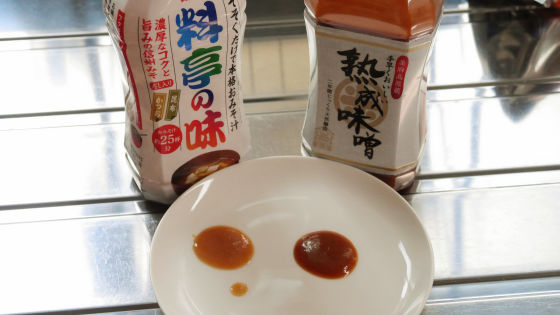 Compared with "taste of the restaurant", "quick and delicious aged miso" is darker in color.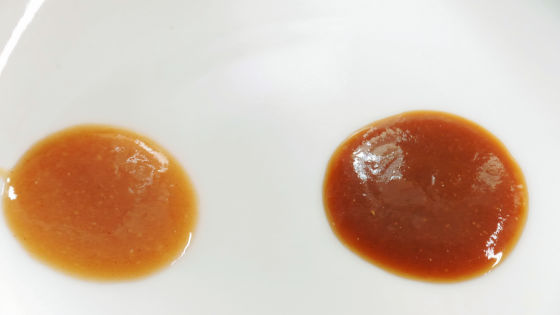 First of all, I will make miso soup easily without obeying how to make it. Prepare dried vegetables and bowls.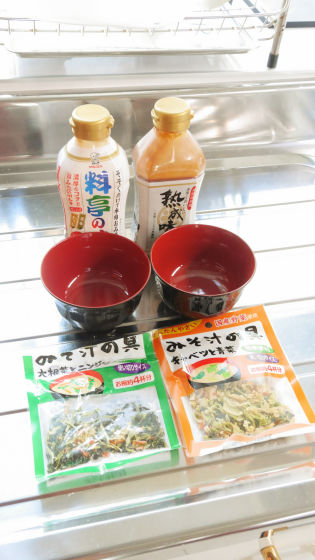 First I will shake the bottle.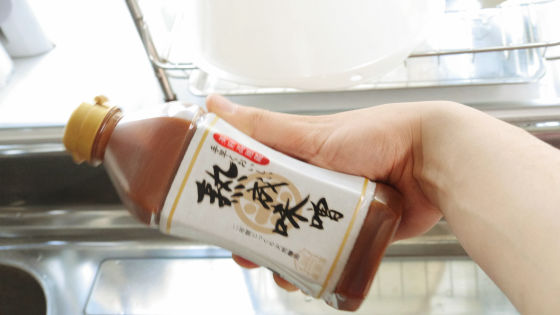 Pour liquid miso soup into the bowl ... ...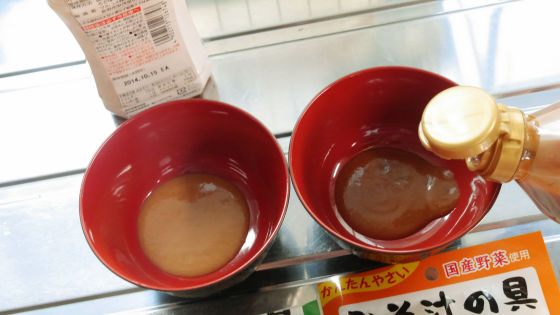 In addition, put dried vegetables.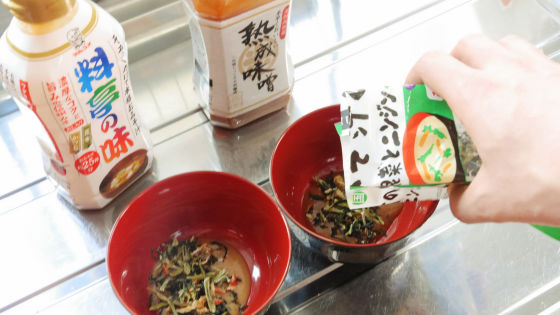 Completion with hot water. I will try to drink it.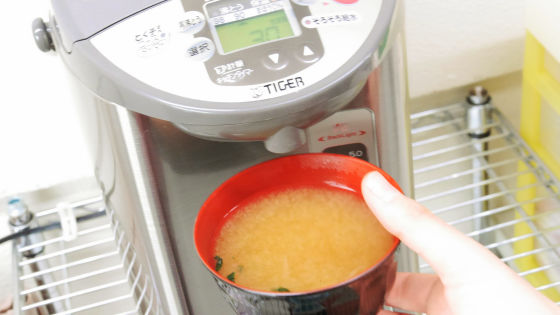 The taste of Ryotei spreads umami all the time when it is put into the mouth, but it has a taste similar to cup miso soup, with the slightly throat feeling dry. As the price is slightly less than 300 yen and 20 cups of miso soup can be drunk, cost performance seems not to be bad.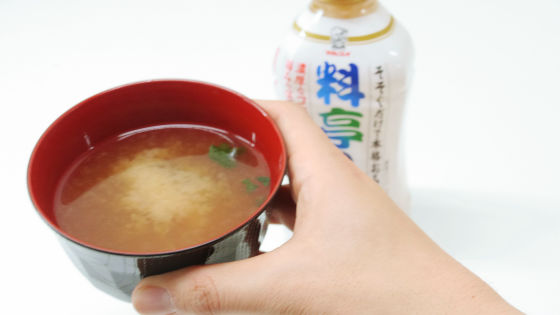 Quick and delicious aged miso has a taste of umami taste neatly, the mouthfeel is soft, especially the taste of bonito is strongly felt. Bonito powder was contained in the raw material, but I did not feel the powderiness in particular. It seems to be said that you can say that it is not enough to lose the miso soup that took the mushrooms at home.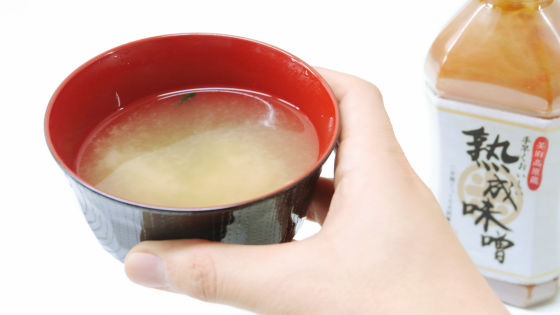 Of course it is also possible to make miso soup with quick and delicious aged miso using a pot. Put water in a snow pan ... ...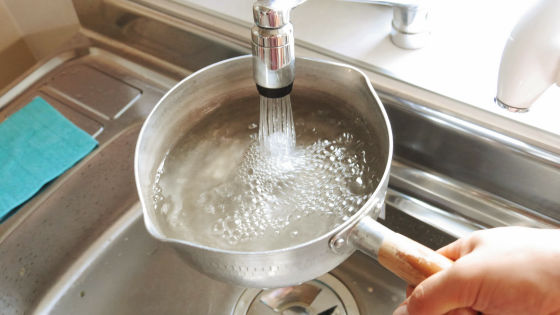 I put the ingredients of miso soup and put it on the fire.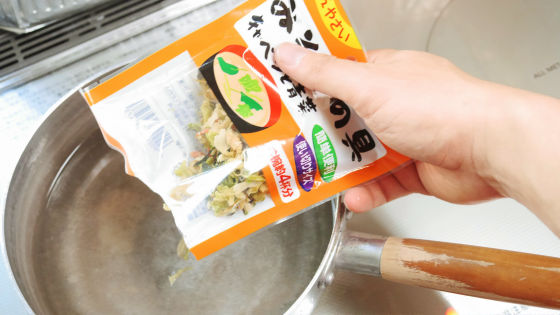 Once the ingredients are boiled down, quickly add delicious aged miso and it is completed.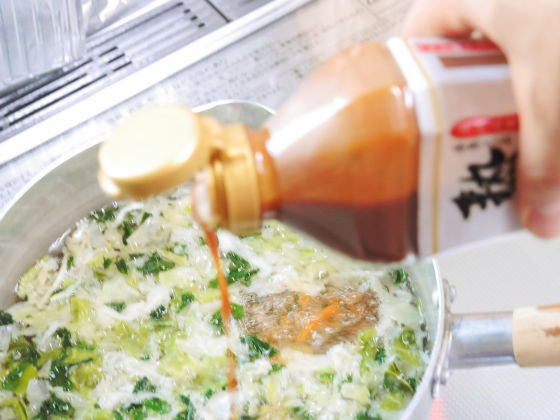 I will pour into the bowl and try to drink it.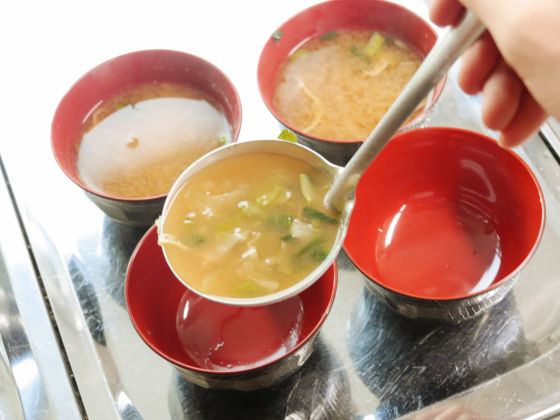 Originally miso is liquid so it melts well, but there was no big difference from when making water from the pot. When putting tofu and vegetables as a ingredient, you need to use a pot, but when you want to make a brief using dried ingredients, it does not seem to be a problem even if you make water by pouring hot water.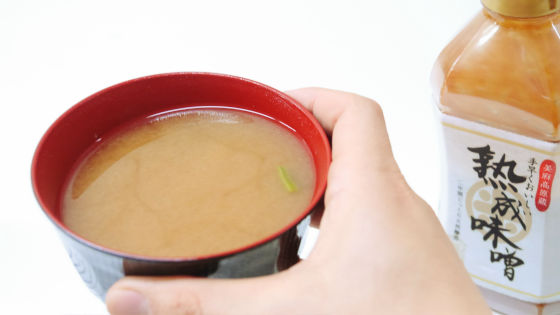 Quick and delicious aged miso is sold at Marukome's mail order site with 2 sets including 1780 yen including tax. Although it is not cheap considering it as miso's price, it is recommended for those who want to drink delicious miso soup over so much after saving the trouble.