"Italian cuisine fair" which the president of Royal host went searching for ingredients to the locality was full flavor aimed at authentic taste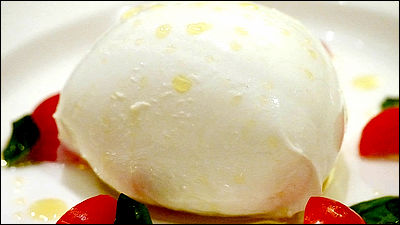 Speaking of Royal Host, we offer authentic cuisine that sticks to the full-fledged breakfast and materials that can be eaten at the hotel while serving as a family restaurant, but from September 18 (Wednesday) the president and employee of the Royal host "Italian cuisine fair" will be held to find the ingredients to the site and provide authentic taste. I felt quite awesome, so I joined the tasting party in order to taste some menus quickly.

[PDF] "Seventh Italian Cooking Fair" held with set meals to visit Italian producers and choose carefully selected ingredients
http://www.royalhost.jp/information/pdf/info_130910.pdf

We arrived at the Royal host Namba Midosuji where the tasting party is held. Nearby is also the Royal group.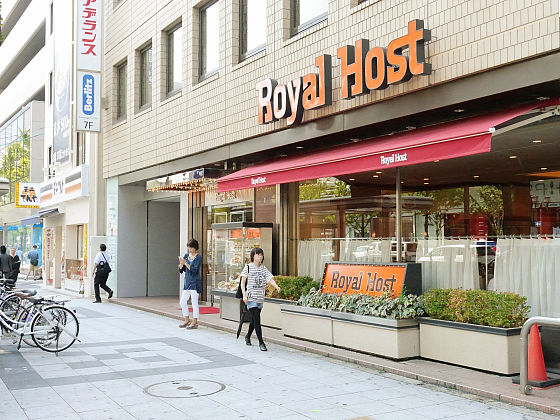 A picture of a paper restaurant laid on a table during the Italian cuisine fair is one piece taken by employees on a business trip searching for ingredients.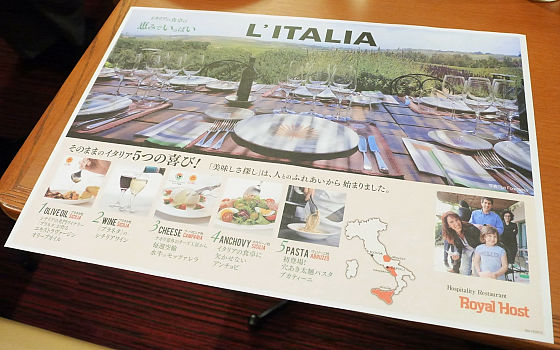 President / employee has found it in ItalyPlanetaCompany's olive oil and Sicily wine, in the outskirts of NaplesLa BaroniaMozzarella of water buffalo company, Carroino's anchovies,VeriniFoodstuffs such as company's pasta have been used are used.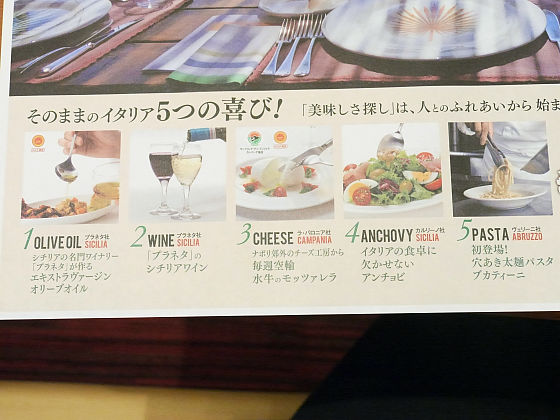 At the tasting partySicilyProduced wine was also acted, but I am patient, so I am at work.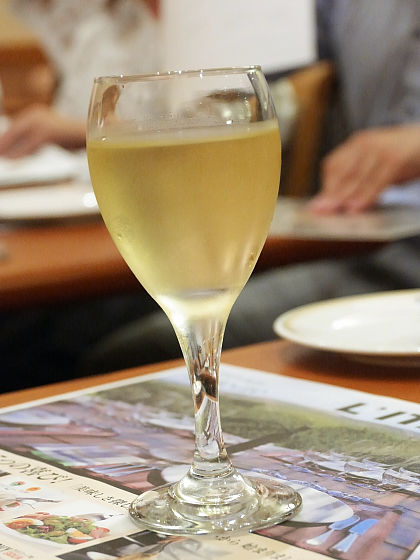 First of all buffalo's full size "Mozzarella cheese (1365 yen including tax)Appeared. Salt pepper is also made with confidence in the material so it is not dared to dare.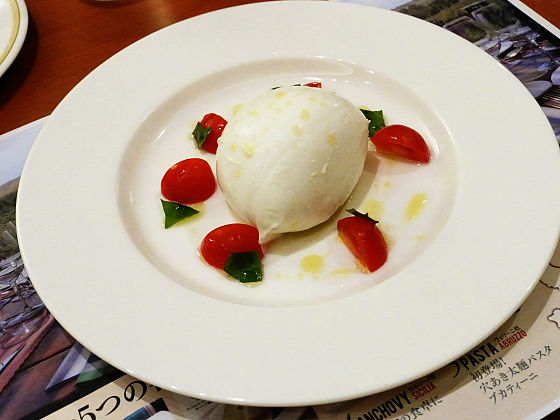 Mozzarella cheese is large because it is offered as a whole with olive oil. I know how big it is compared to cut mini tomatoes.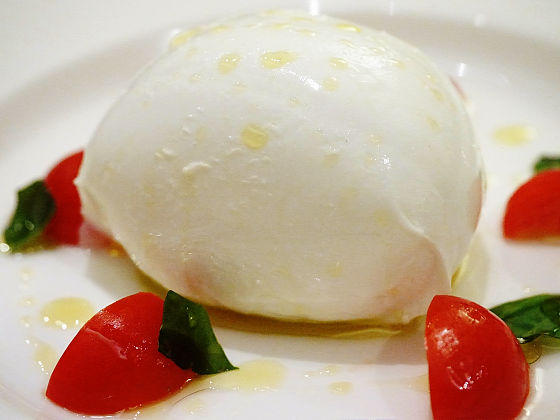 I will cut it and eat it separately. It is air-freighted from Italy every week to keep freshness, and you can feel the extraordinary commitment.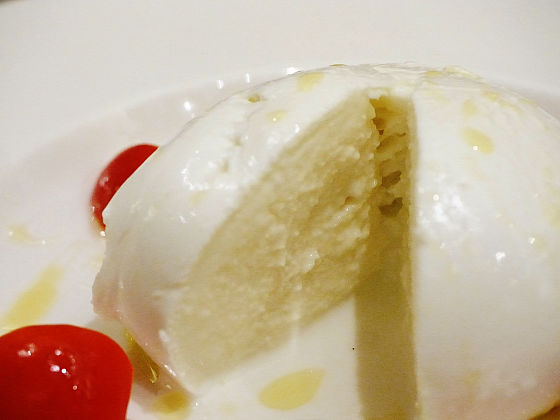 It is like this if you put it in a bite size and separate it into dishes. The green basil mini tomato red is lined up and very bright like a tricolor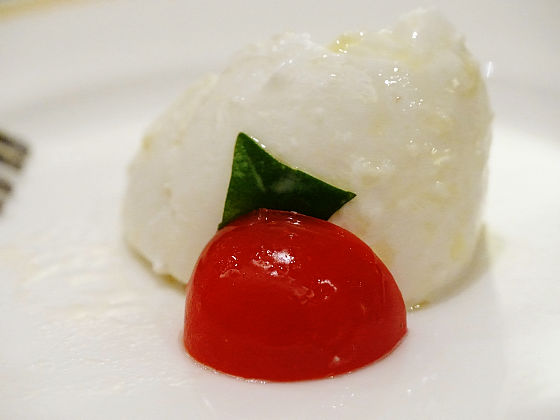 A combination of high quality, rich Mozzarella · basil scent · mini tomato · olive oil is exquisite. Especially the taste and smell of mozzarella and olive oil which freshness reflects directly in the taste are different dimensions.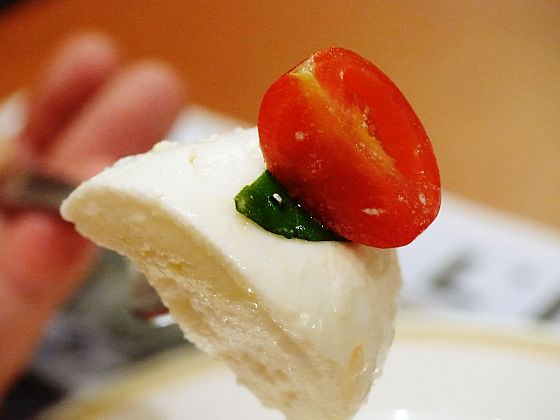 Appetizers became assorted "Italian favorable plate (682 yen including tax)"Is representative three kinds of home cooking in Italy.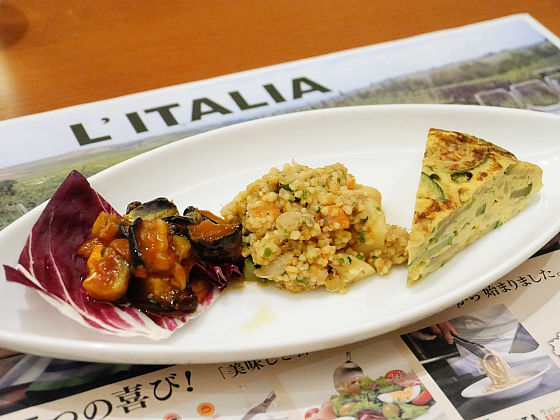 LeftmostCaponataItalian home cooked dishes such as eggplant with tomatoes.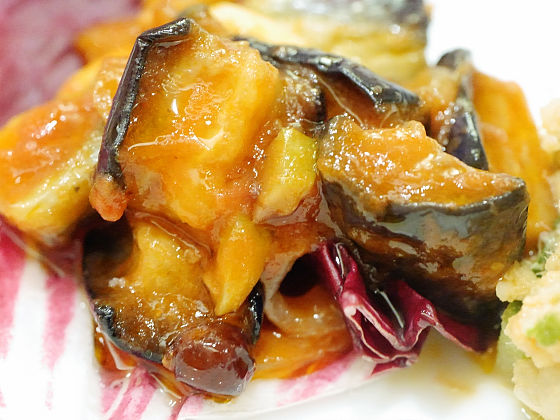 A fresh acidity of tomatoes matches vegetables. Olive oil was felt as being contained in a larger amount, but unlike animal oil, there is nothing like leaning, scent and vegetable rich complement the taste of Kaponata.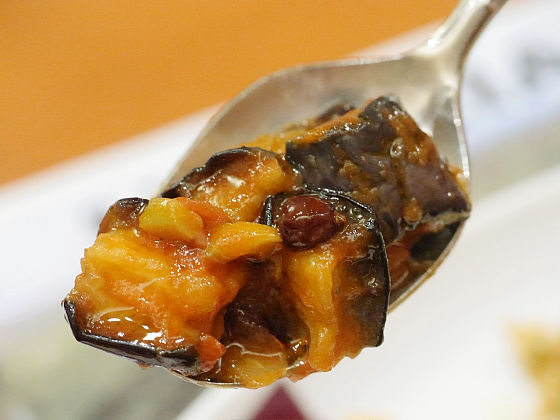 CouscousThe salad is a dish of seasoned couscous made from wheat flour with seafood soup and salt pepper and lentils etc mixed. Origin is said to be a region in North Africa and the Middle East, but it seems that it is widely eaten even in Italy.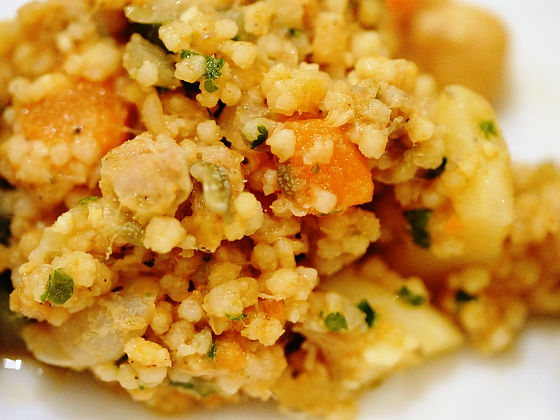 Wheat's unique fluffy texture, carrots, zucchini and lentils are entered and feels good for deli of appetizers and snacks. I feel a delicious seafood, so meat is not contained but it is enough feeling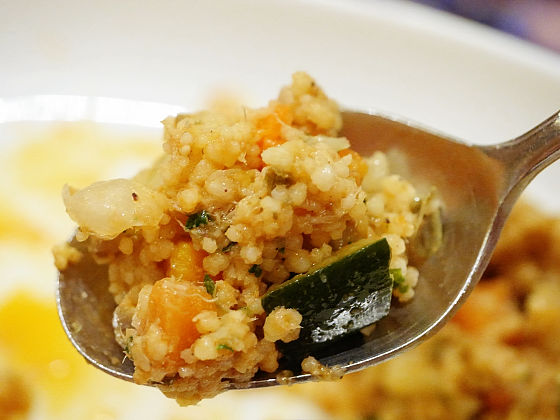 The three items of the rightmost appetizer zucchiniFrittataIsQuicheIt is an egg dish similar to that, in short, it is an Italian omelette.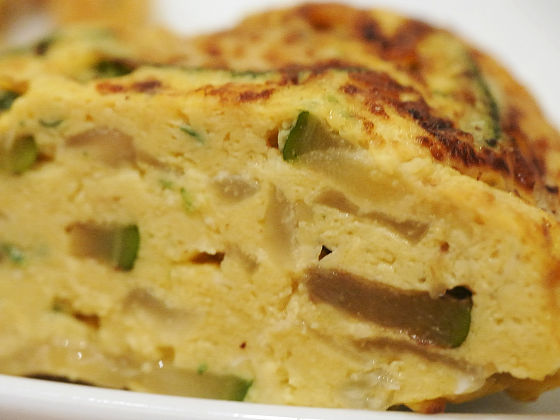 Easy to eat without eggs containing onion and zucchini in eggs. The fluffy texture is also good.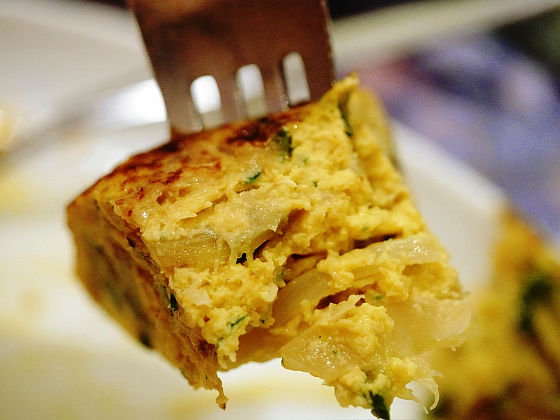 "Appetizer 2 items"Seafood Minestra and Pan de PiccoloIs the set menuItalian set meal pasta select·Meat menu selectionWhen you ask, you will be served next to the appetizer menu.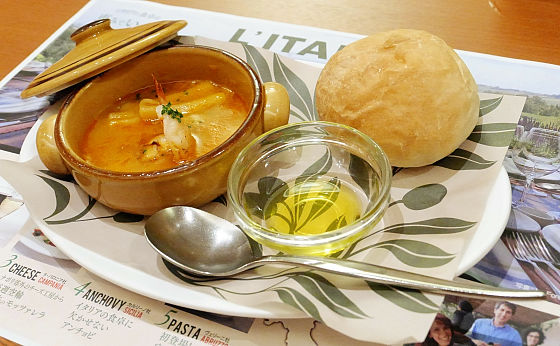 Pan-do-piccolo is like a French bread and it's crispy outside and the inside is a type of bread that's dusty. In Italy, how to eat bread with olive oil is major. If you actually eat bread with olive oil, you can see that you can enjoy the fragrant and rich taste of olive oil directly.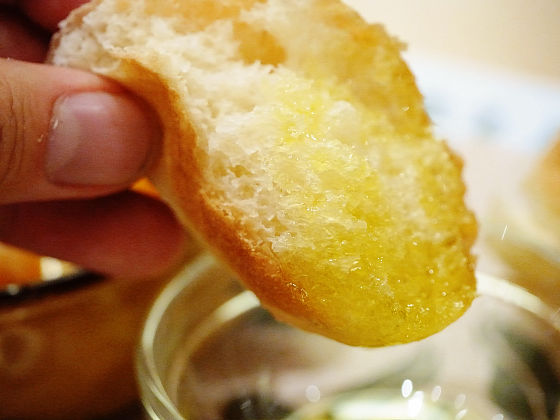 Minnestra contains short pasta like Macaroni with soup filled with white fish and shellfish taste. There is not much quantity, but it is just right amount because the deliciousness of the seafood is thick.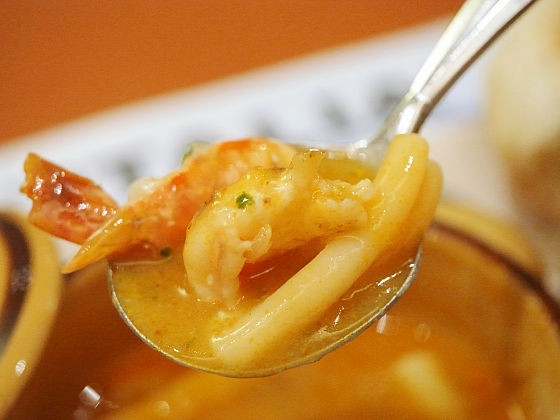 Besides drinking as soup, compatibility is good even if you eat it with bread.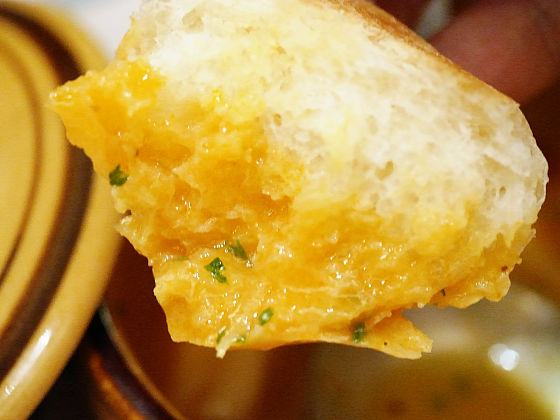 Since olive oil is left over, it is ant to enjoy in minestra. Add vegetable rich flavor and aroma of olive oil, you can enjoy the change of taste.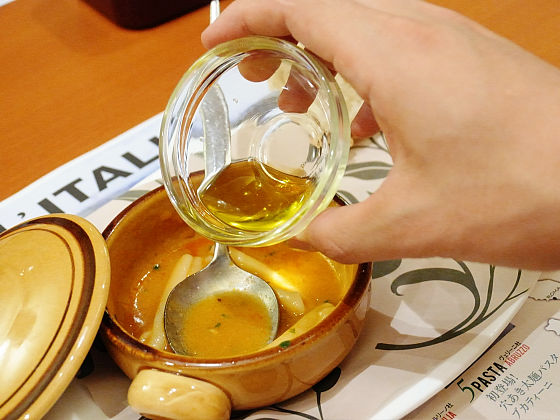 "Sarutinbokka pork and raw ham in the fragrance of sage (1134 yen including tax)"Is a raw ham attached to pork, a sour taste of a cow's dashi · lemon and white wine refreshing sauce and sage is covered and it seems to be a complicated taste.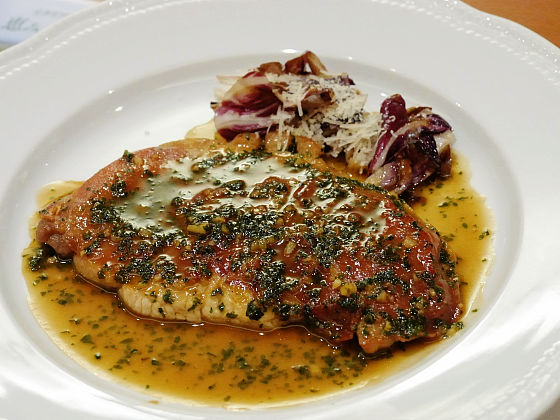 Sauce contains plenty of sauce on the surface.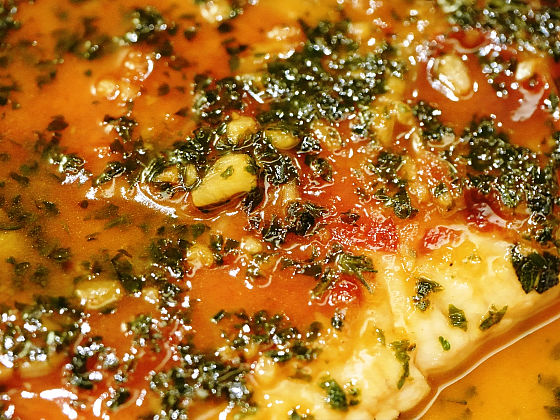 Cut section is cooked differently with raw ham on the upper side and pork with under pork and the same ingredients are used.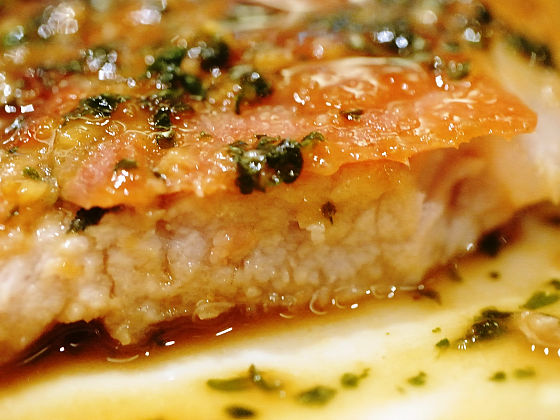 A multilayered flavor that you can feel the ripe taste of raw ham in addition to beef to the sauce that the sour taste of lemon and white wine was effective. Rather than pork meat to eat with rice cake, it is an elegant seasoning like eating with course meals.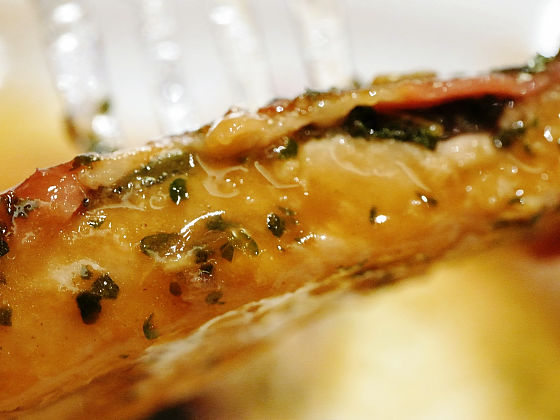 If you eat meat and your mouth has come up, you should eat purple cabbage.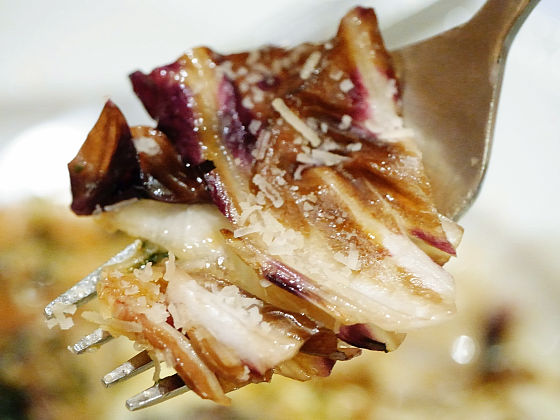 "Cacho Pape Roman specialty pasta (924 yen including tax)IsPalmigiano Reggiano, Simple dish was seasoned with cream, garlic, salt pepper.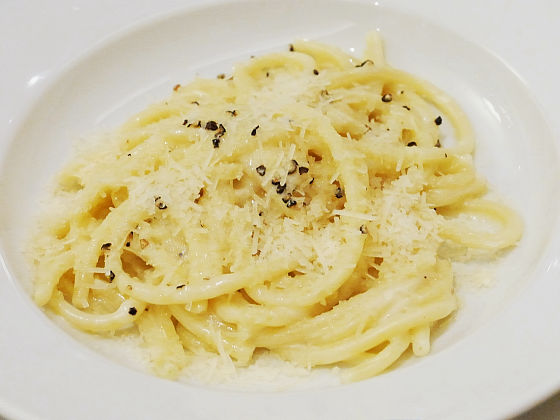 Noodle is a special made perforated noodleBucatiniIt is used and it often involves crisp and creamy rich sauce.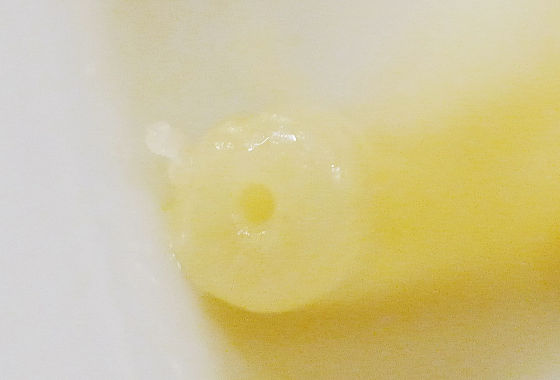 You can see cheese and coarse ground pepper on top of the pasta.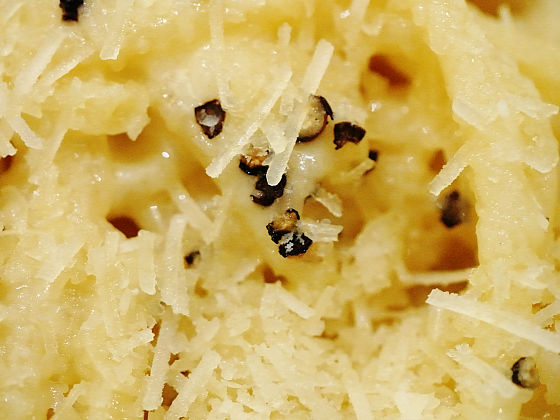 Cheese, cream, salt and pepper Simple seasoning with garlic, the taste of cheese is rich and deep taste,Pan cettaI do not feel the need to put such as. The compatibility of Bukatini, which is said to suit rich pasta, is also outstanding, and the source is soaked into the hole, and the rich sauce is received securely.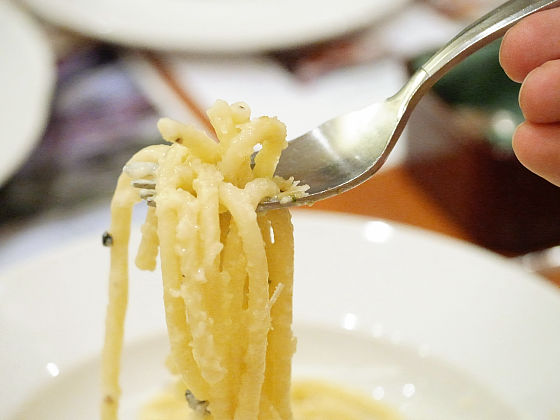 Finally the dessert "Half tiramisu Classico · half tiramisu strawberry (399 yen including tax)Appeared.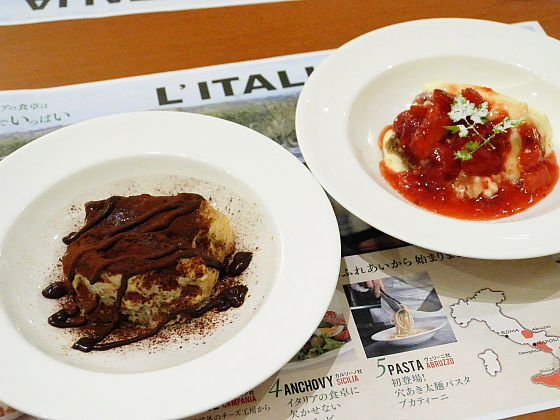 Half Tiramisu Classico uses the commitment mascarpone, and to reproduce the taste near the site, the finger biscuit "SavoyarduriIt is contained.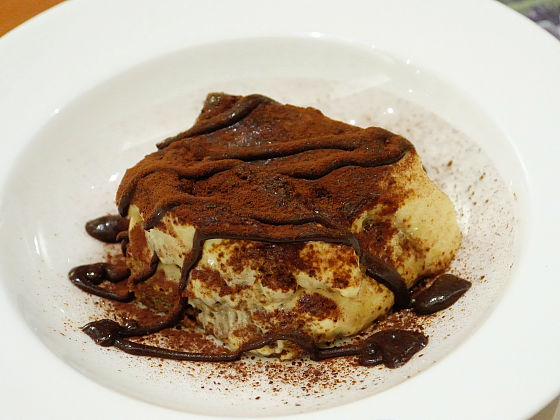 Adult 's taste of fine quality and richness of Mascarpone, bitter taste of cocoa and slight taste of acidity and liquor. Savoia Rudy is not a crispy texture but a moist texture.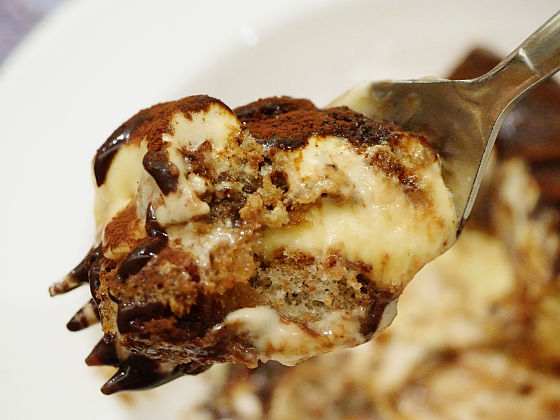 Half tiramisu Strawberry uses fresh strawberries and strawberry sauce and it looks pretty.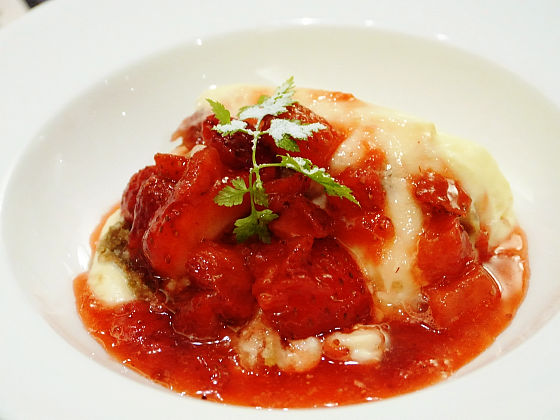 Not the bitter and sour taste of chocolate, the strawberry taste is the main, the Muscalpone's sourness and rich blend together, and the layer containing chocolate gives bitterness there. Both of them are rich in mascarpone, but fragrance and color etc appetite very much, so enter with another stomach.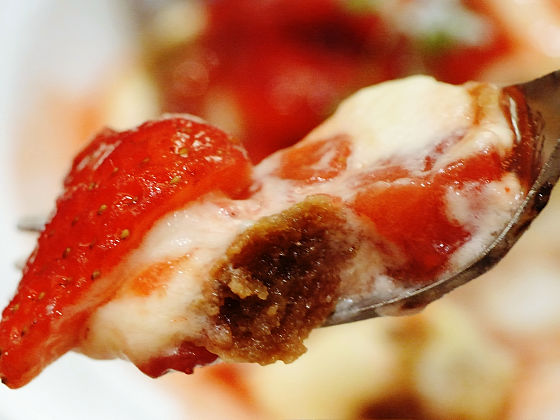 It is a pretty authentic fair menu where you can eat Italian dishes you do not usually get used to. The Italian cuisine fair starts on September 18 (Wednesday), but already in some stores across the country of the Royal hostPre-sales from September 4It is also done, so if you have a store that is doing pre-sale nearby, it might be nice to eat at a shop soon.