"Sliced ​​autumn salmon and scalloped scallop saute" "Oyster cream croquette" etc. Royal host "Thank you for tasty Thanksgiving in the Japanese sea" Tasting session report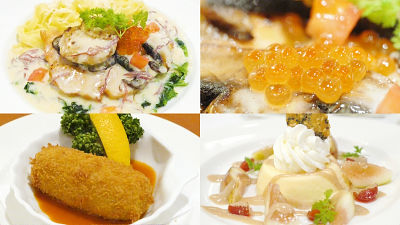 From Tuesday, September 6, 2016, at the royal host nationwide, fair that has assembled the seafoods from Hokkaido, Sanriku, Kyushu etc. "Thanks for the taste Fortunately in the Japanese sea"Begins. As we had the opportunity to eat a new special menu that will be the seventh bullet of the Royal Host "Good Japan" series, which was based on the concept of tasting Japanese ingredients in a western menu fully, so what kind of menu is it? I went to the party.

In the taste, people are gathered "Good JAPAN" 7th "Thanks for the deliciousness of the Japanese sea" Fortune of various seas in Japan such as Hokkaido, Sanriku, Kyushu etc. at the Royal host 's Western cuisine ~ September 6th Tuesday) from the Royal host nationwide ~
(PDF)http://www.royalhost.jp/news/images/3da6c457e73c9ddb13faedfcb19718aa_1.pdf

A lot of menus of 'Fortuneteling in the Japanese Sea' Thank you for the taste lined with jizz. The menu of this time is finished with Western style of royal host style based on the seafoods of various places in Japan and it seems to be able to taste the dish which the chef spent a lot of time on the ingredients of the season.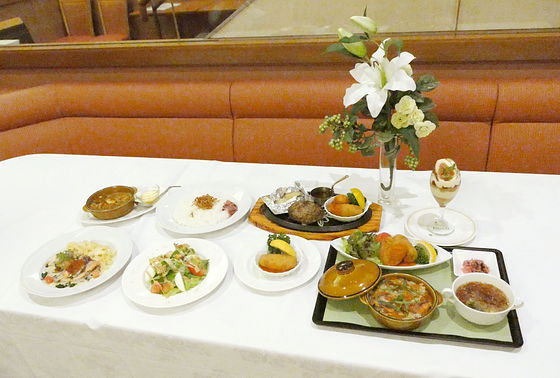 Also, from the same day, we will also start offering seasonal desserts using seasonal fruit "figs". From here we will report each menu in detail.



Domestic Romaine lettuce "Sea (sea)" Zazadarada(Price including tax 486 yen)
Salad using domestic romaine lettuce that you can enjoy thick and sharp texture.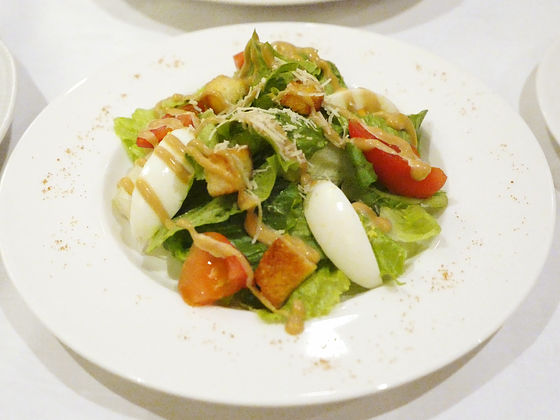 "Salad" (sea) dressing "using Saikyo miso, Sendai miso, abalone liver soy sauce etc. is used for salad which seems to be" salad though seafood menu? " Also, finishing is a factor that makes seafood felt also where the delicacy "Bottarga" dried salted and salted oysters of tuna and tuna is interspersed.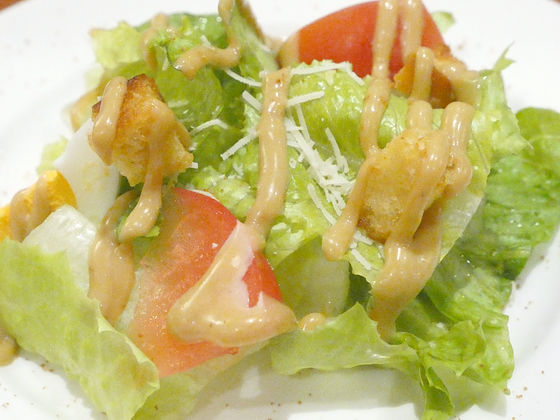 It was a dressing with abundant miso, and I tried to eat what kind of finish it was, and finished in a dressing where you can feel the flavor full of miso in reasonable way. In addition, it has become a powerful taste unique to miso, making it a nice feeling to accentuate the texture of Romaine lettuce made crispy.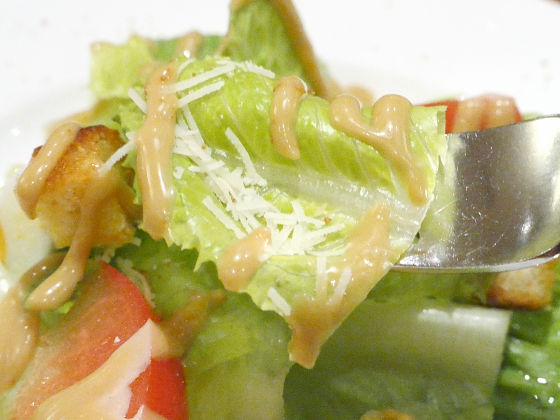 Romaine lettuce used in this menu is purchased by producers from all over Japan to protect freshness and it is now possible to deliver every day to the shops by collective arrangement from the headquarters so that new ingredients are constantly delivered It is said that. In the shop, it seems that it is done to cut the romaine lettuce delivered in the state of the ball every morning, and to prepare the best texture by exposing it to ice water.



Thanks to the effort of preparation, "Shakiki" and the eating feeling of Romaine lettuce which is heard in the ears is fresh and fresh, and it was a salad that you can enjoy matching with the rich flavor of sea dressing.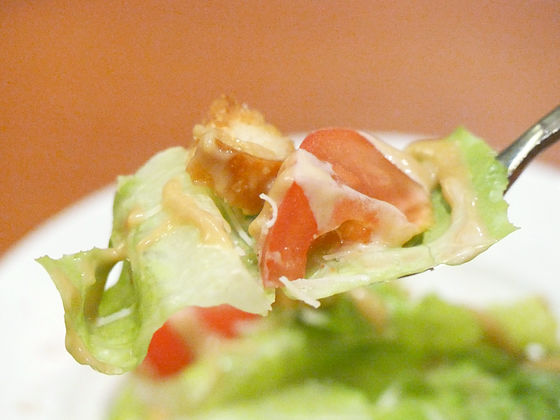 ◆ How much pilaf table with autumn salmon(2138 yen including tax)
This dish which was finished as a pilaf of Japanese taste is made up of autumn salmon and the top class "3 special" class of Ikura pilaf and oyster cream croquettes, rock moon, Fuyori (futon), autumn salmon and potatoes A menu that tastes miso soup which imaged "Ishikari pot" that scented butter smells together.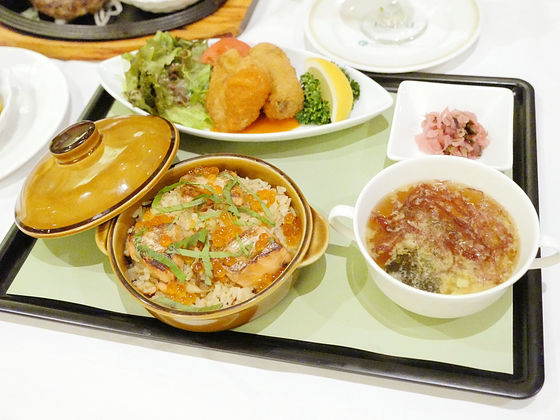 In addition to this pilaf, the salmon used this time is that "autumn salmon" (or "autumn taste") that has returned to the coast of Tohoku and Hokkaido is used.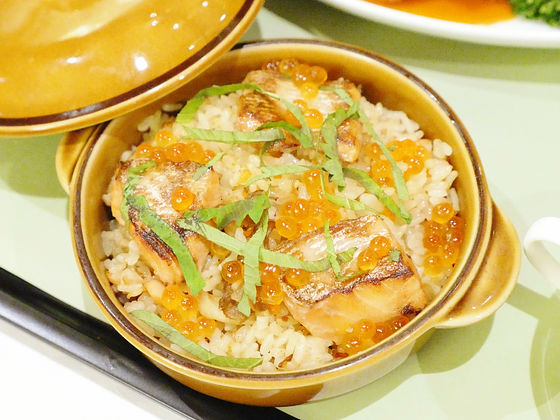 ◆ Sliced ​​autumn salmon and scallop scallop sautee ~ Vermouth sauce ~(Tax included price 1598 yen)
Make the autumn salmon butter saute and add a menu with spinach, jumbo mushrooms, scalloped scallops, and "3 special" Ikura, with Vermouth sauce made with Vermouth, sauce and fish soup "Fume de Poisson" This is. Flat pasta "Fettuccine" is attached.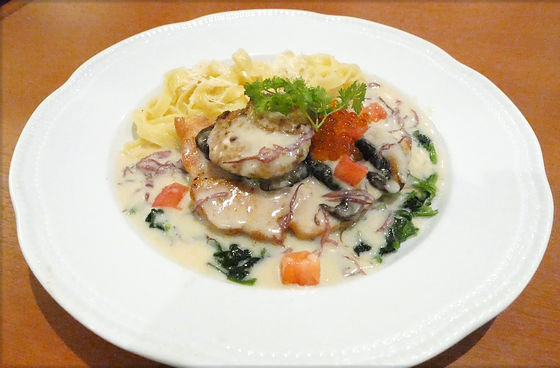 The highest grade "3 special" is a thing taken from a salmon landing off the Sanriku before going upstream to the river. Although it is small in size, I realize that 3 special features are not related to size at all.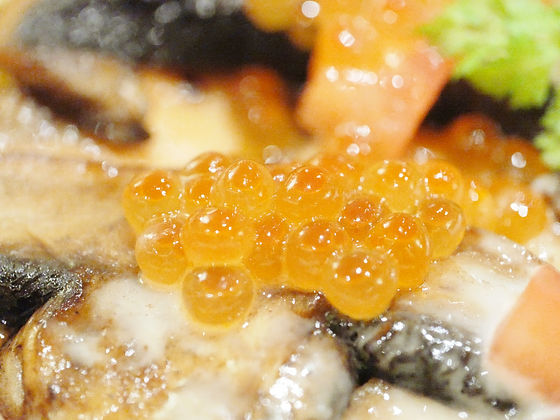 Speaking of Ikura's pleasures, there are many people who think of 'bubble wrapped texture', but this Ikura has not much texture to play. Instead, at the moment you put it in your mouth it will melt away as "Fuwa" and the mouth will rush without thinking "hoooo" to the impact of condensed ripe coming out of the umami taste. It was a dish that I realized that the richness like the one when only the yolk of egg egg was put in his mouth spreading in the mouth with the taste of igla "Hey ... now I am eating good ichira ..." .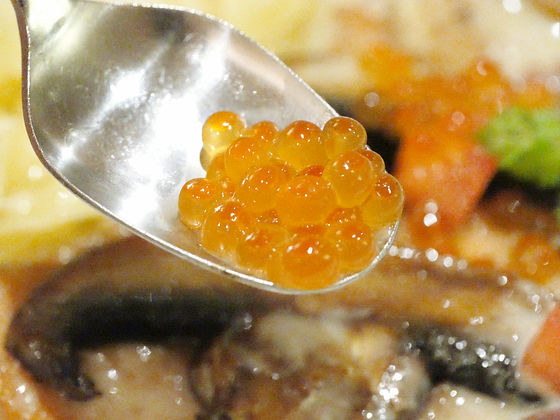 By butter sauteing, the taste of the salmon salmon is further complemented, and full of fruitful salmon salmon is full of food response.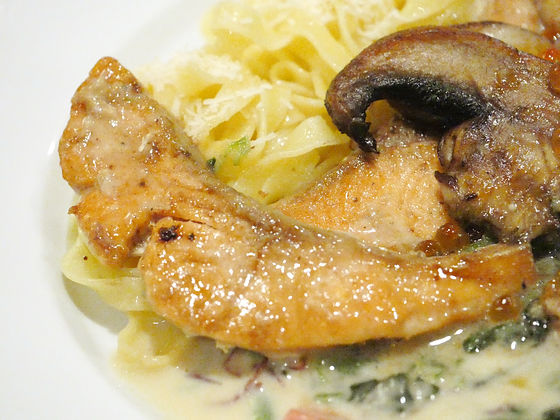 It can be enjoyed not only in autumn salmon and ice cream, but also with a large scalloped scallop, whether it is 5 cm in diameter or not.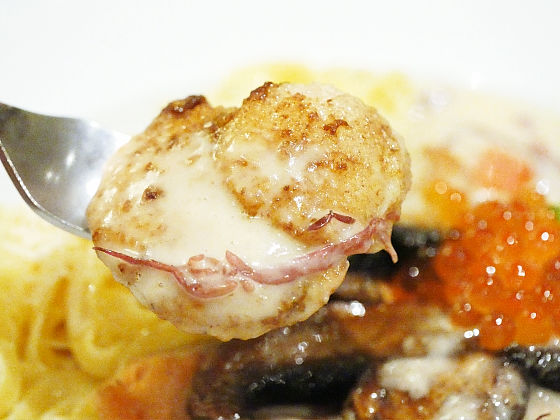 A large scallow so hesitant to hesitate to wear as a lady with a woman has considerable wall thickness. It is just a menu that can fully enjoy "seafood".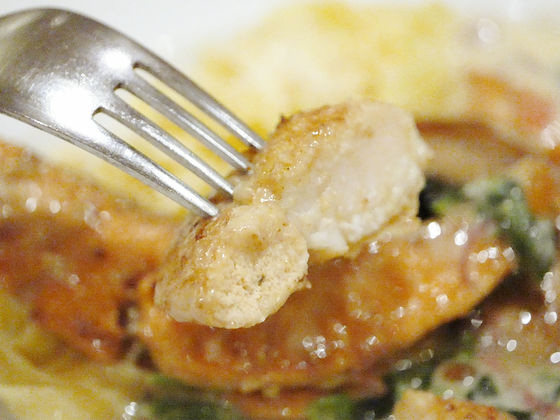 The jumbo mushrooms that were fully sauthed sauce also have a special flavor. When you eat it with buttery-flavored jumbo mushrooms, you can not wait anymore when various kinds of umami attack at a stroke.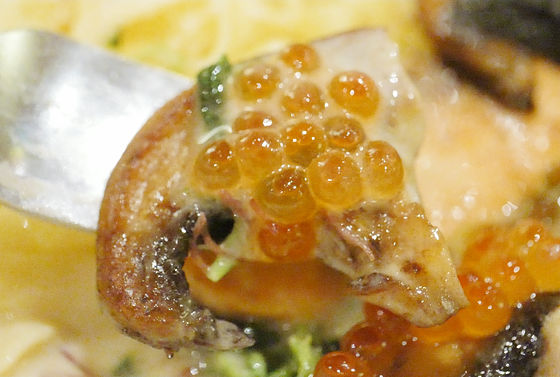 It is pretty good to taste Fermatine with a slightly sour taste of Vermouth sauce and taste it with Ikura, spinach, tomato and so on. Although it costs a little more than other family restaurants, this place that makes you feel the significance of coming to Royal host for this taste.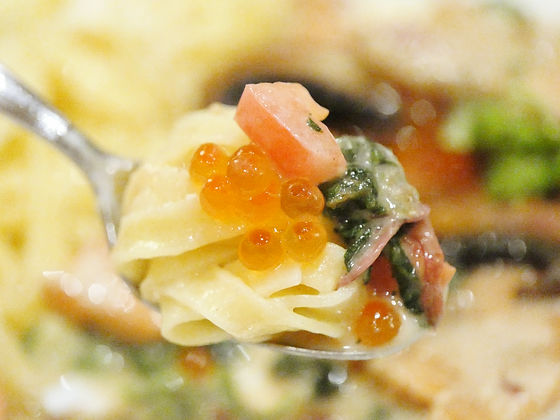 ◆ Fisherman-style bouilla-based curry(1490 yen including tax)
Also the curry menu with autumn salmon is "fisherman style bouilla base curry".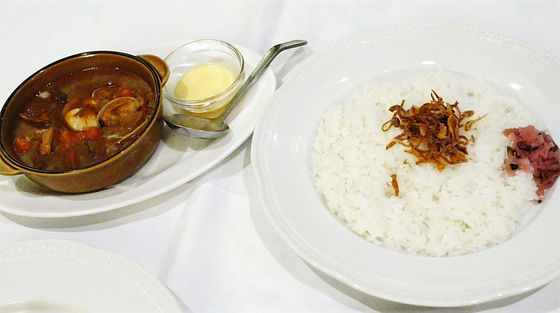 In addition to the use of squid, clams, scallop scallop, and autumn salmon, it is a sticking commitment that Matsumae pickles are added with hakushi taste. Because it has a powerful garlic flavor "Io Resource", you can enjoy it by plus it as you like.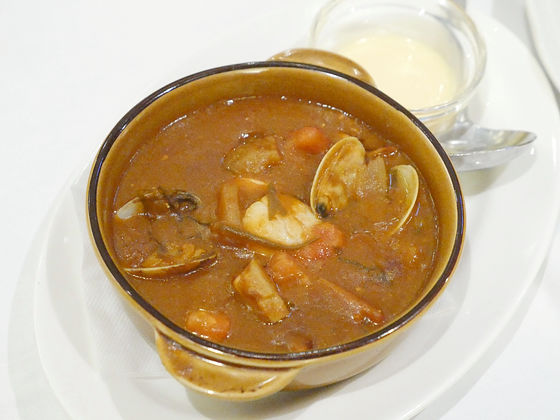 In Matsumae pickle which is added to curry, there is a number of children 's trimmings, and it seems that you can feel the happiness of the sea also from such a place.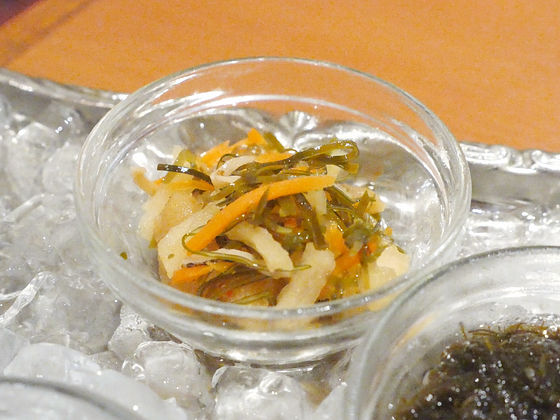 ◆ Oyster cream croquette(Tax included price 378 yen)
This dish that I can taste at reasonably priced prices is a cream croquette of the oyster in Ishinomaki, Miyagi prefecture. The length is about 10 cm, it is a slightly larger croquette.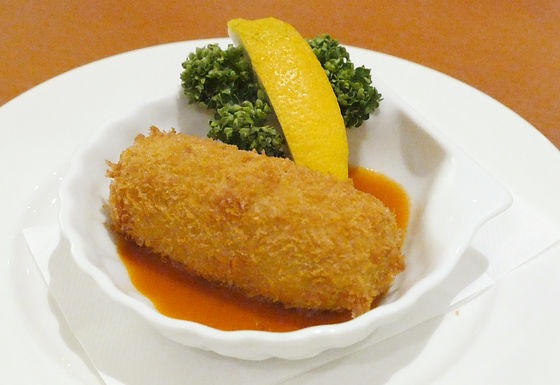 Oysters were steamed with high pressure steam, which was landing at Ishinomaki City Momoura (Momonokuro), and finished to a cream croquette from the confinement of umami. The flavor of oysters sticks in from the inside.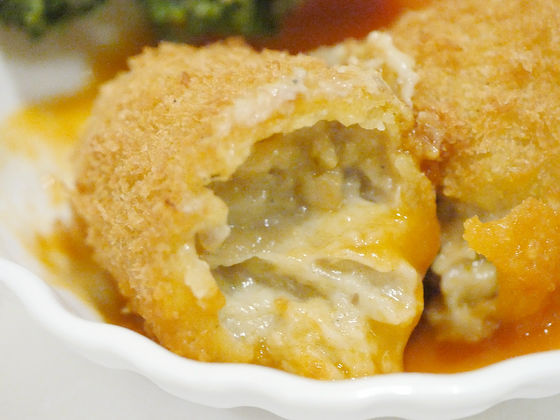 In addition to the oyster's umami, the smooth texture of the thick clothing will also make for superiority. It is said that they are making croquettes by twisting finely ground bread crumbs, and they seem to be satisfied with the eating response of solid clothes.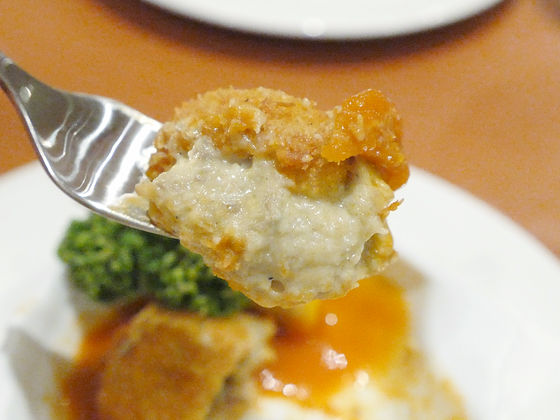 In each shop of the Royal host, cooked steamed oyster (right) in a state of being cooked, creamy and molded (left), he said that he is frying with clothes on it. The freshness which is not frozen etc. is protected even here.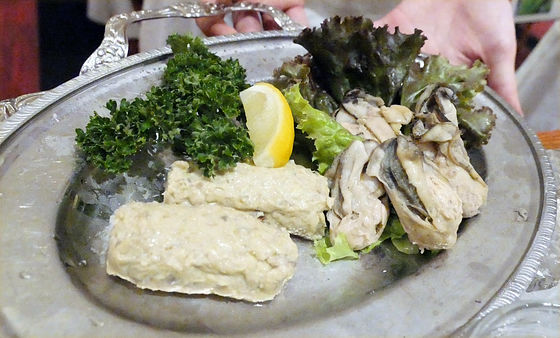 ◆ Hamburger & oyster cream croquette and herbs scalloped scallop(Tax included price 1382 yen)
There is also a menu that combines cream croquette of such an oyster with hamburger which is a classic menu of royal host. Hamburger steak, oyster cream croquette, and a piece of scallop scallop fly at once.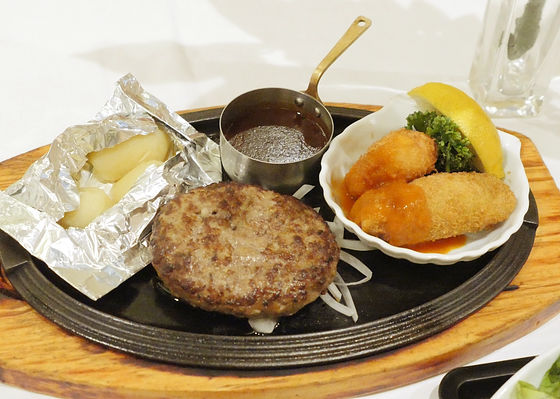 ◆ Sparkling wine (white · red)(Half bottle: tax included price 1166 yen)
Sparkling wine goes well, because it is the seafood good that you can taste well.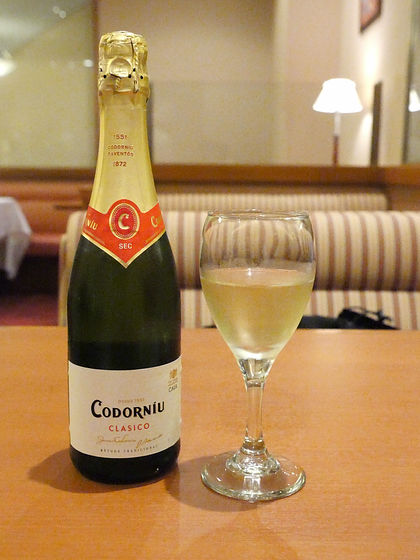 ◆ Grilled prawn and scallop with hot vegetables ~
Although it was not prepared this time, a grill menu using shrimp and scallops will also appear. Scallop and shrimp, hot vegetables with a sauce based sauce and a menu.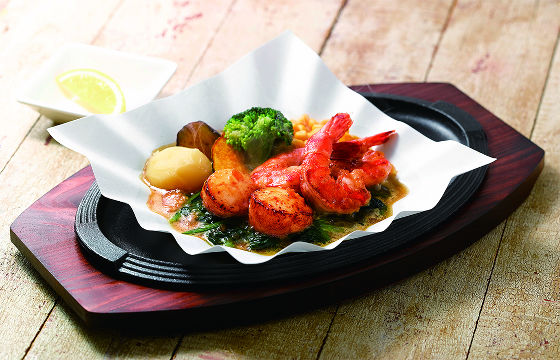 ◆ Parfait Parfait(Tax included price 950 yen)
As a dessert after meals, a new menu using figs has appeared. This is a luxurious parfait where Ice and fig figures of Mascarpone cheese are further served on top of grape jelly, whipped cream, vanilla ice, cassis ice cream, yogurt and so on. Although I could not eat this time, it seems to be able to enjoy the changing taste one by one.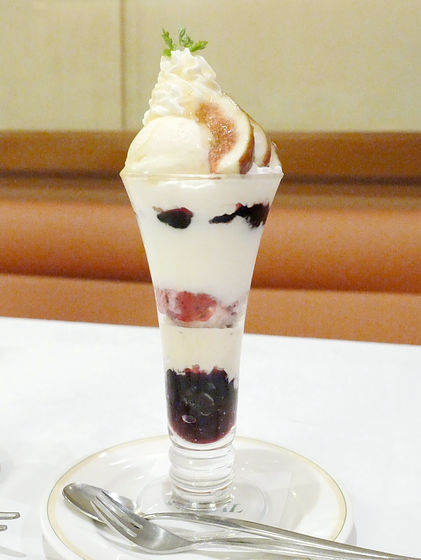 ◆ figs figs and tiramisu
Besides a perfect volume parfait, adult parfait that reproduces parfait with a wineglass is also available. From the bottom, it has become a parfait of toppings figs, piled up with sponge soaked with coffee syrup smelling salt caramel taste, ice cream of mascarpone cheese, walnut coated with candy, sweet and sour cherry cherries.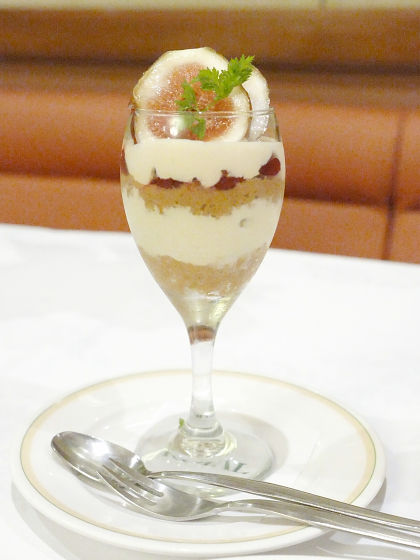 Mascarpone cheese ice and fresh fig tree taste is very refreshing. It seems to be enjoyable for those who say that sweet dessert is not good, it is exactly an adult's dessert tailoring.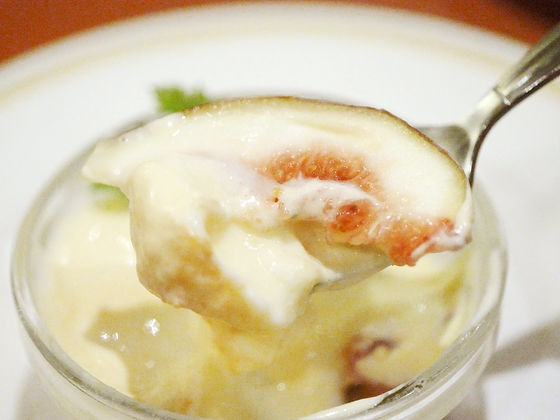 ◆ Figs & Cheese Pudding Plates(Tax included price 702 yen)
We also have a lineup of dessert plates that combine cream cheese and mascarpone cheese based puddings, "white ginger sesame flavored" ginger sauce "and sesame-cooked baked goods" tuir ". It is a combination that seems to be thought as "sesame in Western-style dessert!", But it seems to be finished to enjoy the savory flavor of ice and sesame seeds.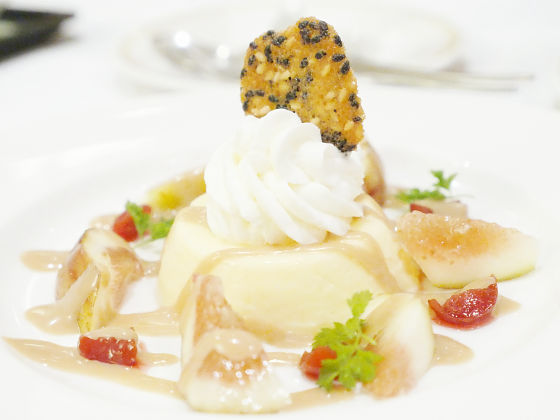 The menu that can enjoy the autumn seafood and mountaineering is a limited-time menu from September 6, 2016 to late November. It is best to eat seasonal foods in the season as well, so it seems to be good to go to eat once you can taste deliciously.