Crispy · cream · donut Caramel flavored limited-time product "Caramel Double Nuts Rich" and all 5 other items Taste Review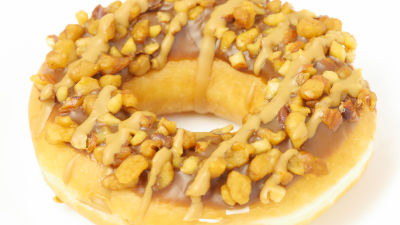 Two new cold drink chillers and three kinds of donuts' new works came out on May 22, so I decided to go to the store immediately and try to eat three kinds of donuts with two types of chillers and a takeout.

Krispy Kreme Donuts | Campaign
http://krispykreme.jp/campaign/caramel/

Crispy · Cream · Donuts Rukua Osaka StoreArrival in.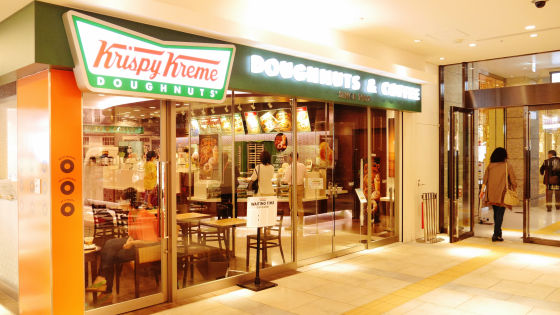 Although the long queue as before has disappeared, the store was crowded.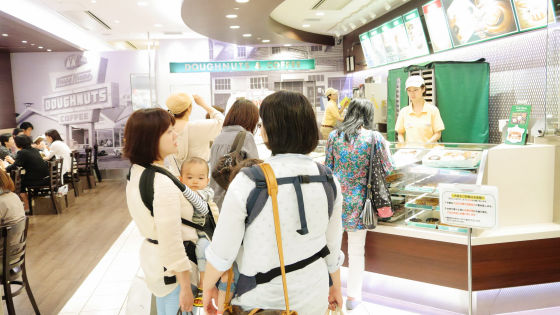 I found a new product poster at once.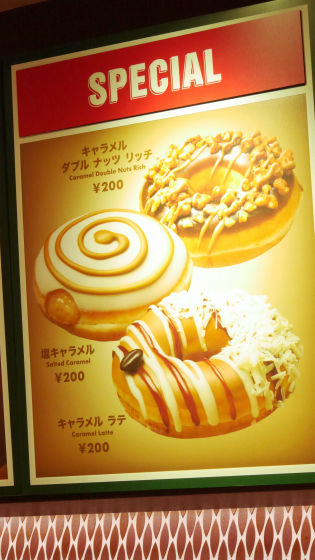 I found that the line at the top of the product shelf was lined up in considerably prominent positions.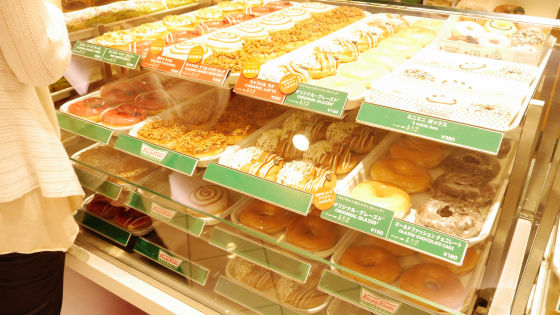 I found a poster of Chillers, I will try to order at shop front.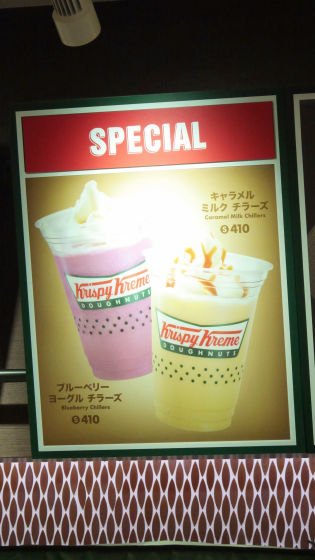 Blueberry yogurt chillers (410 yen including tax) will be S size, but slightly larger than S, about the size between M and S size.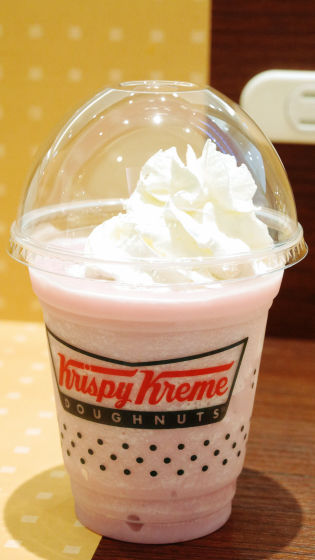 Cream is toasting. I decided to drink it immediately.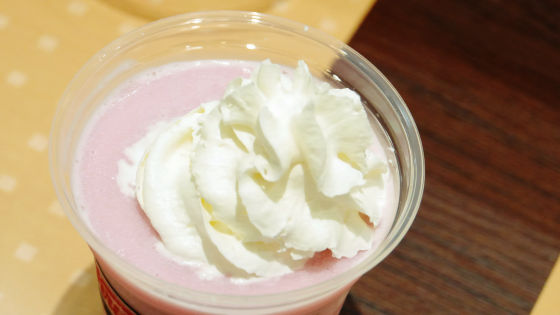 Yoghurt, blueberry acidity is refreshing, the ice that is crushed and granulated is cold, and the cold drink that can be deliciously drunk in the summer. The drinks themselves are crispy and less sweet, and when you eat with cream with a spoon, creamy rich additionally gets good.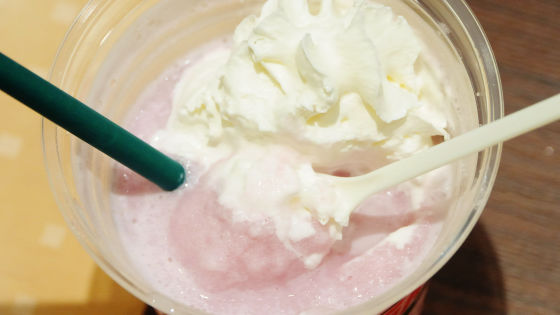 continueCream milk chiraz(410 yen including tax).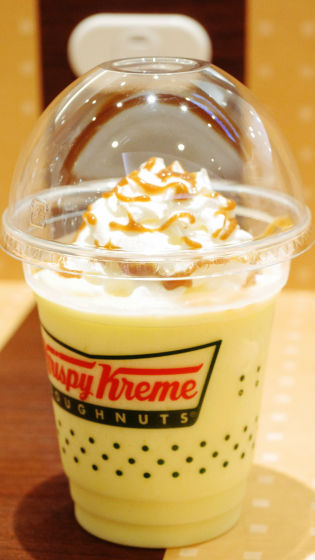 A caramel sauce is on top of the cream.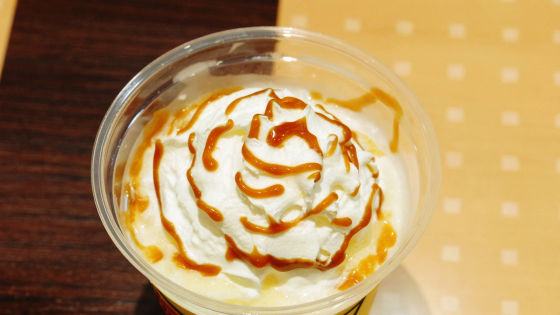 Weak taste of egg when drinkingMilk shakeI like the taste. The caramel sauce is not bitter tasting so much and will not affect the taste greatly, but you can drink it easily using thick materials such as cream or dairy products eggs and caramel.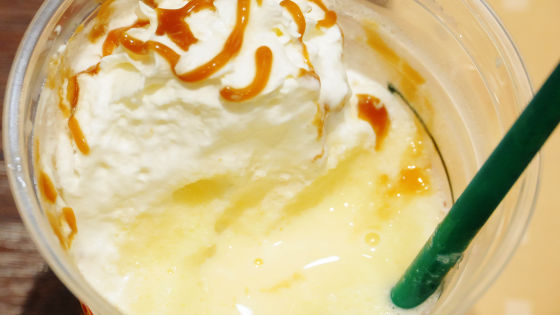 As I got drunk like a mountain in the shop and my stomach became chapped, the donut was ordered with a takeout with 12 pieces of dazzle. Although it is divided into 2 boxes this time, it can be purchased with a set of "caramel dazzin" with tax 1800 yen and 400 yen cheaper than normal. In addition, this time for a limited time until May 28th, people who purchase 12 or more donuts can get first-come first 60 items each day "Rukua Osaka 2nd anniversary donutAlso get. As a result that the number of donuts grows steadily.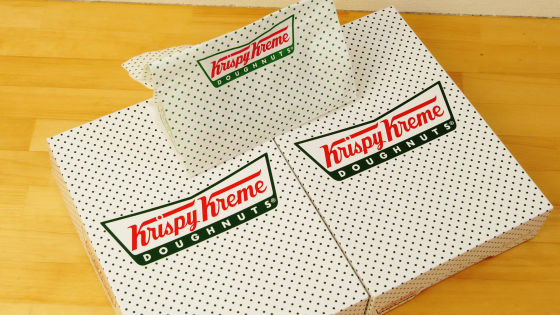 When opening the box it looks like this. From the top into the box "Caramel double rich"Salt caramel"Caramel latte"Is in the box, and the thing whose face is drawn is a memorial donut.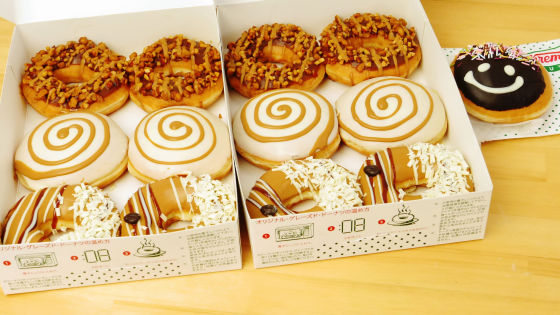 Firstly from caramel double nut rich. One piece is 200 yen including tax. Caramel double nuts will be products upgraded.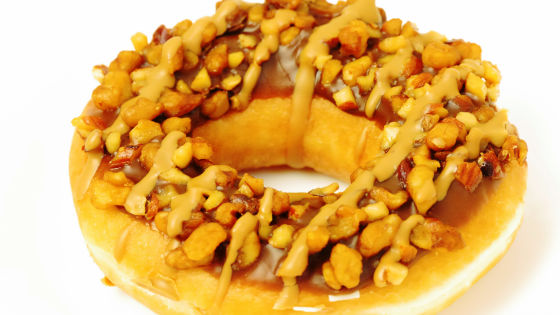 Nuts and caramel sauce are plentifully decorated.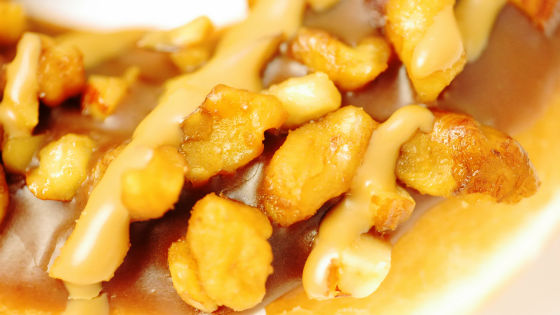 As I tried it, it looks like it looks pretty voluminous. The chocolate has been mixed with caramel, and the sweetness of chocolate and sweetness of caramel counteract each other, so that the taste of caramel is not conspicuous as a result.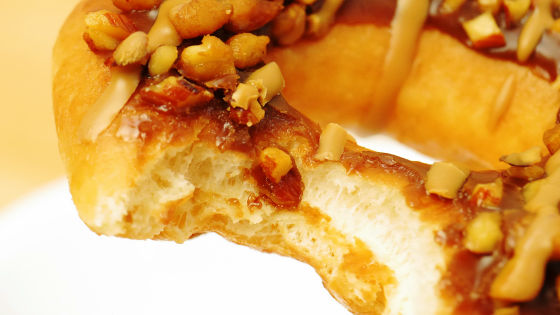 Next is salt caramel, if it is a single item 200 yen including tax.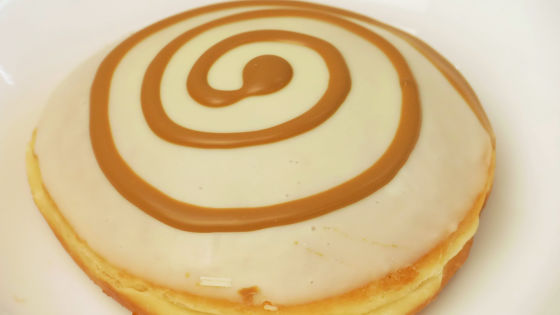 Chocolate caramel with whirlpools on white chocolate is decorated.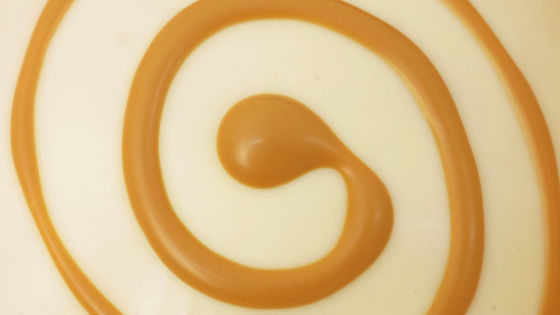 When I try to eat it, the sweetness is not stronger than it looks, and the taste of caramel is also mixed with the chocolate, I can not feel it strong enough.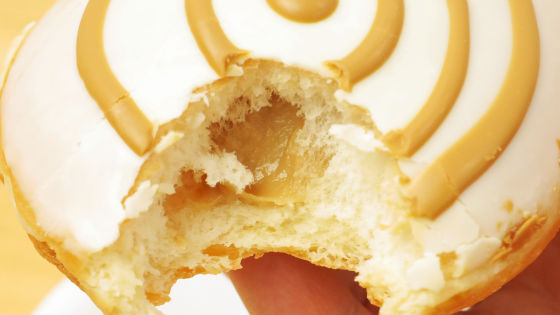 Salt caramel custard also strongly does not taste salt strongly, salt slightly contained complements caramel custard. As a result, salt, caramel, custard are not exquisite combinations ... ....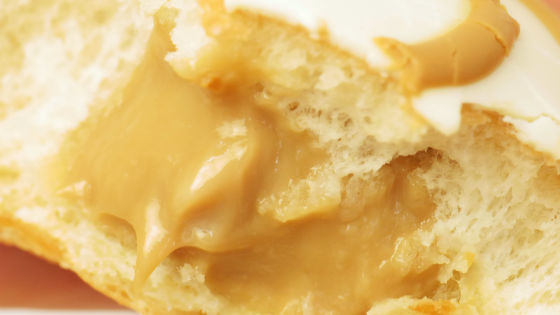 Challenge caramel latte with care. It is 200 yen separately, and a different decoration is done by half.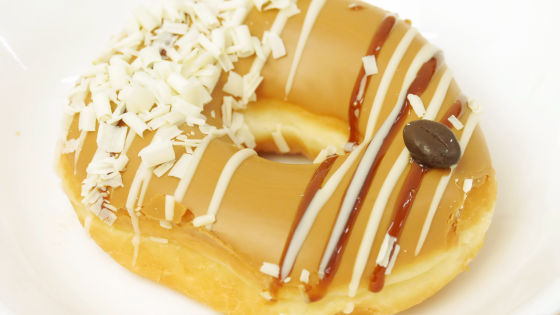 On the line of coffee sauce and white chocolate, with white chocolate curl ......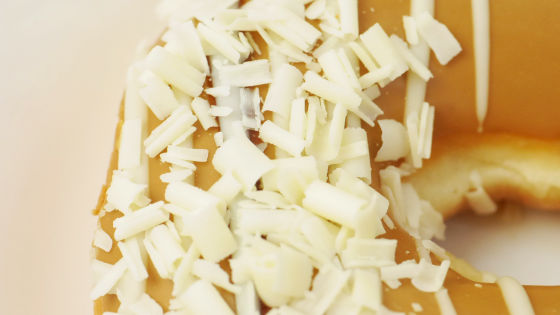 Coffee chocolate with bean shape is topped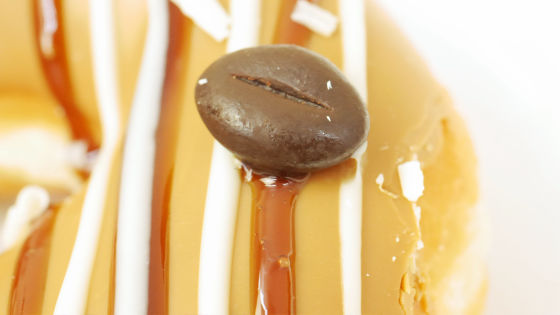 First I will try to eat it from the portion which does not take much white chocolate curl. Because the smell of coffee is felt quite strongly, the taste of caramel is not felt so much. The taste of caramel is not the center here as well, the taste of coffee is the center and the taste of caramel is slightly felt.



If the white chocolate curl is partly overpowered, the caramel becomes weaker and the taste of white chocolate and coffee is the center.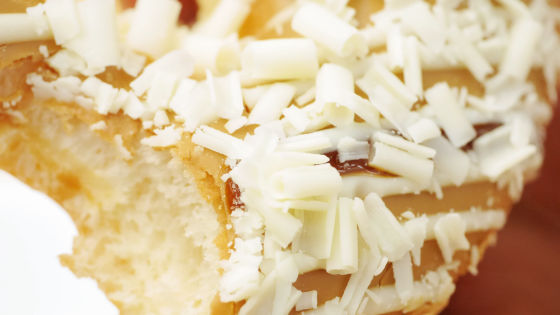 The last is a bonus Rukua Osaka 2nd anniversary donut. This was released two years agoOSAKA DonutIt is very similar to making, the color of the eyes and the skin has been reversed in the past where the skin part was white chocolate, the eye and mouth were decorated with chocolate.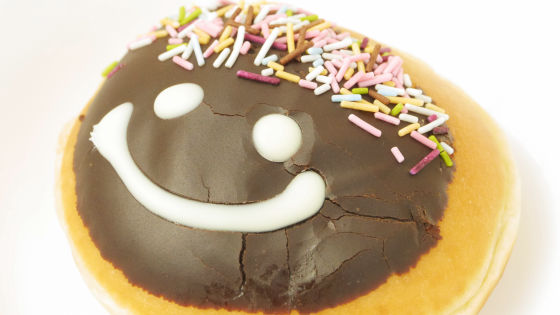 Part of hair is topped with color spray.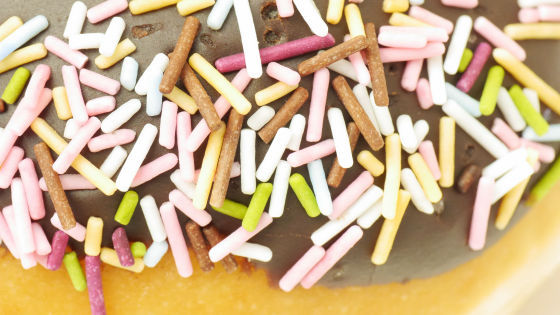 Chocolate covers a considerable part of the donut and there is a considerable volume. Basically it is sold at Krispy · Cream · DonutChocolate custardIt is decorated and the raw material is like Eclair so it tastes like Eclair.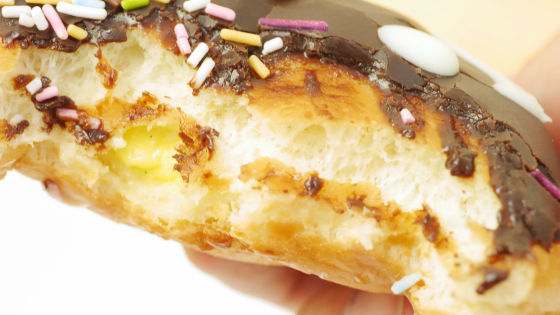 In the men's group there was a case to say an opinion saying "I do not like the texture of fluffy", and the women's team against the "fairy taste of food" was broken, so the opinion was still quite disappointing There seems to be a strong tendency to split.