I tried 'misdo Pokémon winter collection' where Pikachu and monster ball were donutized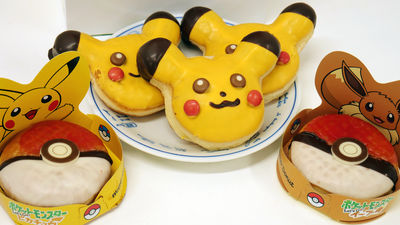 It is quite difficult to make a character's design as it is donut. Prior to sale at some stores, Mr. Donut 's "misdo Pokémon winter collection" whose design of Pikachu was a topic also appeared in the neighborhood store, so I went to buy.

misdo Pokémon Winter Collection | New Items | Mister Donuts
https://www.misterdonut.jp/m_menu/new/181116_001/

Arrived at Mr. Donut. I wanted to see Pikachu lined up side by side on the shelf, but since it was before display, I could not see anything and it was about fun after I bought it.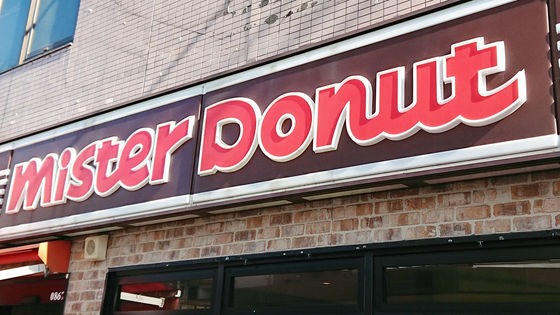 Donuts are "Pikachu Donuts" and "Monster Ball Donuts", each of which is 216 yen including tax. There are 2 original design mugs, but this is not sold separately, 1 Pokemon donuts (kind selectable) + favorite drink 1 cup + original coaster + 1 type mug is set Meet at "Set" (800 yen tax), 2 Pokemon donuts (selectable type) + 2 Christmas donuts or 1 Pokemon donuts + 1 mug cup has become a set "Meet at takeaway! Set" (1080 yen including tax) must be purchased.

This time, I wanted lots of donuts so much, so I bought two "Let's go home with you take home!"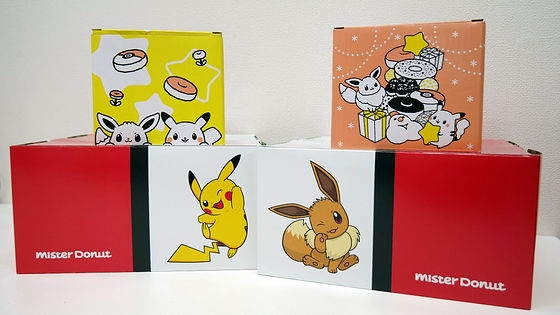 The box is an original box with a monster ball style.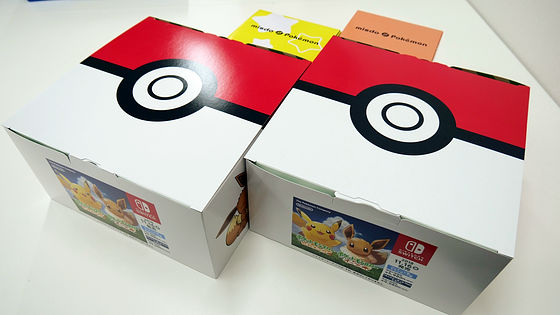 It is the size that you can put up to 4 donuts. This time, we unified it with all Pokemon Donuts, ordered three Pikachu and three Monster Balls. Pikachu 6 pieces can also be ordered.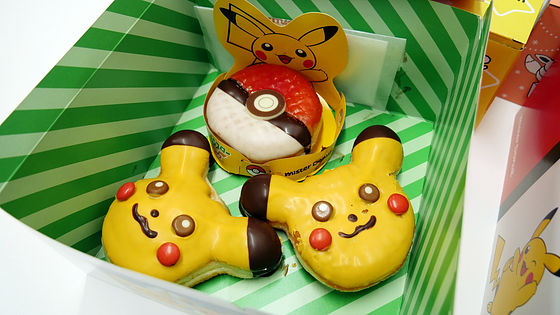 "Pikachu donut" on the left and "Monster Ball Donut" on the right. Monster Ball Donut is put on the package of original design. Illustrations are two kinds, Pikachu and Eve.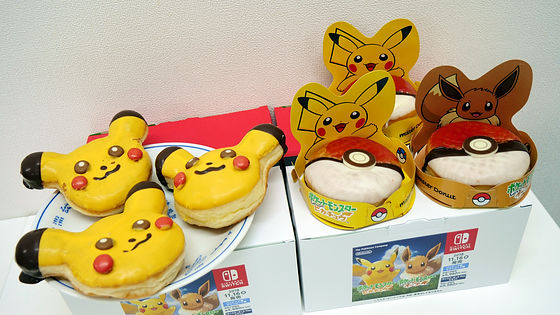 Pikachu is a round ears that can not reproduce sharp ears indeed, but reproduces the pillow eyes and red cheeks with marble chocolate. The mouth is clean and the mouth corner is rising. Although it looked like it was struggling to reproduce at the time of pre-sale, the design has become more than a certain quality because it is a sale, and the editorial staff who saw the donut once was muttering "Oh, cute".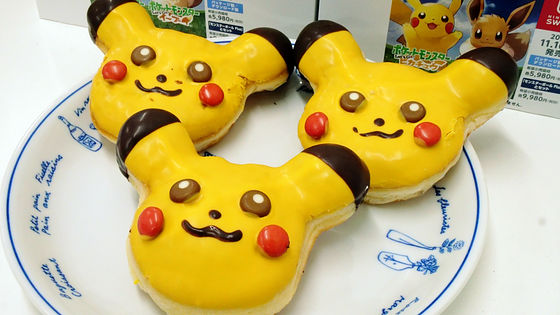 The surface is covered with banana-flavored chocolate, inside which is whipped cream.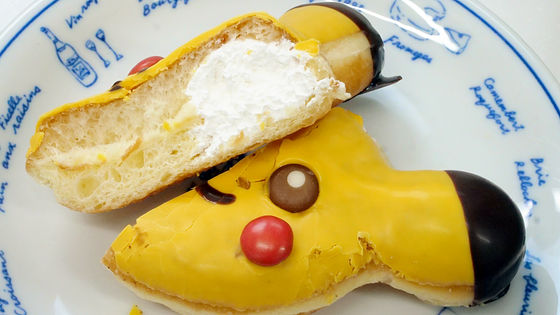 "Monster Ball Donuts" is a donut using Angel Cream fabric, reproducing the monster ball pattern using strawberry flavored glaze and white chocolate.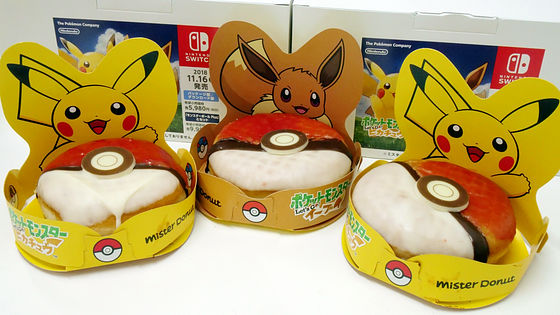 The line between the red and the white is drawn with chocolate, but it is not only the surface but the shape that cuts in two and chocolate puts two donuts together.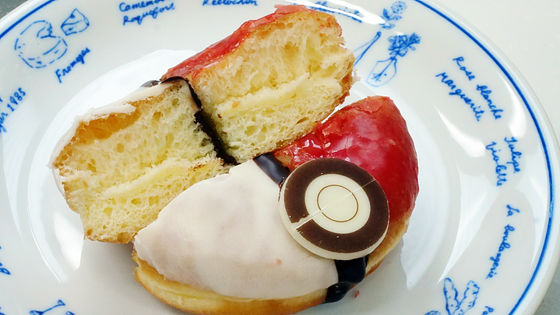 The original mug cup is about 8.3 cm in diameter × 8.5 cm in height and is somewhat narrowed towards the bottom. Yellow is a large Pokemon painted, and the red one feels like Pokemon who received a Christmas present.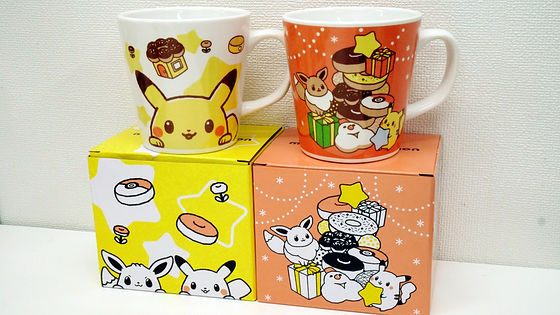 In addition to Pikachu and Evei for yellow, Pikachu and Evei in red, Zenigame of the first generations, human lizard, Fushigidane are also drawn.