I ate the back menu "4 × 4 Burger" of In-N-Out containing 4 pieces of meat pate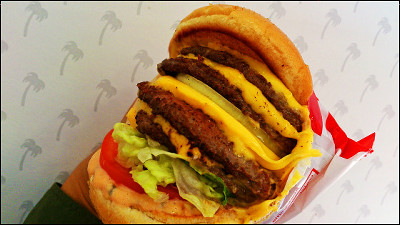 A hamburger chain store developing mainly in the southwestern United StatesIn-N-Out Burger(Inn And Out Burger) makes all menus cook after receiving an order, and it is popular as a store where you can always eat freshly made fish. In addition, it seems that it is a bit different content from other chain points, such as the presence of a back menu where you can freely choose the amount of meat putty, so go to the shop and try experiencing that unique system Did.

In-N-Out Burger
http://www.in-n-out.com/

The appearance of the store looks like this.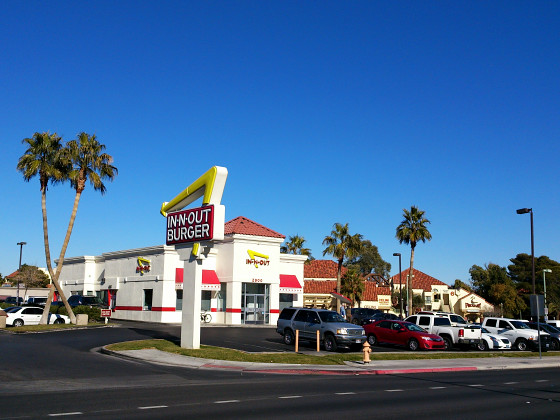 A sign that the spelling of "AND" is "N" one letter.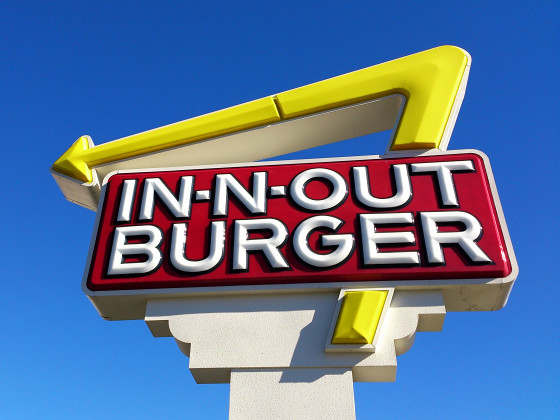 Building of simple design.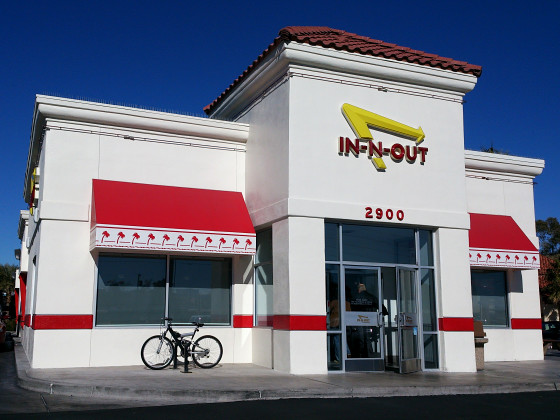 Open the entrance door and go to the store.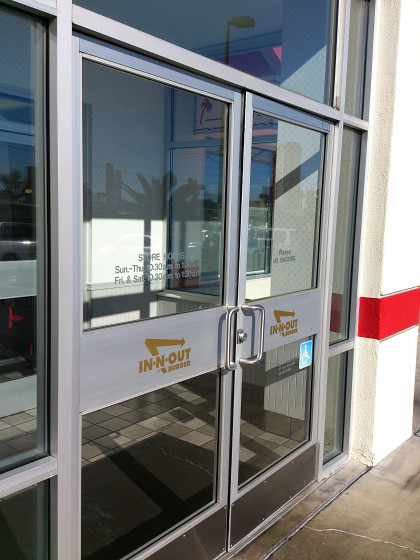 There is a little queue in front of the cash register.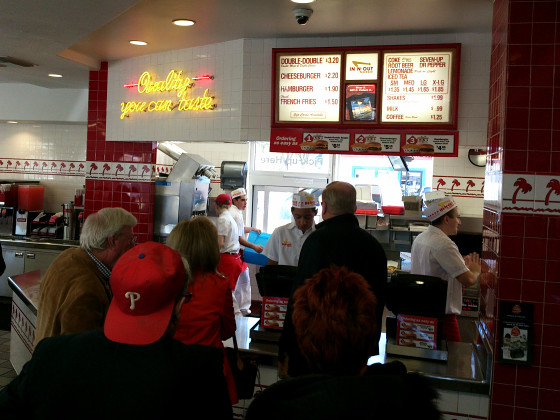 There are only four types of meals displayed: "Double - Double" and "Cheese Burger", "Hamburger", "Fried Potatoes", but by changing the amount of meat putty or choosing a topping, It is possible to order.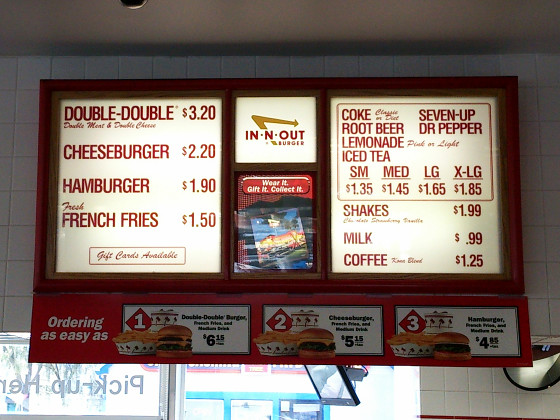 In this time, "French fries (1.5 dollars / approx. 135 yen)" to "Cheese burgers (2.20 dollars / about 198 yen)" for comparison and "4 x 4 (5.20 dollars / about 468 yen) the largest among hamburgers that can be ordered ) "And a drink (1.45 dollars / about 130 yen). It totaled $ 11.19 (about 1000 yen).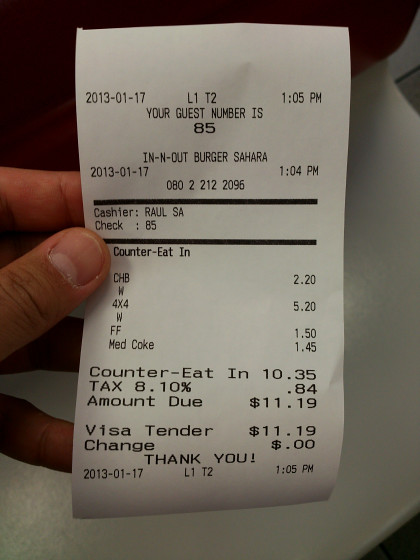 After accounting is finished, I will sit in a chair next to the cash register and wait for my burger to be completed.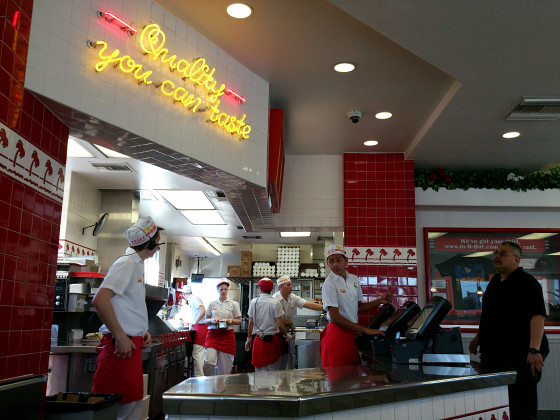 I decided to have a drink during the wait time.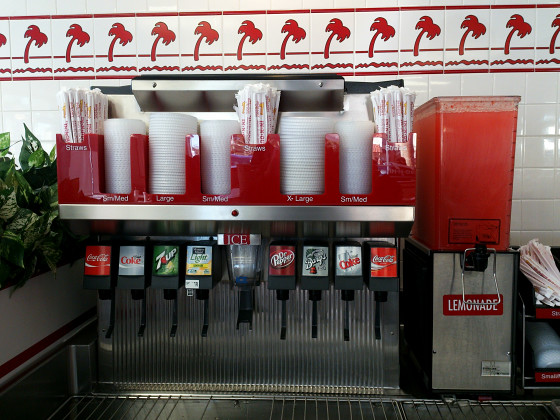 All you can put ice.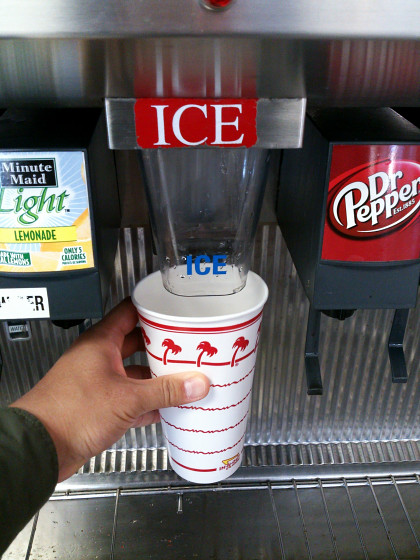 It is also free to refresh drinks.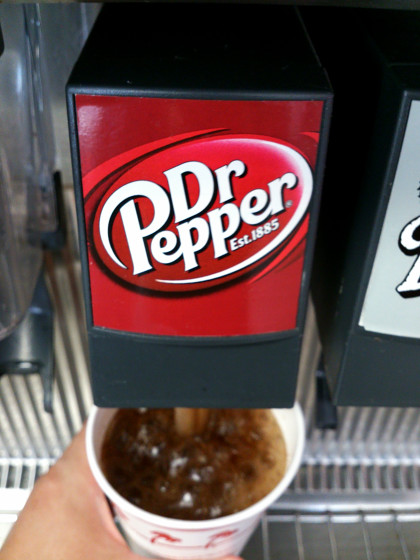 We had meals in about 5 minutes waiting time.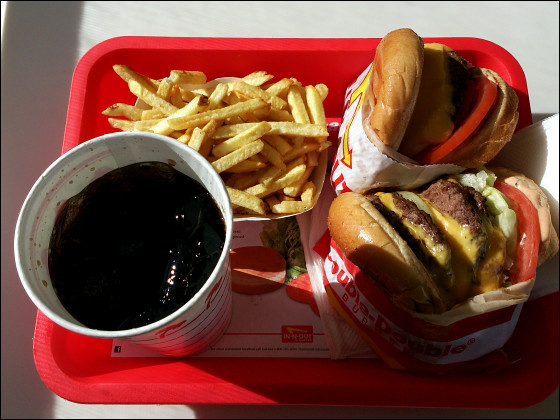 French fries are a heap of papers on paper.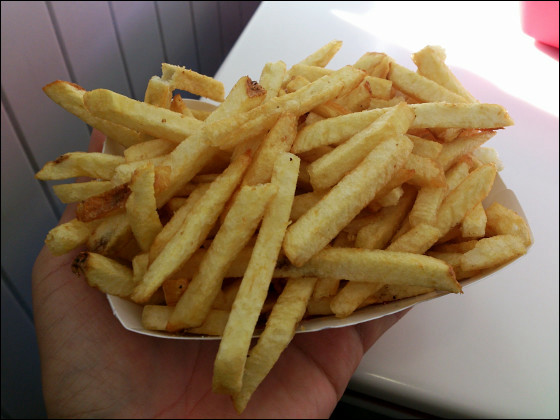 A thin seasoned flavor that the taste of potatoes is felt straight.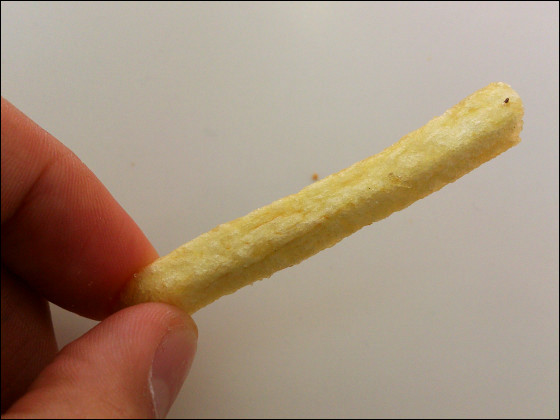 Normal 'Cheese Burger' also has a reasonable volume.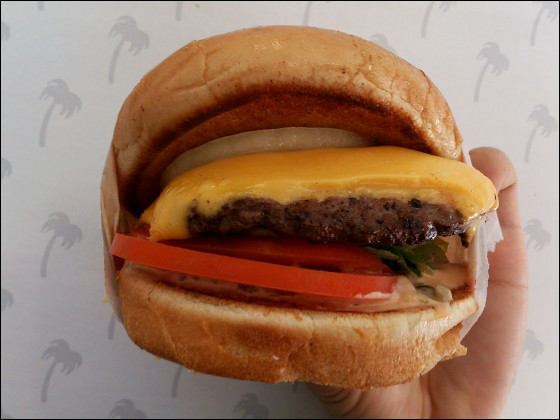 Tasty cheese and shakijaki lettuce, and a juicy tomato taste of the royal road that goes well with meat pate where the meat juice is moderately packed.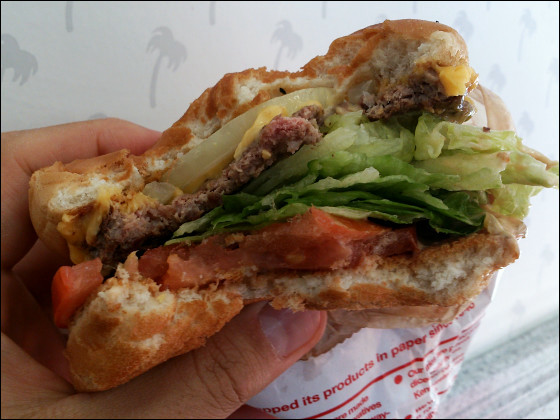 And the following is "4 × 4" burger. Once I was able to order sizes such as "10 × 10", but now "4 × 4" is the maximum size that I can select.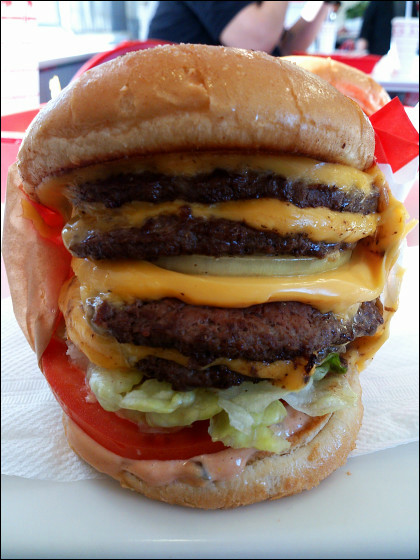 Compared with "Cheese Burger", it is nearly twice as high.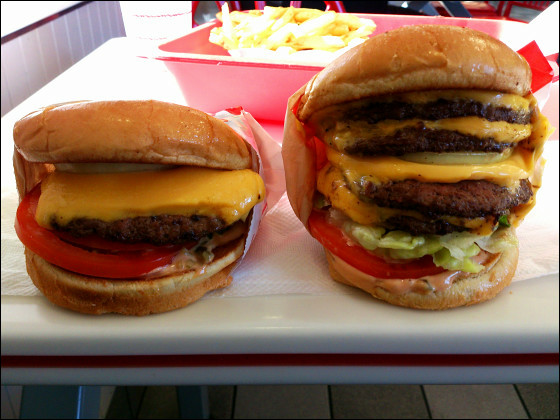 It is the size which can finally grasp the finish with the hand of an adult man.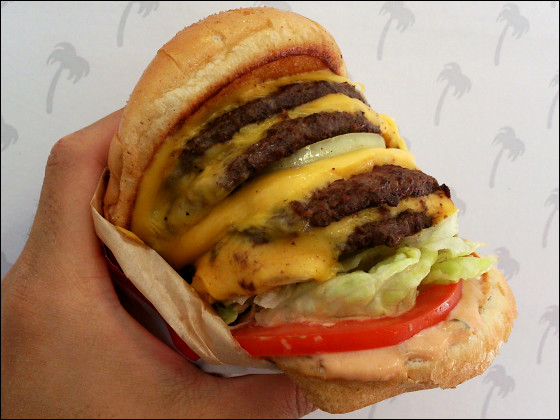 The bag written "Double-Double" is because "4 × 4" is the back menu so special bags are not prepared.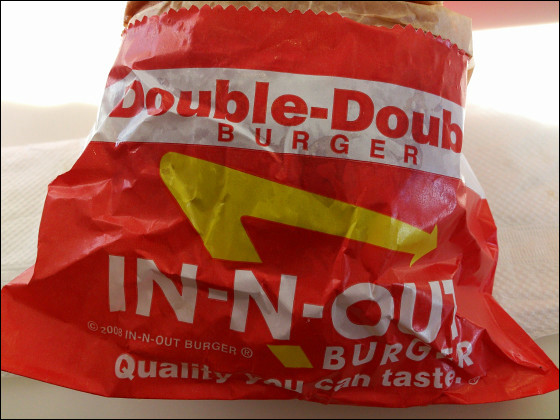 The buns are moist and fluffy.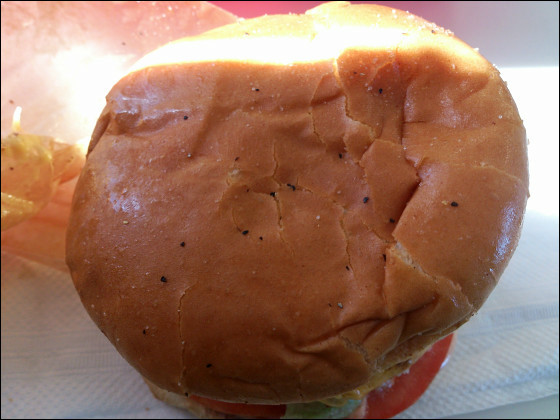 There is cheese melted in the toro.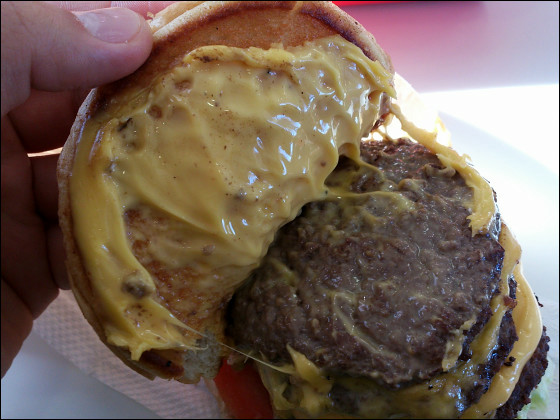 Slice of onions.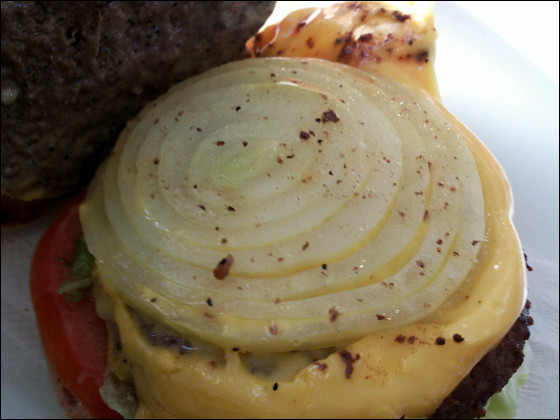 Lettuce and tomato at the bottom.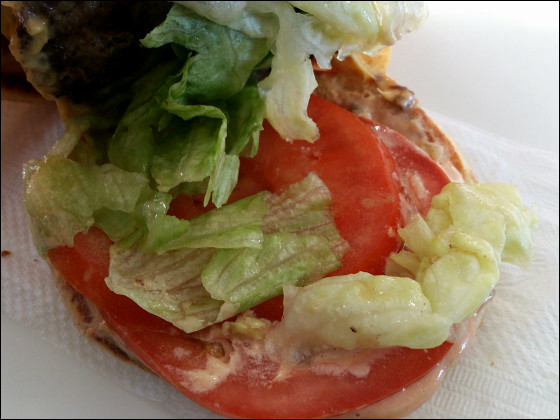 I'm gonna climb and eat with mushamusha. It is a feeling that it is no longer a hamburger but a huge hamburger steak, but it is not refreshing as it is a refreshing taste with a reasonably good meat juice coming out as soon as bittern bites chew. There is no doubt that it is a volume hood, but it is not a rough taste just to say that it would be good if only a large amount of money is to be said, but it is making a lot of quantity while keeping the point to deliciously hamburgers serious It is a good impression that it is.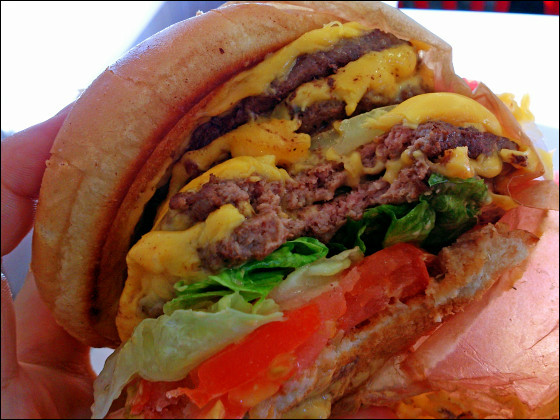 Complete food.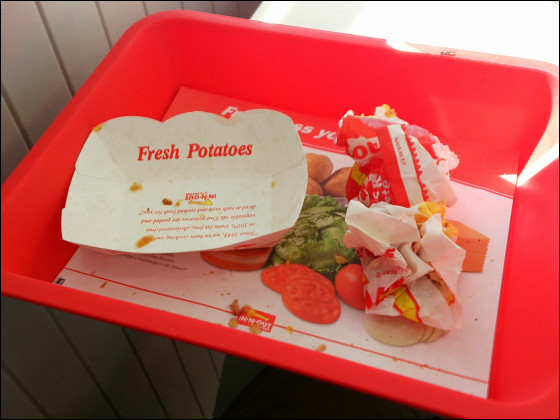 Incidentally,In-N-Out BurgerHe seems to be developing stores in California, Nevada, Arizona, Utah, so please try "4 × 4" burgers by all means when traveling or visiting nearby for business trips.