I tried eating an artificial meat `` Beyond Meat '' burger that does not use animal meat but can feel the taste of meat dripping meat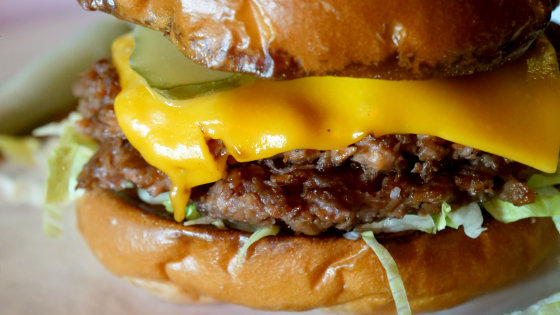 Artificial meat '
Beyond Meat
' that changes its color when baked and dripping meat even though it uses vegetable protein and does not use any animal meat is spreading in the United States. When Photoshop developer Adobe went to Los Angeles to participate in '
Adobe MAX 2019
' held once a year, I actually ate a hamburger using this Beyond Meat.
Age Verification | Modern Times Beer
http://www.moderntimesbeer.com/site/age-verification
There are several shops in the US that offer menus that use Beyond Meat, and this time I went to a shop called 'MODERN TIMES' in Los Angeles.
Arrived at the store. As its name suggests, it is a modern storefront based on black.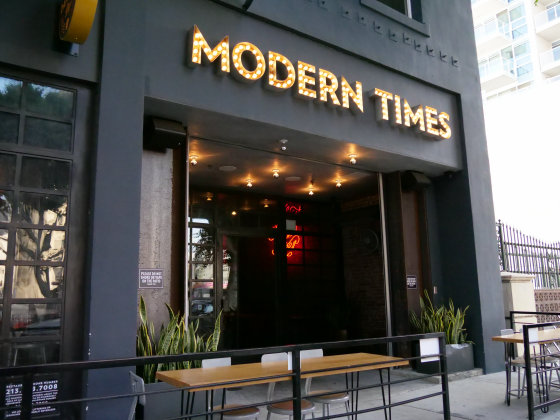 It 's like this inside.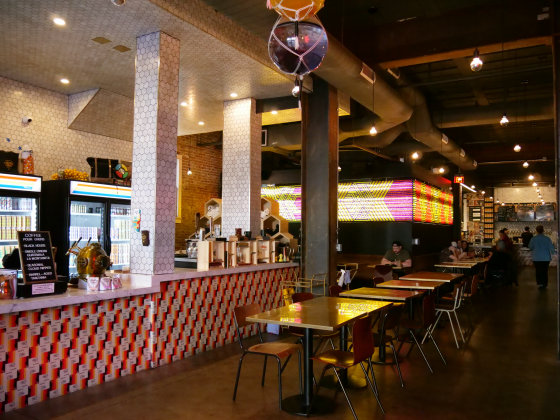 This restaurant has a brewery, where you can enjoy vegan cuisine while enjoying more than 30 types of beer. All meat used is Beyond Meat.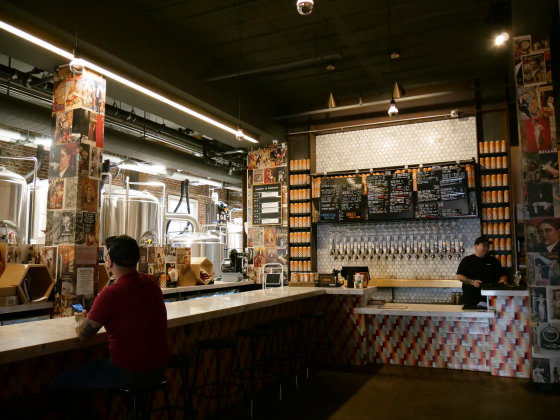 Looking at the menu, there were sandwiches using Beyond Meat sausages and hamburgers using Beyond Meat patties. Each menu seems to be fried potatoes for plus 2 dollars (about 220 yen), but this time I chose Double Burger (15 dollars / about 1640 yen) single item and apple juice (3 dollars / about 330 yen).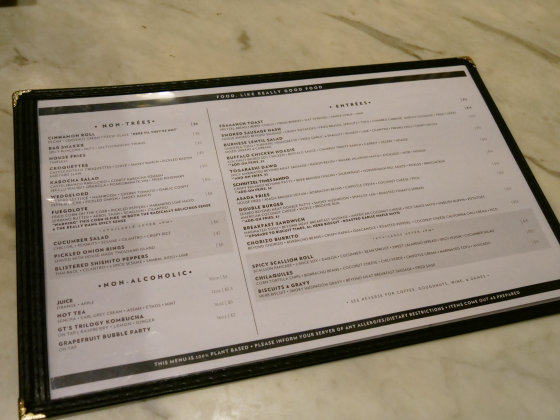 After about 15 minutes, a double burger and apple juice arrived.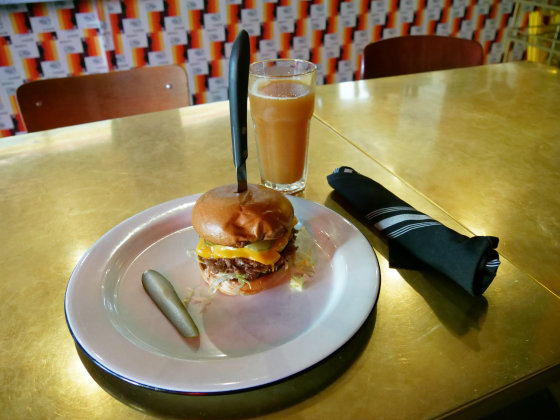 The size of the burger is like this when compared to the iPhone SE with a total length of 123.8mm.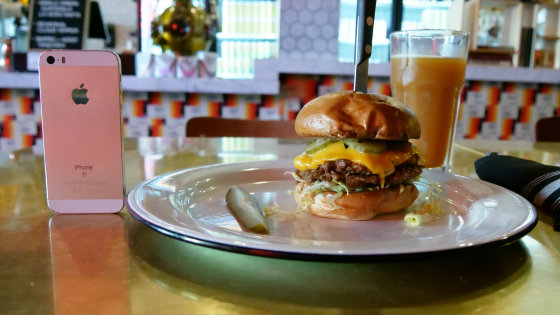 Viewed from above.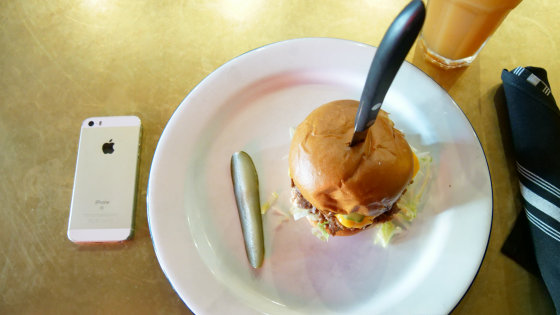 As the name of "Double Burger", two patties are sandwiched between cheese and lettuce. From the side, it 's an ordinary beef patty no matter where you look.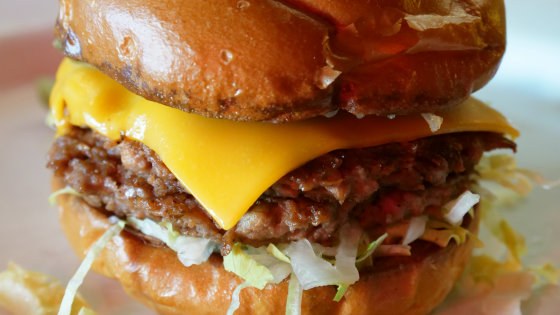 I cut it in half with a knife.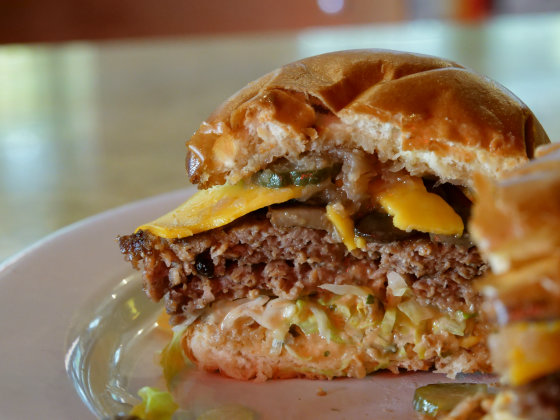 Common soy-based vegan substitute meats have a clay-like cross-section or a prickly feel, but Beyond Meat appears to be dripping with no meat.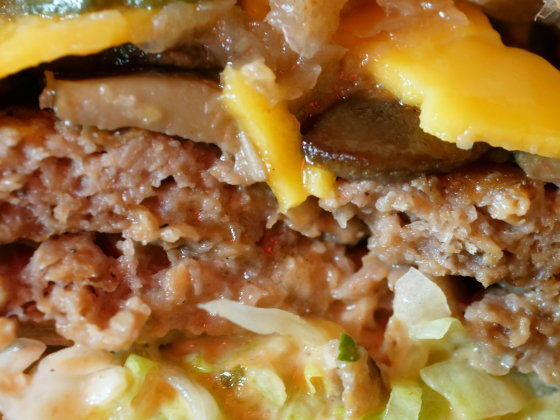 When I ate it, the first bite was shockingly "meat" itself. The texture and texture of the texture is as elastic as meat, overflowing with juwa ~, umami and gravy. The aroma is somewhere like a beast, and if you eat it without knowing anything, you will not feel any sense of incongruity.
Maiko protein
a vegan meat, including several we have to eat, but the degree of completion as an alternative to meat has a clear distinction.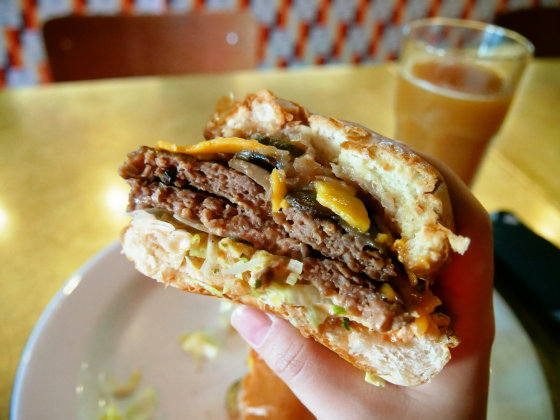 It was hard to understand that it was still sandwiched between buns, so I tried to remove the buns.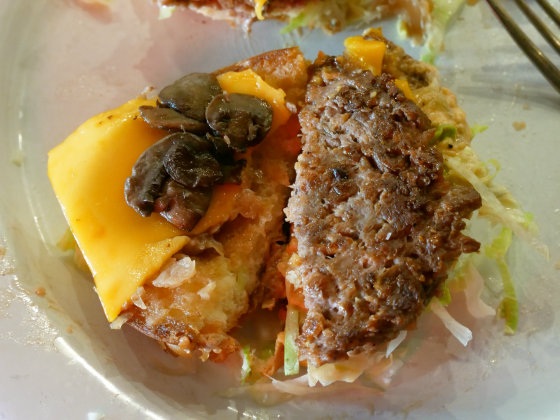 Beyond Meat
includes
pea-derived protein, pressed canola oil, coconut oil, bamboo-derived cellulose, potato starch, and natural flavors. You can see something bean-like on the surface.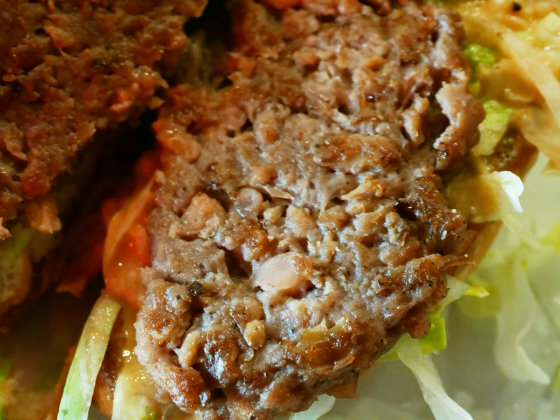 If you eat with the second and third mouths, there is a sense of incongruity that you can feel a little, but if you are a person who says `` I do not want to be vegetarian but want to reduce the amount of meat to eat '', it is one option Should be.