"Remote Web Desktop" that can be operated by Android smartphone from PC browser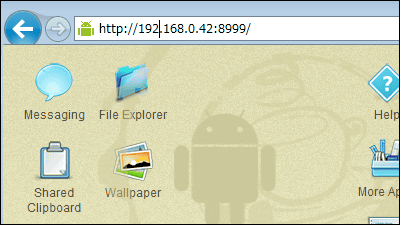 "Android application"Remote Web Desktop, You can upload / download files and folders on Android smartphone from PC browser, operate camera, use SMS, operate Wi-Fi keyboard, etc. Installation and operation method is as follows.

Remote Web Desktop
https://play.google.com/store/apps/details?id=net.xdevelop.rm

"Install" the application on the Google Play page above.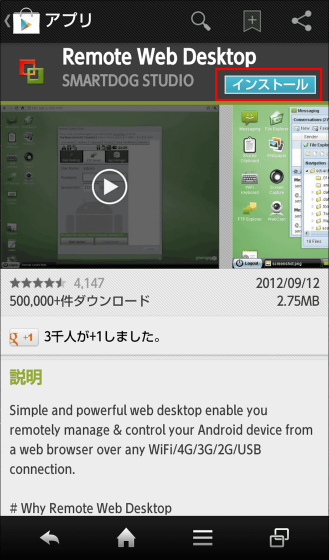 Launch the application after installation.



The operation screen of the application is displayed.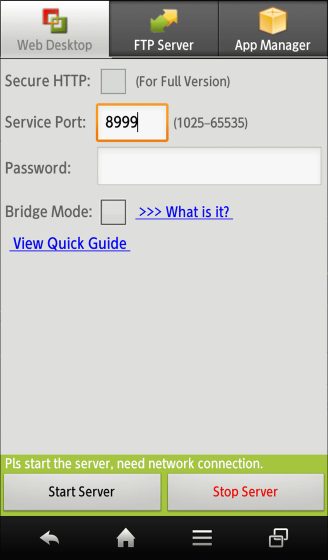 When operating an Android smartphone from a PC browser, check the port to use, enter the login password required to connect from the PC, and tap "Start Server".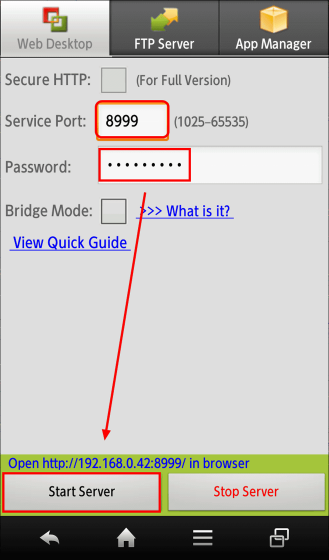 The URL displayed above the Start Server ......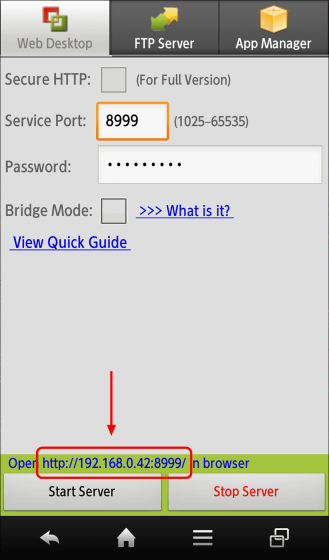 It inputs to the PC browser and access.




You can access the following login screen.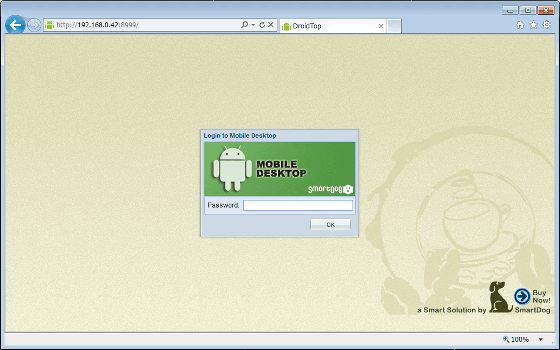 Enter the login password and click "OK".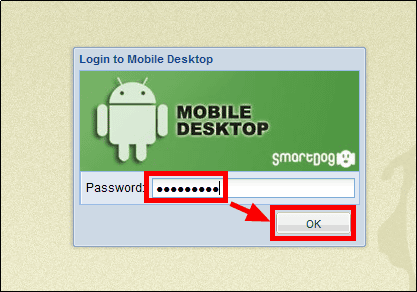 If you log in successfully, your Android smartphone will be ready for operation.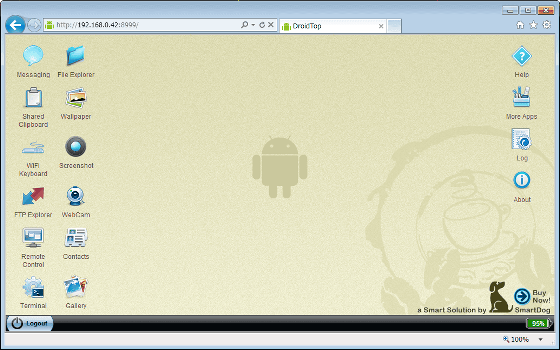 To organize files and folders on your smartphone, click "File Explorer".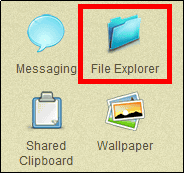 As Explorer is displayed, you can upload / download files and create folders.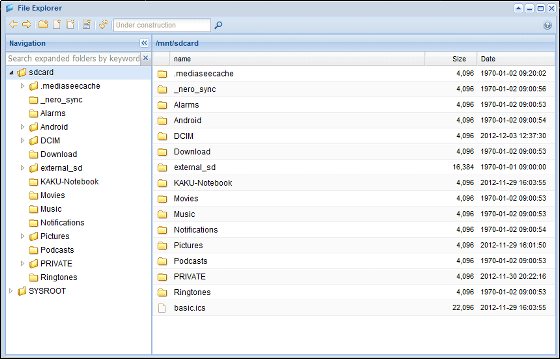 To share characters entered on PC with clipboard of smartphone, click "Shared Clipboard", enter the characters to be shared on the displayed screen, and click "Set to Phone". When sharing is successful, "Set clipboard successfully!" Is displayed.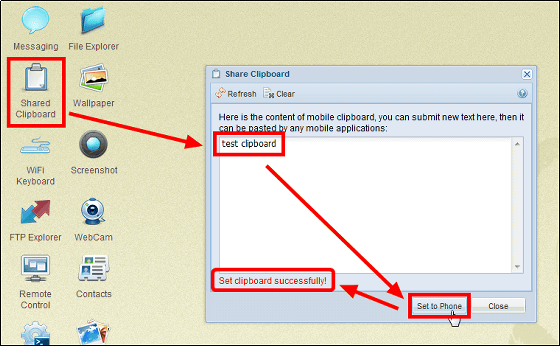 "Paste" on a smartphone ......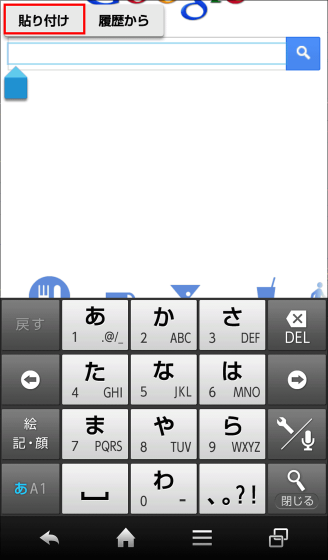 In this way you can paste the contents entered on the PC.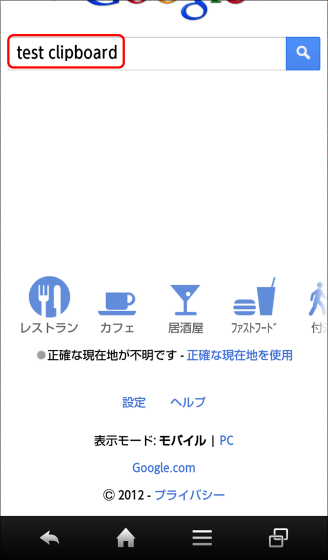 By clicking "WebCam", it is also possible to operate the camera of the smartphone.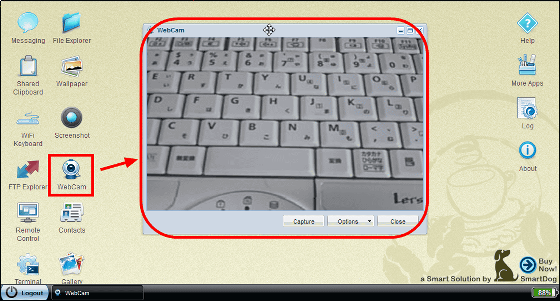 If you receive Short Mail (SMS) on your smartphone, popup notification will be sent to the bottom right of your PC's browser screen.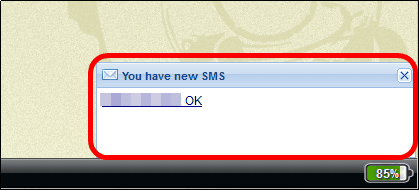 You can also reply to the received short mail, click "Messaging", select "Reply" on the displayed screen, click "OK" after entering the reply contents.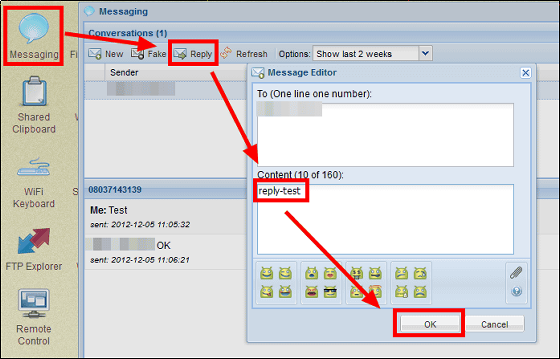 I was able to reply like this.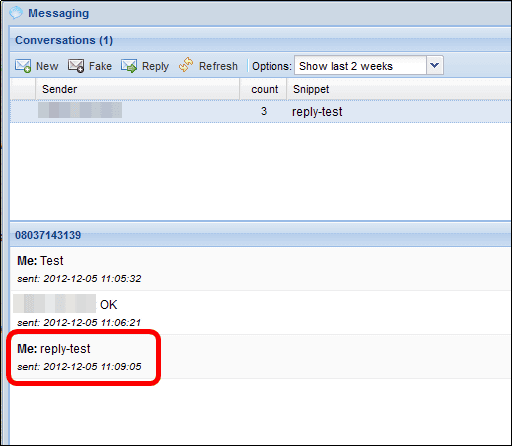 In addition to the above, you can play media player, organize Wi - Fi keyboard, contact list, command prompt etc, but some functions such as remote control and screenshot are rooted.

It is also possible to treat smartphones as FTP servers as application functions.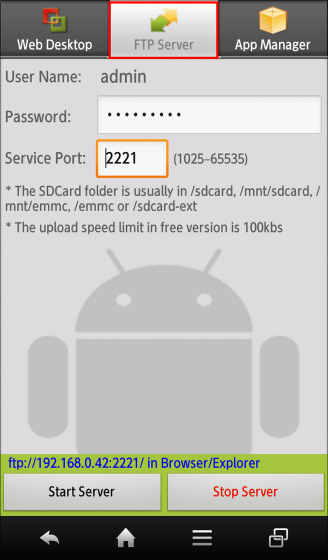 In addition, tax included 299 yenPaid versionIf you purchase, you can hide ads, use HTTPS, unlock file upload restrictions, and so on.