I tried fish with "fish box in range" with various fish just to chin in the range for about 2 minutes putting fish in the box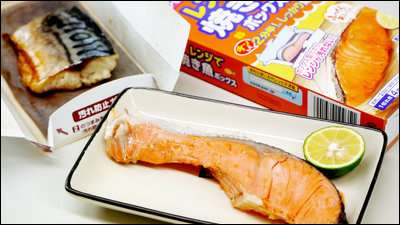 In addition to finishing in a short period of time, grilling etc. are not used so cleaning up is easy as well Asahi Kasei's "Grilled fish box at the range"(231 yen including tax). Putting it in a dedicated box and chinning for about 2 minutes with the range, it is easy to finish grilled fish, so we decided to try with various fish.

Grilled fish box with cooker range | Asahi Kasei Home Products
http://www.asahi-kasei.co.jp/saran/products/cookper/items/yakizakana_box.html

The package looks something like this.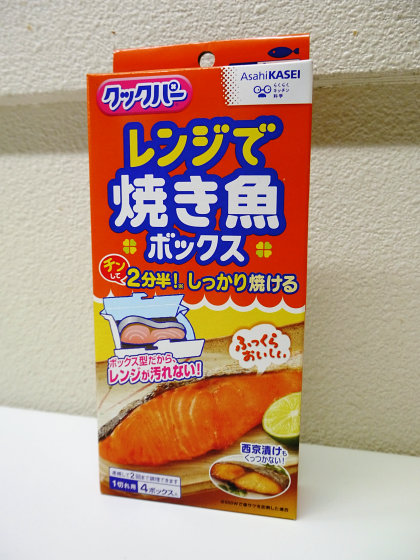 To use it, put the fish in the box, close the box, put on the plate and chin with the range, it is rather easy.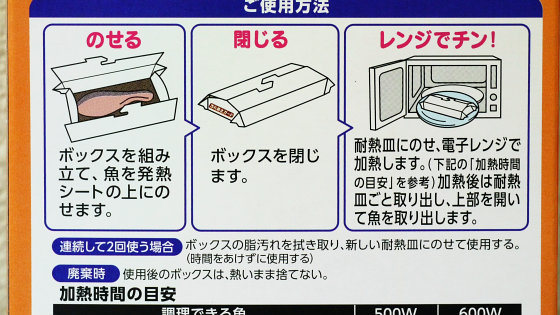 According to the standard of heating time, it is about to finish in about 2 minutes. Also, as a precaution during cooking, there are such things as "do not use for fish with eggs or fish eggs" or "put frozen fish in a box after thawing, heat up", so let's read it firmly .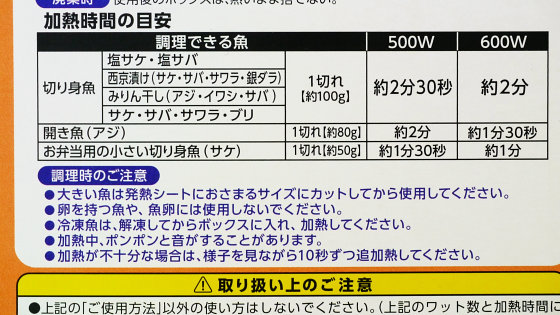 It has 4 boxes inside.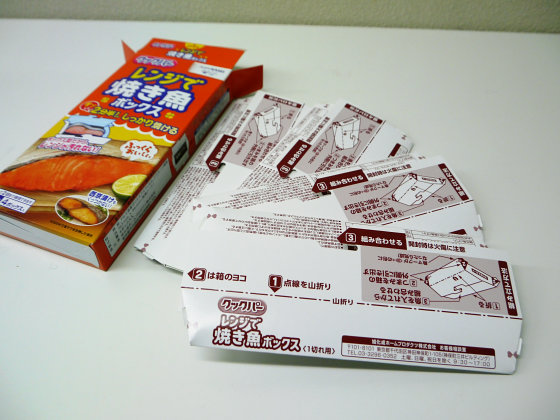 Since how to assemble is properly stated, there is no hesitation. Even so, it looks like something I have seen ... ....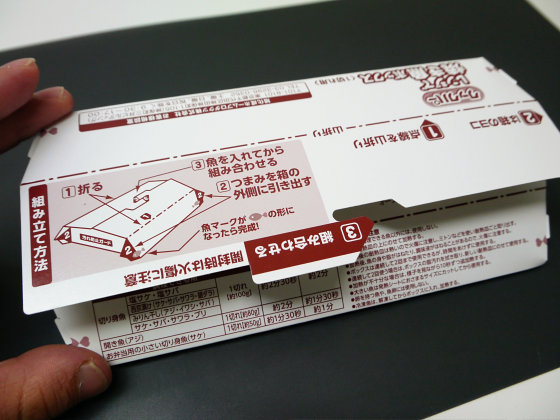 Since the guide of the heating time is described properly also in the box, it does not have to look at the package one by one.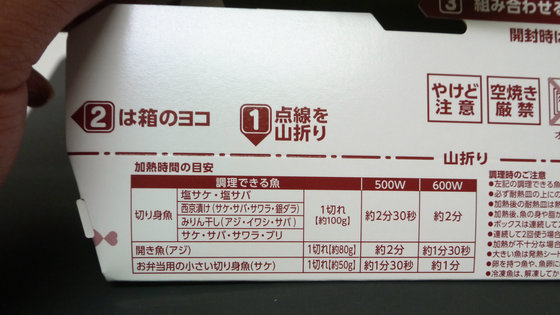 The secret to finish as quickly as about 2 minutes is the heat generating sheet in the middle of this box. It seems that it gets hot in a short time.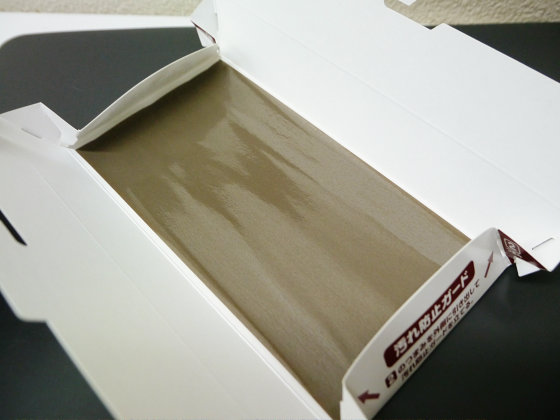 Then, I try to cook various kinds of fish.



First of all, from salmon silver salmon often used for side dishes such as lunch box. Place the fish on the heating sheet of the box.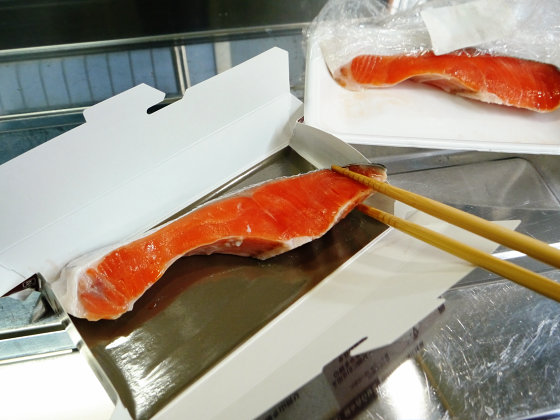 When assembling the box, it looks something like this, you can also set up a guard on the side, so the inside of the microwave oven will not get dirty.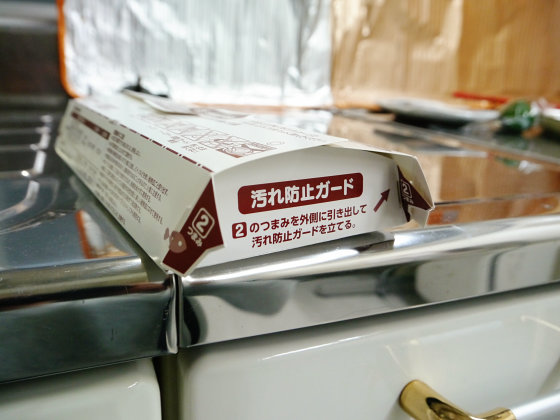 Set on a heat resistant dish ......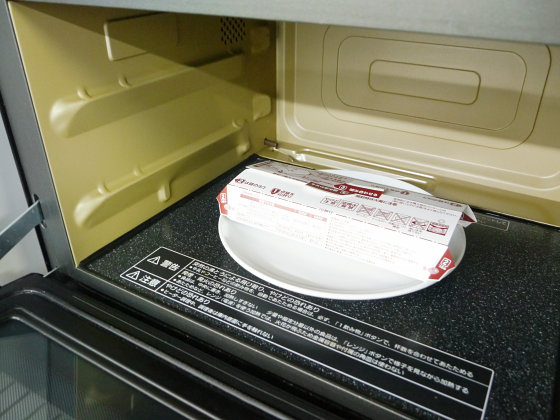 Heat it at 600 watts for 2 minutes.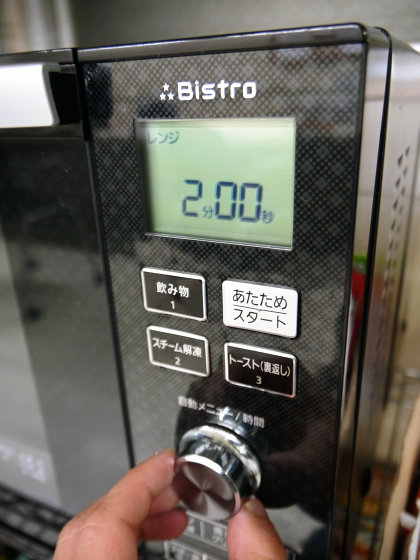 Although it sounds bony on the way, there is no problem because it is a specification.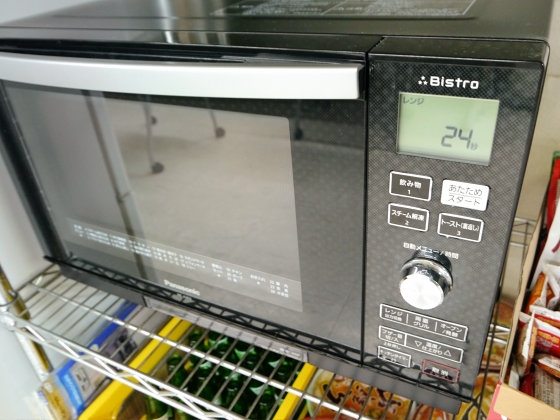 That is why it is completed. The burning fragrant smell is furry.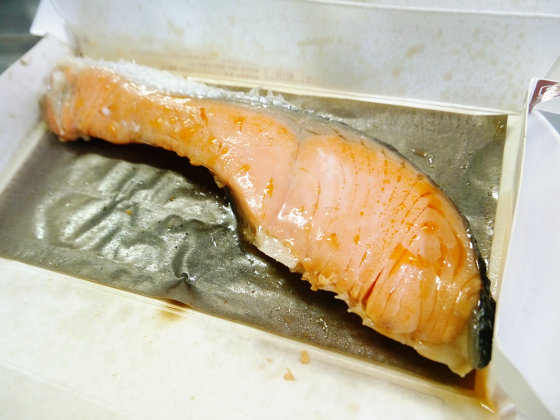 It is not easy for the body to stick to the inside of the box, so it is hard to lose its shape when taking out and it is easy to take it on the dish.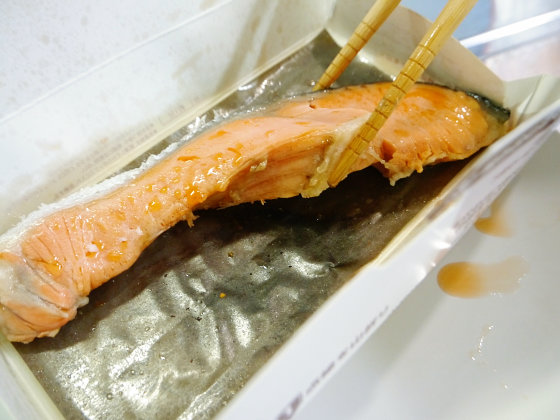 Although it seems that heat is passing firmly in appearance, how about inside?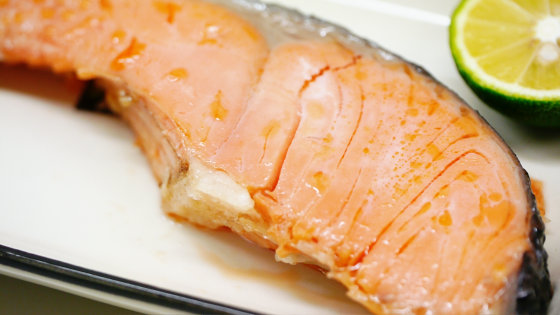 The inside was properly heated, and when I tried it I could taste the sweet taste firmly while salt was heard. It is handy and takes less time, so it seems to be useful for a busy morning.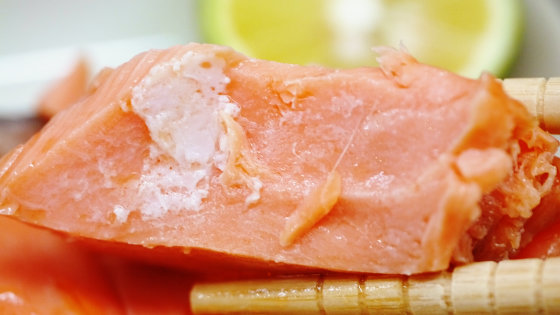 Next challenge with salt mackerel! Boxes can be used up to twice consecutively, but the flavor of the fish will remain, so we recommend that you change the box if the type of fish changes.



Completion The bark is attached to the skin, and it is a finish like grilled baked.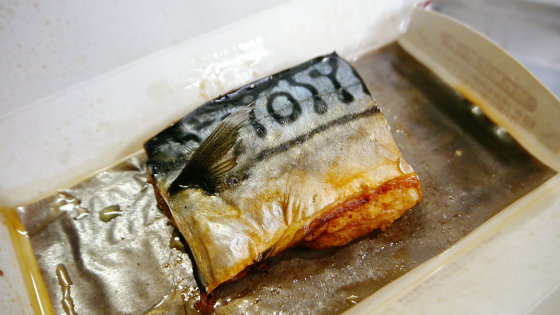 The other side is also firmly heated. I can not say anything shining bright oil, I appetite my appetite.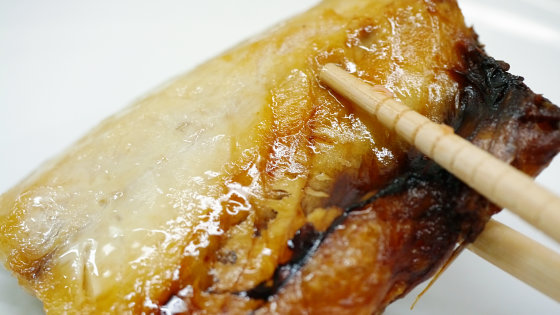 The contents are also firmly heated. Umauma with greasy body. Even at the house without grilling fish in the kitchen, if it is this, it will be easy to enjoy grilled fish.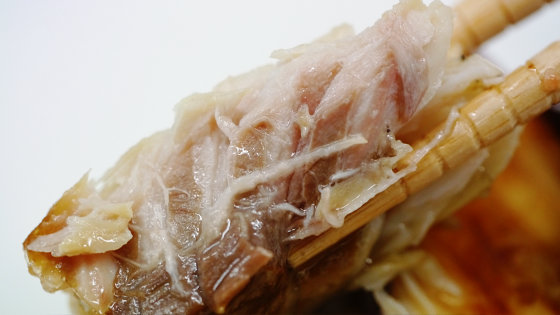 This is pickled in Sayba.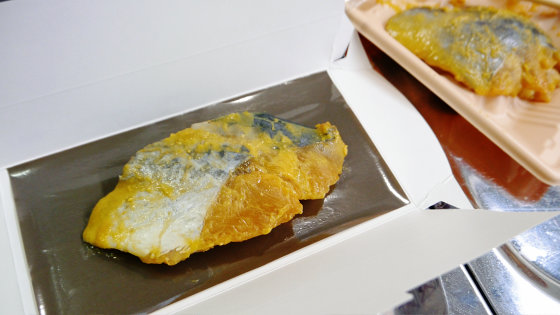 Heating at 600 watts for 2 minutes completed. Although the smell of baked fish is still filled in the range, as well as inside the microwave oven, there is no dirt on the plate, so the smell will also disappear if time comes.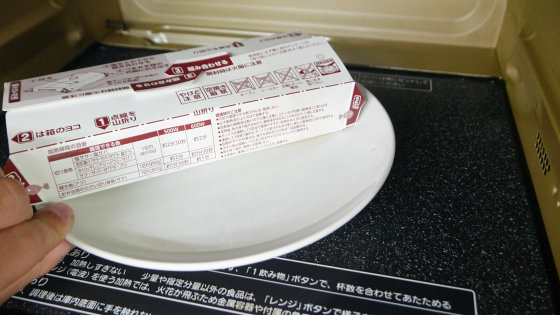 Simultaneously with opening the box, the sweet flavor of heated Saikyo miso spreads.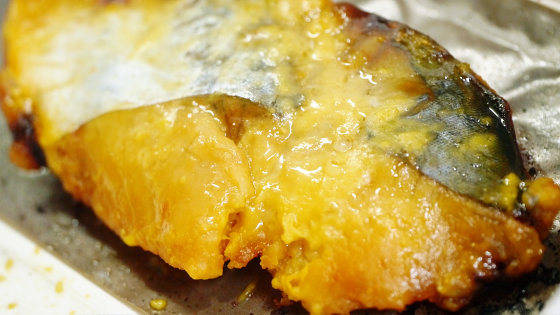 The fire is perfect. It is not half-life nor too much heating, it feels just right. If you bake in a grill, checking the condition of baking is essential, but if you cook using this box, you only need to heat it as described, it will be finished in moderate baking.



You can also enjoy the texture of crunchy crisp like burned with direct flame.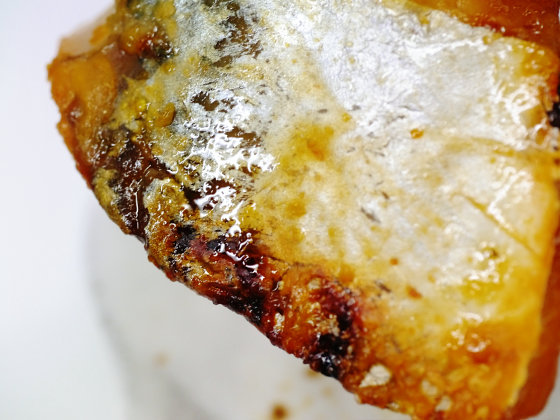 Until now it was a fillet, but next time I will try it with a honeybee.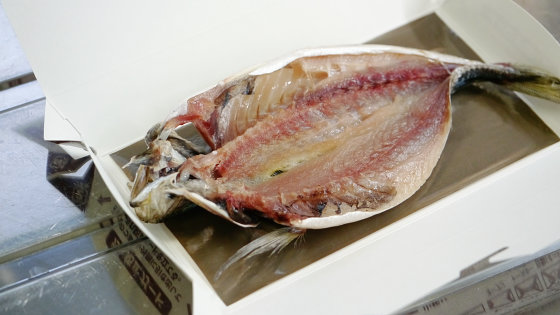 In case of open fish, heating time is different from fillet fish, so be careful.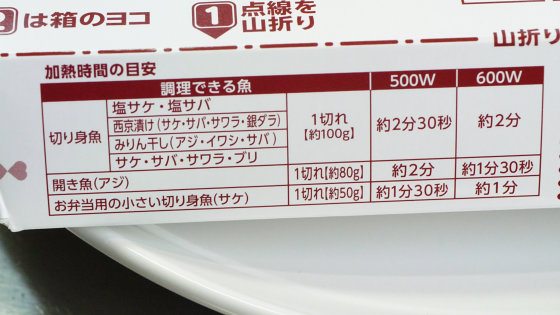 done.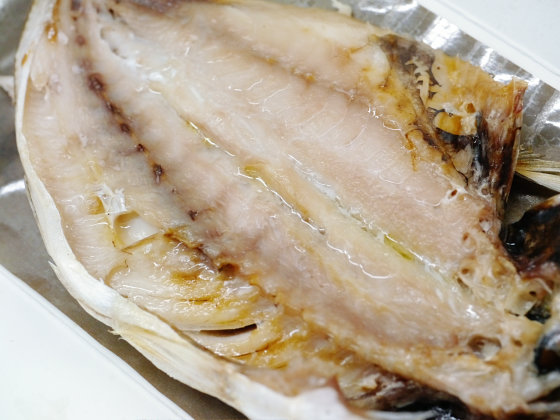 It is also good to put the fry juice of Kobe on your liking.



The opening of the horse mackerel was also moderate feeling of heat, and I was able to fully taste refreshing body umami.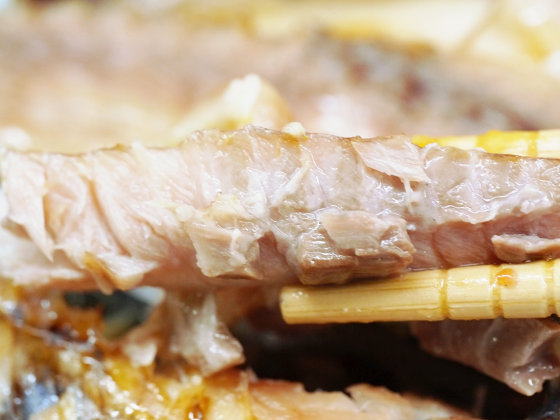 It is easy to finish in a short time and it is easy to just dispose of boxes as well, so it will be useful if you need to cook in a busy living alone. Moreover, two pieces of burnt are burnt at a stretchlineupThere is also.