I went to eat "Mr. new rice burger" boiled pork belly "&" vegetable kake "and" apple pie "renewed" apple pie "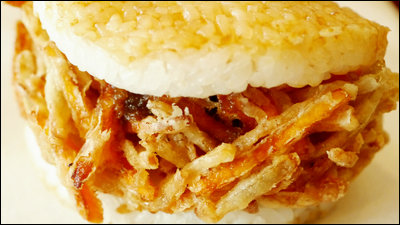 The meat was soaked in soy sauce, sugar, mirin sweetly Simply seasoned with a volume of boiled pork belly "Moslee Burger Pork belly"(350 yen tax included) and a domestic burdock bursting carrot and seasonal carrots and wasabi sauce sauce"Molly slice burger vegetables raised"(300 yen tax included) two new types appeared. In addition, the existing "Apple pie" renewed "Apple pie"(190 yen including tax) was also released at the same time, so we decided to go eat together as well.

Individualist burgers that used domestic root vegetables of season and boiled horse mackerel of horse mackerel appeared! "Moslee Burger" Vegetable Kakiage (Burdened Carrot) "" Moslee Burger "Pork Soup Boiled" - released on Mos Burger nationwide from November 13 (Tue)
(PDF file)http://www.mos.co.jp/company/pr_pdf/pr_121018_1.pdf

Moss' apple pie will be reborn! "Ringo pie" new release - Selling deals that combine drinks etc for a limited time and time ~
(PDF file)http://www.mos.co.jp/company/pr_pdf/pr_121018_2.pdf

Arrived at Mos Burger.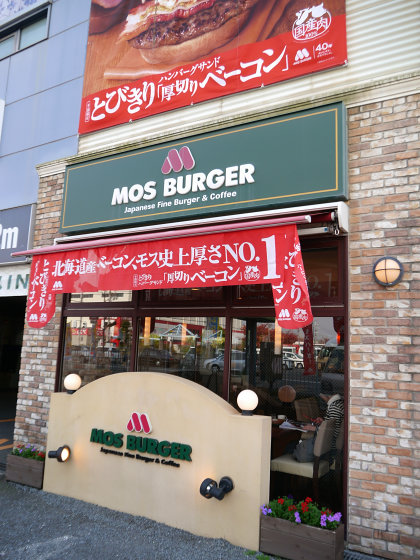 At the cash register, we ordered Moslee Burger's boiled horse mackerel, vegetable crumbs and apples pie this time.



Confirm the apple pie information about the seat until the product is completed. The texture seems to be rich.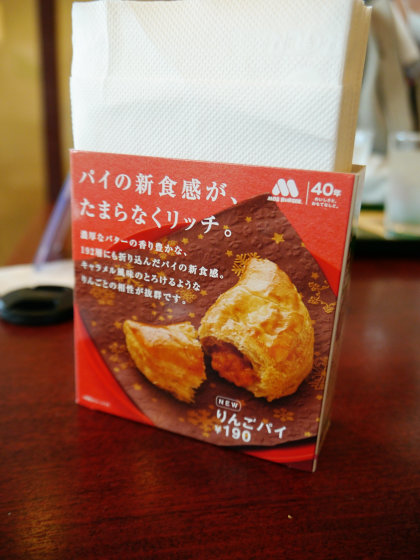 Waiting for about 5 minutes, first of all Morris Burger 's vegetable crackers appeared.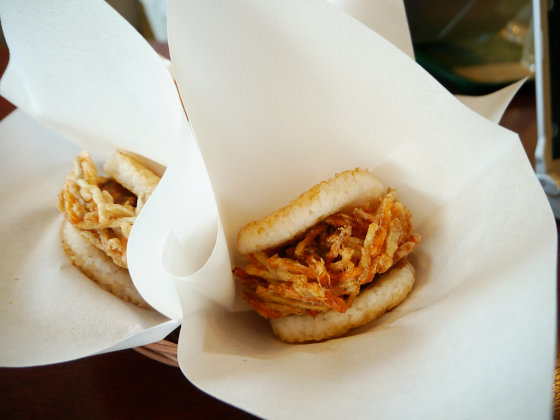 It is like this when taking out from the wrapping paper.



Raised vegetables has a sense of volume, about twice the thickness of the rice plate.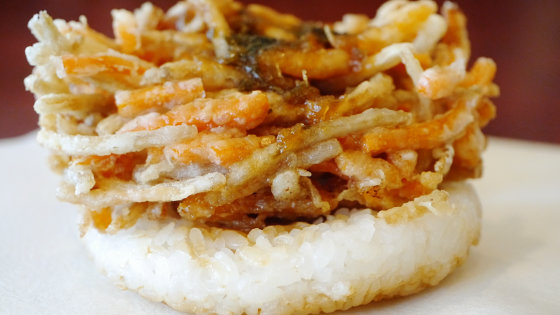 The harvested sauce wasabi sauce. It seems to have been finished in a Japanese style by adding soy sauce, glue, and kiwisaki to Japanese dashi.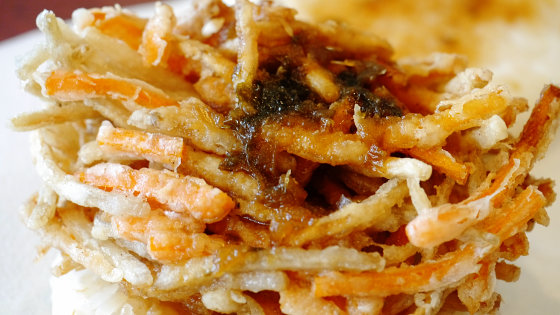 Kakiage is a bit stuffed rather than crunchy, and when you eat it with rice buns of rice cake it feels full. Wasabi Nori sauce was wary of hotness, but there is no spicy but a taste of Japanese style with sweet paste flavor. Also, it is very easy to eat, as the sauce will not overflow like the other moss's menu.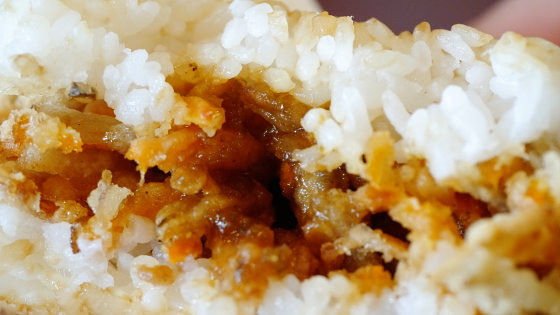 Moslee burger 's boiled horse mackerel also appeared.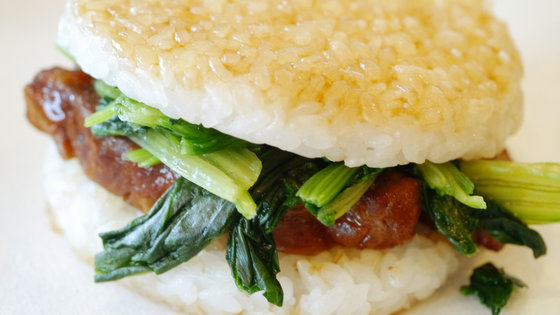 The ingredients contain not only boiled pork but also spinach.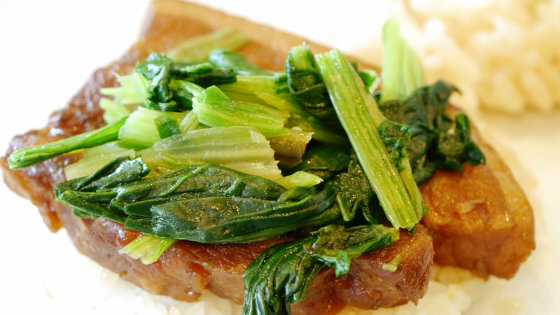 As main meat boiled dishes are soaked with savory rice, meat is sweet and simple with soy sauce, sugar and mirin. In addition, by cooking in a high pressure cooker, it is finished in a soft, smooth texture without losing the original taste and taste.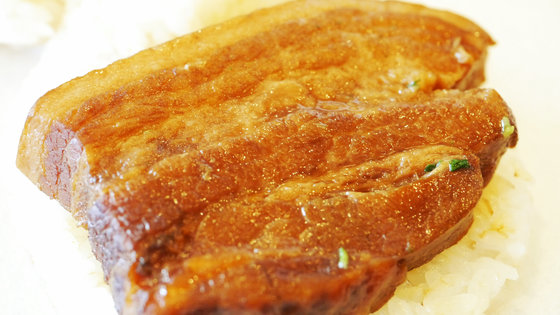 It is difficult to eat because the rice plate collapses by heat, but it is not too sweet, it is not too spicy, the seasoning of pig boiled boiled is well balanced. Because there was no sauce, the part of the rice plate not in contact with the boiled horse meat had no taste, so you may want to improve there. I feel the hardness of the part of the muscle rather than the tactile feeling, and feeling that there is a bit more tooth to say if anything.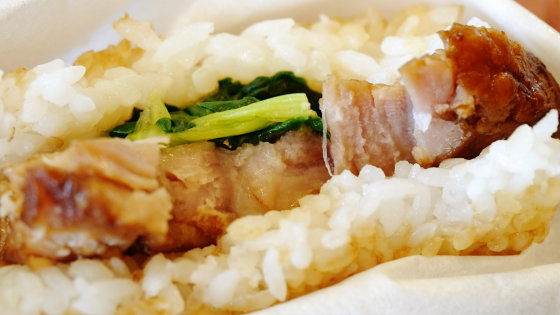 The last closing is "apple pie".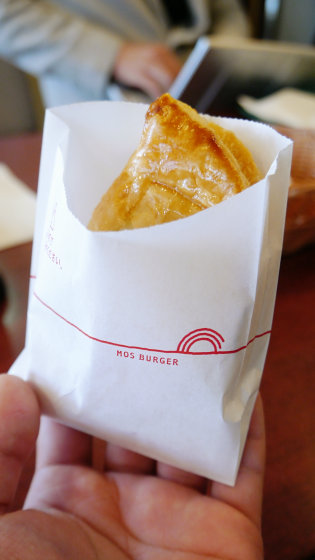 I heard that caramel-flavored apples filling is wrapped in buttery rich pie cloth and baked up slowly. Although it seems that it was fried before renewal, it is said that it got more authentic taste by baking.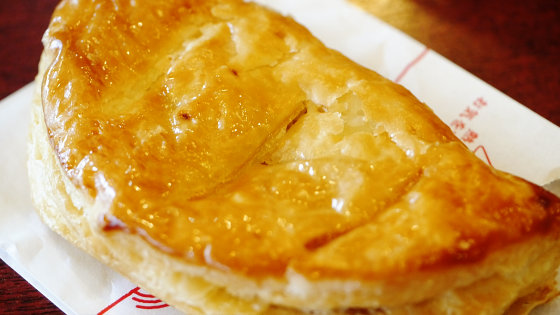 It is certainly a good pie fabric with rich buttery flavor. Although the apple in the inside is delicious, it seems to be felt that it makes me feel crisp though it is better to write a cold pie because it is not even noteworthy to mention a special mention, but it seems that the hot texture is suitable for the season when it gets cold.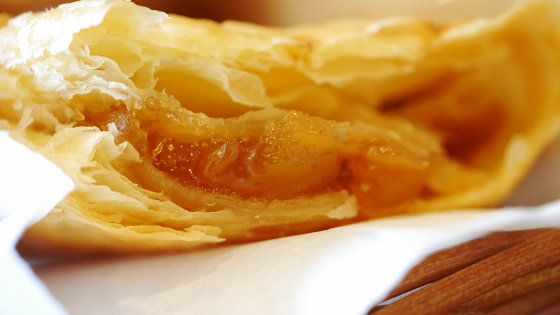 Rice burger is small compared with other menus, but rice is used and there is a response to eat, so it seems to be suitable for lunch.