We tried all 10 different autumn menus in Denny's, including sour to tomato "sour tomatoes and horse-spicy pots of quaternary pigs"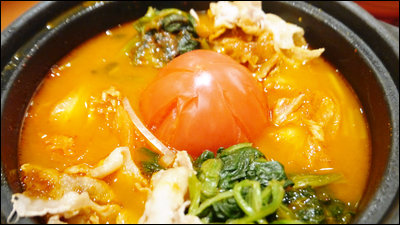 An autumn menu using vegetables such as tomato, pumpkin, sweet potato and mushrooms etc was released from Denny's. We decided to go for the whole menu by saying that there are 10 kinds of menus including Denise's first tomato saucepans, doria to eat vegetables, omelette tailored with fragrant sauce.

(PDF file)Denny's Fall Menu 2nd Season Started on September 25 (Tue)

Arrived at the shop.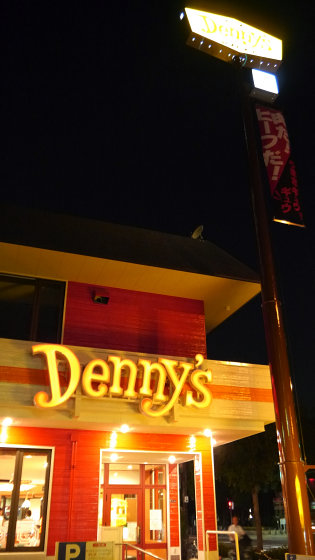 The first thing that appeared was "burdock potage" (250 yen including tax).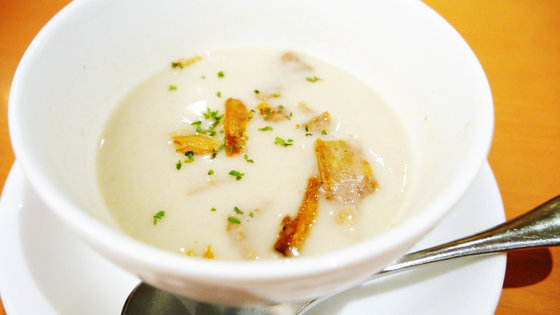 "There is no burdock from the beginning ...... There is not much taste of burdocks ...... I thought that a bowl of potato is good ... but ..." When I tasted it well, burdock chips are fragrant and quite tasty was.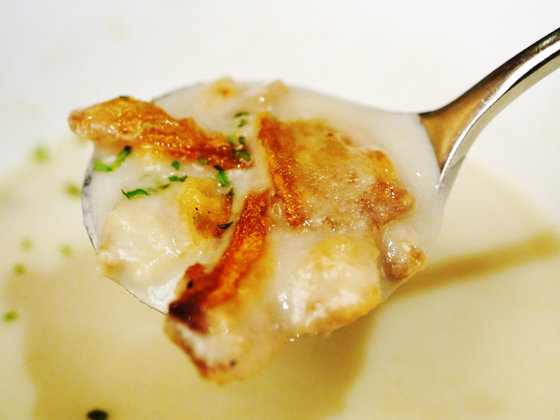 Next is "Tomato and Yumoto Pig's Horse Shiba Pot (with Mini Rice)" (930 yen including tax). A trolley and a whole tomato are visible in the middle. You can see quaternary pig, kimchi, spinach, onions, bean sprouts etc.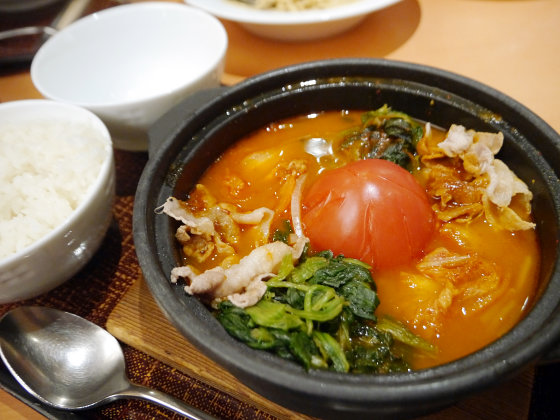 I thought that the pepper paste was imagining, but I imagined the spicy tenderness, but it is "to a little bit pungent." Still, when tomatoes were destroyed, sourness often appeared and I felt that it would match pork.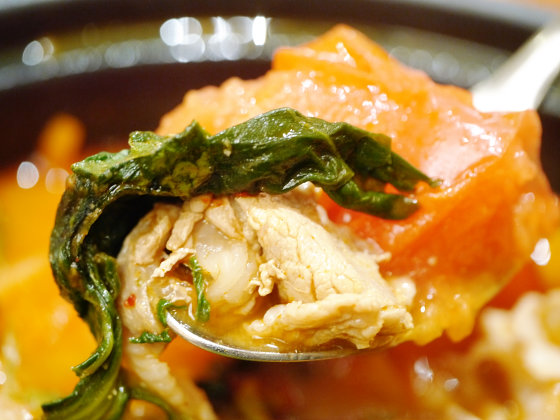 Next time "Terato vegetables and Japanese style doria of yamushiro peppers ~ Yuzu pepper preparation" (830 yen including tax). Vegetables such as sweet potatoes, lotus root, and pumpkin, which are cut to a large extent, are rumbling. Eringy and carrot are also visible, vegetables are quite abundant.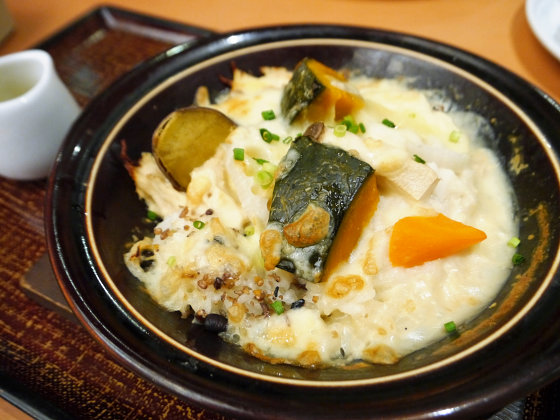 Yuzu pepper dressing follows for seasoning.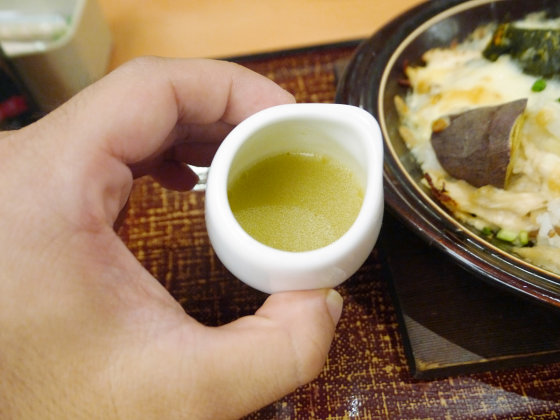 Over this ... ....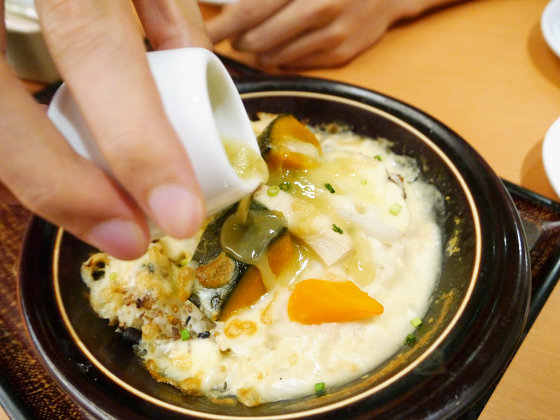 I will get you. Sour and spicy, and even slick and smoothness are good. As a combination of this menu, citrus pepper that seems surprisingly betrayed expectation in a good meaning, I got a surprising texture that I had never had before and I felt it was "good!"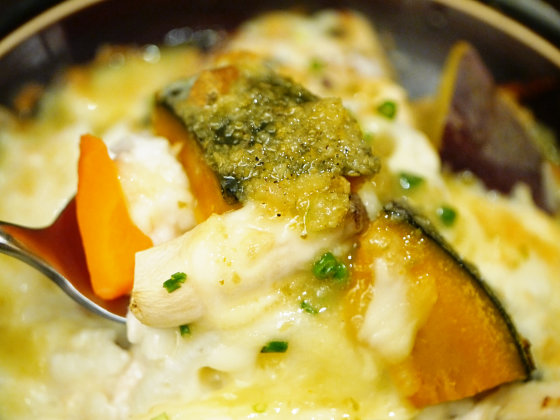 Here "Porcini fragrant, omelette of mushroom sauce" (950 yen including tax). It is a kind of mushroomsBorciniIt is characterized by demiglace sauce using, Shimeji, Mini Ellingi etc are used in the milk, plenty of mushrooms.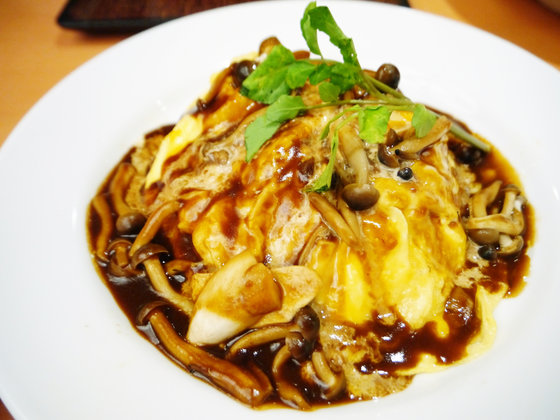 Because the scent of mushrooms is strong anyhow, it is suitable for those who love the fragrance of mushrooms. There is a feeling that the sauce is somewhat salty, but it may be good for people who like the strong taste. Volume is satisfactory level even for those who want to eat a reasonable amount.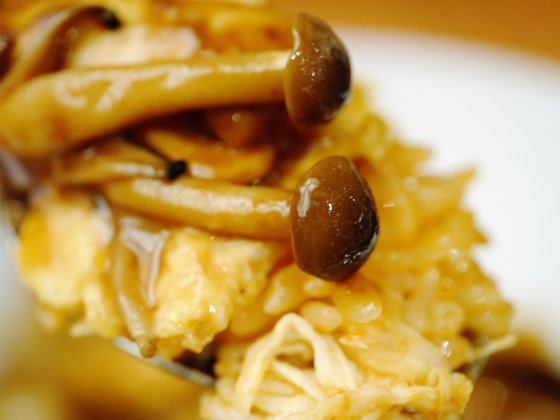 Cream spaghetti with raw ham and mushrooms (840 yen including tax). Shimeji, eringi, maitake and mushrooms are used and there are plenty of mushrooms here as well. In addition, coloring is added with raw ham of Yumoto pig.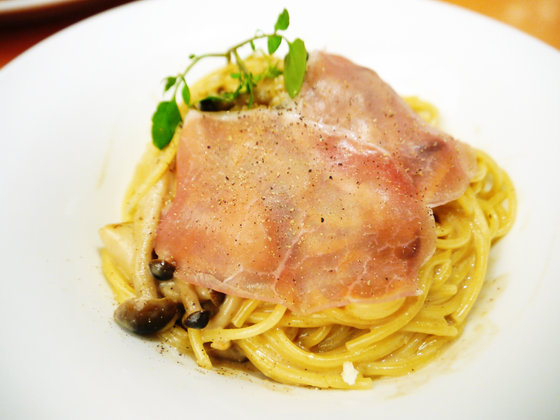 The strength of mushroom taste is "Porcini fragrant, mushroom sauce omelet rice" above. The cream of the main thing is going cheap neatly and I want a little more carbonara-like creaminess. As the taste of the cream is thick, it keeps getting tired, but if you change your mood with raw ham as an accent, you can eat it somehow.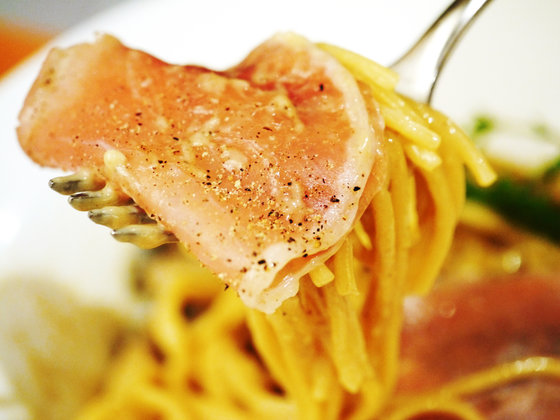 Next time changing the taste "Bamboo noodles" (780 yen including tax). On the top of the noodles, topping with ingredients like pig meat, bamboo shoots, shiitake mushrooms added with tenmen jan and aroma fried.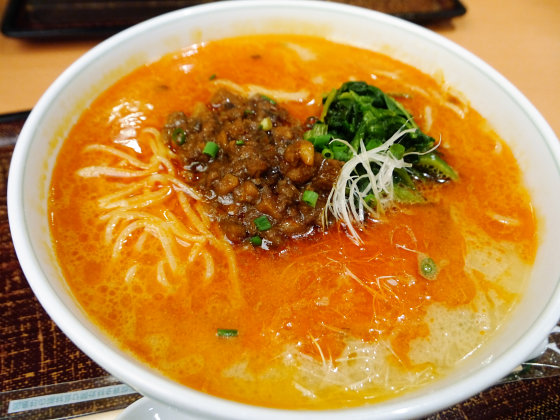 It is a very basic taste, but you can feel a pungent taste. Noodles and soup are not hot, and the type that the items on the top are painful. So, you can taste delicious once you eat it all at once.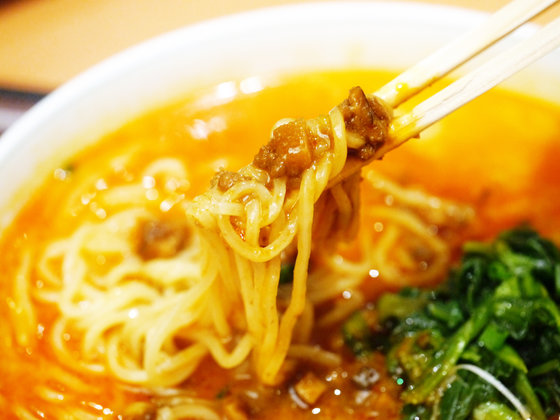 This is "Yuan Pig's and Boiled Food" (1080 yen). You can taste the quintessential pig loin, you can taste "Tonkatsu" which fry with raw bread crumbs.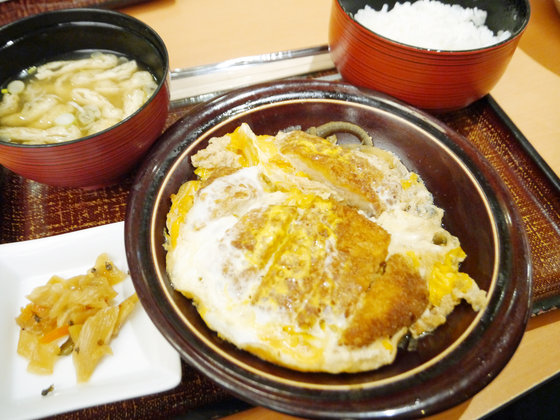 It is ordinary and boiled but you can feel the orthodox taste well. Good feeling that the clothes suddenly become suffocated and the soup sucked in is good. It is the same as "Bamboo noodles" and normally a stable taste in the category of imagination, but it is a good evaluation. But the price over 1000 yen is something I would like to manage somehow ... ....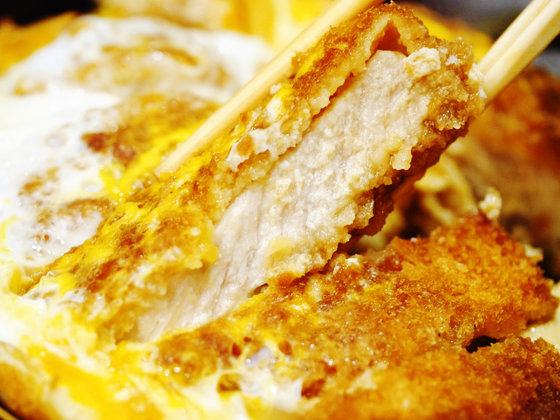 "Tuna rice and seafood fried noodles" (980 yen).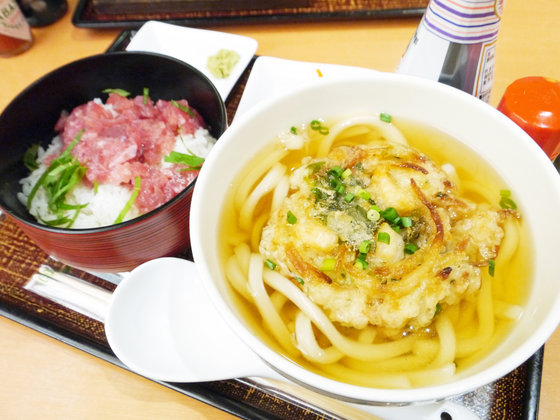 Kakiage has a very good texture, but udon is "Frozen udon of the table mark (former Katokichi) "It is a delicious taste, it is enough taste to eat at home, but eating this at a dinner feels like "sorry". For example, if you order curry and eat it the same taste as a certain famous brand of retort curry! I feel as if. Conversely, since the lowest line has been cleared, there should be no problem if it is understood after ordering.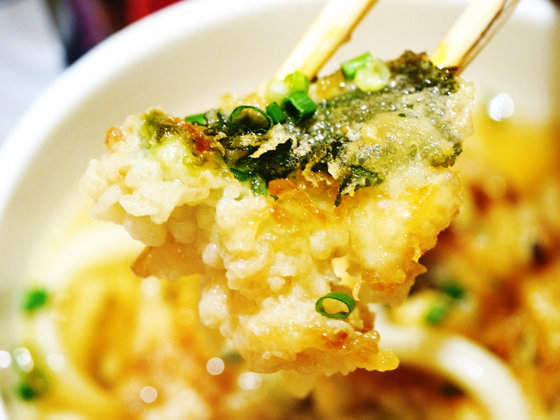 I will eat tuna rice as well.



Wash the wasabi with soy sauce ... ...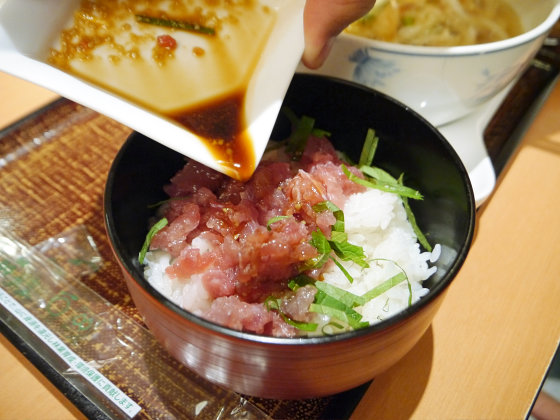 I will get you. It is good because lean cutting lean meat is soft and fat is moderate. However, since the amount is less for rice, it will be even better if you increase the amount a little more.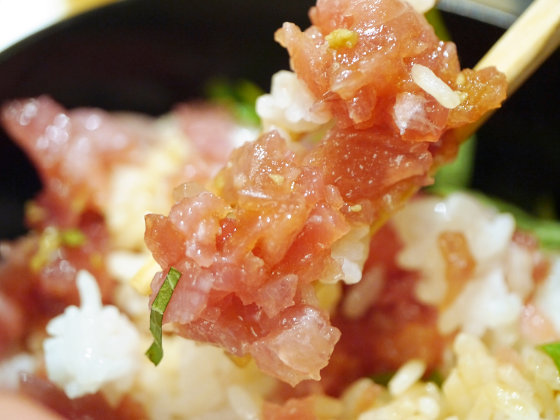 Although it is called a new menuThe exact same menu in the summer"Ricotta cheese and tomato spaghetti" (790 yen).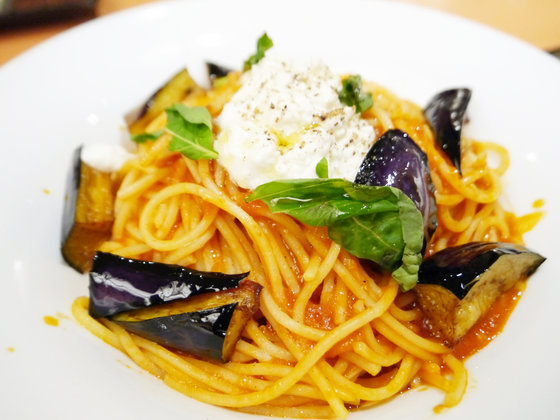 I wonder if it can be made more concentrated ...... I felt the taste was thin unexpectedly. It has the same taste and aroma of tomato but it is the same level as sauce you buy at supermarket. Ricotta cheese is also "?", Which makes it quite refreshing as a whole, honestly, paying for this with eating out is kinda ... .... It is a feeling that it keeps the taste of the seasoning as much as possible and it is made to feel the sweetness of tomato's sourness and eggplant, so maybe that taste is good for people who like it.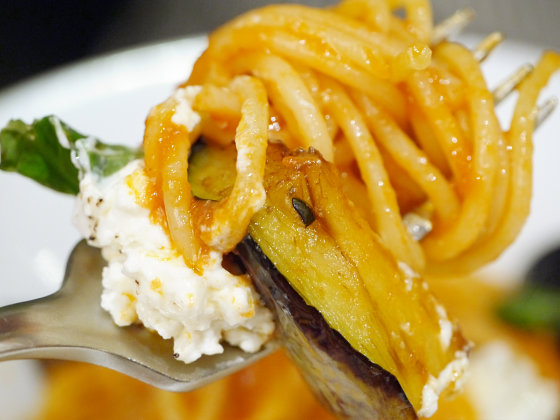 Japanese style "Kanesuke pickled meal" (990 yen including tax). The frozen food is frozen, it is kept in a mortar and aged at low temperature for two days.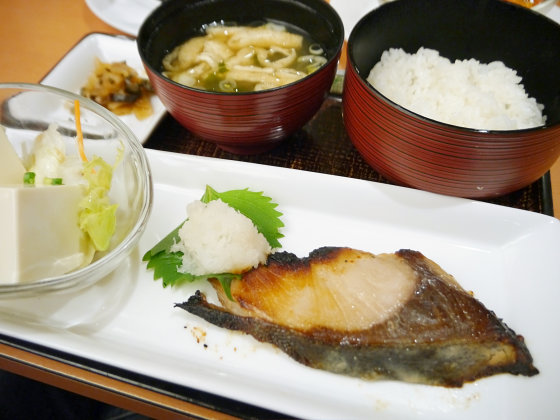 On the side menu is "Natsu no Ichiba" ...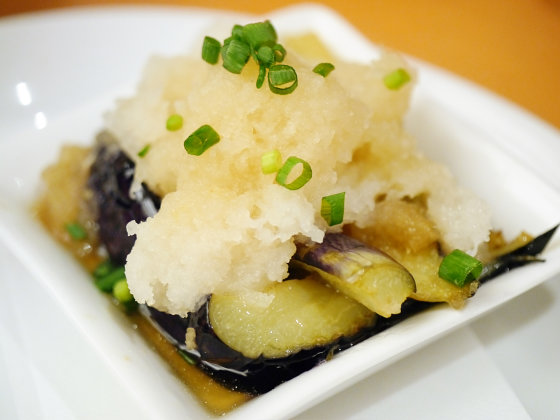 "Tofu Salad"……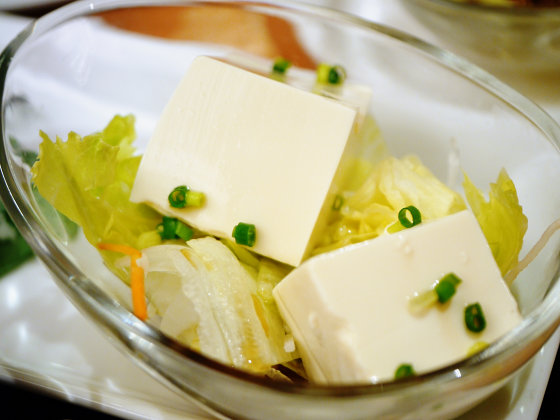 A favorite dish can be chosen from "Wakame and crispy plum salad".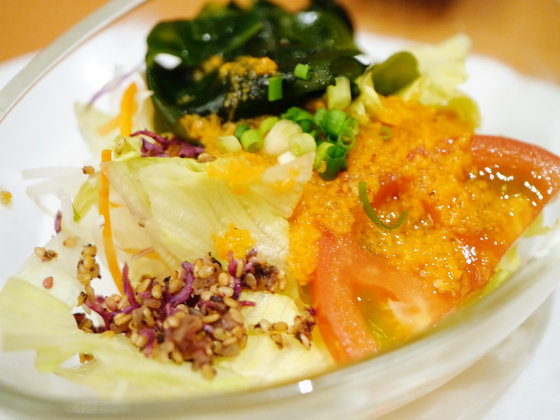 Okay, we will.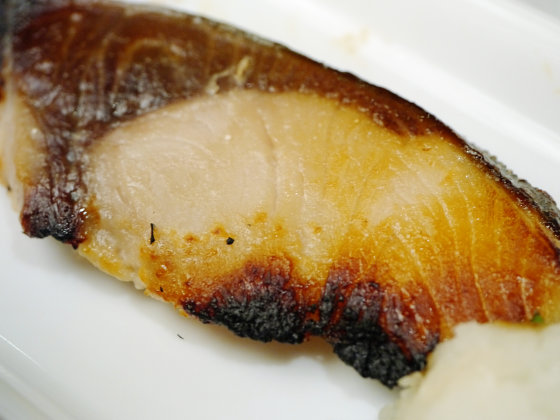 This is a pretty good taste, as well as a fish attached to Nishikyo Miso is good, the taste of Kasuke picked up very well and it is an ideal taste. It is rustic and rustic, and in addition to this, it also fits well with the salad. However, still it is felt that the price is a bit high, so I would like to have a little more effort. Furthermore, it is still better if you lower the price without a side menu.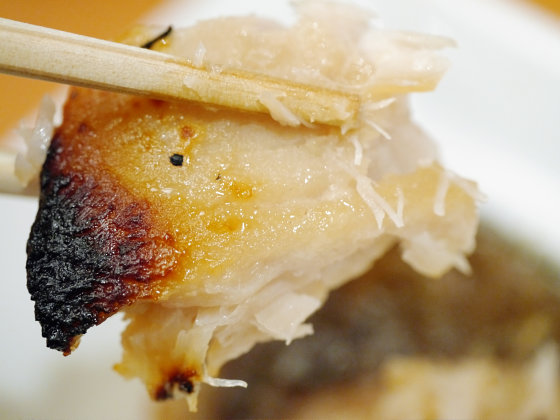 When I tasted it with some people it was recommended that it was overwhelmingly highly evaluated, "Tamagoro vegetables and tomorrow's Japanese style doria - Yuzu pepper tailoring", although it was innovative seasoning but tasted deeply. It was "Burdock Potage" at the next point, but this is an honest place that I wanted you to work hard on other menus for a bit rather than a high level of "burdock potage".

So, next time I'm expecting a lot of menus of 'rice vegetables and tomato' Japanese style dress ~ yuzu pepper preparation 'or more.