"Game Booster" free software that optimizes a personal computer for games with one shot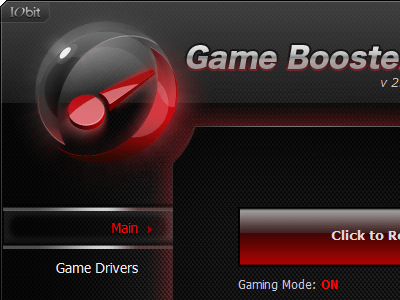 Free software that can temporarily stop applications and services running in the background of Windows with just one click and optimize personal computers for games "Game Booster"is. It is useful when you want to play 3D games with high specifications more comfortably. The operation of the software itself is also light, and troublesome settings are also not particularly necessary so it is easy to switch to gaming mode in a short time.

In addition, it is packed with functions that are useful for various games, such as checking the driver update necessary for the game and defragmenting the folder where the game is installed. It supports 64 bit versions of Windows 2000 / XP / Vista / 7 and XP / Vista / 7.

For details on installing to download and optimizing for games please see below.Game Booster 2.0 Free Download, Speed ​​Up PC for Top Gaming Performance

Click "Free Download" in the above page




Click "Download" to start downloading.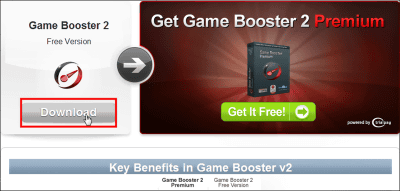 Click the downloaded installer




Click "OK"



Close all open applications and click "Next"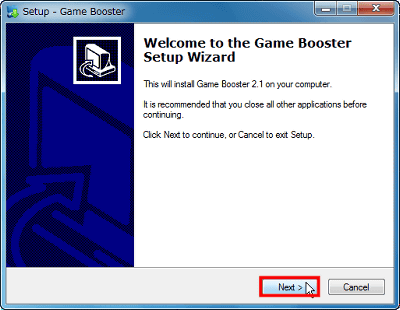 Check "I accep the agreement" and click "Next"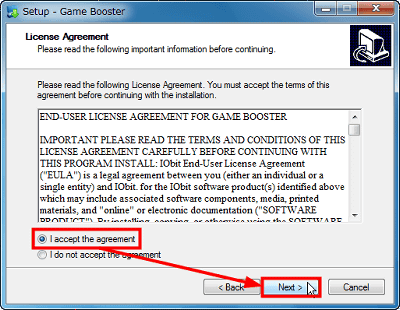 If there is no problem with the installation destination, click "Next"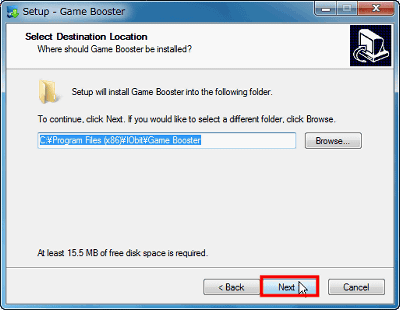 Click "Next"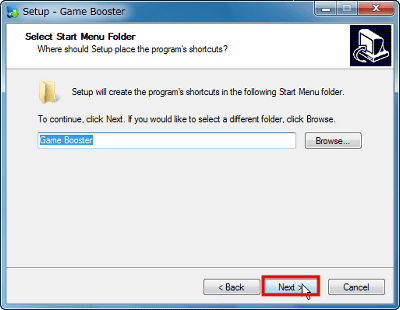 Click "Next"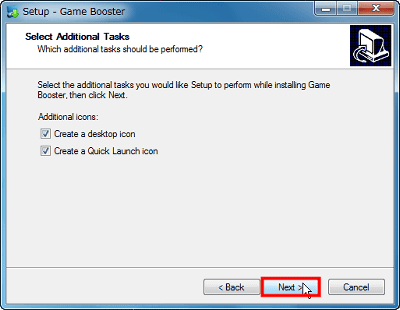 Please remove the check in the red frame and click "Next"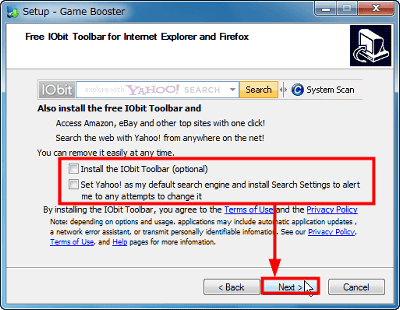 Click "Install"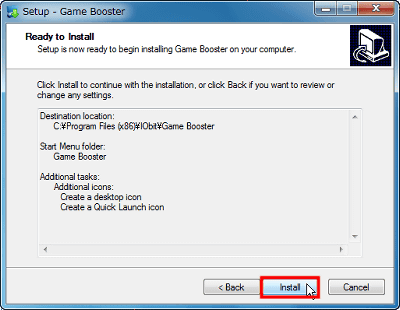 Please uncheck the red frame and click "Finish" to complete.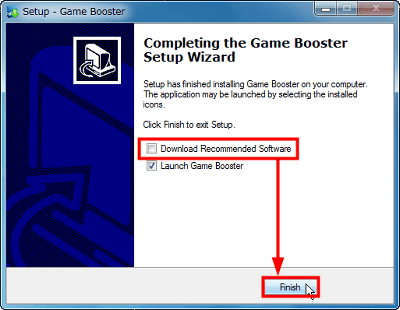 This is the main screen.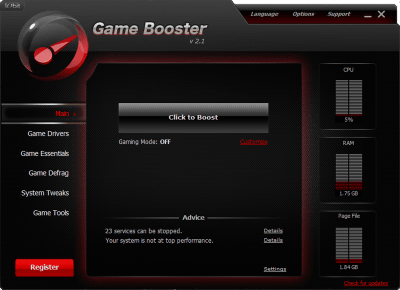 You can start that game by switching to gaming mode by dragging and dropping a game shortcut to this window that appears at the same time.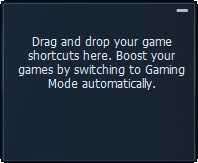 ◆ Basic usage

Click "Click to Boost"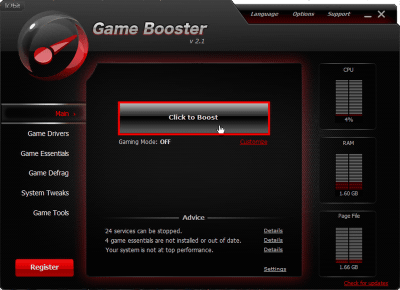 Click "OK"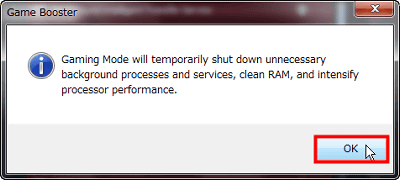 Please select unnecessary service for game play and click "Next". Normally it's okay not to tamper with any settings.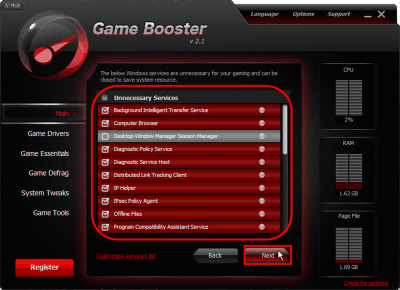 Select a service other than Windows that is not related to game play and click "Next". Even this is normal, you do not have to change the settings in particular.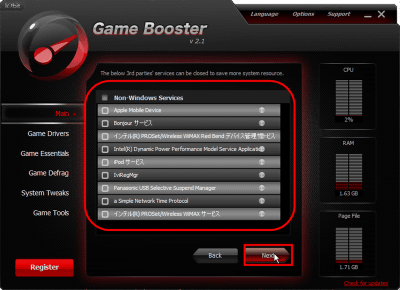 Select the application that you want to stop at the application currently running in the background and click "Next". You can leave it as it is normally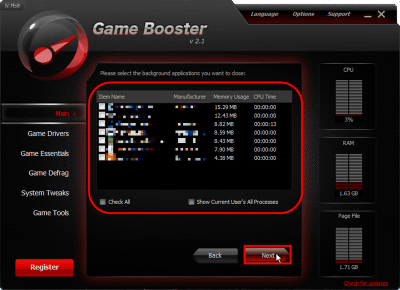 If you want to make PC power supply settings optimized for games, click on "Go!" To start gaming mode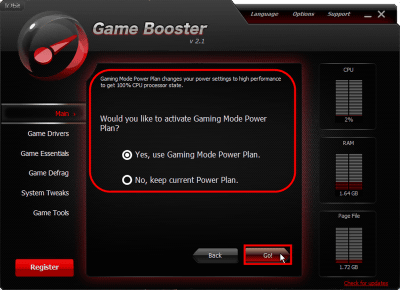 I switched to gaming mode. A countdown of 10 seconds is started, and when it becomes 0, it is minimized to the task tray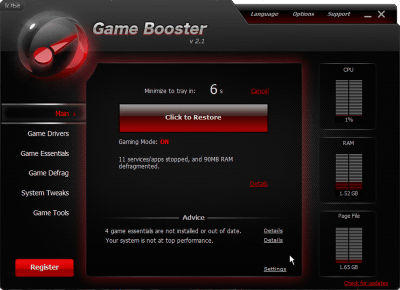 When the icon is red like this, it is gaming mode.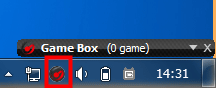 To end gaming mode, click "Click to Restore".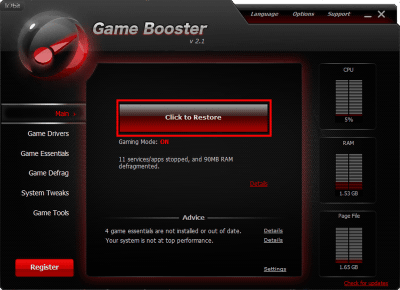 ◆ How to optimize the game to the highest level

Click "Customize"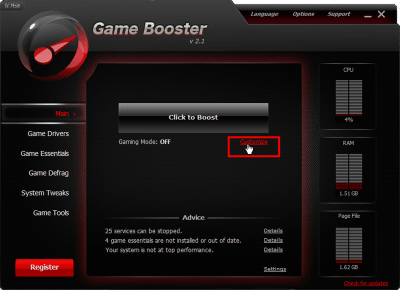 Check "Unnecessary Services" and click "Next"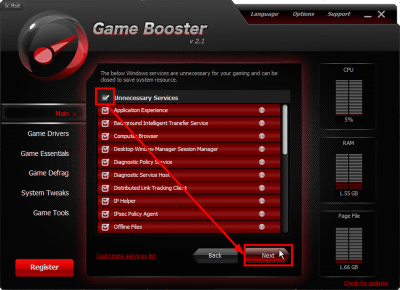 Check "Non-Windows Services" and click "Next"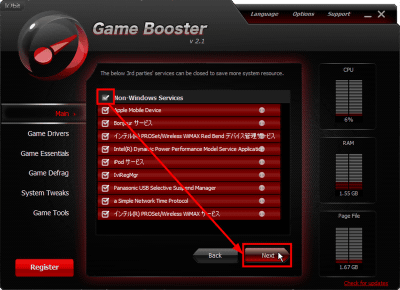 Check "Show Current User's All Processes", check also "Check All" on the left, then click "Next"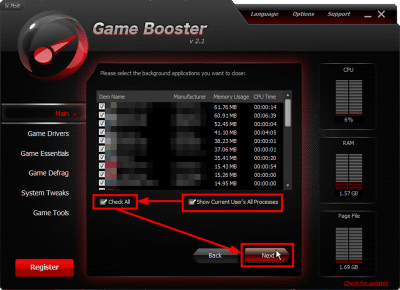 After confirming that "Yes, use Gaming Mode Power Plan." Is checked, clicking "Go!" Starts the gaming mode optimized for the game to the highest level.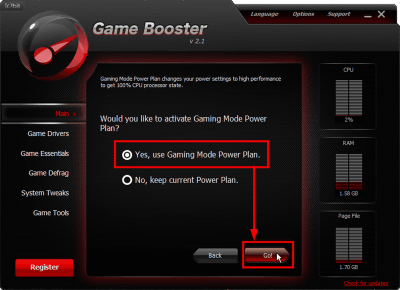 A state of the gaming mode being activated with the above setting.



◆ Option etc.

You can select the language to use from "Language".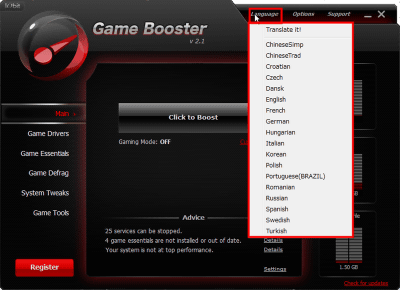 Click "Options" to make various settings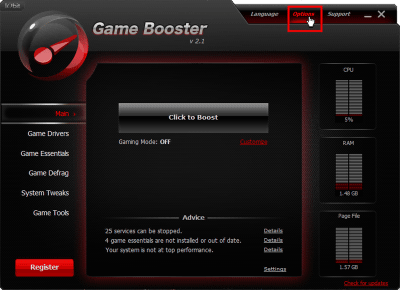 "General" allows you to minimize to the system tray when you exit Game Booster, change the number of seconds of countdown after switching to gaming mode, and more.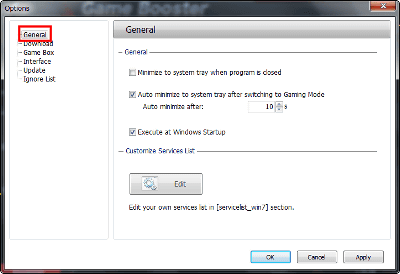 "Download" allows you to set the save destination of the file of Game Booster.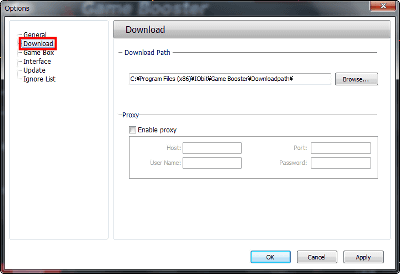 In "Game Box" you can make settings such as switching from gaming mode to normal mode at the same time you end the game.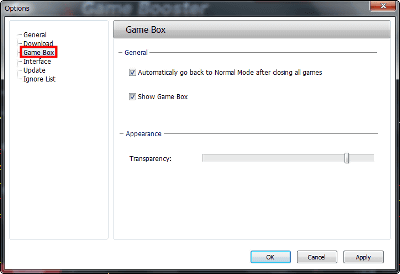 If you want to change the appearance, such as display when there is a new driver, it is "Interface".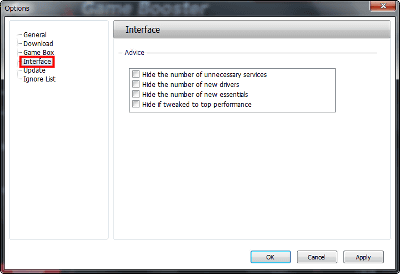 To turn on and off such as checking whether there is an update when launching Game Booster, please set it from "Update".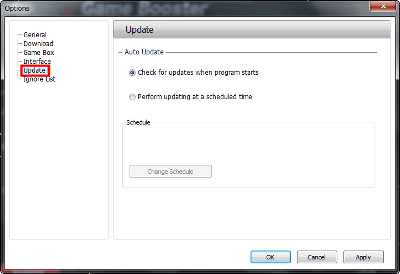 The setting related to display in Game Essentials is "Ignore List".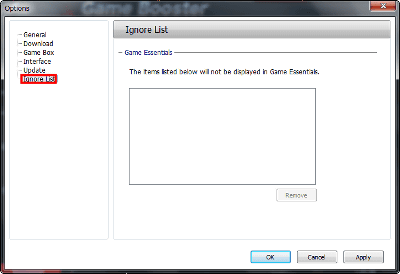 When you have something in trouble, let's click "Support".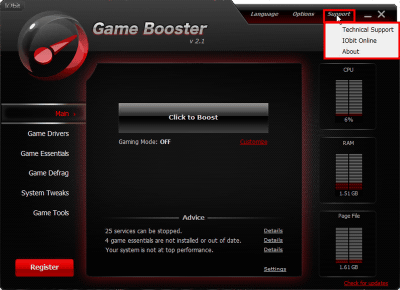 ◆ Other functions

In "Game Drivers" you can check if there is a driver update necessary for the game.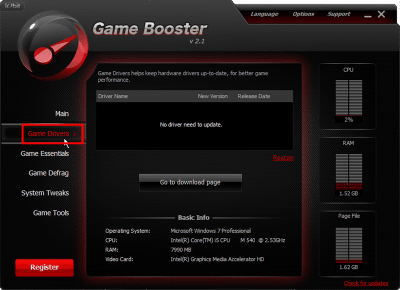 "Game Essentials" can download software that supports game play.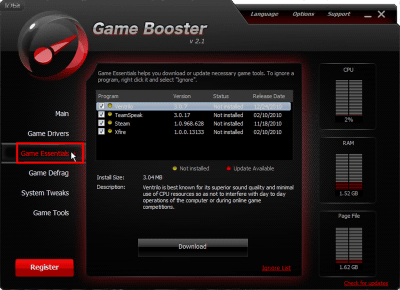 You can defragment the game directory by selecting "Game Defrag".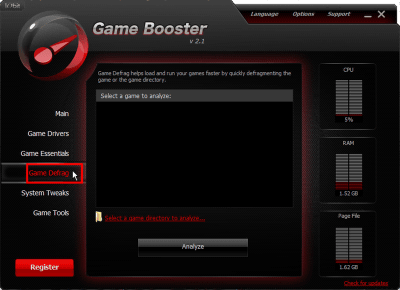 If you are using the Game Booster paid version you can optimize the PC even further by choosing "Top Performance" in "System Tweaks".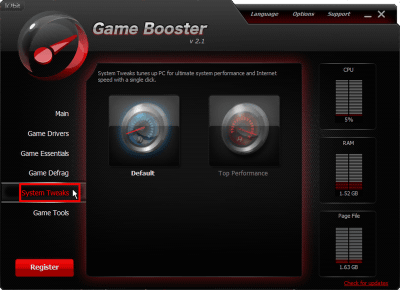 Game Booster It is "Game Tools" to set mouse and keyboard from above.