EeePC can now be purchased for 100 yen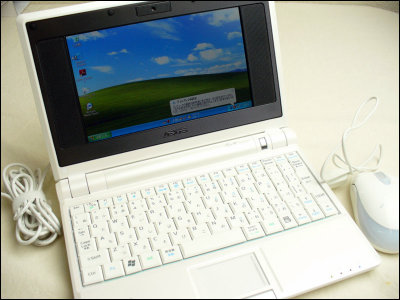 Popular as a low price small notebook computer "EeePCAlthough it is, it seems there is a way to purchase it for 100 yen.

It is impossible cheap but what on earth is it?

Details are as follows.
NEWS | "Super Lite Data Plan on" MAX "Starting on Thursday, July 10 | eMobile

According to this release, eMobile is starting a new rate plan "Super Lite Data Plan NAN MAX" from today.

This plan is a plan to discount 69,600 yen from the initial cost as a long-term contract discount by promising us to use the "Super Light Data Plan" for two years, the basic monthly charge is 2,900 yen (the upper limit is It will be 6880 yen).

And by using this rate plan, it is said that a set of small computers such as EeePC currently sold by EMOBILE and data communication cards will be greatly discounted.

In addition, when I contacted the Yodobashi camera Umeda store by phone, when using this plan, the main price of EeePC will be 100 yen. Moreover, it means "to expand corresponding models in sequence", apparently it will be released in the futureLow price laptop like 'EeePC 901'It seems that correspondence to the view is also in the view.