WILLCOM, extending the campaign of "WILLCOM big gratitude festival" with popularity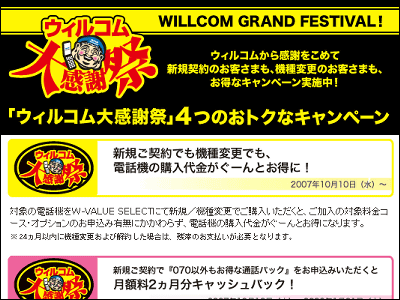 Willcom has been doing since October 10,Long-term discount plan including installment sales "W-VALUE SELECT"There are benefits such as cashbacks and terminal price discounts when new contracts or model changes are made using "WILLCOM big gratitude festival"It is said that the campaign period of the campaign will be extended from November 30 (Friday) which was originally scheduled to be completed due to its popularity.

Details are as follows.
WILLCOM | "WILLCOM Big Thanksgiving Festival" About changing the model change cashback period

According to this release, of WILLCOM 's current "WILLCOM Big Thanksgiving Day" campaign, targeting users who changed their model by using "W - VALUE SELECT", cash 2100 yen equivalent to model change office fee It is said that the campaign to be backed will be extended from Friday, 30th November (Thursday), which was originally planned to end, until January 31st (Thursday).

In addition, when applying for "a good deal other than 070" at the time of a new contract which was provided before, 2100 yen cashback corresponding to 2 months of monthly fee or 500 yen cashback by making monthly payment as a credit card According to the original schedule, the campaign is to be held until Thursday, January 31, 2008.

It seems that popularity from users who change models is higher than I expected.