"WILLCOM big gratitude festival" such as WILLCOM and terminal discount held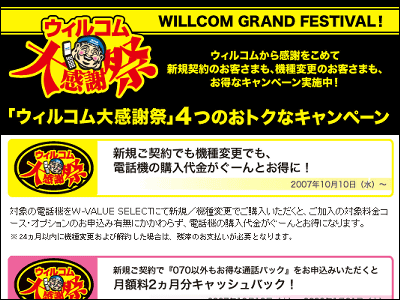 Thanks to Wilcom for choosing WILLCOM from 10th October, the long-term discount plan including installment sales "W-VALUE SELECT"New campaigns using campaigns and campaigns such as cashbacks and terminal price discounts when changing models"WILLCOM big gratitude festivalIt is said that it will start from October 10 (Wednesday).

Details are as follows.
WILLCOM | WILLCOM Big Thanksgiving

According to this page, "Willcom big gratitude festival" to be held this time seems that if you buy the target phone with the plan "W-VALUE SELECT" using installment sales, the purchase price of the phone cheaply becomes cheap.

Also, when applying for a new contract, "When you offer a good deal other than 070", you can cash back 2,100 yen including tax for 2 months of monthly fee, 500 yen cash back by making monthly payment as a credit card, model In the case of change, it is said that the commission of 2100 yen will be cashed back.

In addition, WILLCOM will offer a maximum of 512 kbps communication plan "Tsunagi All-Time [PRO]" until October 31 (Wednesday)A campaign that can be used for 24 months at 6210 yen, which is approximately half the basic monthly feeAlthough it is carrying out, it may be good to combine it.